Rukmini Maitra is a big fan of dance shows. "I've always loved them since childhood. I remember watching Boogie Woogie as a child and feeling so inspired. I follow different dance shows even now. They seem so fascinating, entertaining and so culture representative. You get to learn so much from them," smiles Rukmini, who makes her debut as a judge on Dance Dance Junior Season 3, which airs from today on Star Jalsha at 9.30pm. The Telegraph chats with Rukmini.
Before we start talking about the show, let's rewind a bit. How did you spend your birthday (June 27) this year?
I literally celebrated my birthday in full bloom this year almost to the extent of having flowers as a theme on one of the days that I celebrated! Owing to the lockdowns and pandemic, I had only celebrated with my family the past two years. But this year I had my childhood friends joining in along with my family and it felt like a celebration of friendships and relationships, and being thankful that we all survived such difficult times, more than it just being about my birthday. So loads of counting my blessings happened! And also a lot of dancing... and cake of course!
Did someone plan something special?!
Well, my brother Rahul, sister-in-law Anupama and niece Amaira did... in Delhi, a week before my birthday. This year my brother owing to his work commitments couldn't make it for my birthday sadly, but the three of them made sure to fly me down to Delhi and celebrate my birthday a week before. We had such a great time and also landed up with a terrible sore throat as Amaira and I ordered cotton candy ice cream sundae at 3am in the morning. Which makes me realise that she is my true 3am friend!
What was your birthday resolution this year?
To not just survive, but to truly LIVE every single day of the rest of my life! It's truly important. Also beginning to read books in Bangla, which I am working on.
With Kishmish becoming a box-office success, what are your thoughts on the roles that you would take up next?
Thank you! I'm so glad and blessed that all the hard work and wait put behind the film paid off. So grateful to the audiences for loving the film and showering Rohini with so much love.
Well, I'm looking forward to exploring various genres. I've never believed in following trends as an actor/artiste but carved my own path. I would like to tell stories, I want to listen to myself... make movies I would watch. The last thing I can do is cheat my audience and expect them to watch something I wouldn't.
Why did you decide to become a judge on Dance Dance Junior Season 3?
The kids! I love kids! I'm so close to my niece Amaira who lives in Delhi that this show helps me not miss her as much as I do at most times. Of course there's the privilege of witnessing such talent and performances live before my eyes. And last but not the least, to reach millions of homes and be in oneness with their families.
The audiences have showered their love on Rukmini Maitra the heroine, which I'm truly grateful for... but now they will get to see and know their very own "Bangla-r meye Rukmini" a lot better, a lot closer and a lot more intimately. So I had to seize the opportunity.
What is the best part about Dance Dance Junior 3?
The talent. The level of talent on this show is mindboggling. The performances will truly blow you away.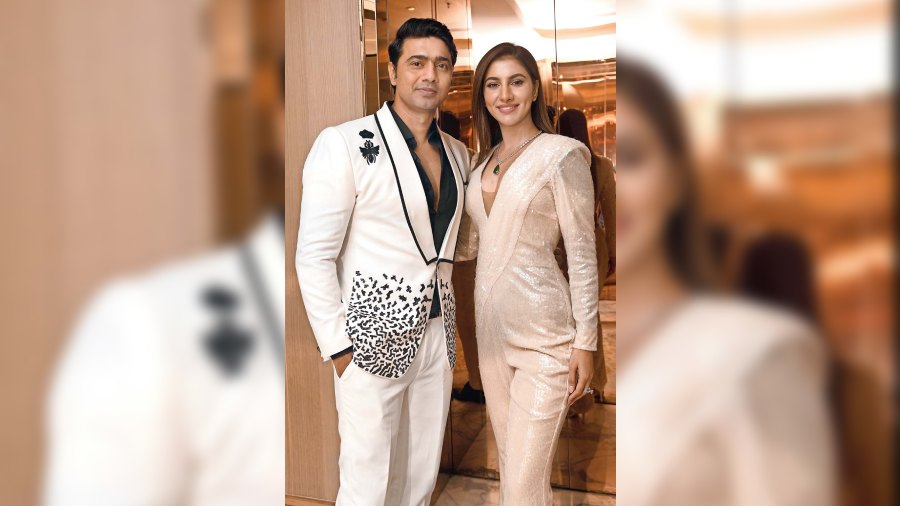 Dev and Rukmini.
Picture: B. Halder
How does it feel co-judging with Dev?
It's a brand new experience which I thought it wouldn't be. Acting in a film is different than judging it with Dev as there is an exchange of opinions from different perspectives. So this is rather interesting to me. So it's a lot of fun to explore this new dimension. Along with Dev, there is Monami who is so wonderful to judge it with and also such a fab performer.
How's the shooting experience so far?
It's been great! Of course a lot of emotions are involved, since this is my first ever show to judge and that too with children is heartbreaking. But the surprising bit is that the kids are so well prepared and professional. They know there is a certain format of the show and they respect that. I'm having a ball of a time on set with my judges, captains and, of course, the kids. And getting to witness such performances live is a blast to say the least. It's a great responsibility that has been bestowed upon me, which I will try my level best to live up to and do justice to.
What is your takeaway from the show?
The fact that every generation now comes with an upgrade like our phones! Haha... jokes apart, of course the sheer talent is inspirational. But other than that fearlessness is something I've learnt from the kids, which I think we all forget with time as we get more and more sceptical with everyday decisions with various experiences as we grow up. Which wasn't the case when we were kids. We need to learn to be fearless once again. The other thing would be grace, which reigns over their heads and hearts. The way they cheer and motivate each other, not bothering whether they are competing is something we must learn from them. That takes so much grace and so much heart.
Were you surprised by the dance skills of some of the performers who come on the show?
Yes, I was ecstatic! The kind of talent that the show has this year is the best that the audience will witness nationwide. This time participants have been selected from all over India. They are so talented, so confident and so so good! It's the battle of champions truly!
When are you doing your second Hindi film?
Let's see, as soon as I find something interesting and worthwhile, I shall make an announcement. I'm currently keeping busy reading various scripts both in Mumbai as well as Kolkata.