Roja Paromita Dey wears many hats. She is an accomplished model who turned fashion designer with the launch of her fashion label Fanush by Roja a couple of years back. Roja's cooking skills are well-known as is her eye for detail. She has also played around with acting and is back on our screens, this time with OTT release Roktopolash, "a social drama" on KLiKK, written and directed by Kamaleswar Mukherjee and streaming from May 31. The pretty girl tells The Telegraph what to expect and about her OTT favourites.
You are acting after a gap of four years. What drew you to the plot?
I will be very honest, simply the opportunity to work with Kamaleswarda drew my initial interest. He invited me for the script reading at his home office with the rest of the cast. When I heard the story and my part, I had to say 'yes'. I have often felt and even heard from others how our industry is lagging behind in terms of meaningful content on OTT platforms in comparison to Bombay or the South. This story has substance, it can make an impact because it deals with complex issues with a lot of maturity and an impartial standpoint.
Tell us about your character…
The name of my character is Pritha. She is close to my age or slightly older. She's a professor and a social activist. What I liked most about this character is how layered she is. She has a strong sense of morality and fairness but in spite of being an intelligent, independent, and unapologetic woman, she finds herself deeply conflicted due to the turn of events.
You love working with Kamaleswar Mukherjee…
Absolutely. He is so knowledgeable and accomplished yet you won't find a drop of snobbery or ego in this man. I have never seen him lose his composure even in the toughest of shooting conditions. Kamalda knows I'm a student of psychology, so every time he explains a character, story or scene to me he uses that... studies, theories, medical terms and references. I find that intriguing. You can say we share a very teacher-student-like bond.
How politically conscious are you?
I would say I'm political agnostic. I like to stay informed, I'm a responsible citizen, I enjoy political debates and discussions, I do take stand on socio-political issues whenever I feel the need to but I am not made for active party politics.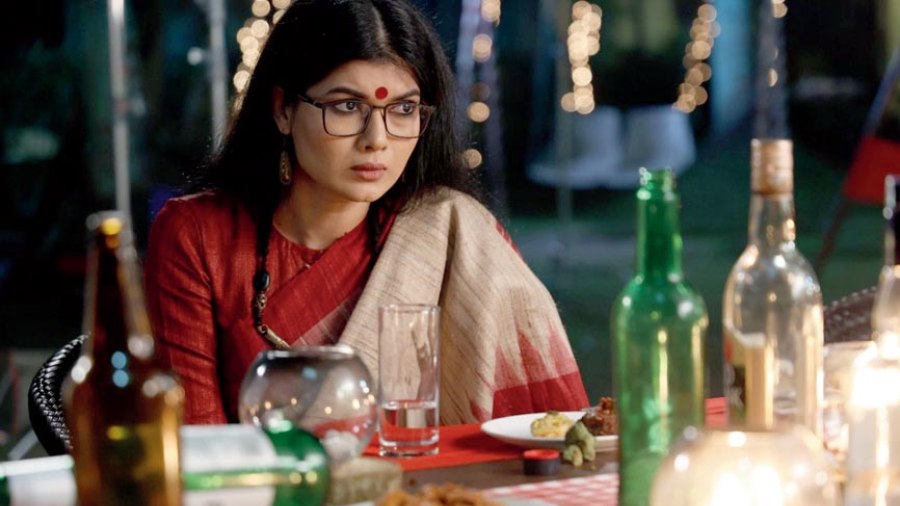 This also looks like a psychological drama to an extent. Given a chance, what of the past would you like to change?
I don't want to change anything about my past. It certainly is very tempting since we always wonder about the roads not taken, but I strongly feel whatever happens happens for good. I am a person driven by hope, not regrets.
Which web series are you binge-watching now?
I just finished Euphoria. Now I'm watching Panchayat, but no binge. It's such a sweet series, I would like to savour it slowly.
Your web series stars would be…
I have a long list but to name a few, Cillian Murphy as Tommy Shelby (Peaky Blinders), Emilia Clarke as Daenerys (Game of Thrones), Sacha Baron Cohen as Eli Cohen from The Spy. Oh, and Stewie Griffin from Family Guy is my favourite (laughs).
If you could star in one international web series, what would it be and why?
It's going to sound very cliched, but I wish I could star in Game of Thrones because it's an epic, and will remain so for many many years to come. I hated the last few seasons, but there's no denying it truly was larger than life.
A classic web series would be…
The one series that I have seen and I feel is a classic would be Peaky Blinders, but I think Mahabharata is one epic that would make a classic web series, if made well. Like the actual complex human stories from Mahabharata, not the censored and diluted versions to protect people's feelings and sentiments. It's got all the elements of love, war, family, politics, friendship, rivalry, jealousy, betrayal... everything. But not now, we are not ready to make it.. or take it....
Picture: Pabitra Das