The best way to beat the sweltering heat and humidity is to head for the hills, and Rituparna Sengupta did it in a regal, cinematic way, as she shot for Tathagata Bhattacharya's film Akorik in Himachal Pradesh with Victor Banerjee. A candid chat with Rituparna....
Tell us all about the new film...
The new film which I am working on right now is a saga of an independent and single mother. She is fiercely brave and opinionated, she tries to bring up her little child with love, affection and discipline. Though she is not perfect she still tries not to fail with her experience and sacrifice. She is an author and scriptwriter with mood swings and agony.
As Srijita I felt very closely associated with the character because interestingly when I was going through the scenes I felt that a part of me is like Srijita who has dealt and is dealing with problems of a mother. I always feel that tension inside me... dealing with the problems of a busy mother.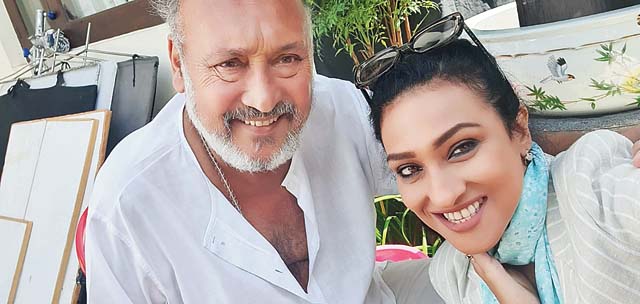 Rituparna with Victor Banerjee
Sourced by the correspondent
You worked with Victor Banerjee for this film...
Victor Banerjee is an icon... he has given such great performances both nationally and internationally. He has always lived his life on his own terms. He is a witty man with an infectious energy. Whenever I work with him it's different and beautiful, I have done so many films with him. He is a great talent and always thinks out of the box. He also pulls pranks on set. Jovial and agile, Victorda is a delight to work with, he is so educated and well read.
I have excellent memories to recall with this most sought-after actor... the first being the film Lathi with the great Prabhat Roy, which had won a National Award.
What was the first thing you told Victor upon meeting him and what did he tell you?
The first thing he said was, 'Hari Om' as he addresses everyone... and said, 'Wow the most attractive lady, how are you doing my dear?' I was shooting that time, and he suddenly popped up... and from nowhere... and said see how I surprised you.
How excited are you about this reunion?
I am really excited about this reunion... I'm really happy to see us coming back in a film after so long, so many great memories... we all have changed over the years but few things never change... like our inherent nature and our attachments. We spent wonderful moments in the make-up rooms, chatting and sharing lunches, engaging in soulful conversations over snacks as well... to see Anuradhadi after so long was so beautiful... we did so many films together. She still looks the same! Glowing and gorgeous.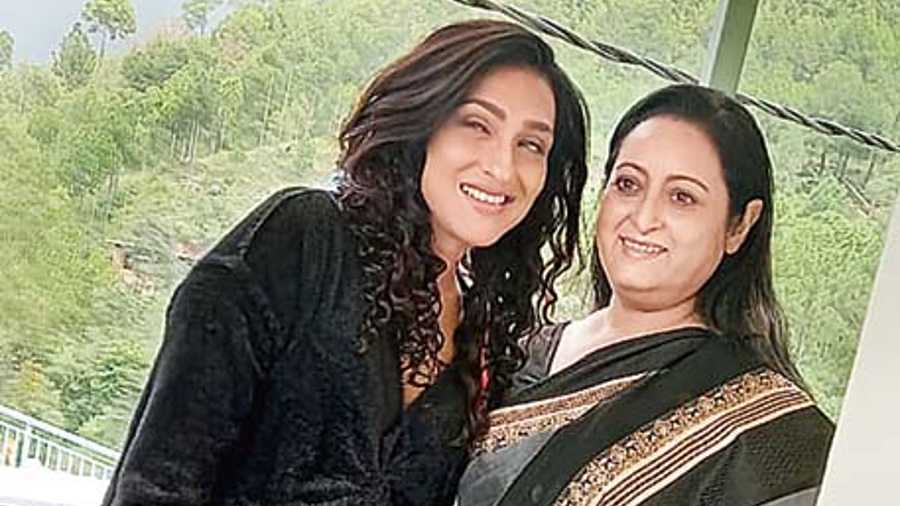 Rituparna and Anuradha Roy
Sourced by the correspondent
What did you do to soak in the sights and sounds of Himachal?
Himachal looked so beautiful and ethereal... nature always beckons me. Peace and positivity in the lap of nature, the high mountains, greenery, the hairpin bends all were like a passage from a book... the bungalow we were shooting in was so tastefully done with all kinds of ethnic stuff... the flight of steps through the hills connecting us to the inner part of the bungalow and the terrace view impressed me the most... the only day for worry happened when I was down with food poisoning after having a wrong mushroom soup... I was quite down with severe stomach ache and temperature. But it was over within a day. The journey from Chandigarh to Kasauli was so beautiful. My balcony opened to the beauty of the eternal sky and thick vegetation on the hills... my hotel had a beautiful garden on the top of a hill.
What did you all talk about when not shooting?
We used to discuss about how things are now versus before, Victorda's love for nature and the hills, his experiences with international directors... how I am shuttling between countries and keeping up a career. It was my son's birthday on one of the days of shoot and I distributed chocolates and sweets.