Rituparna Sengupta gets nostalgic as she talks about Belaseshe (directed by Nandita Roy and Shiboprosad Mukhopadhyay), one of the very few Indian films to have dealt with the delicate relationship issues of an elderly couple. Memories rush back — of Soumitra Chatterjee and Swatilekha Sengupta, shooting in Santiniketan with an ensemble cast. The May 20 film Belashuru comes seven years after Belaseshe. In Belashuru, Rituparna plays Mili, who is coming to terms with her relationship. The Telegraph chat...
Meet Mili
Mili has a strong personality and yet she is vulnerable. She is independent but still she is dependent on certain things... her mind is preoccupied. Mili's eyes speak a lot. She is different and more mature now in Belashuru. Mili finds life on a different plane altogether... life becomes a discovery for her as she embarks upon her journey.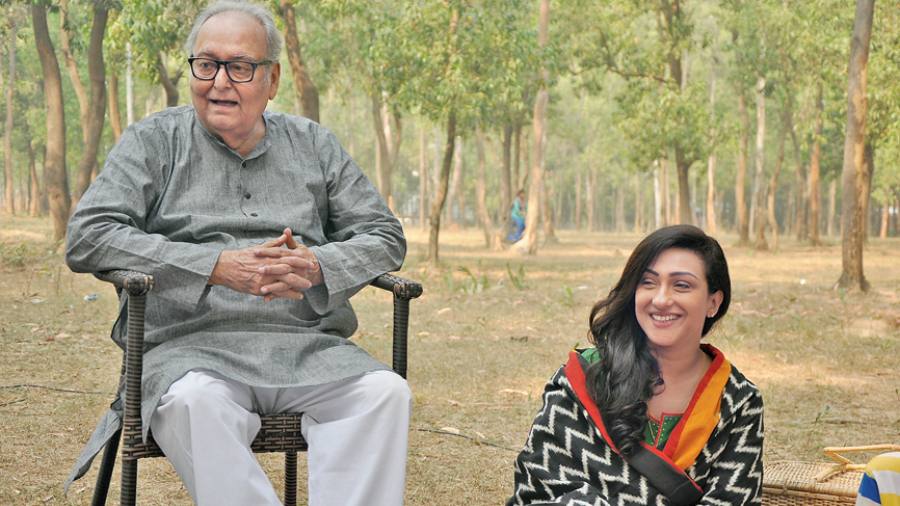 Soumitra Chatterjee and Rituparna Sengupta in Belashuru, which releases on May 20
Fave compliment
When Soumitra uncle (Chatterjee) said, "Shot ta bhalo laglo."
Looking back
The films are about bonding, love and togetherness. Belaseshe teaches us that life as a whole is beautiful. Love binds every relationship... estranged relationships can also be mended and be brought back on track with a simple emotion called love.
The basic question is how do we negotiate our way through everything. How do we see relationships in the most positive light ? Love and happiness are the core connect I feel. Emotions and managing expectations are beautifully depicted in this insightful family saga.
First reaction
I was so moved that I was silent. The story — when I first heard it — had a huge impact on me. It was very intense. I didn't have second thoughts about playing the character of Mili. I wanted to be the voice of Mili in each family... I wanted to collaborate with the team and present an ideal family to our audience. Belashuru was the outcome of continued progress and process. A family reunion was on the cards and I got extremely happy and emotional once again to be a part of this.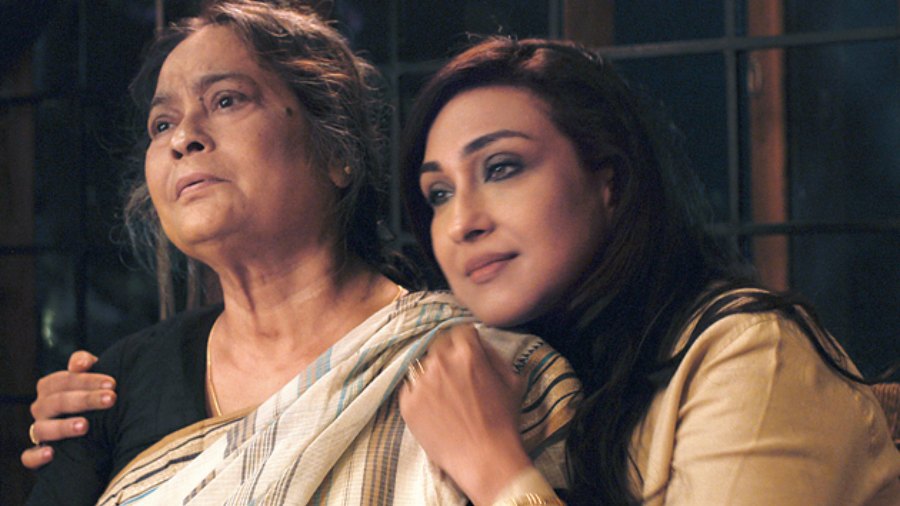 Swatilekha Sengupta and Rituparna
On the sets
Belashuru is a soul-searching family saga, which depicts life beautifully. The shoot was awesome and we had a blast in Santiniketan. Our picnic sequences were so much fun and the afternoon lunches so memorable. Shooting for the Tapa tini song was a thing to remember... we girls got together and choreographed the song and it was a joy to see both our stalwarts, Soumitra Chatterjee and Swatilekha Sengupta, supporting the whole shoot... there was so much to learn from them. Swatilekha auntie used to ask me about my children, my work and shared beautiful experiences from her illustrious journey in theatre. It was also a great privilege to have Rudraprasad Sengupta with us... we were blessed to have an eclectic cast. It was great to see Indrani (Dutta) perform with elan in a very different role. Monami (Ghosh) is always spontaneous and Aparajita (Adhya) has her own unique style. Shankarda (Chakraborty) and Kharajda (Mukherjee) are veterans and they were superb. Anindya (Chatterjee) is so good... and Sujoy (Prosad Chatterjee) will be a revelation.
The makers
Shiboprosad and Nanditadi are the most successful duo we have right now. They complement each other beautifully... they work on their stories with a lot of care. We go back a long way and I share a great comfort level with them. I have great memories of presenting their first film Ichhey. Our relationship is like old wine, it gets better with time.
Memorable moments
The best moment was a magical scene with Soumitra jethu where father and daughter discover the truth of their lives in a completely new light. Dance always excites me and as one of the choreographers of the song, I enjoyed the whole Tapa tini experience. I will forever remember the heartfelt conversations I had with Soumitra jethu and Swatilekha auntie... the words of wisdom and their love and affection will remain special. The film talks about the importance of family ties, love and a sense of togetherness. Belashuru sends out a powerful message — it is important to come together. Life is beautiful.