1984. It was a year of great significance for India — be it Rakesh Sharma setting foot on the Moon or Bachendri Pal conquering Mount Everest. Amid all those proud moments, came another iconic happening that changed Indian television programming for ever. Hum Log — the first soap opera on Indian television — made its debut that year and immediately touched a chord with viewers.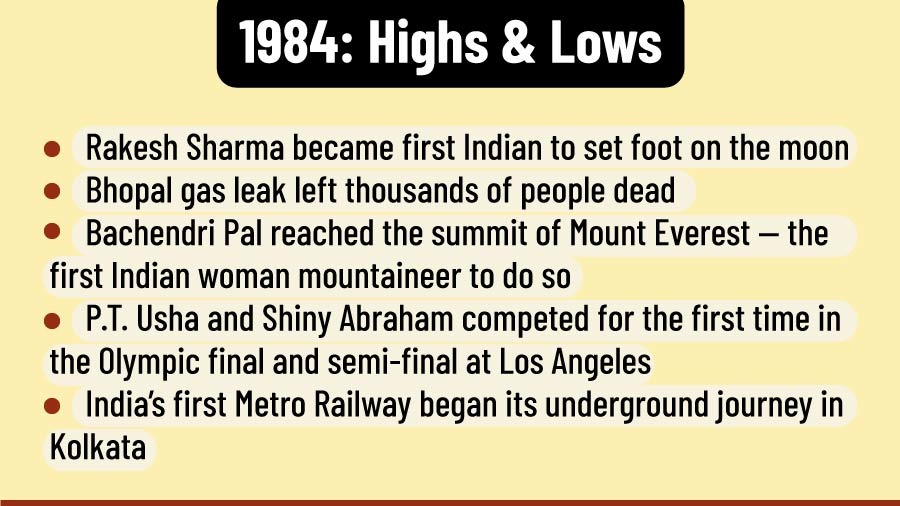 The joys and sorrows of an ordinary middle-class family became entwined with the lives of people in all corners of India. Come Saturday evening, TV sets — mostly black and white then though the serial itself was in colour — would be switched on and the screen came alive with a shot of a sea of ordinary people, which then melted into a drawing of faces with people representing diverse regions, religions, castes and creed. Then came the title card Hum Log in Hindi and English with photos of the main characters in them.
Hum Log, which ran for over 150 episodes, enjoying a viewership of about 50 million, has an interesting, and somewhat ironic, history.
The birth of the "family drama" is somewhat ironic. It was the initiative of the ministry of information and broadcasting, which was looking for an innovative way of popularising various public welfare schemes such as family planning, adult literacy and anti-dowry campaign. A model was found in the immensely popular '70s Latin American daily soaps that blended message with melodrama like the
Peruvian telenovela (limited series) Simplemente Maria, the rags-to-riches story of a domestic help's success with the sewing machine, and Mexican television writer Miguel Sabido's Ven Conmigo (Come with Me) promoting adult literacy and Acompaname (Come Along with Me) with its focus on family planning.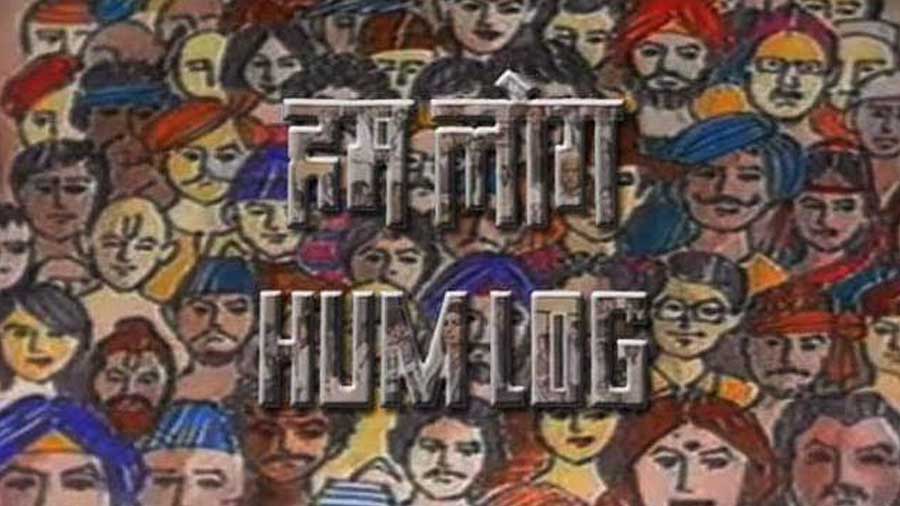 The title card of 'Hum Log'
In 1984, the then Prime Minister Indira Gandhi invited Sabido to introduce infotainment to Indian television. The Mexican writer held a weeklong workshop with about 50 writers and directors. Hum Log, created by the writer-director duo Manohar Shyam Joshi and Vasudev Kumar, was a product of the training.
Paucity of funds did not allow a weekly five-day run as recommended by Sabido, but the once-a-week telecast did not by any means make Hum Log less popular. The viewers would, in fact, wait the entire week to meet their favourite family.
The head of the Hum Log family was Dadaji (played by Lahiri Singh), a retired army man. His wife Imarti Devi, Dadi to all, was played by Sushma Seth. The rest of the family comprised Basesar Ram (Vinod Nagpal), the alcoholic father; Bhagwanti (Jayshree Arora), the docile, all-enduring mother; Lalloo (Rajesh Puri), the unemployed elder son forever hoping to land a job; Badki (Seema Pahwa), the elder daughter, a social worker and a 'plain Jane' compared to her fair and pretty sister Majhli (Divya Seth), who hopes to be a film actress; Nanhe (Abhinav Chaturvedi), the younger son and an aspiring cricketer; and Chhutki (Loveleen Mishra), the smart and articulate youngest daughter who wants to be a doctor.
The serial, that ran for over 150 episodes, owed its success and popularity of to the immense relatability of the characters. Another attraction, of course, was Ashok Kumar as narrator, who wrapped up each half-hour episode with his witty, and at times value-laden, observations.
The "public issues" such as family planning, communal harmony and women's empowerment, which were initially meant to be the focus of Hum Log, were soon eclipsed by the viewers' interest in the lives of the characters, each of which was extremely well-defined and meticulously etched. But as one looks with a more analytical eye, it becomes evident that the creators never lost sight of their intent — the joys and sorrows of the characters were framed against a larger social canvas, one which subtly dwelt on patriarchy, caste, community, health issues and more. It is this subtle blending of personal crises and social concern, the interweaving of the private and the public that gave Hum Log its unprecedented popularity.
The understated concern for serious social issues, along with the riveting plot and absolutely brilliant performance of the actors, many of them National School of Drama passouts, makes the series worth revisiting even now.