Recently, Twitter was abuzz about how the government-backed Open Network for Digital Commerce (ONDC) is offering dishes from restaurants at a cheaper cost than the big players in the app delivery service, like Zomato and Swiggy. Experts claim ONDC will disrupt the monopoly of existing food-delivery platforms. Others said there is still a long way to go when it comes to user experience.
When ONDC launched last year, the minister of state in the Ministry of Commerce and Industry, Som Parkash, in a written reply in the Lok Sabha explained the concept: https://pib.gov.in/Pressreleaseshare.aspx?PRID=1814143
My Kolkata tried out ONDC by ordering a meal and here's the low-down on the experience.
First, where can one download ONDC?
On the mobile (Android): Getting our hands on this was confusing at first, as the app available on Play Store is for business partners and not consumers. A quick Google search revealed that ONDC can be accessed from Paytm. We got onto Paytm and searched for 'ONDC' and it gave us four primary options — ONDC Store, ONDC Food, ONDC Grocery and ONDC Home Decor.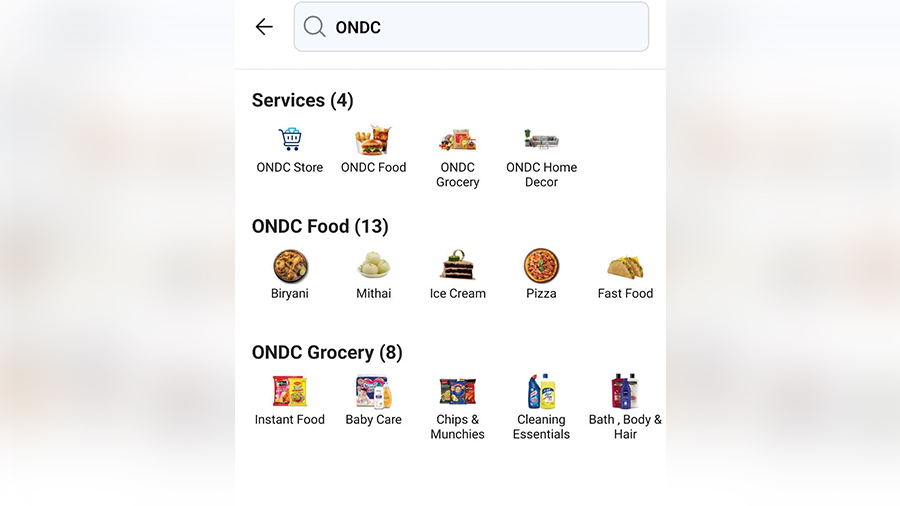 ONDC options on Paytm app
We selected 'ONDC Food' and the interface that opened was very similar to Swiggy and Zomato, especially the address and search menu.
On the desktop: We Googled ONDC, opened the website, clicked on 'How to Join' and then 'Buy on ONDC'.
We'll save you the trouble: Click here and then on 'Paytm' or simply open Paytm and search for 'ONDC'.
Are my favourite restaurants on ONDC?
The number of restaurant listings around Behala, Kolkata, for example, seemed pretty decent for a fairly new platform. We spotted big players like Wow! Momo, Wow! China, Barista, CCD, Pizza Hut and Oudh 1590. My colleague who lives in Picnic Garden spotted Speciality Restaurant's Mainland China and Oh! Calcutta, Barbeque Nation, Mama Mia!, Quest Mall's Taco Bell, Nalin Chandra Das & Sons (Kalighat) and more. Local favourites were also listed from the area.
What features does it score and miss?
The restaurant had their ratings on the top right. The approximate delivery time was also mentioned below each option. However, there was no price range and the type of food or cuisine showing with the restaurant icons — options that show on Zomato and Swiggy. One had to open the restaurant options and check the kind of cuisine available and its price range. It also lacked 'Filters' to refine my search.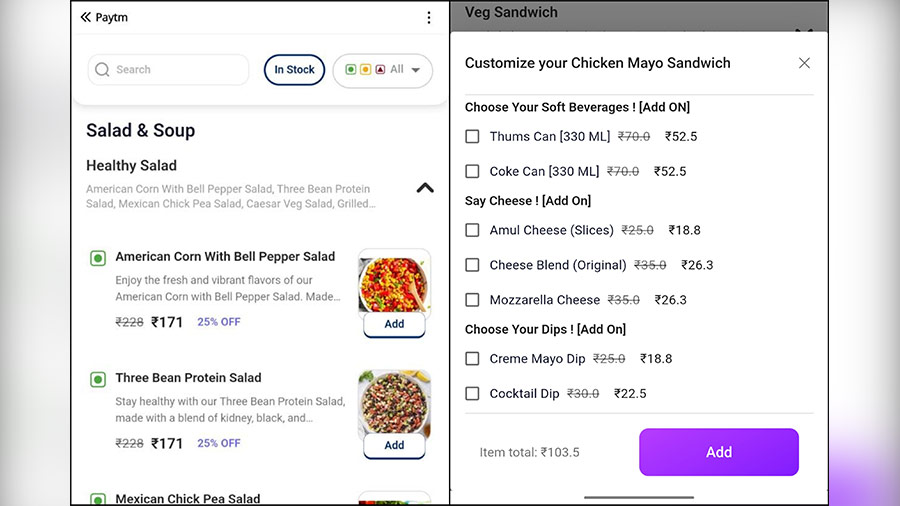 Food menu listing with customisation option
The restaurant page opens with the name on top and mentions the address and contact number of the restaurant. There is a search bar here too with two filters — vegetarian/non-vegetarian and In Stock. Then comes the menu card. The non-veg/veg icon is used for every dish enlisted with a little description, price cut-off and picture. The platform is offering a discount of almost 25% on each item for all restaurants, however it is unclear if this is an introductory offer or long-term. However, the major problem here is that the description is not fully visible on the listing, and there isn't an option to view the description like there is on Swiggy. Also, the picture cannot be clicked to get a closer view of the dish.
Another peeve was that some dishes that showed 'unavailable' on ONDC, were available on Zomato and Swiggy.
Is ONDC really cheaper than Zomato and Swiggy?
I picked Kolkatar Petuk, a Behala favourite, and ordered from their Chinese selection. The check-out procedure seemed quite smooth after keying in the address. The final dishes added to the cart are shown with the price like it is shown on the other popular food apps in Kolkata, and then the billing details follow.
Like with the other apps, you can see an itemised bill and the total bill is divided into five categories — items total, delivery fee, taxes, convenience fee and packaging charges. While we did not have to pay the convenience fee and packaging charges, the delivery fee seemed a little expensive with Rs 113 being charged on a bill of Rs 757, plus taxes of Rs 50.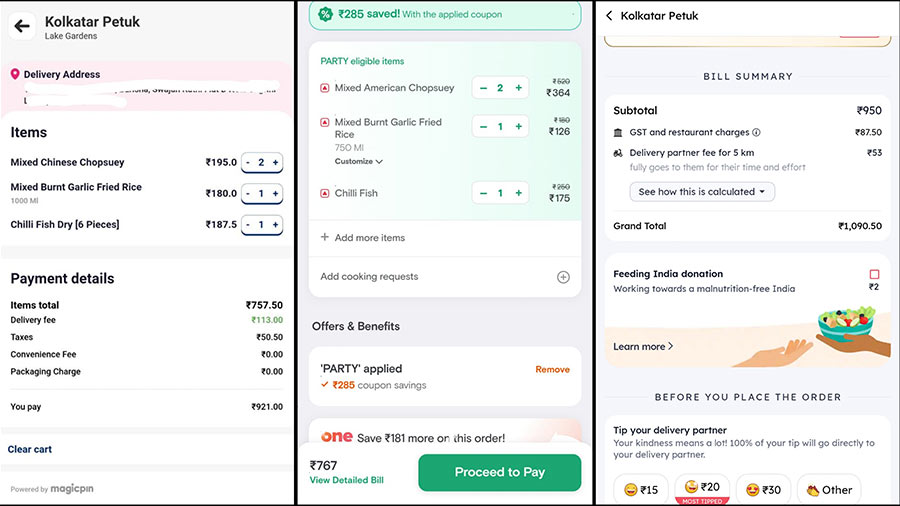 Comparison of billing details of ONDC, Swiggy and Zomato
I compared the same dishes from the same restaurant on Swiggy and Zomato, first without using coupons, discounts or delivery subscriptions. For Zomato, without any coupon or discount code, the total bill was around Rs 1,090 while on Swiggy it was Rs 1,067. On ONDC, it was Rs 921. So, yes it is cheaper if we don't bring promotions into the picture.
With Swiggy's 'PARTY' coupon code, the same bill was Rs 767! That was a big win for me. Offers and promo codes such as this are a regular feature on the two big food delivery apps. The big question here is, will ONDC provide such offers like this in the long run?
Another point to note was that on Swiggy, the delivery charge was around Rs 48 while on ONDC, it was Rs 113. ONDC has partnered with Dunzo and other such third-party providers for delivery.
Finally, the payment gateway on ONDC provides several options from Internet banking to UPI but there is no option for Cash On Delivery.
How was the delivery experience?
This is where the platform loses its game completely when compared to Swiggy and Zomato. ONDC does not charge a convenience fee and this last step explains why. After the order was placed, the merchant took more than five minutes to accept the order and about 15 minutes to pack it. At this point, I did not have a live tracking map, live updates, or the option for customer support. So if there's any trouble or delay, all we have is an email address and let's be honest, we all know how that goes!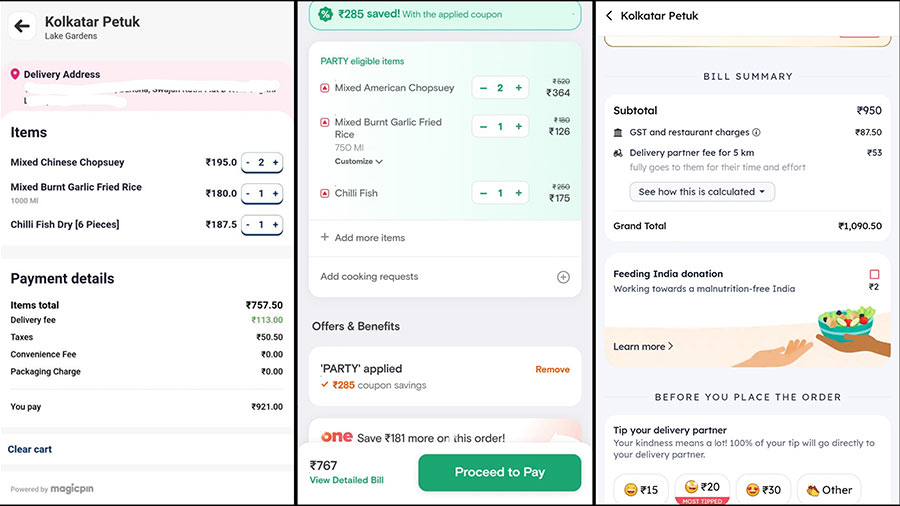 No customer care number or chat option. Live tracking is not available
The live tracking option is actually a still photo of the route map. To know the real-time location of the order, one will have to call the delivery person.
The food arrived on time and delivery was done by an agent in a Dunzo uniform. The packing was done in the usual plastic containers.
Pros
Restaurant options are satisfying with scope for improvement
Small and local restaurants are enlisted
The cost of dishes are lesser than Swiggy and Zomato
On-time delivery
Promising grocery, home decor and other services section
Cons
High delivery fee
Unavailability of certain items from restaurant menu
No live tracking
No customer service option for chatting or calling
No cash on delivery
Final verdict
While the introductory version of the platform seems promising, statements like 'disrupting the food delivery monopoly' looks like a distant dream at this point. But if it means more savings for restaurateurs who stood the test of time through Covid, and more savings for the customer, one might be willing to wait it out.