Hello, my readers! I am so glad to be wishing you a happy 2023. To start off on a positive note, here are 23 of my favourite resolutions to set you on the journey to happiness:
1. Don't be too hard on yourself.
SRK's character in Dear Zindagi says that there is no reason to choose a difficult path for ourselves when we can manage with an easier one. I too believe that reaching a goal without much struggle isn't unworthy.
2. Set nano goals instead of major resolutions.
Consistently achieving small goals every day/week will boost your self-confidence and increase the chances of you meeting your bigger goals later. For example, I make it a point to eat a bowl of seasonal fruits every day. 
3. Identify and create micro-moments of happiness.
I do this by giving gratitude for what I have and by giving compliments to others daily. Putting a smile on someone's face will put a smile on yours too. Something I do is to compliment a quality, not appearance. For example, if someone is wearing a sari, instead of saying what a beautiful sari, I'll say, you have an excellent eye for choosing saris, or, you carry saris so gracefully.
Also, I believe in sending gifts to near and dear ones at least once a year — they're usually thoughtful tokens with personalised messages.
4. Recognise, acknowledge, and accept your fears.
Any time before giving a speech, when I feel nervous about a large crowd or conscious about how I'll pronounce certain English words, I remind myself that it's good to be a little nervous, because that makes me prepare well. Also, I ensure that most of my speech (80 per cent) is in a language I'm more fluent and comfortable in — Hindi. After all, English is not my mother tongue.
5. Be mindful about the people around you.
When I'm visiting others, I'm mindful to carry appropriate, and personalised gifts. When meeting someone new or a guest is coming over, I make it a priority to find out about their food preferences/ allergies, their near and dear ones, and any causes important to them. Why? So we can have a meaningful interaction instead of superficial 'hi hellos' and small talk.
6. Evolve as a person — change is constant, so why not change for the better?
I am learning to challenge my beliefs, practices, and traditions to be a more empathetic and less judgmental person. For example, I used to like taking my children to zoos but now I realise it's so cruel to cage these animals who are born free.
7. Accept and love your body.
Don't constantly criticise every aspect of yourself or what you eat. For example, I have a bit of a paunch and used to be very self-conscious about it. I also felt bad about the clothes I couldn't wear. Now I've accepted it and am happy shopping for flattering fits and cuts. I'm so happy that body positivity is changing the conversation from earlier days when being slim, "fair and lovely" was important for girls. Today how you carry yourself, your style, your attitude, and your intellect matters more.
Masaba in Masaba Masaba encouraged a teen who was plus-size and low in confidence. She made her a showstopper in her fashion show, giving her a platform to be comfortable and confident in her own skin.
8. Redefine your everyday 'normal' by asking the 'why' behind your actions and inaction.
I am inspired by my younger daughter Prachi to work hard and share awareness about mental health through my clinic. But when suddenly I didn't feel like going to work, I started thinking about the reason. I realised I was experiencing burnout. Too many calls and visits were overwhelming at work, so I communicated my preferred method of communication to my colleagues — voice notes first, then texts, and only if necessary, visits by appointment.
9. Forgive yourself and others for your emotional health.
Life is too short to hold grudges against people who are not even sorry for hurting you or don't care about causing you pain. Forgiveness doesn't mean they were right, and you don't have to tell them that you forgive them either. The act of forgiveness sets you free.
10. Acknowledge it is okay and human to feel negative emotions.
Practise letting go of people who are not good for your mental health. I've started taking things less personally — I realised most people say mean things because they have not walked in my shoes. So I neither react nor respond.
11. Say thanks with warmth.
Rather than saying a cold thank you, give details about the gift in your message. I recently received a thoughtful gift and I remember writing, "I'm so happy to receive the handmade mugs in my favourite colour." I also usually take a picture and send it along with the message.
12. Pick up one Gen Z skill
Incorporate it into your personal or professional life. I started making reels on Instagram to connect with younger generations and make them aware of the importance of mental healthcare. And it made my day when someone quite young from London said she listens to my fun mental health reels to brighten up her day.
13. Embrace preventive self-care by getting a complete check-up.
Do it without any excuses — physical, dental, ENT, etc. because several serious issues don't show symptoms at all or until it's too late.
14. Build your own brand.
This has nothing to do with whether you're working or not, whether you're an entrepreneur or an employee. Our physical and digital presence speaks volumes. Get professional photos taken; make a visiting card; upgrade your resume or make a personal profile; upload small videos of cooking, skincare, hair care — whatever you are interested in. It will be imperfectly perfect in the beginning but slowly you will learn the trick.
15. Learn to be mindful while declining an invite.
Warmly acknowledge the invite first. Emphasise that you will be missing out. For example, "I'm sorry, I had my customers' visit scheduled on the same date and unfortunately won't be able to attend. It's entirely my loss." Don't be blunt and say, "I'll see if I can attend", "I'm sorry I'm busy, can't make it."
16. Create consciously instead of being a passive consumer.
Write, sing, dance, paint, cook or even grow plants. I picked up kitchen gardening recently.
17. Practise active meditation to clear your mind.
For me, cooking is active meditation — it's so therapeutic!
18. Declutter, don't hoard.
I declutter my home and workspace to get rid of stress. I get so immersed in cleaning up that no other thought even enters my mind.
 19. Overcome one limiting belief.
Tap into your deepest insecurities first — 'I'm a bad parent because I got a divorce' or 'I'm not getting a raise because I'm not good enough'. 
Learn to think about alternates. For example, 'I'm not getting a raise not because I am not too good but I need to ask my boss for my raise explaining the work I have done with real time data'.
20. Stop postponing your happiness.
Don't think, "I'll be happy when… xyz happens". You are worthy of happiness irrespective of circumstances and people. Work on incorporating a 'special moment' each day. Eat on the fancy 'guest' plates, go watch that movie yourself, have a laugh by reading memes. My interior designer stopped me from putting a tablecloth on a glass-top table. She wanted me to enjoy it every day instead of reserving it for that big day.
21. Give your self-talk a makeover by being actively kinder to yourself.
If I make a mistake, I focus on accepting the fact, especially at work where I'm the leader, rather than hiding it and blaming other colleagues.
22. Shop and invest in local markets and artisans.
I love going to exhibitions to discover, encourage, and buy from upcoming, self-taught designers who are mostly working out of their homes. The tag in the garment 'PROUDLY MADE IN INDIA' makes my heart swell with pride.  We no longer need to shop for foreign brands.
23. Choose progress over success.
The constant little changes make 'overnight' success possible.
To make or not to make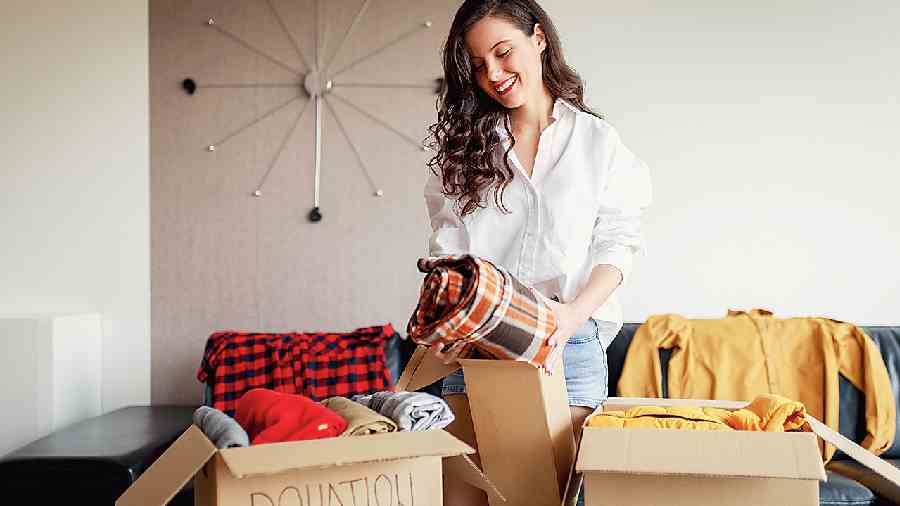 Making resolutions is quite a personal decision and it's perfectly fine not to have any resolutions either. I've put together a list of monthly challenges to try. This helps you focus on one thing a month and takes the pressure off trying to make big changes. It's okay to break resolutions, at least you tried it!
Monthly Challenges
Joyful January — Be the main character in your own book:
To do this, decluttering your mind and having an unbiased guide is imperative. And you will find this unbiased, 100 per cent confidential guide in a therapist. Meet with a mental health professional for two-three sessions with the clear goal of venting out all the baggage from last year or your whole life. Just getting your feelings out will help to bring about a lot of clarity.
Fabulous February — It's all about love:
Improve your romantic relationships by understanding the types of love languages. Give some space to each other so you can grow independently.
Magical March — Commit to a new financial goal:
lWhether you have to Google the difference between credit and debit or have an amazing investment portfolio, make it a point to learn something new about your finances. I had kept a good accounting teacher to teach me the basics. Why? Because financial awareness is the key to financial security. Also file your own income tax returns.
Amazing April — Do one thing that terrifies you emotionally:
Scared about having difficult conversations with the important people in your life? Terrified of being lonely? Sacred about being judged and ridiculed? Do it anyway. Pick a single fear, make a pros and cons list about what happens if you do the scary thing. You will get amazing results!
Me, Myself, & I May — Sit with your thoughts:
One of the most difficult things for any human to do is to sit alone with their thoughts. We often surround ourselves with people not because we want company, but because we don't want to be alone. Begin with a roomcation, then move to a staycation, and even try a solo vacation. Learn to enjoy your own company — to be alone, not lonely.
Jovial June — Start positive family traditions:
Break stigma. Have monthly conversations about mental health as a topic to start normalising its place in your home. Encourage, empower, and enable the older women in your family to fulfil some of the dreams they had to sacrifice. Help your grandma sell her crochet on Instagram or get mausi a pair of denims and take her clubbing. Treat your family the way you treat your best friends, don't take them for granted. The positivity with which you treat your friends, have that smile with your family too.
Go for a family vacation once a year, including your extended family. Weave moments of magic in relationships. Nowadays, I'm happy to see family reunions are becoming common.
Joyride July — Take a reality check:
Try a different normal to get a reality check. To do this correctly, try two very different lives for two subsequent weeks — one where you live below your means; and one where you live above your means. Then the third week go back to your usual lifestyle. When the fourth week starts, you'll not only identify and understand your privilege (which you can start giving gratitude for), you'll also realise whether the grass is actually greener.
Awesome August — Say No:
When you think about toddlers, besides the cuteness factor, what's the first thing that comes to your mind? Their amazing ability to say 'no' to anything and everything they don't like without caring what others say. Adopt this 'no means no' attitude for the whole month. Say 'no' to one small thing every day that you don't really want to do. You don't have to be rude about it, but you need to be firm. This is also an excellent way to practise setting and maintaining boundaries.
Super September — Say Yes:
Now that you've learnt to say 'no', you need to practise saying 'yes', not to others, but to yourself. For the whole month, say 'yes' to small things that make you happy. And in this spirit of positivity, try a 'no complaints day' once a week too!
Outside October — Do a month full of daily little kindnesses:
Step out literally and metaphorically, donate a mix of your time (read to seniors in an old-age home) and expertise (tutor/coach/mentor college students) to help others each day. Give the gift of education to the less privileged children who are talented and can excel if given a small tab or laptop. When my father passed away, I made a resolution in my father's memory to donate five tabs to whoever needs it. Give your older clothes and accessories to the less privileged instead of discarding, but in good wearable condition.
No-Negativity November:
Let go of toxic relationships, add love and light to your life. Renew older/faded connections which add to your joy.
Do-it December — Leave Your Legacy:
A common need of humans is wanting to be loved and remembered. I too want to leave my legacy. I wrote my memoir so my story could help and inspire others. I've been working on my memoir for a year and a half, and it's finally ready. I cannot wait to share more about it with you very soon!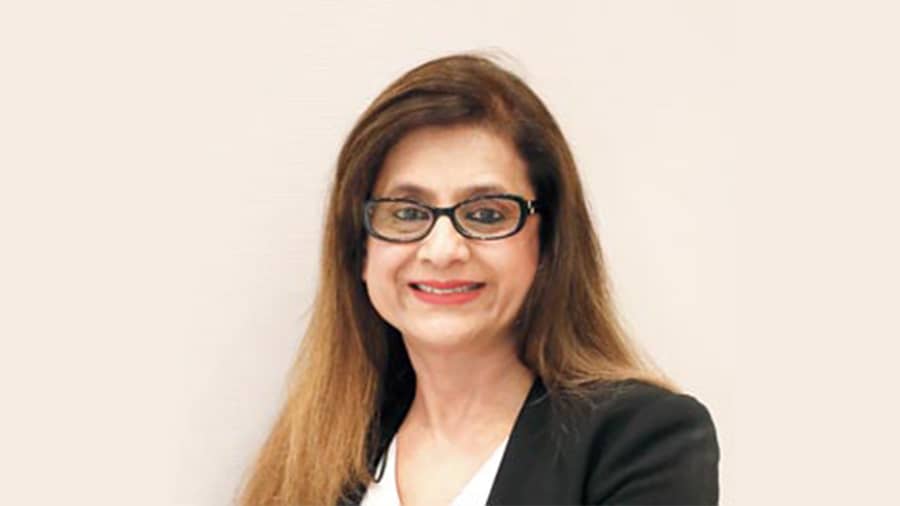 Minu Budhia is a psychotherapist, counsellor, founding father of Caring Minds, I Can Flyy, Cafe I Can Flyy, and a TEDx speaker. Write to askminubudhia@caringminds.co.in