There is a growing demand for inexpensive wireless sound cans. Of course, the demand has to do with how we communicate using our phones — casual music streaming as well as for taking calls. In case someone is spending, say, Rs 15,000 on a pair of wireless earbuds, the person wants to take the sound aspect seriously while something like Apple AirPods Max over-ear headphones is more for audiophiles.
What I am trying to get at is if you are spending something under Rs 5,000 on earbuds, it may mean that you are looking for plenty of features but maybe not just excellent music streaming, which becomes one more thing on the device. And features are what we get on Realme Buds Air 3.
If I were to point out one feature that works for me, it would be the Realme Link app, which is among the best you can get on an Android phone. Instead of restricting features to Realme devices, the wireless earbuds are for all to enjoy. Like I said, it's about the app all the way even when it comes to sound. The 10mm dynamic bass boost driver is good but nothing that we don't see on rival earbuds. This is where the app comes in with customised audio tuning to offer a sound which your ears enjoy. One may say it makes a huge difference. Let's just say, all the differences add up to a big push. There is an improvement in sound with the customised audio tuning. Listening to music from Ricky Kej will be good but it's always better to listen to his music on a proper music system. But Badshah or B Praak? The earbuds are tuned for that music.
By way of call quality, it's not bad at all with the dual microphone system. There is active noise cancellation up to 42dB, which is slightly more than the previous version. But the level of ANC is way different from what you get on Sony WF-1000XM4, which is like Rs 20,000. What Realme gets right is tackling most street noises and definitely all the noises inside a room, like the fan or the hum of the refrigerator.
Where the earbuds win big time is Dual Device Connection. The earbuds can pair up to two devices simultaneously. So if you are listening to music on your phone and then move to your tablet, the earbuds understand and switch over. It works each and every time.
The other things working in favour of Realme are good touch controls. They also fit the ears very well. Even battery life is quite good with 20-21 hours (includes charge from the case) of music (at 70 per cent) with ANC on. The case supports fast-charging but what the case doesn't support is waterproofing though the buds themselves are IPX5 water resistance rated. So be careful of keeping the case in your pocket while getting drenched this monsoon.
I am seriously impressed by the combination of the earbuds with the Realme Link app. It just shows how important software and hardware need to support each other. Realme Buds Air 3 hits the sweet spot in sound and budget.
At a glance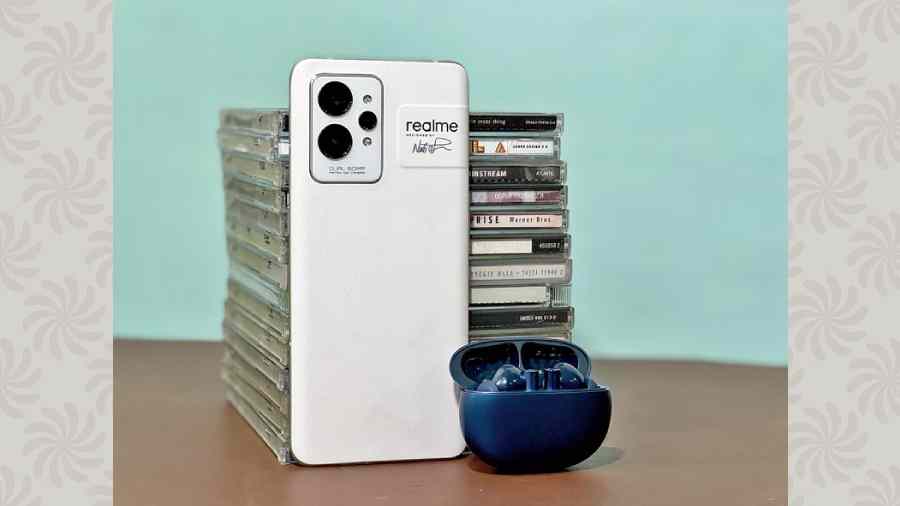 The wireless earbuds offer good battery support
Device: Realme Buds Air 3
Price: Rs 3,999
High notes
• Customised audio tuning
• Excellent app support
• Dual device connection
• Good battery life
Muffled notes
• The earbuds are IPX5 rated but not the case