While social media raged over the mysterious drop in Facebook follower count, My Kolkata went into rewind mode to recall what 'follow' meant in pre-social media times. All those things (and people) that we did and should have (yes, mom and dad) followed growing up.
Here's a #Throwback Thursday account of old-time memories.
Follow the neighbour dada/didi
"Pasher barir dada/didi ke dekhe sekh" — lessons in how to behave, sing, dance, eat and most importantly, how to study with full concentration, through cyclones, power cuts, guests at home, or home-made biryani crooning. Follow in the footsteps of thy neighbourhood's older kids, because they are the Night's Watch for our culture and heritage.
Follow (and sit next to) the first boy/girl in school
If parents are our first role models, the class toppers should come a close second. Sit next to them (and don't forget to befriend the wise one), share tiffin (they might share notes — think people, think!) and follow exactly everything that they do because they are the Chatur Mahalingams the parents highly approve of. Who cares if we are #TeamRancho. Cue eyeroll.
Follow thy sibling because #HomegrownInspo
If there's anything called homegrown inspiration, siblings are the brand ambassadors. Elder or younger, how does it matter, because they are acing the life game! From lekhapora to being the epitome of susheel and sabhya, your siblings are the pros. And you should be following what they do. If you're lucky, after the age of upping one another has passed, you will also find your biggest prankster-in-arms and confidante in your erstwhile competitor.
With parenthood comes super powers...
"Ma-Baba ja bole shuntey hoy". Parents are adept at channelling their K3G Big B persona — "Keh diya na, bas keh diya" — for most things. From why boiled apples are super food to "tuition theke ami niye asbo" to the kids we shouldn't be talking to, they have a guideline for their children and are the frenemies we love, fight with and follow.
Special mention to the OG and generational Indian parent dialogue, "You'll understand when you have kids." It never gets old even if you get old.
Teacher equals guru, so follow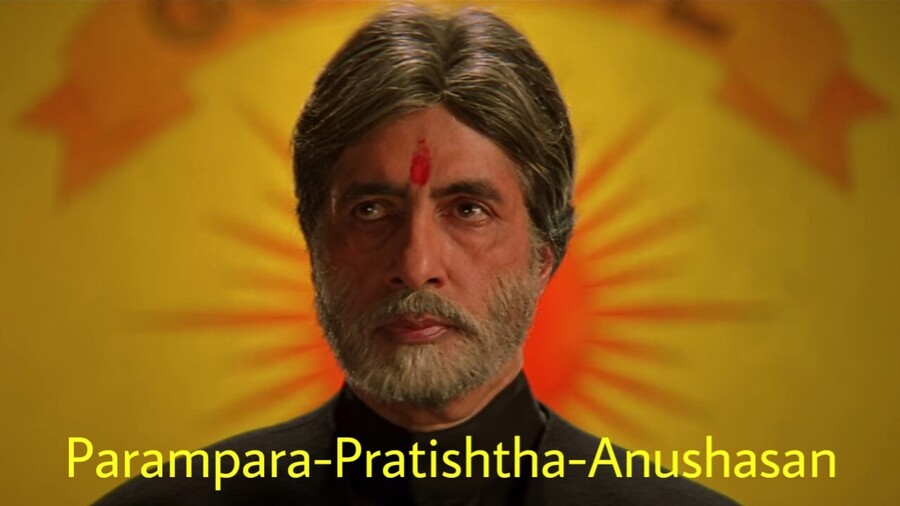 When in sarkar raj aka school, follow the sarkars aka teachers. Period. Remember, parampara, pratishta, anushasan always because Bollywood training never goes in vain be it in student life, love life or thug life.
Wherever you go, your (furry) network follows…
While the promises of the song no longer hold, if you are someone who grew up with or around a furry friend, this was probably the theme song of your life. Remembering the time when our pawdorable buddies would follow us to retrieve missing treasures (read chew toys) and we commandeered daring under-the-bed expeditions, explorations behind the bushes in the park, and more, will always make us smile. Cue music, "You and I in this beautiful world".