TENCEL™ X Satya Paul by Rajesh Pratap Singh's 'The Master's Words' that unfolded at the FDCI X Lakme Fashion Week at Jio World Convention Centre one October evening, was a party on the ramp. A riot of colours, easy-breezy silhouettes and a modern gypsy vibe made the collection playful, lively, free-spirited and fun. We caught up with Rajesh Pratap Singh on the inspiration and more.
The collection is simply breathtaking. It is unlike anything you have done in the past. Tell us about the making of 'The Master's Words'.
This collection is an ode to the designer Satya Paul, a master in his own right. Satya Paul lived a vibrant life, and the bold prints and innovative clothing he made reflected his sense of adventure and openness to change. The collection is also inspired by Satya Paul's love for calligraphy; his personal and workspaces featured inspirational quotes from master's like Osho and Rumi that he imbibed in his personal life. This collection brings this sense of wisdom and fun together and shows us how learnings from the masters are even more relevant in today's volatile world. It is an optimistic collection that bursts with colours and weaves in psychedelic notes from the '70s and '80s, a time when cultural change was at its peak.
Where did you start when it came to celebrating Satya Paul, the Rajesh Pratap Singh way?
My journey began in June 22, 2020, as creative director (of Satya Paul). I always seek to keep the DNA of the brand that Mr Paul and his team built, alive, while innovating in fresh ways.
What has fascinated you about his life even more now that you have had the chance to be in the man's universe?
Mr Paul challenged cultural stereotypes and took necessary risks. Many know of his experiments with print, but few know about the interventions that he made in the field of Indian textile. He was always pushing boundaries, reinventing, and thinking about the contours of the modern Indian.
The collection is a happy one with a sense of freedom. What did you have in mind?
Exactly that!
We love the colours... is that the most colour you have used in your collections so far?
Not really, I have used colours in the past, but this psychedelic colour palette is a fresh exploration.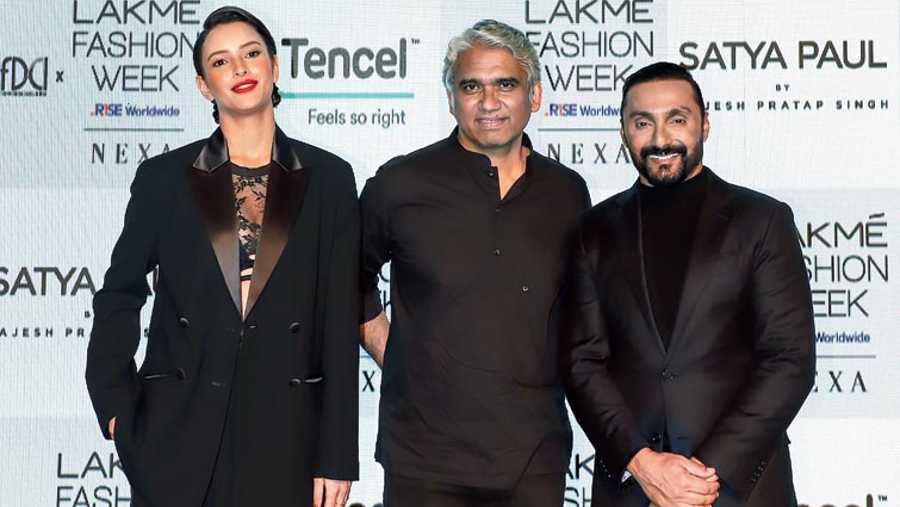 Rajesh Pratap Singh (centre) with show-stoppers Tripti Dimri and Rahul Bose
Tell us a bit about The Search (the show started with the film that was 'directed and creatively put together by Rahul Bose') and Rahul Bose's cameo? And, we saw him and Tripti Dimri in classic Pratap...
As film blurred into show, the lines between reality and dream were also fluid. The Search, the title of the film, was based on Rahul Bose's surreal search through the city for his lover. Shots of old, historic buildings in Mumbai set a dreamy mood, and provided an apt canvas against which our clothes popped. And as we learn — both in design and in life — the process of getting to the destination is often more important than reaching the destination itself. The Search was a reminder to all of us to keep the romance for the little things alive. We featured Tripti Dimri in a classic structured jacket. A Satya Paul twist was provided with a flourish of trims and unconventional lining.
What has this one year as the creative director of Satya Paul taught you?
Patience.
Pictures: Sandip Das and FDCI X Lakme Fashion Week