Returning to a full-fledged physical form (with socially distanced seating) at Hollywood's Dolby Theatre, this year's Academy Awards was a rather staid affair, even though it boasted a few firsts and brought back hosts. But the highlight (or rather, lowlight) of the evening was a physical altercation on stage, which set social media on fire and made things very, very awkward at the avenue.
Not funny!
Will Smith, touted as the favourite to take home the Best Actor trophy for his strong and soul-stirring act in King Richard, unexpectedly delivered in the drama department much before he was awarded the golden statuette. Smith, accompanied by wife Jada Pinkett-Smith, did an Ali (a film that he had been nominated for in the past, but didn't win), planting a punch on comedian-actor Chris Rock in front of hundreds of cameras and millions of viewers across the globe.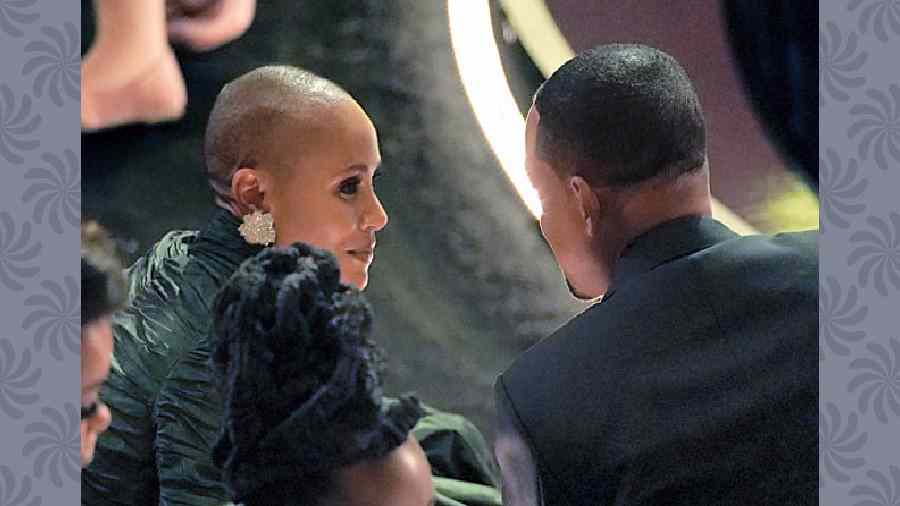 Will Smith with wife Jada Pinkett-Smith at the Dolby Theatre
Reason? Rock, called on to present an award, had compared Jada Pinkett-Smith's bald pate to Demi Moore's appearance in the film G.I. Jane and suggested she appear in a sequel. With Jada openly talking about her struggle with alopecia in the past, that joke triggered Smith and in a moment that sparked off silence and confusion at the Dolby Theatre — a lot like the La La Land-Moonlight Best Picture mix-up a few years ago — he open-palm slapped Rock and then returned to his seat shouting, "Keep my wife's name out of your f*****g mouth". The audio was bleeped out in the US, but viewers in many parts of the world — including those watching online in India — caught every second of Smith's outburst. "Will Smith just smacked the s*** out of me," Rock said, looking visibly flustered.
Those acquainted with staged drama for ratings — Indian TV, we are looking at you! — thought it was a joke, but turns out it wasn't. Rapper P. Diddy aka Sean Combs, who came on to stage next, offered to mediate between the two with, "Will and Chris, we're going to solve this — but right now we're moving on with love," he said. And then came the tearful and apologetic speech from Smith himself.
'I want to be a vessel for love'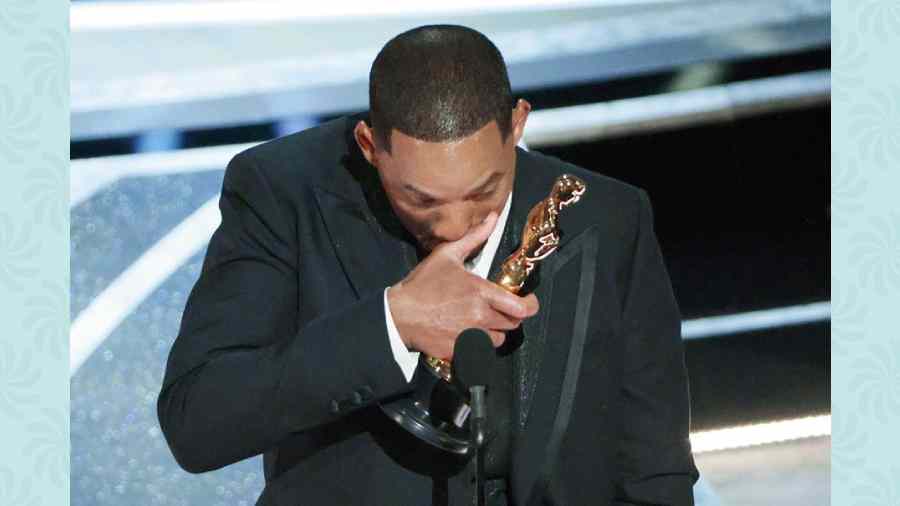 Will Smith getting teary-eyed during his Best Actor speech
Smith once again took the stage — this time legitimately — to accept his Best Actor Oscar for playing Richard Williams, the father of real-life tennis powerhouses Venus and Serena Williams. In a long acceptance speech, which seemed to be part damage control, part downright emotional, the 53-year-old first-time Oscar winner made a direct reference to the incident with, "I know to do what we do, you gotta be able to take abuse. You gotta be able to have people talk crazy about you. In this business, you gotta be able to have people disrespecting you and you gotta smile and pretend like that's okay."
He further went on, breaking down often, describing himself as "a vessel of love". "I'm being called on in my life to love people. And to protect people and to be a river to my people.... Art imitates life. I look like the crazy father, just like they said about Richard Williams! But, love will make you do crazy things."
He even alluded to fellow nominee Denzel Washington's advice to him (Washington had walked up to Smith, off camera, after the incident with Rock) and said, "Denzel [Washington] said to me a few minutes ago, 'At your highest moment, be careful, that's when the devil comes for you'". Smith apologised to the Academy and to his fellow nominees, ending his speech with, "I'm hoping the Academy invites me back".
Chris Rock has reportedly refused to file a complaint against Smith for the incident, according to the Los Angeles Police Department.
An Oscar night with many firsts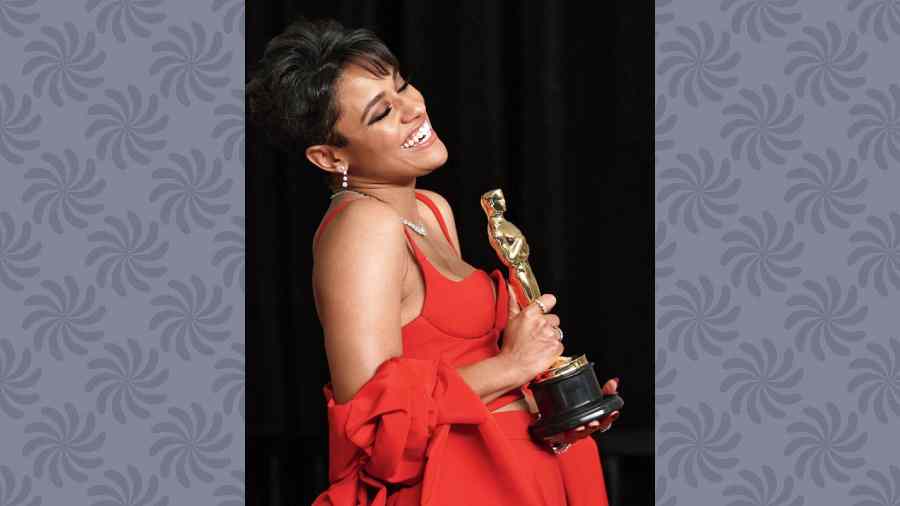 Ariana DeBose
The high drama apart, this year's Oscars marked a few firsts. Ariana DeBose became the first openly queer person of colour to win an Oscar for Best Supporting Actress. "To anybody who has ever questioned your identity, I promise you there is a place for us," said the 31-year-old who won for West Side Story.
Troy Kotsur became the first hearing-impaired man to win Best Supporting Actor — and only the second performer after his CODA co-star Marlee Martin. Kotsur brought his trademark charm to the stage, even joking about his recent visit to the White House with his CODA crew. He said that he wanted to teach President Joe Biden and First Lady Jill Biden "dirty sign language" but Matlin told him "to behave". The audience was left teary eyed when Kotsur shared a story about his father. "My dad, he was the best signer in our family. But he was in a car accident and he became paralysed from the neck down and wasn't able to sign. Dad, I learned so much from you, and I'll always love you. You are my hero." Kotsur concluded by dedicating the award to CODA and the hearing-impaired and disabled communities. "This is our moment," he said.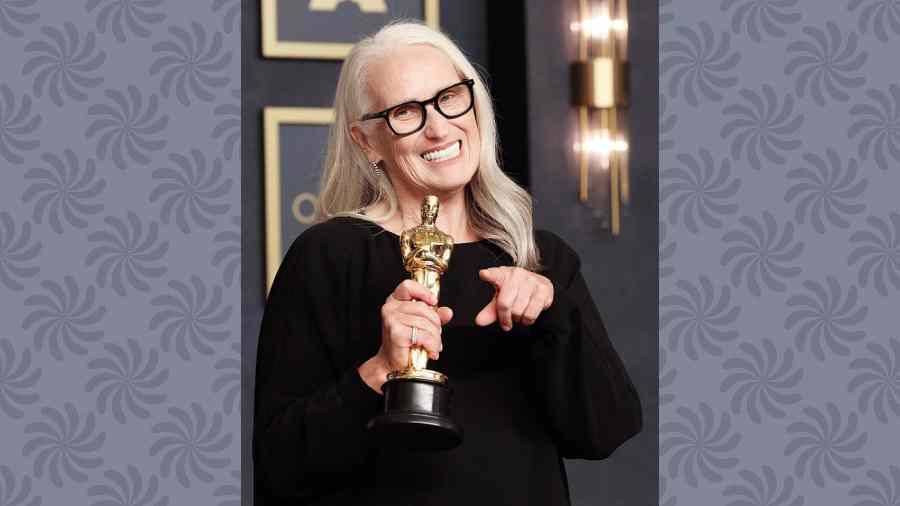 Jane Campion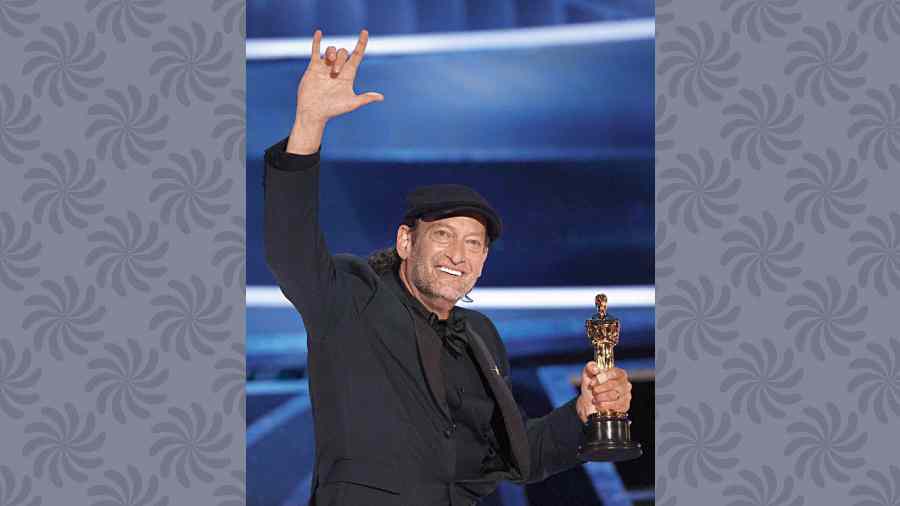 Troy Kotsur
Jane Campion — the only female director to be nominated for a Best Director Oscar twice — became only the third woman in the history of the Academy Awards to win for Best Director for The Power of the Dog. This is also the first time in Oscar history where a woman has taken home the award in back-to-back years, after Chloe Zhao won Best Director for Nomadland last year.
The big winners, and....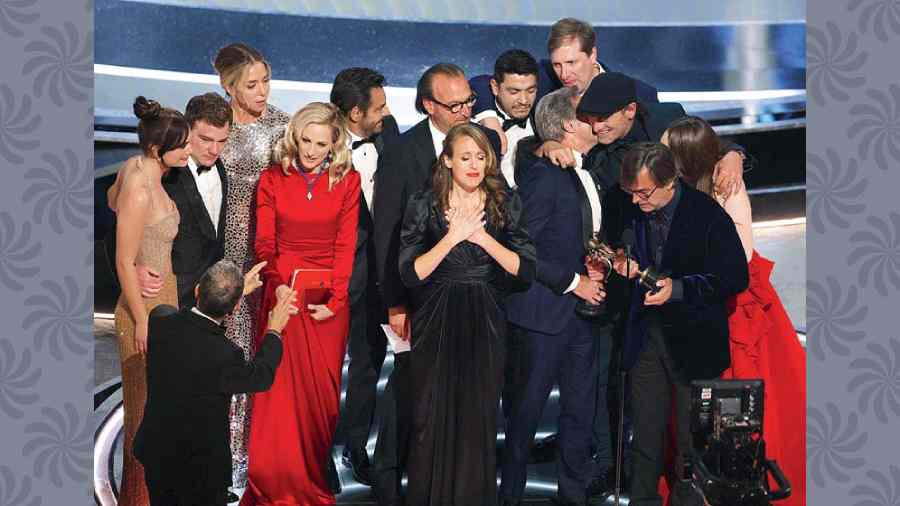 Team CODA after winning Best Picture
Jessica Chastain took home her first Oscar for Best Actress for her physically and emotional altering act in The Eyes of Tammy Faye. The actress delivered a moving acceptance speech about suicide and discrimination and called out the 'bigoted' anti-LGBTQ+ legislation on stage. "We're faced with discriminatory and bigoted legislation that is sweeping our country, with the only goal of further dividing us. There's violence and hate crimes being perpetuated on innocent civilians all over the world. And in times like this, I think of Tammy, and I'm inspired by her radical acts of love," said the stunning actress, who has previously been nominated for Zero Dark Thirty and The Help.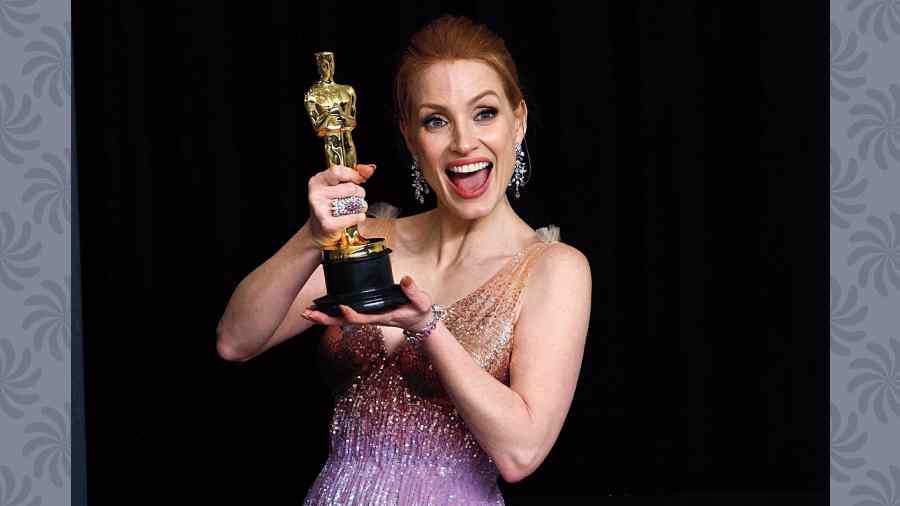 Jessica Chastain
CODA trumped over the more fancied The Power of the Dog, while Denis Villeneuve's jaw-dropping spectacle Dune took home six awards, mostly in the technical category, the highest for any film this year. The Academy, however, was criticised for leaving out eight categories from the live televised event this year and later stitching them on sloppily to the telecast of the main event.
The other eye-roll moment of the evening was probably the announcement of the 'fan-favourite' film of the year, a first at the Oscars. The topper? Zack Snyder's zombie-heist film Army of the Dead, an average to poor watch at best.
The hosts
(L-R) Amy Schumer, Wanda Sykes and Regina Hall
For the first time since 2018, the Oscars saw the return of a host. Except that there were three. Actress Regina Hall and comedians Amy Schumer and Wanda Sykes delivered some sparkling lines off and on, but came up short. Schumer was the only one with some measure of success, especially when she came down heavily on some of the nominated films. "Aaron Sorkin, a genius. Truly, right? I mean, the innovation to make a movie (Being the Ricardos) about Lucille Ball without even a moment that's funny. If you're Aaron Sorkin, how do you make a movie about the most iconic female comedian and not one laugh, it's brilliant! It's like making a biopic about Michael Jordan and just showing the bus trips between games. Amazing!"
She also poked fun at King Richard with, "After years of Hollywood ignoring women's stories, this year we finally got a movie about the incredible Williams sisters'... dad!"
Night of tributes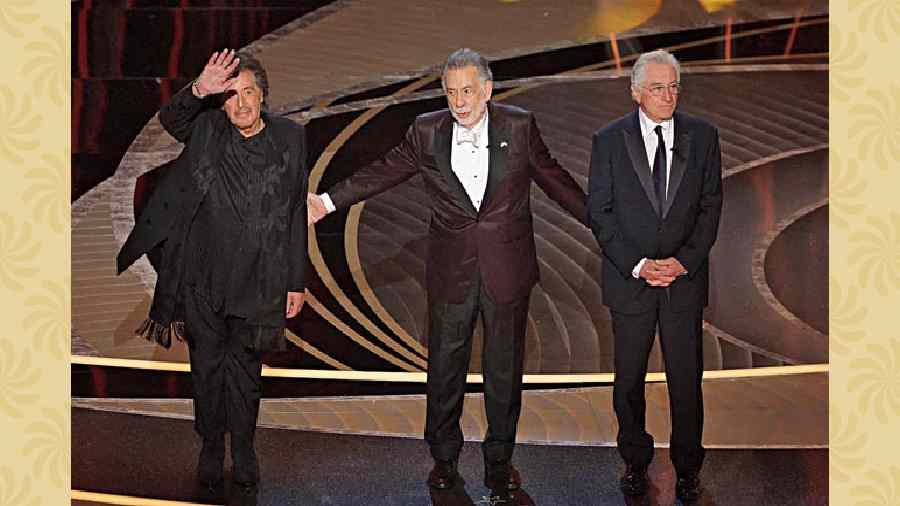 The Godfather director Francis Ford Coppola (centre) with actors Al Pacino and Robert De Niro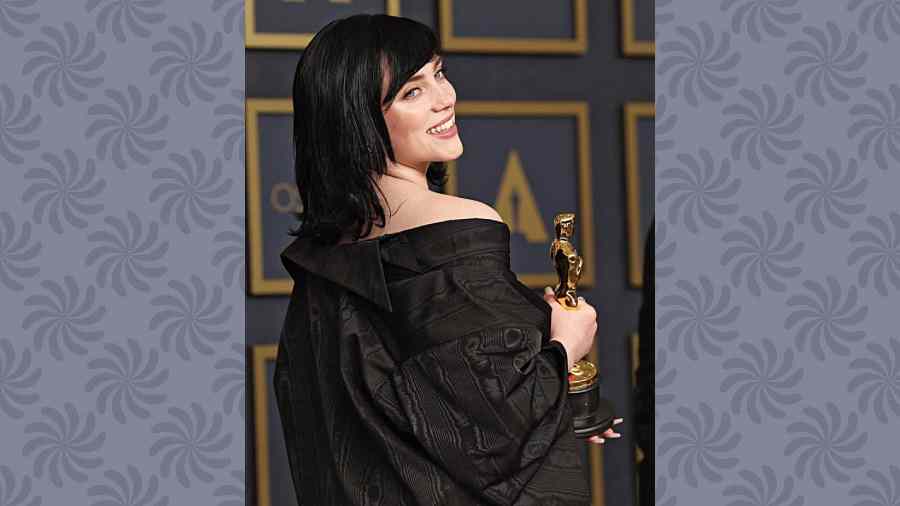 Billie Eilish
On a night which commemorated 60 years of James Bond, British sensation Billie Eilish won Best Original Song for No Time to Die from the eponymous Bond film, beoming the youngest triple crowned winner in an award season, racking up an Oscar, Grammy and Golden Globe for the song.
The other notable tributes of the evening included Pulp Fiction stars Samuel L. Jackson, Uma Thurman and John Travolta trooping on stage and recreating a part of the famous footwork done by Travolta and Thurman's characters.
Juno, that turns 15 this year, had Jennifer Garner, JK Simmons and Elliot Page (then known as Ellen Page) in attendance. Cabaret's 50th anniversary had the legendary Liza Minnelli, who won Best Actress for that film, on stage in a wheelchair. Woody Harrelson, Wesley Snipes and Rosie Perez reunited at the Oscars 30 years after their film White Men Can't Jump.
Liza Minnelli with Lady Gaga
Receiving a standing ovation from the audience at Dolby Theatre was Team The Godfather that turned 50 this year. On stage, director Francis Ford Coppola was accompanied by the film's stars and acting legends Robert De Niro and Al Pacino. "I think I feel moments like this should be sincere and brief," Coppola said. "I'm so grateful to my two wonderful friends who have come here to help me celebrate with you this project that we began 50 years ago with really the most extraordinary collaborators". The master film-maker ended his brief time on stage with a powerful final message, "Thank you. Viva Ukraine!"
The hit list
• Best Picture: CODA
• Best Director: Jane Campion, The Power of the Dog
• Best Actress in a Leading Role: Jessica Chastain, The Eyes of Tammy Faye
• Best Actor in a Leading Role: Will Smith, King Richard
• Best Actress in a Supporting Role: Ariana DeBose, West Side Story
• Best Actor in a Supporting Role: Troy Kotsur, CODA
• Best Original Screenplay: Kenneth Branagh, Belfast
• Best Adapted Screenplay: Sian Heder, CODA
• Best Cinematography: Greig Fraser, Dune
• Best Film Editing: Joe Walker, Dune
• Best Animated Feature: Encanto
• Best Animated Short: The Windshield Wiper
• Best Live-Action Short: The Long Goodbye
• Best International Feature: Drive My Car (Japan)
• Best Documentary Feature: Summer of Soul
• Best Documentary Short: The Queen of Basketball
• Best Original Score: Hans Zimmer, Dune
• Best Original Song: No Time to Die from No Time to Die — music and lyrics by Billie Eilish and Finneas O'Connell
• Best Sound: Dune
• Best Costume Design: Cruella
• Best Makeup and Hairstyling: The Eyes of Tammy Faye
• Best Production Design: Dune
• Best Visual Effects: Dune