Actresses Mrunal Thakur and Diana Penty made appearances at the Cannes Film Festival red carpet this year. For Sita Ramam star Mrunal, it was also a red carpet debut that she made with Grey Goose, with Falguni Shane Peacock dressing her in an ivory evening gown with 'strategically placed cutouts', for the special occasion. t2 caught up with the actresses, and Falguni and Shane Peacock on their Cannes call. 
Congratulations on a stunning appearance! What was Cannes like?  
Diana: Magical! What an exciting time to witness the gathering of incredible talent under one roof… the best of film and fashion coming together. This was my second time at Cannes and it still gives me butterflies in my stomach. I feel very fortunate to be able to represent India, its cinema and culture, on such a prestigious global platform.Mrunal: Cannes is a guaranteed thing to be done on every actor's to-do list... growing up to celebrate films and fashion. For me, it was a surreal experience that I got to meet such incredible filmmakers, to represent and speak on behalf of Indian cinema there. Having said that, now that I have been a part of Telugu, Marathi film and Hindi films and an international project like Love Sonia, it was truly wholesome to actually speak on behalf of a large diaspora. This gave me the opportunity to speak of working in various industries within Indian cinema, it was truly enchanting. To be around so many talented filmmakers who were there to represent their films, was truly amazing. I have grown up seeing my idols walk this very red carpet so it was truly an amazing experience to be there.
How did you curate your wardrobe?
Diana: That's a hard one to answer simply! It's been a collaborative effort with my stylist, Namita Alexander, and me. In fact, kudos to her for pulling off some great looks in a very short period of time. We decided to go easy chic. Nothing too big, loud or over the top, even when it came to the red-carpet look. 
I like Falguni Shane Peacock workmanship. The embroidery and detailing on each of their garments are impeccable. And that's something I really respect about the brand. Oh, and there's always a dash of drama with every Falguni and Shane piece… perfect for creating an impact!Mrunal: I wanted my looks to be versatile. I wanted it to be chic, and truly represent Indian culture. Something that is so effortless. So if you see, the Anamika Khanna outfit with the hood had so many details from top to bottom, a modern take on Indian styles. Or even the Dhruv Kapoor (outfit), which was this eclectic look of sequinned jacket on sheer lacy pants and I wanted that to be androgynous. Similarly, Falguni and Shane do iconic Indian looks hence I wanted the gown to be inspired by the sari. I wanted the final red carpet to be something out of the box. Something that has never been done before. So if you see the ruffles on the trail, it was the first time I was doing a trail gown. So I wanted my wardrobe to be as creatively versatile as possible. It had to have a story. Someone who can dress casually, traditionally and can do a glamour glow, all so easily. I wanted to represent the best of Indian designs and jewellery and with the help of my stylist, Rahul Vijay, I could ensure that we could work on my strengths. He always pushes me to do something new and that gown for example was a bit risky, but it truly made me go out of my comfort zone.
What was your perception of Cannes?
Mrunal: Perception of Cannes is a celebration of cinema. It's a different world together. Ever since I got back, I've been motivated to be part of great cinema and tell even better stories. I want to be part of the iconic films which make up this festival.
Cannes is synonymous with striking fashion. Do you remember iconic moments?
Diana: Yes of course! Some of my most favourite moments are Anne Hathaway in Armani Privé and Bella Hadid in vintage Jean Paul Gaultier. Mrunal: The most iconic Cannes moment was Marilyn Monroe. She is the epitome of effortlessness. Her smile captured the world, her aura. Her moment at Cannes was truly iconic for me. 
What has the association with Grey Goose been like?
Diana: Just superb! We have collaborated together on a number of occasions through the years and it always is very fulfilling. Grey Goose is synonymous with luxury and everything the brand does exudes this. It is always a pleasure working with them, in fact, they're like family now.Mrunal: I have had a wonderful experience working with Grey Goose. They have been such great collaborators. The entire thought process was their ideology, Vive Le Voyage, which means to celebrate the journey. The idea was to celebrate movies, fashion and me. So I'm thankful for this and looking forward to many more such associations.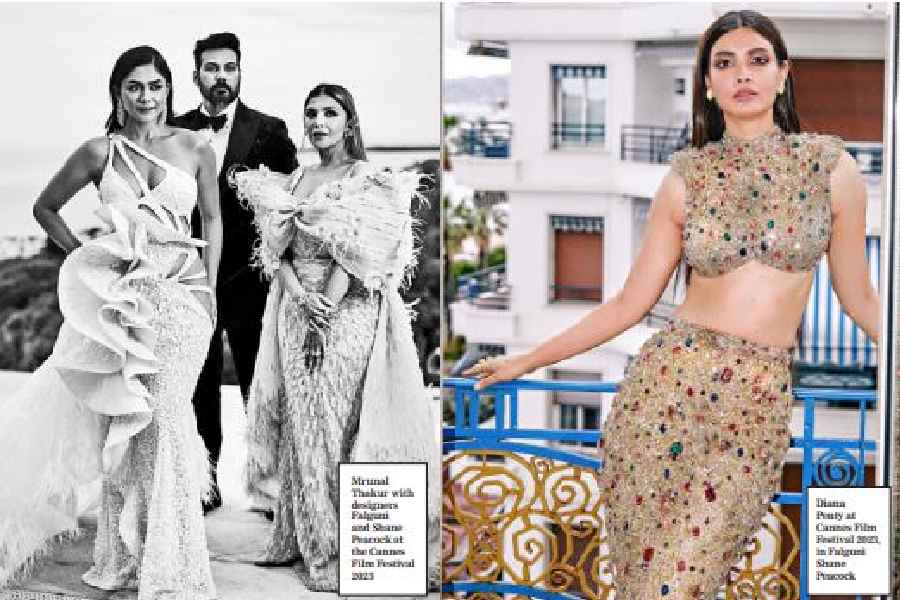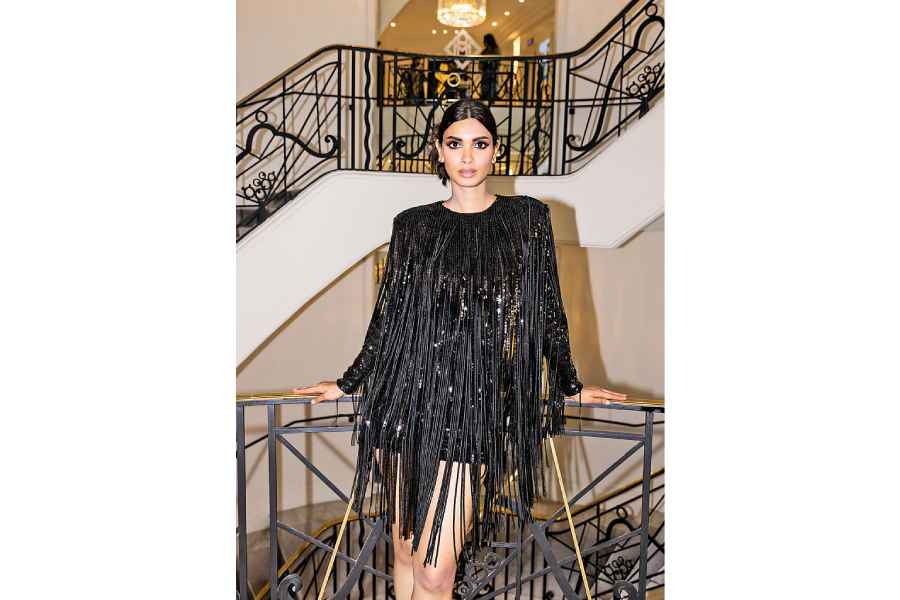 Diana Penty at Cannes Film Festival 2023, in Philipp Plein
DESIGNERSPEAK: FALGUNI AND SHANE PEACOCK
Congratulations for Cannes! How excited were you both?
We were thrilled to debut at the Cannes Film Festival, representing India's rich craftsmanship on the global fashion stage. It's an immense honour for us as designers, to showcase the brilliance of Indian craftsmanship and the opulence of Indian fashion.
What were you expecting?
The Cannes Film Festival offers us a remarkable chance to showcase our creativity on a global scale. We were expecting conversations and interactions with international celebrities, fashion influencers and industry professionals, sharing the stories behind our designs and showcasing the immense talent within the Indian fashion industry. Our goal is to inspire greater appreciation for Indian fashion and contribute to the growth and recognition of Indian craftsmanship worldwide. Through our creations, we hope to reflect the magnificence and richness of Indian culture, solidifying India's position as a global fashion powerhouse.
Tell us about the showcase...
We aim to redefine Indian couture with a contemporary perspective, blending modernity with tradition through intricate embroideries and handcrafted details. Through our work, we want to showcase the brilliance of Indian craftsmanship. Presenting our creations at renowned events like Cannes brings global attention to the artistry, traditional techniques and opulence of Indian fashion. It allows us to highlight the skills of our talented artisans, who carry forward generations of techniques. These opportunities make us feel like not only designers but also ambassadors of Indian fashion. Our goal is to redefine Indian couture with a contemporary and forwardthinking perspective. By incorporating Indian aesthetics, intricate embroideries, and handcrafted details, we strive to create a unique fusion of modernity and tradition.
Cannes just sits right with the brand. How did the partnership with Grey Goose come about?
We have previously collaborated with Grey Goose for various events, and each time has been a fantastic experience with the brand. It's truly admirable to witness Grey Goose's enduring commitment to the world of fashion and its appreciation for the creative minds shaping the ever-changing fashion landscape. This partnership for the Cannes Film Festival's Red Carpet is a celebration of the voyage rather than just the destination. We are extremely delighted that our nearly two-decade-long journey is being propelled with this remarkable debut at Cannes.
We have to ask you who and what you were most eager to watch when in Cannes?
First and foremost, we were excited to meet our long-time friends and associates. We were also looking forward to finally meeting some of our friends from different parts of the world whom we had only interacted with through calls or text messages. Apart from that, we hoped to catch up on some films as it's truly overwhelming to see the luminaries from world cinema come together..