Itrh showcased a high-on-shine line at Lakme Fashion Week in partnership with FDCI, held in Mumbai. Co-founded by Mohit Rai and Ridhi Bansal, the brand is four years old with glamour at its core. The Telegraph caught up with Mohit who has been a stylist for the last 14 years, has spent six years in Mumbai and has worked with some of the biggest names in the world of showbiz, post-show.
Ever since you started the brand, it's been a fabulous journey...
It's been a long journey, I don't know about fabulous (laughs). The brand is about four years old, but obviously, it was right before the pandemic and we struggled to keep it afloat, but, because I guess the product has a uniqueness, it did exceedingly well, much more than we ever expected. We never started thinking we would get to this point ever, to be honest.
The name is beautiful...
It means essence, oils... which come from Lucknow.. they are oils and not perfumes. They don't sit on your skin and disappear. They get absorbed by your skin and eventually become a part of you. It's a long-term love with craft, beauty....
Glamour has been the mainstay. The metallics from the brand were gorgeous...
It's been my personal thing as well (smiles). The metallics are brand classics and they are still around. We never wanted to be one thing or the other. We knew we wanted to cater to whoever wants beautiful clothes and wants to feel good. A lot of designers pigeonhole themselves into one kind of product and they have a hard time getting out of it if they want to. So, just like people change their moods every season, we change our mood and our vibe every season.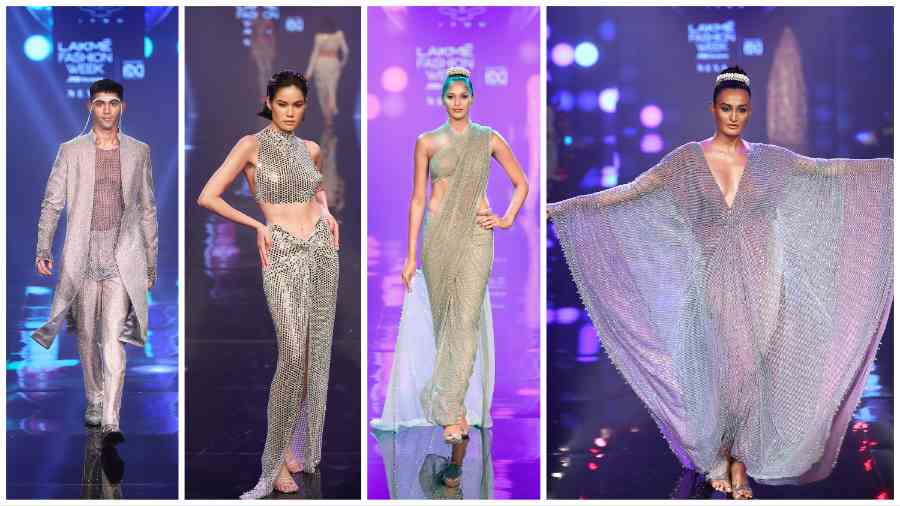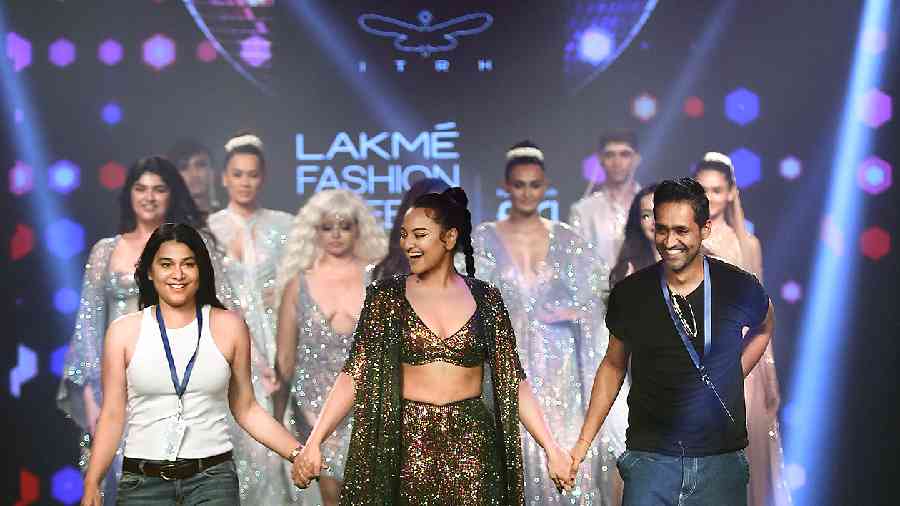 (L-R) Ridhi Bansal, Sonakshi Sinha and Mohit Rai, took a bow, post-show
What you gave Sonakshi Sinha was very disco. Is that the vibe for you this season?
Absolutely. For us, disco and music are such big inspirations. Last season we had the honour and the fantastic chance to work with Bappida (Bappi Lahiri) right before he passed away. He was a muse for our shoot and modelled for us, with the models. So, we dedicated our entire collection to him last season. Even this season, it's going to be a running theme. Which is why we closed the show with Jimmy Jimmy (the iconic Bappi Lahiri song). He is always going to be an inspiration for us.
Sonakshi has been your muse...
She is very close to me. On a personal level, she trusted me enough to work with me even though I had no understanding of Bollywood or connections in Bollywood. She was also the first person to wear our clothes ever, my first show-stopper and will always be part of the brand.
How has your styling seamlessly flown into Itrh?
It's not seamless I would say, but it's something that I have been working on because styling is something I have done for so long and is something I understand. Styling is my first profession but designing too is. I am doing both. I want to do everything. I don't like people who limit themselves. Being a stylist is fantastic because you get to work with so many cool people. I work with so many designers. I style their campaign and runway shows. I love interacting with people. This is also where our industry stands right now. You can be allies and do multiple things. So, all my designer friends were present in the audience today... Arpita (Mehta), Kunal (Rawal). I am also there for them. I love the 360-degree unit in fashion. You don't need to be one or the other any more. Ridhi (Bansal, co-founder) and I design everything together and are vocal about our opinions, and, because of that two energies clash but because of that we get something unique. We are constantly evolving and changing things.
Do you want to keep it both distinct?
For me, it's not as distinct because I have got the aspects now pretty figured out on an individual level. When you are styling, you are working with other people's energies a lot and when you are designing, you are only working with your own energy. It's all you.
Who are the people you look up to?
I think one of the most inspiring figures, because we have a similar journey, at least that's the sort of journey I am trying to emulate, is Manish (Malhotra). He was a costumier, stylist and now he has a phenomenal, thousand of crores and a fantastic multinational brand. His inherent glamour has inspired me since I was a child, like Rangeela, K3G (Kabhi Khushi Kabhie Gham...)... they have inspired actual silhouettes and references in my life. Now to see him be this mogul in fashion and the fantastic range of products he works on... he has still kept the inherent glamour that he started out with, he would be the one for me.