The pandemic brought with it despair but some managed to overcome the challenges with sheer willpower and even extended a helping hand.
Mistu Meaow Bhaow House, an animal shelter and creche at Badamtala, is one such beacon of hope. Started on September 7, 2021, in the middle of the pandemic, by Jayati Chakraborty, it is today home to around 60 cats and dogs.
Abode of love & passion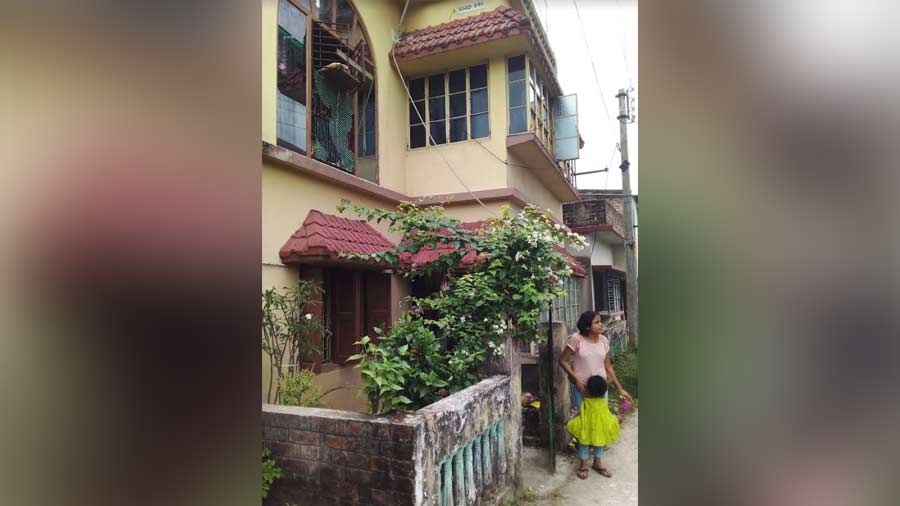 Jayati Chakraborty with her four-and-a-half year-old daughter Mistu in front of the home
The shelter may have no fancy frills but it makes up for it with love and compassion. It is a family-run affair with Jayati's mother, husband Shoubhik and four-year-old daughter Mistu all lending a helping hand.
The adult members of the family are the main workforce of the shelter home and creche named after the youngest member.
A portion of the two-storeyed house has been converted into an animal shelter, which has a section for animals in distress and another that serves as a creche.
Of Bhultu, Chiku and Dustu
Among the feline members who proudly strut around the home is the rescued Bhultu, who is regarded as the king of the shelter. Chiku is the eldest among the male cats while Dushtu is the eldest among the females. There's also Poochi, Mithai, Yellow Eyes, Bhulo Leo, the three-legged Catty who was hurt in an accident and Bhitu Dim as she is always scared!
Among the dogs are Dumbo, Ghunti Punti, Tuki, Cuty, Siri and others. There are also many kittens who are yet to be named.
Explaining how the one-year-old home has so many 'pets', Jayati said, "Most owners have abandoned their pets following illness, injuries and old age and hence the number has been growing by leaps and bounds. Whatever be their status, they are all fondly referred to as our pets."
Home charges
The creche charges Rs 260 per day for cats. For Indian-bred dogs and imported or foreign-bred dogs, the charges range between Rs 500 and Rs 600 per day.
The shelter requires around 60kg of dog food and a similar quantity for cats every month and this has to be supplemented with a good measure of raw chicken and fish for the little ones.
Troubled times
The animal-loving Chakrabortys have been involved in taking care of hapless animals for quite some time but the pandemic prompted them to start a proper shelter.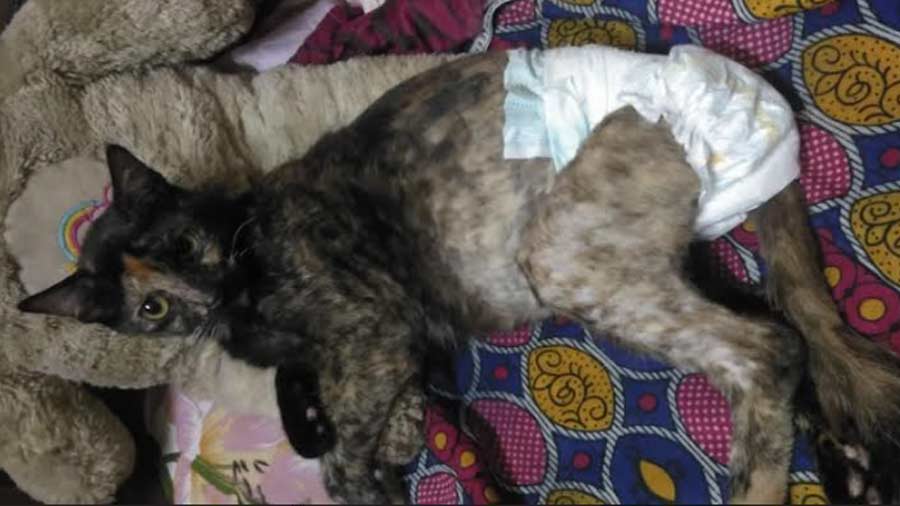 A cat undergoing treatment at the home
Jayati's husband had a flourishing career with a multinational firm and had started a business in the IT sector but had to shut down his venture.
A BBA graduate, Jayati worked with a major departmental store chain but gave up her job Post marriage. She made handmade jewellery which fetched her good profits but that wasn't enough for the family, including nearly 50 pets, to survive.
"I had never thought of converting my passion into my trade. After my husband's business folded up, we were at a complete loss with about 50 mouths in the house to be fed. We had bought this property just before the lockdown and a well-wisher suggested that we start an animal crèche as we were already involved in looking after animals. That's how things began and soon we had an animal shelter too," Jayati said.
The family's main source of income at present is the creche. "We also look after the stray animals in the neighbourhood," said Jayati.
Obstacles in the way
Despite braving all odds, the road to compassion hasn't been smooth for the family.
"Time and again we have faced objections from neighbours but there are also many who have appreciated our efforts. Currently, we have no fixed sponsors but some individuals have been bailing us out on a regular basis. Only those involved in this field will know how difficult and expensive it is to treat animals. Whenever I face such a scenario, I appeal for funds and have been blessed almost always. We have been generously helped by veterinarians like Dr Agniva Nandy and Dr Durgadas Mandal." "Detractors may deride us but care and compassion come only from a genuine heart," Jayati said.