City designer Ankita Lath dropped her debut edit Atoor, and the collection celebrates Mughal architecture and its grandeur. Meaning architectural structures in Urdu, Atoor is inspired from intricate architectural designs and detailing of heritage palaces and forts of India.
Minimal and classy with overwhelming earthy notes, the Indo-fusion contemporary collection primarily uses natural and comfortable fabrics like linen and khadi. In terms of detailing, the effervescent designer who has a knack for graphics and prints, has incorporated Japanese embroidery technique Sashika that involves continuous small stitches. She adds her style of heavy dori work to it, thereby elevating the ensemble.
Ankita, a NIFT graduate who works from her residential address in Alipore takes The Telegraph through Atoor and delving deep into the world of designing with her eponymous label. Excerpts:
What were the deciding factors that led you to pursue designing and open a store as well?
I think I was in class VII or VIII when I decided that I will be a designer when I grow up and finish my elementary studies. My mother already had a setup at home and I was always fascinated with the process when she was working with the kaarigars, getting stuff dyed, etc. I always used to help her with the colour palettes and combinations and I figured that this is a field that I have a knack for. So since then, I knew that I wanted to start a brand of my own.
And your debut collection is Atoor, a line for men…
Yes, Atoor is my introductory collection and in Urdu it means 'architectural structures'. Why Atoor? Because all the motifs I have used in my garments are inspired from the heritage palaces and forts of India, their gateways and spectacular carvings. All the garments are really structural and there is not a lot of drapes. They are very minimal classic and the colour palette is earthy. I have also tried sticking to my roots in a way as to not doing things out of the box in terms of colours and taking inspirations from the Mughal era. It is ideal for festive-wedding season. I chose pret/couture for my boutique because if a groom walks in with his brother and father or with the entire battalion, everyone will have something to pick up for all the events. So, it's a complete package.
Who are the designers who have inspired you?
Designers like Sabyasachi (Mukherjee), Yohji Yamamoto, Dolce & Gabbana and Alexander McQueen have been my inspiration. Why Sabyasachi? Because right from the day he started till today, whatever he is, he never forgot his roots. I remember reading it somewhere that for one of his collections he took inspiration from brothels and streets of Calcutta. I really liked how he took Calcutta as a source of inspiration and that he still sticks around with that. Coming to international designers, they have their own flavour and McQueen, I think everyone knows what a star he was. I think that's what designers are supposed to do; create something new, something which people have never seen before.
You also have a knack for graphics and prints, so why did you choose the path of fashion designing?
I think both of them go hand in hand. After college, I purposely worked for a few companies as a graphic designer because I knew that after some point, I wanted to work on garments. I worked for Ritu Kumar, which is a completely print-based company. It really helped me because we developed prints and that's when we also did embroidery along with the prints. So it kind of goes hand in hand.
How was the journey from working with established brands to starting your own label?
The journey was quite adventurous. A lot of people like my friends and family suggested working with my mom who had her own base but I felt that I should also go out there and work with a few established designers to understand different work cultures and expose myself to various flavours of embroidery and find out what each brand has to offer. So learning was very important to me. I also felt that I wasn't ready at that time as designing is a field that makes you learn something new every day. Also, it's a challenge to start a new label because of the cutthroat competition in this huge pool of designers. I think only if I can do something different people will come to me and buy an 'Ankita'.
Pictures courtesy: The designer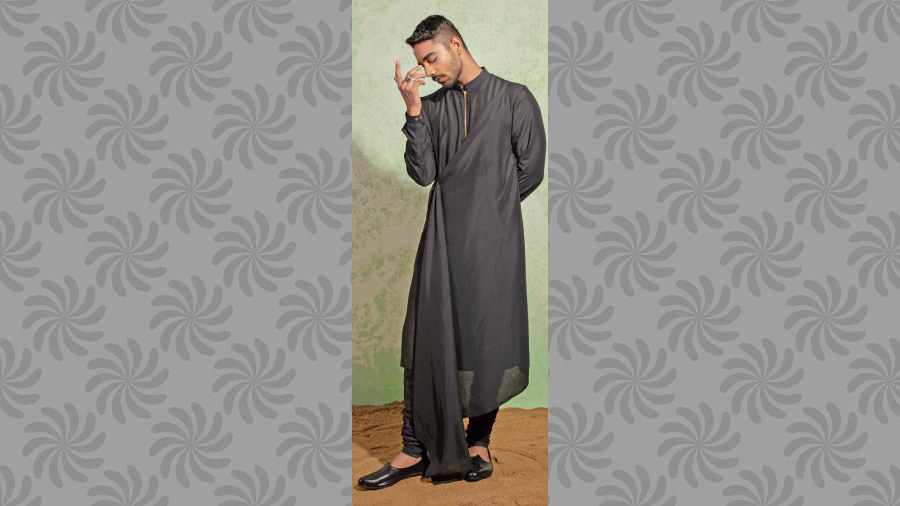 A contemporary stylised black kurta, ideal for someone who does not want to go over the top but wants to be stylish. It can be paired with a jacket as an evening wear.
More about it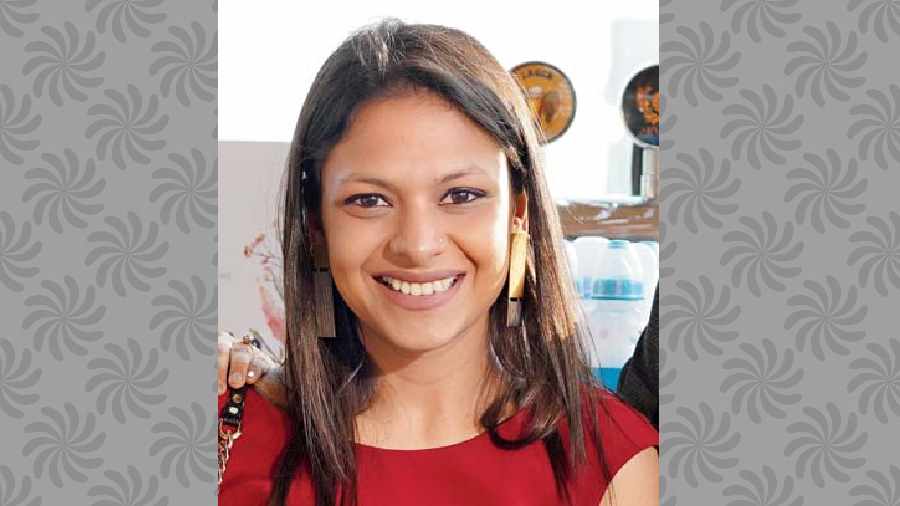 Ankita Lath
What: Ankita Lath, a fashion boutique
Where: 3/1B, Alipore Park Road (Near SBI)
Timings: Monday to Saturday 11am-7pm (Sundays closed). By appointment only