The pandemic has left its mark on people's lives and there are many who want to make pandemic memories permanent with tattoos. Tattoo artists have been flooded with requests for designs based on some life-changing aspects of the pandemic, be it the loss of their loved ones or a pet, mental health issues or more.    
From pets to mental health issues
The pandemic has changed lives drastically. While some had taken up new hobbies like keeping a pet, some struggled with mental health issues and some tried to live with the pain of losing their loved ones.
Now that the pandemic is (almost) over, people want to forget the nightmare of the COVID menace but are keen on keeping some memories of that time alive through tattoos.
"The most popular tattoos these days are pet-related. From paw prints to the portraits of their beloved pets, people want to keep their pets' memories for the rest of their lives," said Sriya Roy Choudhury, a tattoo artist from Lizard Skin Tattoos. 
Artist Avishek Das, from Inklink Tattoos, said travel is another popular topic post-COVID. "People lived indoors for more than one-and-a-half years and many have realised their urge for travelling and that they would not live without travelling, hence some have tattoos of landscapes etc," Avishek added.
Mental health is another important aspect that is being transformed into body art. "Anxiety, depression and the feeling of helplessness were all around us during the pandemic. Most of us felt that we were being sucked into a black hole and we had reached a no-return point. However, the fortunate ones have come out of the pandemic horror. Several of my clients want to remember that struggle through tattoos," said Goutam Das, Bodhi Tree Tattoo Studio.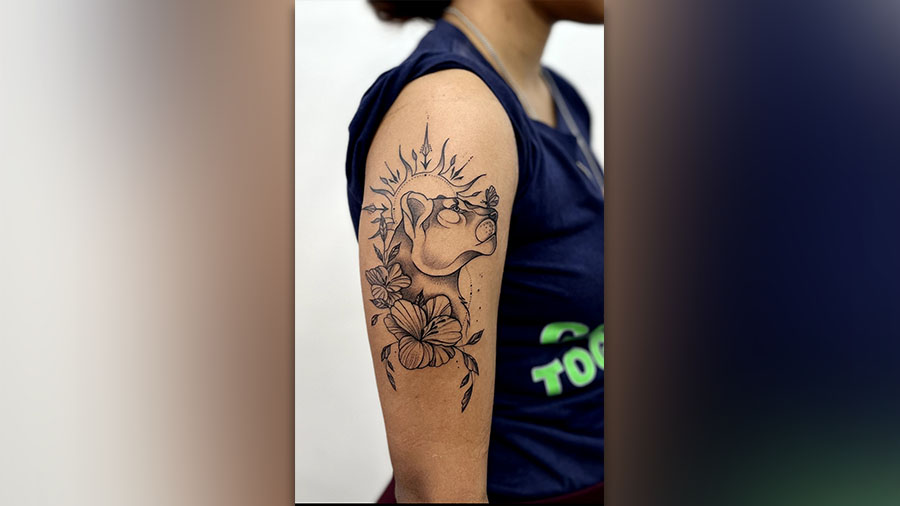 Tiasha Pramanik's lioness tattoo is a reminder of the courage with which she fought off her mental health issues during pandemic.
Goutam Das
Coming out of the darkest hour
Tiasha Pramanik, a student, battled her long-time illness and fought against the mental trauma during the lockdown. "It was one of the darkest hours in my life but thankfully, I regained my strength. I discovered the spirit of a lioness in me and got this tattoo of a lioness done so that I can find courage again when I am in distress," she added.
For Soumyajit Chakraborty, his father was one of the most inspirational persons in his life and Soumyajit was crestfallen following his dad's untimely demise last year. "I decided to make a portrait of dad on my hand so that he 'stays with me' till the last day of my life," Soumyajit added.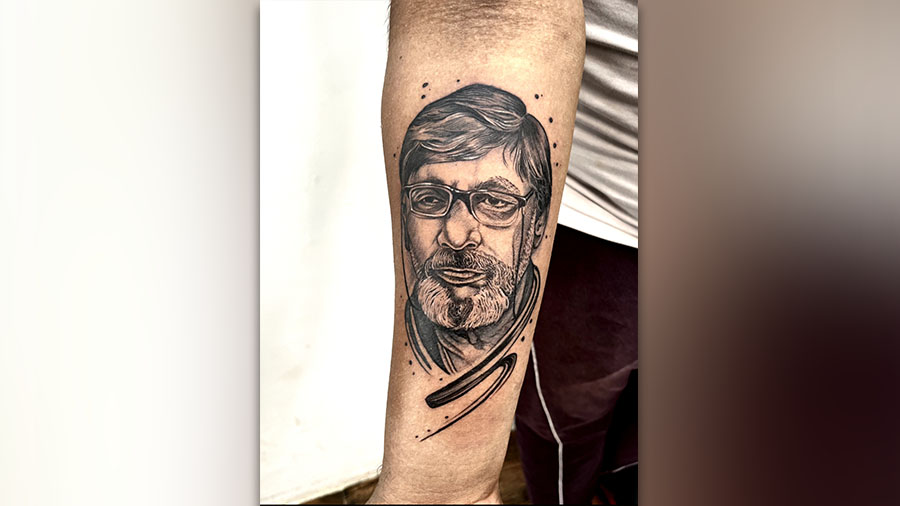 Soumyajit Chakraborty had his father's face tattooed on his hand.
Goutam Das
Nothing unusual
Sunny Roy, a tattoo artist, however, doesn't see anything unusual in these demands. According to him, for the last two years people were cooped up in their homes and got enormous time to think and introspect. "This is reflected in their requests. It's not any random tribal design or the face of an animal, but requests are guided by proper thoughts," he added. Agreeing with him, Avishek said even a couple of years back, clients would come to him asking for random design ideas without any real-life connection. "It was like making a tattoo just for the sake of it. There was no thought or research into it. But things have changed now," he added.
Now, people are going in for smaller and coloured tattoos. "A tattoo is going to stay with you for a lifetime and if you do not give it a good thought before getting it done, you are likely to regret it forever. But now most of my clients are focused and aware of what they want," said Sriya.
Not afraid of the price tag
The unique requests can often be challenging for the artists. "I can always take a design from the internet and make a tattoo, but there is no creative satisfaction in it. With more and more unusual requests, I spend more time on designing," said Sunny. Besides, the clients do not hesitate to shell out more money for a well-made tattoo. Depending on the design and the size, the cost of the artwork can start from Rs 2000 and can go up to lakhs. Most people spend anything between Rs 10,000 and Rs 50,000 for tattoos.