Madhurima Basak has been soaking in the praise  coming her way for her performance in the new serial Guddi, an intriguing story of dreams and complexities of life. A Telegraph chat.
After shooting for films like X= Prem, why did you decide to act in serials once again?
You don't get to act in films everyday. Serials are my bread and butter. Serials made me survive in the industry and gave me my identity.
Was the transition, from film shoot to serial shoot, smooth?
Films are new to me. Serials have been my staple for long, so there wasn't any transition as such. In the end it is the camera and all about reacting... sometimes a little more while at times a little less given the format.
Tell us about your character in Guddi?
I play a simple school teacher who has her own dilemma of choosing to stay or let go the love of her life for someone whom she adores equally.
What is the best part about the storyline of Guddi?
That the story despite being simple has been treated differently. The characters have a beautiful journey of their own while bumping into each other for yet another beautiful turn together.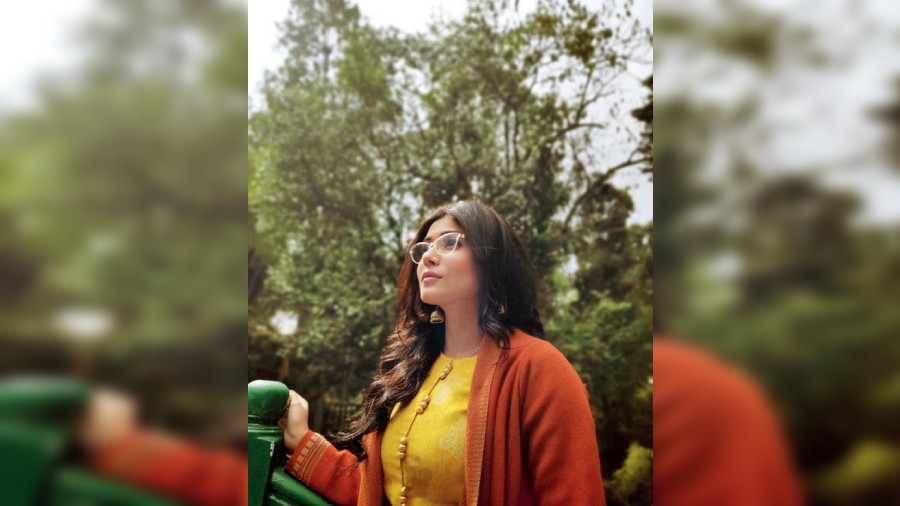 Madhurima in Guddi on Star jalsha
How was your shooting experience in north Bengal?
I feel a deep connection with north Bengal. The place hasn't given up on nature and still has a certain purity about it. It was beautiful to be shooting amidst the hills and greenery... quiet, peaceful and leaving a lot to introspect and reflect on my journey till now.
Any memorable incident on set?
I experienced snowfall for the very first time in life which was amazing. And I also had a constant runny nose, which was a bad memory but then memorable nevertheless!
How was it like working with Ranojoy?
He is very talented yet easy going and a genuine human being. We got along very well and it didn't feel like shooting for the first time.
Did you get time to sightsee ?
We had a very hectic and packed schedule. I could only manage to dine at Glenary's after pack-up. The next call was at 4 in the morning. But then shooting outdoors in the hills is in itself a sight to behold.
How different are the shooting patterns of films and serials?
Films are more organic and performances are generally more nuanced compared to serials. The treatment is different and given the format and run time, films generally don't have that extra flab that serials tend to bear for continuity.
How has the stories of serials changed in the last few years? Tell us about the roles for women.
Serials have always been women- centric but mostly the conflict or crisis was pretty similar with women being shown as weak and helpless and then turning around.....with changing times drawing room dramas are gradually giving way to work-life struggle and other such struggles that a woman goes through... concepts are ambitious and treading different paths.
Would you like to see any changes in serials?
More outdoor shoots, experimenting with concepts beyond relationships and family dynamics... just as Guddi is trying to do.