Movie scenes you cannot get out of your head: Sanjay Dutt kissing Tina Ambani (Tina Munim back then) on the lips in Rocky (1981). A scorching, extended kiss that would put Emraan Hashmi chummas to shame. They had actually shown a lip kiss on TV! That marked the beginning of my fascination with Bollywood romance movies.
The '80s was a time when Bollywood flicks were infused with the stereotypical running around trees and dancing in waterfalls, silently inspiring us to do the same. As though we all lived in Khandala. 
A few years on, while in the throes of adolescence, I yearned to see more than a mere peck on the lips. But forget tongue, there was no lip kiss for years to come. Sanju, you lucky ba*tard!
Bollywood made me think I was in love, even when I was not
Romance remained the X-factor in the Bollywood of the '90s. Shah Rukh Khan might have convincingly romanced Manisha Koirala in Dil Se… (1998), and the focus might have shifted from running around trees to dancing on trains (thanks, Malaika!), but it was a movie devoid of stars that left me starry-eyed. One that glorified love to the hilt: Pyaar Mein Kabhi Kabhi (1999), starring Dino Morea and Rinke Khanna, among other newbies. With a haunting soundtrack (remember the intoxicating Musu Musu?) Bollywood made me think I was in love, even when I was not.
That was Bollywood for you in the '90s. It made you fall in love without being in love. Through its breathtakingly lyrical music and the intensity with which an up-and-coming hero in the film industry, who would later become a superstar, said: "I love you, K.K.K… Kiran". And, of course, that proverbial cherry on the cake — Dilwale Dulhania Le Jayenge (1995). I do not have the words to describe what I felt when I watched it. Aditya Chopra had me believe there was nothing greater in the world than love. Reading the Buddha's teachings years later led me to a realisation of the same sort, but that did not involve a girl running to grab the outstretched arm of her lover on a train moving at exactly the right pace for her to reach him in time. In that moment, if the train had turned into a helicopter, I would have believed it.
Deforestation happened and Bollywood actors stopped running around trees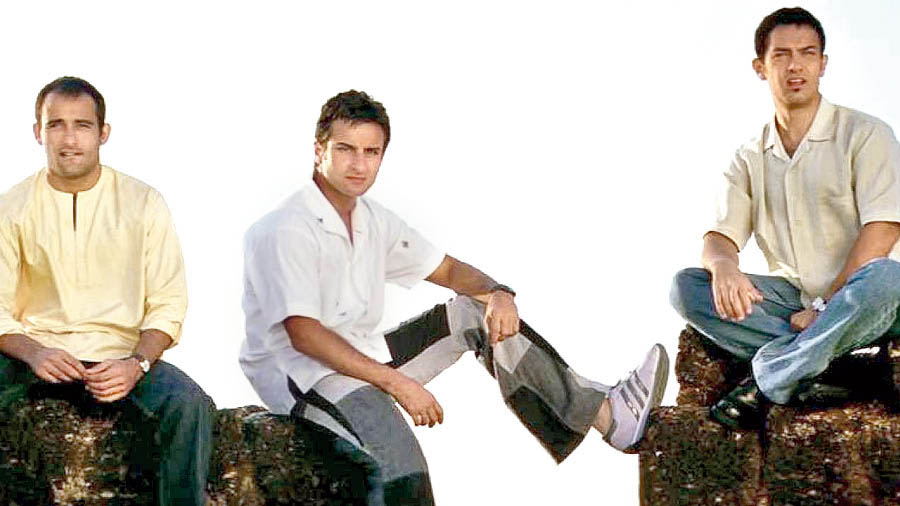 'Dil Chahta Hai' introduced Indians to all kinds of love
As I grew older, my perception of love changed. Gone was the anticipation of a "romance fix" in the form of a searing lip kiss. One that helped me alleviate the pain I felt from being single. Bollywood changed radically, too. Deforestation happened and Bollywood actors stopped running around trees.
In 2001, around the time I was looking to get married, Dil Chahta Hai released. We found ourselves introduced for the first time to all kinds of love. Which character did I relate to the most? I was not the playboy Sameer, played by Saif Ali Khan, nor the flamboyant Aakash, whom Aamir Khan portrayed to near perfection. I liked Akshaye Khanna's Sid, detached, forever questioning. The emotional bond he formed with Tara (Dimple Kapadia) was a stark reflection of the way I had always loved.
Dil Chahta Hai saw love perceived in a completely different fashion in the first decade of the 21st century. A love that went beyond the blind and obsessive love of the '90s and set the tone for movies with more depth.
Love can be ever endearing even when unfulfilled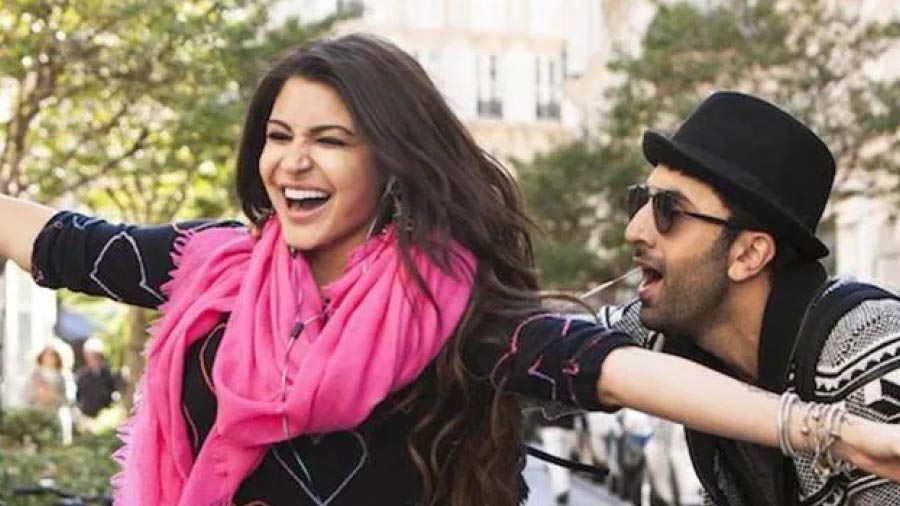 'Ae Dil Hai Mushkil' left the author happy despite the protagonist not winning over his lady love
It did not end there. There was a paradigm shift in the decade that followed. If I have to select one movie from this period that sums romance in Bollywood best, it would be Ae Dil Hai Mushkil (2016). This was the first time I left a movie feeling happy despite the protagonist not winning over his lady love. It might have been the haunting Channa Mereya starring Ranbir Kapoor, which took away my attention from the perennially sad theme of unrequited love.
Perhaps the movie was only reflecting what Indian society had come to accept of late. That love can be ever endearing even when unfulfilled. After a long time, the endings were not filmy.
The post-Covid era has seen the emergence of movies that celebrate diversity, movies like Badhai Do (2022) that set the stage towards forging an impression on minds that have always been critical of "other kinds of love". Chandigarh Kare Aashiqui (2021) features Ayushmann Khurrana, who falls in love with a trans woman (Vaani Kapoor). The ending pretty much nails the draft, what with Ayushmann finding that his heart bleeds for Vaani irrespective of her gender identity.
Looking back, one of my all-time favourite Bollywood flicks is the Sooraj Barjatya directed Maine Pyaar Kiya (1989). Like Sanju's Rocky, it had all the elements that made for a blockbuster. So obsessed was I with Salman Khan (not Bhagyashree!) that I would go to a salon everytime he cut his hair and pass his house whenever I could just to catch a glimpse of him. Salman, for his part, never came onto his balcony. At least not when I passed his house.
Going back to DDLJ and its iconic 'palat' scene, Raj (Shah Rukh Khan) tells himself that Simran (Kajol) will look back if she loves him. She does, and in that moment, Kajol and Shah Rukh disappear as stars. What remains on the screen are just two earnest lovers. And that, for me, is the beauty of Bollywood. For all its macho men and dazzling divas, the real superstar of Bollywood shines through in select scenes. The real superstar that is love itself.
Rohit Trilokekar is a novelist from Mumbai who flirts with the idea of what it means to love. His heart's compass swerves ever so often towards Kolkata, the city he believes has the most discerning literary audience.