A radiologist, a laparoscopic surgeon and a chartered accountant enter an apartment in Hiland Park on a breezy Thursday evening. For two hours, with My Kolkata in attendance, they chat about their foremost passion. Not health, finance, food or sports, but theatre. For Sarmishtha Ray, Sandip Ray and Debasish Sarkar, respectively, the dedication towards their avocation defines a large part of their lives and the entirety of their theatre group called Natokey Aatok. Informally founded in 2008-09, this collective of Hiland Park residents currently comprises 14 members and is registered with the Paschim Bangla Natya Akademi. On August 6, they staged their latest production, Daayboddho, a faithful adaptation of the '90s play directed by Meghnad Bhattacharya and written by Chandan Sen (a part of Sayak), at Dhakuria's Madhusudan Mancha.
"We've been theatre people since our initial college days at Calcutta Medical College in '94," begin Sandip and Sarmishtha, who probably fell in love with acting before they did with one another. Married for several decades now, the couple have taken their inner histrions with them wherever they have gone. Before arriving at Hiland Park, they spent a considerable time in the UK, starting out in London, before moving to Manchester and Liverpool. In 2019, they returned to England, where Natokey Aatok had its first overseas performances in Birmingham and the Nehru Centre in London. The coordination for the events with the High Commission of India in the UK was led by Koushik Chatterjee, another devout thespian and proud member of Natokey Aatok, whose own play was analysed by My Kolkata last year.
"Daayboddho' shows that love is thicker than blood'
Apart from being the president of the group, Sandip functions as the director of most of their plays, which began in earnest with the tradition of parar natok during Durga Puja festivities in Hiland Park. To this day, the Puja performance is inevitable, having been moved to Saptami in recent years to add to the crowds of 350 to 400. Besides, Natokey Aatok stages around three to four other productions every year, one of them being the annual play at Natyamelar Deshe, a theatre festival Sarmishtha and Koushik kick-started eight years ago by inviting housing complexes across Kolkata to come and showcase their talents.
As one of the executive committee members, Sarmishtha is in charge of organising the nuts and bolts of the production. She is also one of the lead actors, alongside Debasish, who met Natokey Aatok's first couple in 2010-11, becoming an integral part of the setup in no time. Both Debasish and Sarmishtha were in top form at Madhusudan Mancha, essaying the roles of the charismatic truck driver, Gagan Mitra, and his uptight wife, Sita, apiece. Debasish also stepped in as director of the sketch, with Sandip preoccupied with his professional responsibilities this time around.
"Daayboddho is like the Sholay of Bengali plays, with more than 750 shows till date. Naturally, we were worried as to how we'd be able to pull it off," admits Debasish, who himself had watched the original play (as conceived by Sayak) half a dozen times. Sarmishtha, however, had never seen a staging before taking up a character whose previous actor, Baby Sarkar, remains a "legend". Premised on domestic turmoil and the breakdown of relationships among wife, husband and daughter, Jhinuk (Sharmistha Sarkar), Daayboddho is a near two-hour long meditation on trust, love and sacrifice. "It shows that love is thicker than blood," says Debasish, unconsciously hinting at the play's pivotal twist.
Even though it ends with more hope than despair, 'Daayboddho' is not a classic comedy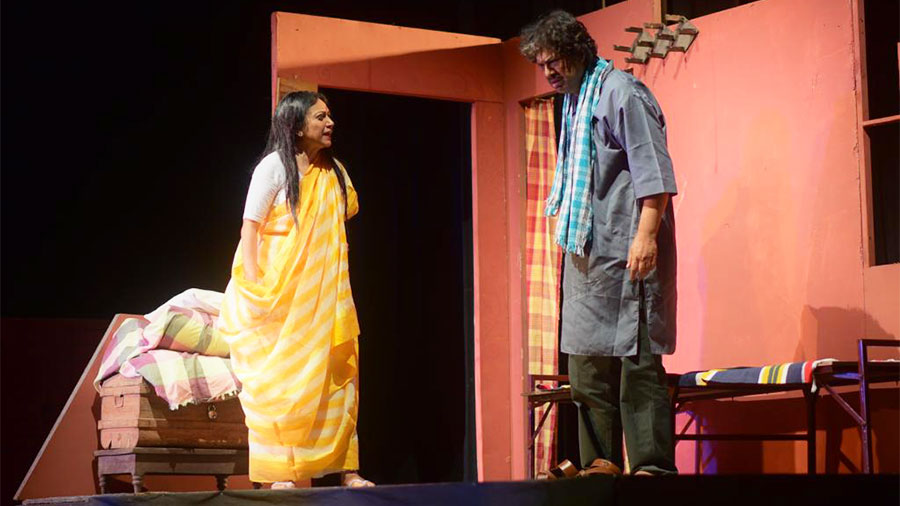 Sarmishtha Ray and Debasish Sarkar as Sita and Gagan Mitra, respectively, in 'Daayboddho'
In spite of its lengthy runtime, which is longer than several feature films these days, Daayboddho neither sags nor saps as it rolls along. Striking the right balance between drama and melodrama, it reveals the emotional scarring underpinning apparently normal lives, none more so than Gagan's, whose drunken singing is one of the highlights. When asked about which scenes were the hardest to master, Sarmishtha and Debasish agree that their "confrontation dialogues", where the wife insinuates and insults the husband only for the latter to defend his dignity, were among the most challenging. Debasish is quick to qualify his comment with the difficulty of doing the "mundane, everyday stuff" on stage, such as changing out of his pants and into a lungi without causing a faux pas!
Another intriguing aspect of Daayboddho is the rapport between Gagan and Jhinuk (mostly referred to as Jhini; the names have their own symbolism), who are married in real life but execute a father-daughter equation seamlessly on stage. It is Jhinuk's transition from a happy-go-lucky philosophy student to a tortured soul who tries to kill herself that catalyses the central conflict in the story.
At the same time, Sarmishtha and Debasish issue the reminder that "this isn't a tragedy". It is not a classic comedy, either. Even though it ends with more hope than despair and the protagonists attain their redemption arcs, there is a nagging feeling that their sense of indebtedness towards each other may come back to haunt them again in the future.
A fine example of uniting habit and hobby to celebrate humanity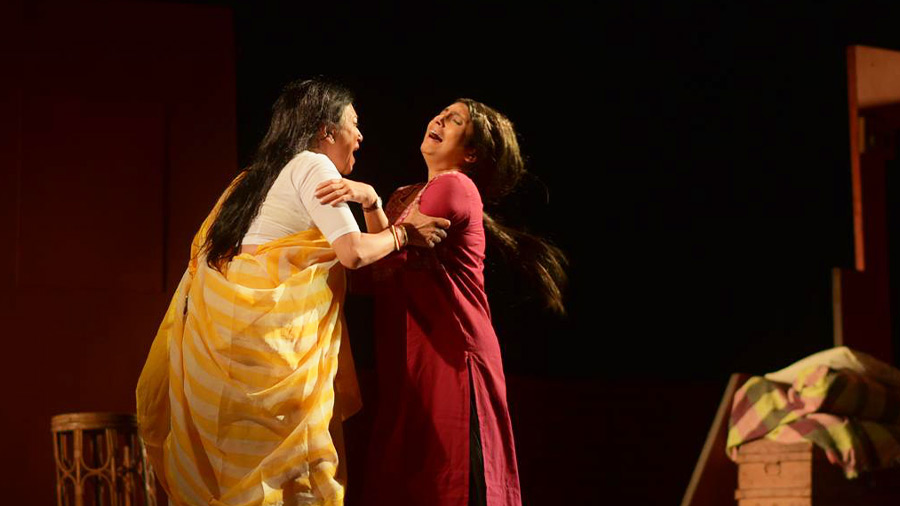 Jhinuk, played by Sharmistha Sarkar (right), catalyses the central conflict of 'Daayboddho'
Natokey Aatok rehearsed for around three months for Daayboddho (also starring Rajat Biswas, Soumitra Chakraborty and Kunal Gupta), often hosting practices at each other's houses between 10pm and 2am. "We only get time after work, which is why it's hard to integrate people from outside the complex or youngsters into our productions," says Sarmishtha, who rues "all the fine actors who've left (both the group and the complex) over the years due to professional reasons". On the flip side, some try to come back whenever a fresh play is in the works, even if it means taking a flight from different corners of India to reunite with the rest. Soon enough, the group will resume its rehearsals, this time for their Puja play (which tends to be much lighter in theme and tone), later this year. Towards the close of 2023, they are expected to put up another show, which will take place in collaboration with Bengal Heritage Foundation (BHF) at GD Birla Sabhaghar. In between, there is a possibility to perform at other venues across Kolkata, such as Tapan Theatre or Behala Sarat Sadan, or perhaps in Dhanbad Club (in Jharkhand), where Natokey Aatok was invited before.
"We don't get paid for doing what we do. Our budget comes entirely from sponsorships, barring some occasions when the organisation inviting us pays for a part of the production costs," explains Sandip. The challenge to find patrons for a group that, for all its skill and commitment, is still an aggregation of amateurs, is not lost on Natokey Aatok. Coordination and communication also become hurdles every now and then, especially when established performers bid goodbye and new ones are hard to discover while simultaneously managing demanding day jobs. And yet, all the sweating and fretting seems worthwhile when something like Daayboddho receives a rapturous ovation, when the audience is enlightened and entertained even though "most of them know the plot already".
In an increasingly monetised and professionalised landscape of culture, where profit trumps passion, Natokey Aatok is a powerful example of raging against the tide. Of uniting habit and hobby to celebrate humanity.