For young and talented fashion designer Rahul Dasgupta, black represents "fear and darkness but also strength and solidarity". And, for a Pride Month special showcase, 'Untitled', Rahul's Label Rahul Dasgupta has played with black to stitch the narrative of resilience and "celebration". Rahul joins Pushpak Sen (@thebongmunda), who is into celebrity styling PR and content creator Niranjan M (@laughtersane) for this The Telegraph exclusive. He tells us what this month means for him and his own journey.
What is this particular Pride collection about?
This collection is called Untitled. For years the LGBTQIA+ community has been ostracised by the society, have been called and tagged with different adjectives. This collection recognises the struggle and refuses any more names or tags, hence Untitled.
The mood would always be celebration for a collection that is releasing on Pride Day. Years of struggle and hard work of the community need to be addressed and celebrated through art of any form.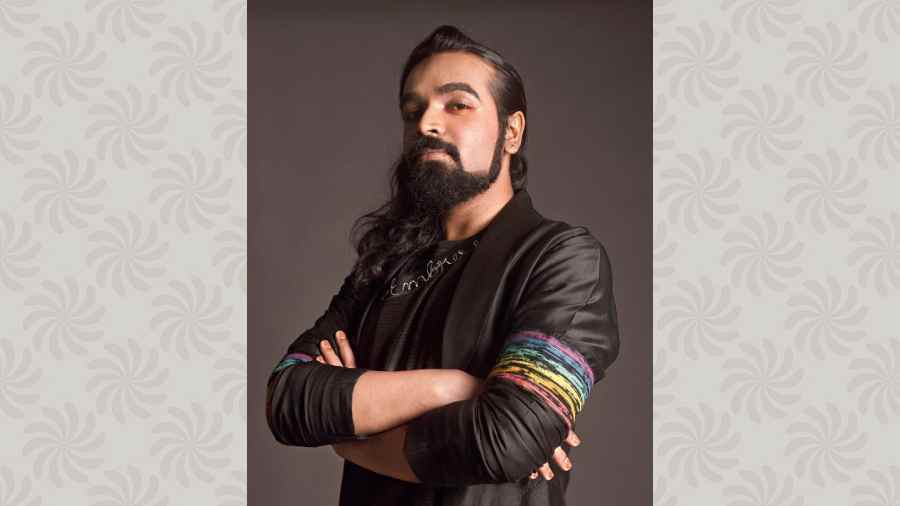 Pushpak is in a black silk Chanderi and organza open-front angarkha kurta with rainbow cord detail, teamed with a pair of pleated trousers. "Rahul does some iconic things that I haven't seen any other designer do, not only in Bengal but in the country. His work speaks to me a lot. The fact that we are doing this shoot together with Rahul and that he has decided to join us, is amazing. We feel great in each other's presence and that is I think what being queer is about and that is what celebrating Pride is about, that we not only appreciate ourselves, but also appreciate and uplift our fellow individuals. We rise by raising others and we rise together. I have been a huge fan of @laughtersane's content. He is warm and kind. Thanks to t2 for bringing us together!" smiles Pushpak.
Can you tell us about the all-black concept?
The idea was to address the fear that the LGBTQIA+ community has been facing and win over it. Black is a colour that can represent fear and darkness but also strength and solidarity at the same time. It's fascinating how one colour can be interpreted with many possibilities and represent the theme in a perfect way.
What significance does Pride Month hold for you?
For me Pride Month is the time of the year when we can celebrate who we actually are, unabashedly. Years of stigma, discrimination, struggle everything, this is the time to remember and recognise all the efforts.
What was the point of self-acceptance for you? Was it the most crucial?
It took time. As a kid I used to be very timid due to my orientation. I always have been thinking very less about myself, thinking there's some problem in me, used to be bullied for being feminine, my confidence was literally zero. I still have the phobia of talking to a group of people or on a public platform or meeting new people, I feel I would be bullied again. Over the years the more I learn and get to meet people like me, I understood this is my truth and I had to accept it. It was a gradual process but the moment you accept yourself the magic happens, you can see the world in a very unique light. Self acceptance is extremely liberating.
Was your family supportive of your decision?
No matter how progressive the family is, there is always a certain shock value that comes with the idea that someone from your own family belongs to the LGBTQIA+ community. My dad expired when I was just 10 years old, since then I have been living with my ma, so she is my family. I came out to her when I was in college. She was disturbed for a day or two but then accepted. Since then she has been a pillar of strength, I got lucky. So now when my relatives ask me about marriage, she is the one who protests first.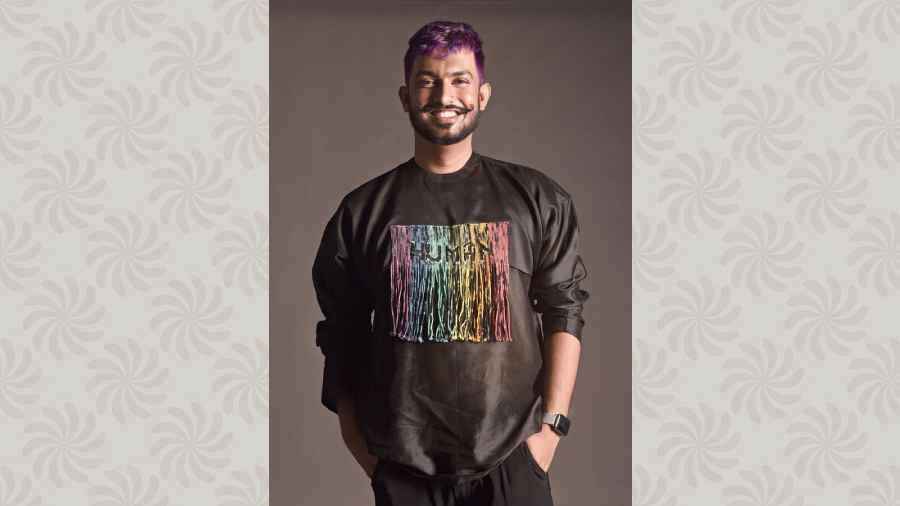 Rahul has chosen a drop-shouldered silk Chanderi layered shirt with rainbow-dyed shibori cord detailed typography, teamed with pleated trousers.
What are you most proud of about your identity?
I am comfortable with my sexual identity more than I am proud. I feel I am more than what my sexual identity is. So there's nothing to be either proud or ashamed about.
What is your message this Pride Month?
This Pride Month the message is to learn to accept and embrace the truth, your truth and the truth for others. You are you because of a reason, make full use of it, live life, be free, be out and proud. Learn to be compassionate towards others. At the end of the day we all are different human beings walking in our own shoes.
Pictures: Pabitra Das
Make-up: Kushal Das