Wearing luxury garments, trying out different looks, and frequently overhauling one's wardrobe have never been kind to the pocket or the planet. Until now.
Enter Flyrobe, India's first and largest fashion rental service, which allows you to rent the most stunning garments, slay your Instagram look, and return products without cluttering your closet.
The brain behind Flyrobe is lawyer-turned-entrepreneur Aanchal Saini, 35, who has successfully anticipated the shifting habits of Indian consumers to usher in a new era for Indian fashion. 
Saini, who is nicknamed "Lady Ranveer Singh" by friends and family, can carry gold jackets and yellow shoes just as seamlessly as she can carry a burgeoning business on her shoulders. After founding her fashion startup Rent It Bae in 2016, she went on to acquire Flyrobe in 2019 to consolidate and expand her luxury fashion rental enterprise.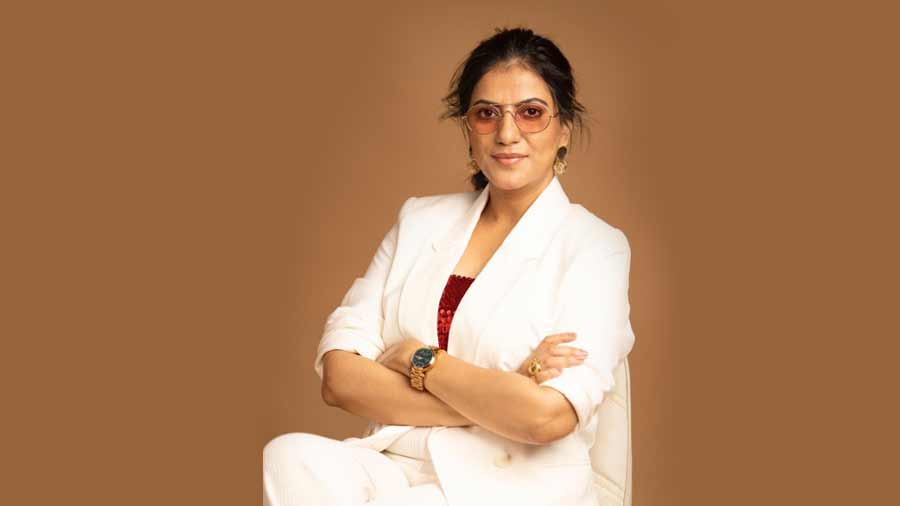 Aanchal Saini was a practising lawyer in Delhi before she switched to being a fashion entrepreneur
Courtesy: Aanchal Saini
My Kolkata caught up with Saini on Zoom to get her take on the Flyrobe journey, the relationship between rentals and sustainability, what female entrepreneurs should keep in mind, how Indian celebrities can improve their fashion quotient, and more.
Edited excerpts from the conversation follow.
My Kolkata: Your LinkedIn bio reads: "Lawyer | Entrepreneur | Technology | Sustainability". Is that the order in which you prioritise your pursuits and passions?
Aanchal Saini: Not quite. For me the order would be Entrepreneur, Sustainability, Lawyer, Technology.
You started your career as a lawyer and were one of the founding members of the New Delhi International Arbitration Centre. What led you to switch careers from law to fashion?
My story isn't the typical career switch story of how I hated my job and wanted to do something interesting. I was loving the cases and the litigation, but I also happened to notice a gap in the fashion industry.
While dressing up for an occasion, you see that you've worn a particular dress, there are already pictures on social media, and so you want to wear something new. But how much can you truly buy? Also, with age, you naturally become more skeptical about swapping or borrowing clothes from friends or colleagues.
But what if a dress could just appear in the evening and once you're done wearing it, it's gone? There's no storage hassle, no cleaning hassle, no need to prepare the dress beforehand. This was the thought that led me to switch.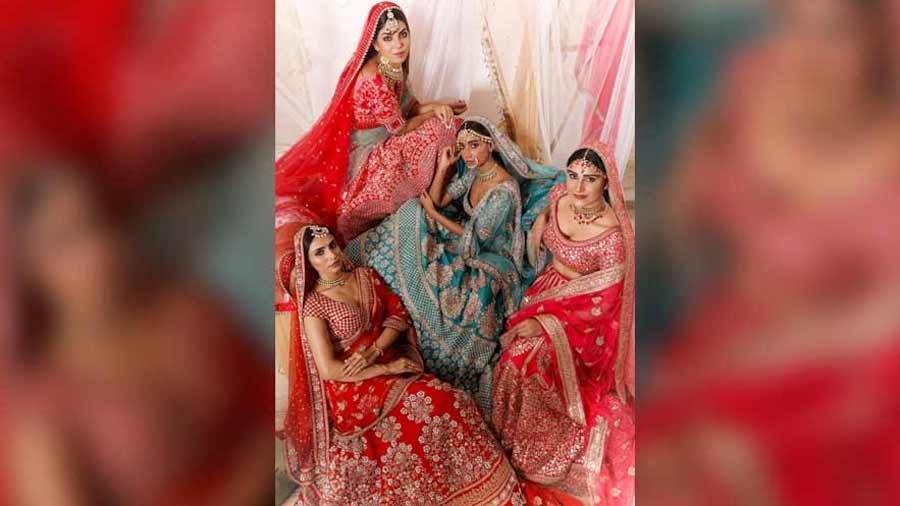 Some of Flyrobe's most popular bridal outfits
Courtesy: Aanchal Saini
Could you give us a deep dive into the business model of Flyrobe and the scale at which it is operating currently?
For us at Flyrobe the main product category is occasion wear, so we mostly cater to weddings. But we also have orders for college events and from those in the photoshoot industry and make-up artists who need heavy garments.
We've got lehengas, gowns, and anarkalis for women and sherwanis, Indo-Westerns, tuxedos, and suits for men. We've recently jumped into jewellery rental, too, since it has a lot of demand.
In terms of the order process, the system is like that of booking a hotel. One product is booked by multiple people for different dates during the same wedding season. Most products are booked in advance of two or three months, but orders can also reach our customers in a space of four days. Four days is also the duration for which a product can remain with a customer.
Our rental garments are approximately 10 to 15 per cent of the MRP. If, for instance, a lehenga is worth Rs 1 lakh, you'll be paying about Rs 10-15,000 to rent it. So you're definitely saving a lot of money.
In terms of scale, Delhi has our biggest store. In Bengaluru, we have got our franchise store, which has also turned profitable. The rest of our business happens online through which we cater to 30-plus cities across India.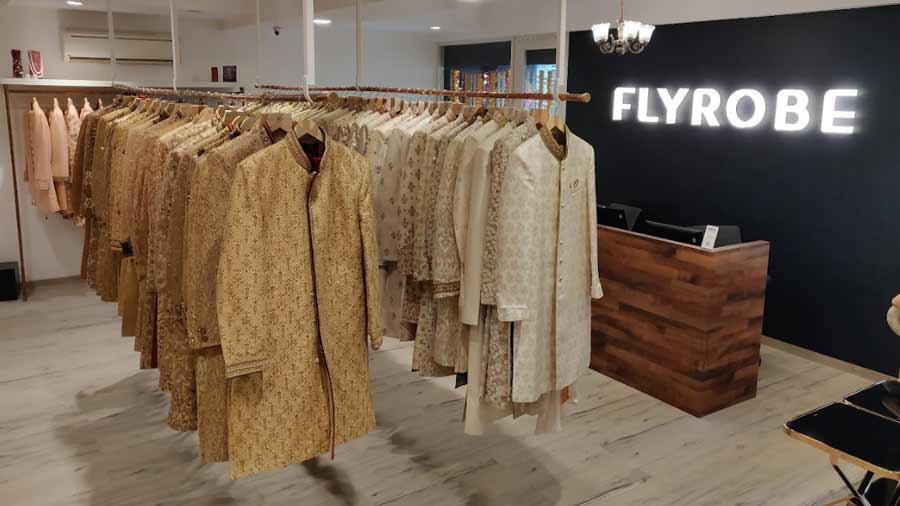 A glimpse of Flyrobe's ethnic collection for men
Courtesy: Aanchal Saini
Among those cities, anything specific in terms of trends from Kolkata?
A lot of our users are from Kolkata, and there's a huge demand for a Flyrobe store in Kolkata, so hopefully that can happen soon!
Kolkata is big on lehengas, especially Zara lehengas. A lot of pastels are also picking up.
The other pattern about our Kolkata users is that they are mostly women, about 65 per cent of them, as compared to our usual gender ratio, which tends to be 50:50.
How has the pandemic impacted Flyrobe's business and what lessons have you learnt while operating remotely over the past two years?
When Covid-19 hit us, we were completely investor-dependent. We weren't profitable. Like most people, we had no idea how to deal with zero revenue. It was harder because we had just completed the transition following the acquisition of Flyrobe when Covid struck (she had originally founded a fashion startup called Rent It Bae before acquiring Flyrobe).
But slowly, we started receiving queries for deliveries, and over the last two years, we've been able to capitalise on deliveries to create organic growth like never before.
The lessons I've learnt are mostly to do with how the Indian consumer has understood the need to declutter, to focus more on mindful consumption and sustainability.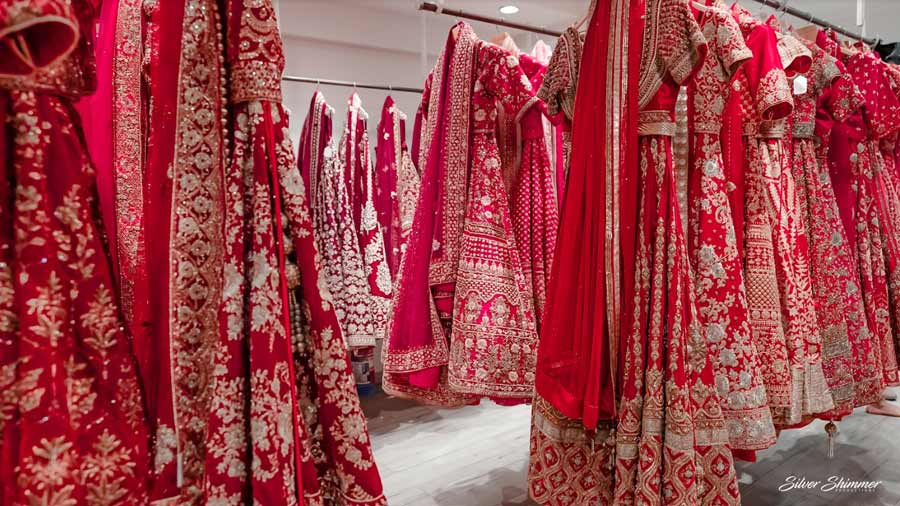 Red is no longer as dominant as before in bridal wear
Courtesy: Aanchal Saini
So how can fashion rental services pave the way for more sustainable fashion?
If you're buying a product, then you're using it once and then it's with you forever. But with rentals, one product is worn by 15 different people, so utilisation per product is much more. As a result, we're not creating more garments that'll go to waste.
Over the past couple of years, something else has also supplemented sustainability at Flyrobe. This is our C2C business model, where customers can rent out their own garments through us and make revenue every time someone else uses it for an occasion. Currently, we have over three thousand curators who've rented their assets with us.
All this has helped us to spread our philosophy, which is "rent the iconics and buy the basics".
Talking of iconics and basics, what are some of the most popular trends that you have been noticing this wedding season?
Pre-wedding shoots have become extremely popular, so we've created an entire collection just for that. Tail gowns for women and tuxedos for men are usually the trending garments for these shoots.
We're seeing a lot of men experimenting with pastel shades and jewellery. In terms of jewellery, not just the basic pearl malas, but rubies, emeralds, and even polkis. Men are also experimenting with the colours of their safas and stoles. Peach is doing really well, as are emerald green and ruby pink.
For women, pinks and reds traditionally dominate for bridal wear, but that's changing now. Pastels, green, and yellow are doing really well. New cuts, designs, and patterns are also faring better now.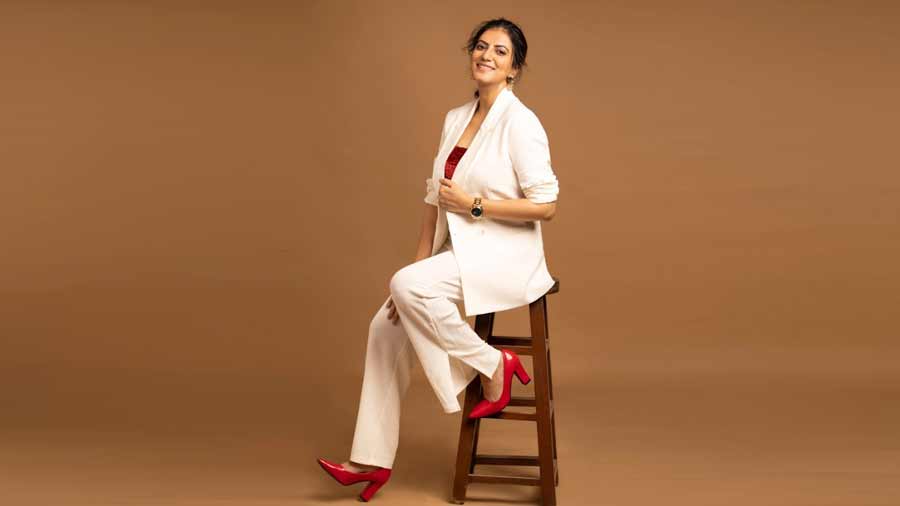 Saini believes that family support is among the most important factors behind entrepreneurial success
Courtesy: Aanchal Saini
The last decade or so has seen a much-needed surge in female entrepreneurs across India. But are there still too few women calling the shots?
There are definitely women who're coming up with great ideas and occupying the best positions, but in terms of the gender ratio, there's no doubt that there aren't enough women.
The first few years of entrepreneurship are tough. For women, of course, managing the house, managing the kids is tougher.
The bottomline, for me, is family support. If you're a man, you can go out to work knowing that your food and laundry and everything else is going to be taken care of when you get home. How many women can say the same thing?
There will be many young women reading this who would want to know from you what it takes to be a successful entrepreneur. Apart from family support, what do you see as the most important factors for success?
Before you start something of your own, it helps to gather some experience elsewhere. I see three things that are important to learn, apart from working hard, which is obvious. The first is refining your skills, then appreciating and understanding processes, and learning to work as part of a team and solve problems every day.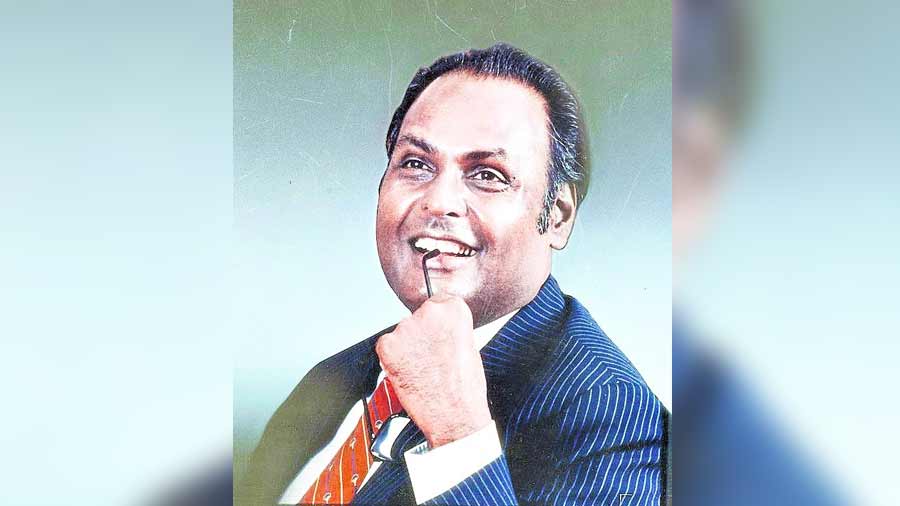 Saini regards Dhirubhai Ambani as one of her inspirations
TT archives
Who have you been inspired by on this journey?
If you're looking at entrepreneurs, there's the iconic story of Dhirubhai Ambani. Then there's Haldiram's, which grew from a small store into an empire. But even the small businesswomen, who may have started with five thousand rupees and a small salon and now have a franchise and two fancy salons, that's also really inspiring for me. People who've built businesses with their own capital, without any investors… hats off to them!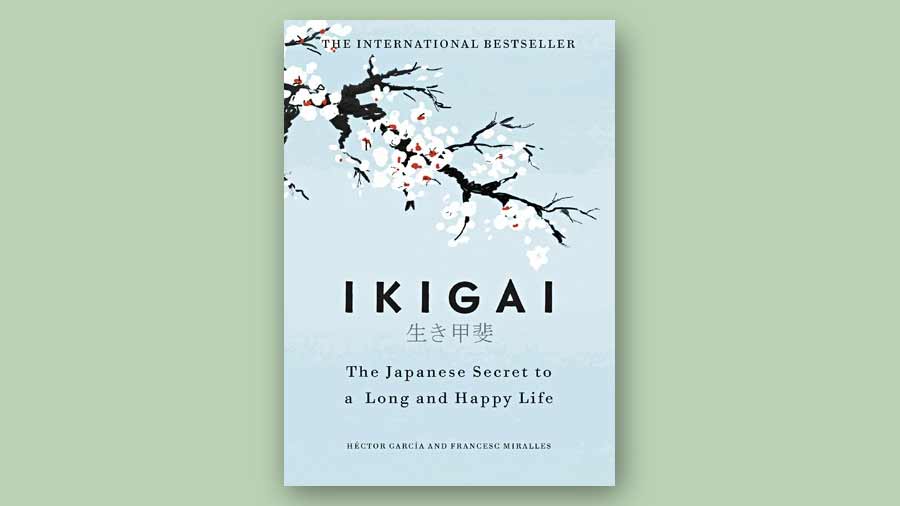 Ikigai has had a transformative effect on Saini
TT archives
What do you do to zone out? Do you have a book or film you keep going back to?
I'm a people's person and I also love to eat, especially all kinds of Asian cuisines. In terms of films, my pick would be The Intern (Robert De Niro and Anne Hathaway). And ever since Covid, I have been going gaga over Ikigai (by Hector Garcia and Francesc Miralles). It's a book that's changed how I think.
What fashion advice would you give to the following celebrities?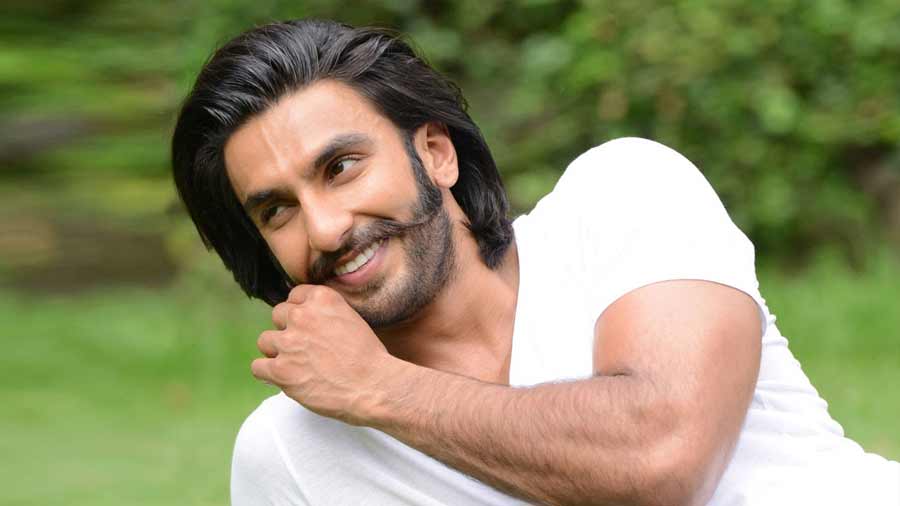 TT archives
Ranveer Singh. Any colours you would like to see him try out (if any are left, that is)?
Purple, I don't think we've seen him in that.
Deepika Padukone
She can run it all, she's superb.
Virat Kohli
He should add some colour to the wardrobe.
Alia Bhatt
I'd love to see her in formals. So, a corporate look.
Shashi Tharoor
Should experiment and go beyond bandhgalas.
Indra Nooyi
She's versatile, she dresses up pretty well anyway.
Finally, where do you see yourself and Flyrobe in five years' time?
At Flyrobe, we've been able to change mindsets on renting garments, but it's taken us a long time. Going forward, I'd like to see us experimenting more and growing our stores across India and even internationally, alongside optimising omnichannel performance, both the touch-and-feel and also online.
As for me, I've taken the charge to drive the rental fashion business in the country, so I see myself sticking to that.