Food doesn't always travel well and there's little the hard-working delivery workers can do if a pizza falls apart during a delivery commute, or if the whipped cream on your frappuccino melts. Dressed salads, Mexican fast food, chaats or anything that requires delicate assembly are vulnerable to delivery mishaps unless packed properly. Breaded foods, fried seafood and breakfast eggs can become chewy and unpalatable within 30-40 minutes. Packing cheesecakes, dessert domes, ice cream-based numbers or anything remotely delicate requires quite a bit of innovation and brainstorming.
The fast-growing food delivery market is pushing F&B brands to adopt functional and cost-effective ways to minimise common blunders, and some labels are even eliminating options that lose their shape or taste quickly.
"We have made our menu more delivery-friendly and removed certain items that don't travel well. And we always make it a point to pack dry and wet items separately," share Prachi Saraogi and Saloni Jhunjhunwala of The Salt House. Other city restaurants too are making changes to make the delivery experience more seamless.
Hot and cold
Temperature is a major component in deliveries, and unlike coffee and pre-baked items, some things are harder to reheat — like dumplings or salads. Traditional Burmese 'thoke' and cold salads are some of the top-sellers at Burma Burma and the brand has improvised ways to package them more efficiently. "All our salads are packed with ice-gel packs to ensure freshness, and all components are packed separately as well," Burma Burma's founder Ankit Gupta tells us.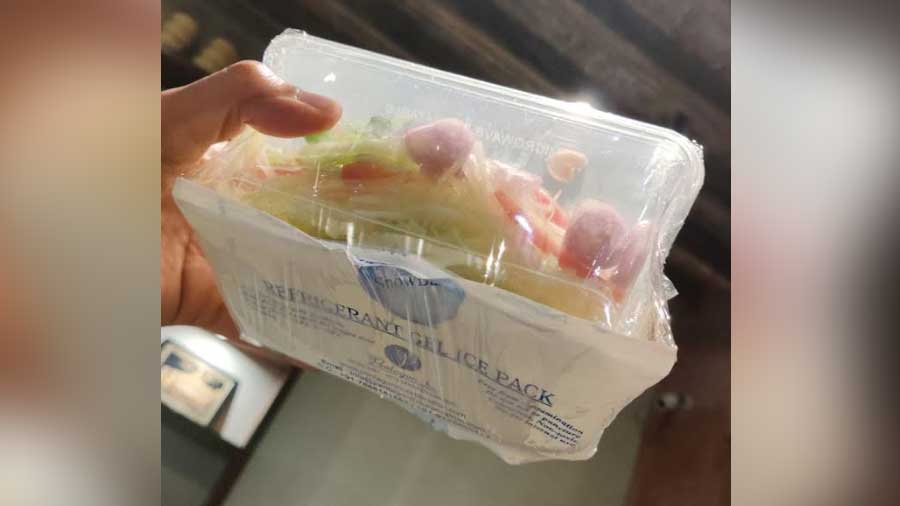 Salad packaged with ice-gel pack from Burma Burma
Burma Burma
Blue Tokai Roasters and Marbella's have come up with ready-to-drink cold brews so customers can have bottles delivered at room temperature and chill them before consuming. Delivery start-up Slay Coffee uses temperature-controlled cups to transport its handcrafted coffees. Hindustan Park's Potboiler Coffee House has opted for a similar route. 
"We seal-pack all our coffees with aluminium foil before sealing them with lids to ensure the coffees stay as warm as possible. We also use double-walled cups to ensure the temperature stays close to the same while delivery. We have also got bags and special cup holders made to ensure coffee doesn't spill. Moreover, we have recently switched to biodegradable lids," says Sonali Lakhotia, owner and founder, Potboiler Coffee House.
Seal the deal
Burma Burma and The Salt House use leak-proof containers that don't require extra sealing. "We've invested in sustainable leak-proof packaging. We observed delivery workers mistakenly placing the order upside down, which is risky for transporting liquids or gravy-based dishes," Jhunjhunwala and Saraogi reveal. Some eateries are packing gravies separately while most restaurants are double-sealing their plastic containers so even in case of spillage, the carrier bags aren't soiled.
Burgers, especially double-deckers, can come apart if they aren't snugly wrapped. Fat Mamma's, a delivery kitchen based out of Chowringhee, packs their onion rings separately and uses cardboard boxes to pack their burgers. The Kasba joint Ya Burger uses long butter papers to double-wrap its burgers, which are then placed in a box. Then, the box is wrapped in another paper bag to keep the burgers from dismantling.
Pizzas — the most widely delivered food — are also tricky to transport. Pizza lovers can make peace with the lukewarm cheese if the pizza at least arrives in one piece. Thin-crust pizzas can be difficult to deliver since they fall apart easily.
The popular cloud kitchen Ovenstory introduced 'semizzas', which are smaller, half pizzas and are easier to pack. The Italian delivery kitchen QD's makes 12.5-inch boxes for 12-inch pizzas, so there's not much room for the crust to move. Similarly, outlets like La Pino's Pizza or Hindustan Park's The Mighty Slice are delivering personal, large slices and using made-to-measure triangular boxes so the base remains intact.
Pick and choose
Segregating components based on texture is the easiest way to preserve the integrity of certain foods. Dry items like tortillas, naans or burritos can develop moisture, so packing them in foil bags is ideal. Whereas noodles or pasta, which are coated in heavy sauces, have a tendency to absorb liquid and lose texture and a risotto dries out within hours. The Salt House adds a portion of vegetarian or chicken stock on the side so the risotto can be reheated with the stock. 
Diksha Pirogiwal's delivery label Your DIY Kitchen offers easy-to-assemble kits for elaborate recipes like Burmese Khow Suey, Chinese Bhel, Korean Ramyun and each ingredient is packed separately to maximise shelf life. The Thai Green Curry Kit, for instance, features coconut milk, green curry paste, pre-cut veggies, rice and seasoning. 
"We curate each kit in a way so you have everything you need to make a dish in around 10 minutes. Everything is pre-chopped and portioned, so you just have to assemble, mix it and serve," Pirogiwal shares.
Sweet spot
Most patisseries are opting for practical changes to package fragile desserts. The Rouge uses an ingenious hack to secure the bases of its cupcakes. "We use cupcake holders and we set the bottom with chocolate ganache," Sumedha Singh of The Rouge informs us. 
Sweetish House Mafia has a delivery kitchen in Kolkata and uses some extra measures to deliver their delicate, soft bake cookies. "We use triple packaging, we first wrap our cookies in a paper sleeve, then we place it in a box and finally there's another bag. For long-distance deliveries, we use carton boxes. During third party deliveries, it's always safer to let the delivery person know they're carrying something delicate so they can be cautious as well," Aditi Jain of Sweetish House Mafia tells us.
Helpful hack: A good way to identify travel-friendly foods is to think in terms of reusability. Anything that works as a leftover is usually a good option for delivery, be it casserole-style dishes or stews.