They call themselves a "chance-occurrence", a "lockdown band" formed in 2019 with a group of friends. But the music that Satyaki Banerjee, Nabamita Das, Dwaipayan Saha, Rajarshi Ghosh, and Dibyokamal Mitra are creating has been making all the right waves with its stream-of-consciousness lyrics and soulful sound. Since their first release Song Letter, Borno Anonyo has strung together a diverse soundscape, powered by visual storytelling and literature.
Their latest album Small Letters released on October 17. Paired with simple yet powerful illustrations in the videos, every composition has a distinct story to tell. From the war-cry like quality of Satyaki's Hok Kolorob, to the serene notes of Nabamita's Aro Ekta Raat and Rajarshi's Ghum Prithibi, the tracks have struck a chord with the band's almost 3,000 YouTube listeners, and many more.
Becoming Borno Anonyo
"Our first song, Sokatore Oi, was a birthday gift for a friend," says Satyaki, who is a well-known musician-composer, and a versatile talent who plays the dotara, oud, rebab and sarod. "It was Nabamita's suggestion to create audio theatre pieces," he says when asked about their amalgamation of poetry and song. "That is how little by little each song we've made has taken the shape it has."
Nabamita is an Assistant Professor of Sociology at Presidency University, and the granddaughter of Bangladeshi folk singer-composer Bidit Lal Das, known for notable songs like Shadher Lau, Morile Kandish Na, and Pran Kande. She talks about the members' years-long friendship. "We used to hang out with music as a steady topic in our adda. It was the 2019 floods that affected Bengal and Kerala that stirred us towards a fundraiser concert. The name happened much later."
Sharing how integral music is to the lives of the band's members, Dwaipayan Saha, popular percussionist and composer says, "It's about what music can do to us than what can I do to music."
Borno Anonyo is named after a five-year-old, whose playful world and innocent questions motivate this group of friends to document their present and their friendship through their art. The songs are also letters from a mother to her child. Some of the letters are personal and some deal with ideas of alienation and coming together, which are things that have a deeper meaning for Nabamita.
Kolkata, 'kobita' and kolorob
Borno Anonyo believes in spontaneity when making music. Their numbers are often recorded live, and they rely on musical instinct to blend together folk and western sounds.
Their deepest connections, however, are with Kolkata and kobita. The group lives and breathes Rabindranath Tagore, Jibanananda Das, Shakti Chattopadhyay, Sunil Ganguly and Nabarun Bhattacharya.
As Nabamita says, re-reading these works together and putting them in the context of time and current events, gives them new meaning. The selection of verses in many of Borno Anonyo songs, from Jibanananda's Abar Asibo Phire in Small Letters to excerpts from Ritwik Ghatak's Subarnarekha, are about the quest of homecoming — an emotion they express often in their own creations.
Kolkata, their reflective ode to the band Moheener Ghoraguli, sung by Satyaki, Nabamita and Rajarshi, is also a tribute to the city. The piece binds together a lost era, the love for Jibanananda's Moheen, and churns melancholia through the effect of lines such as "shongbigno pakhikul aar khudhartho ey samay Kolkatay chaand doobey jay" sung in Satyaki's soaring voice followed by a visual of restless birds across the city's sky.
Borno Anonyo is creating a unique sound of their own, while also bringing to listeners distinct folk elements like the diction of grooving number Girgiti and the high energy of Heiyyo. Every music video is also the amalgamation of many forms of art. Small Letters, Kolkata, Oi Je Jhorer Megher, and Sankhacheel are the collaborative efforts of talents like Ranajoy Ghosh, Gurudas Banerjee, Basundhara Dutta, Debdutta Mete, Sankhadip Sen, and many others who have turned these songs into cinematic pieces.
Like many of their favourite poets and their work, the band's members and many of their songs take a stand on contemporary political issues, expressing not just solidarity through their work, but also performing at fundraising concerts. And they seem to have reached different kinds of people with their music going by their public performances, which witness a diverse cross-generational audience from varied political or cultural assimilation.
"Revolution has a language of love, and perhaps Borno Anonyo has been able to awaken that. Our music is our awakening," says Nabamita and the group agrees.
An anachronistic idea
"It seems anachronistic to have a band today because it is not financially feasible. But there's a kind of magic in creating these songs. There is no push to be contemporary and that creates new possibilities, which is precious to me" says vocalist and violin player, Dibyokamal. He is the son of film editor Arghyakamal Mitra, and an assistant professor at Brainware University.
Since their roots are friendship, the group prefers to curate every part of their productions themselves. They might have commercial successes under their belts individually, such as Satyaki's recent work in the Bengali web series Birohi, but Borno Anonyo "does not have market-driven obligations," Satyaki says.
Their lack of commercial ambition makes them free as musicians, believes teammate Rajarshi, who is also the grandson of late actor Ganga Pada Basu, known for his performances in Jalshaghar and Paras Pathar and founder of the Bengali theatre group Bohurupi.
Coming together during COVID and the lockdowns has been challenging but the group tries to keep making music. In fact, Ghoomer Nodi and Kolkata were recorded during the 2020 lockdown. Now, they're gearing up for the December 2021 release of their next album EP Kolkata - Side A, and also working on three upcoming singles, Bangladesh, Trishna o Bishader Bondhura, and Ei Shob Proshnora Bheshe Jaye.
It is easy to grasp their bond with music and each other when the band members talk about Borno Anonyo. Basking in a new energy, finding catharsis, and exploring an untapped artistic side — this experience has given them all of that. "Perhaps there will come a time when we will not be here, but Borno Anonyo will carry on" says Satyaki.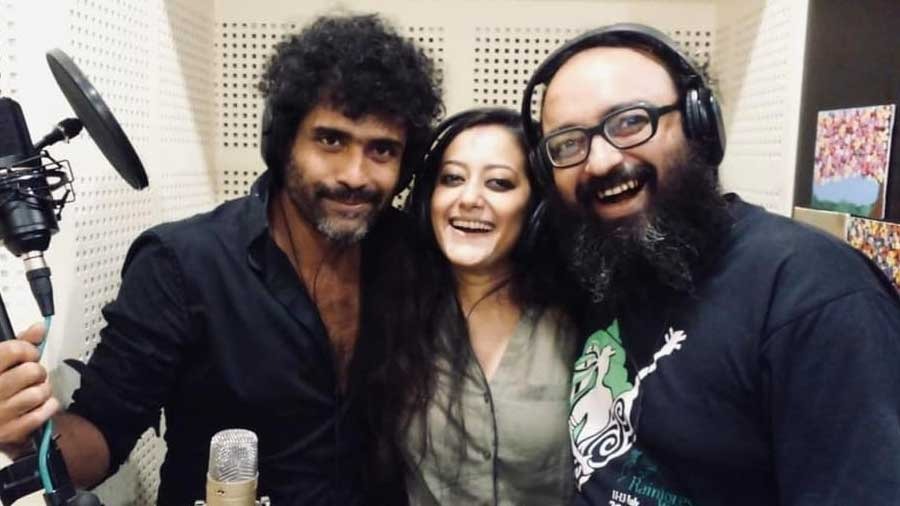 Dwaipayan, Nabamita and Satyaki during one of their recording sessions
facebook.com/bornoanonyo