"Delphini, the daughter of Lord Voldemort and Bellatrix Lestrange, has been released from Azkaban," reads the front page of the Daily Prophet. Harry Potter, freshly turned 43, glances over the paper, before placing it next to Rita Skeeter's new book, Severus Snape: Saint or Sinner, and a stack of documents meant for the head of the Department of Magical Law Enforcement, which reads itself thanks to the Legilimency Spell and ChatGPT.
"A small pint of liquid luck for all three of you," announces Harry to his children, well aware that they must leave shortly to catch the Hogwarts Express. It is September 1 and nobody (in the Potter household) wants to be late for the beginning of term at school, which expanded in 2021 to teach students witchcraft and wizardry till the age of 27. James Sirius Potter, the eldest child, is embarking on a Bachelor's in Defence Against the Dark Arts, and is equipped with his Marauder's Map and Bulgarian scarf, the latter personally gifted to him by Viktor Krum. Lily Luna, the youngest, tired of spending a summer mastering Engorgio on the family's new pet dog (also called Hedwig!), is day-dreaming about all the things she can enlarge on campus. Meanwhile, the middle kid, Albus Severus Potter, is accompanying his siblings to the train, but not to Hogwarts. He is taking a "sabbatical from studying" and is presently occupied on Wizgram, in search of the perfect trekking spot to experience with his boyfriend, Scorpius Malfoy.
Before leaving, Harry and the other Potters kiss Ginny Weasley goodbye, who is still recovering from a broken ankle sustained at last year's Quidditch World Cup, where her return from retirement almost made her a world champion. "Don't forget to take the bacon sandwiches for Ron!" shrieks Ginny, as Harry pretends to have remembered carrying his best friend's best food.
'If Voldemort comes back, count me out'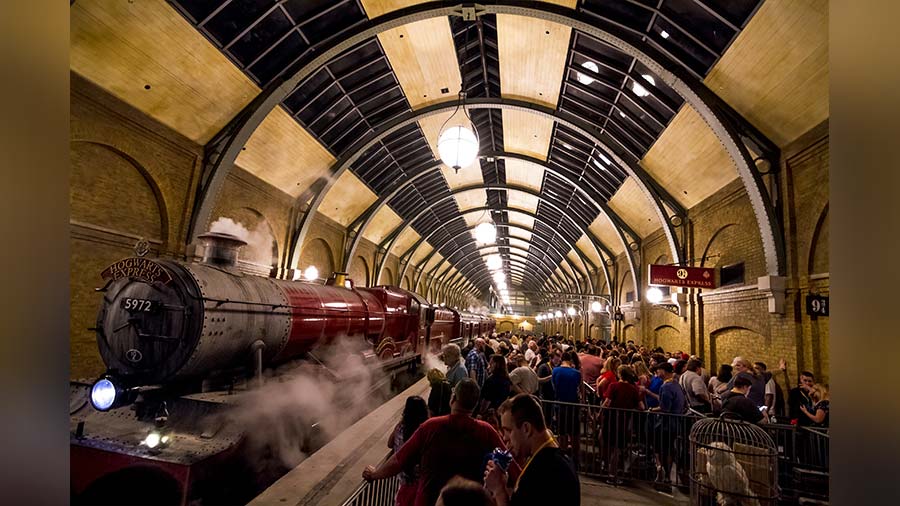 King's Cross Station in London remains a sight to behold just as the clock strikes 11 on the morning of September 1
Wikimedia Commons
"Stuff them into that bulging stomach of yours," smirks Harry, as Ron Weasely, guiltily, pockets the sandwiches made by his sister. "Your scar seems brighter, mate. Are you alright?" enquires Ron, who is still running his family's wizard emporium. "It's starting to hurt again…I don't know why," replies Harry, seeming a bit agitated. "If Voldemort comes back, count me out. With my current physique, I'm not facing him or any of his Death Eaters," jokes Ron to relax the mood.
Alongside Ron are Rose and Hugo, who can never help smiling when around uncle Harry. Their mother, Hermione Granger, the Minister of Magic, is uncharacteristically late, but sweeps in to fix Ron's hair first thing. "Ronald, haven't you bought a comb yet?!" she complains, even though it has been 18 months since the two divorced. "How was your date with that doctor last night?" asks Ron. "Don't ask, I lost interest the moment I found he had read none of the books he had mentioned on his Bumble," sighs Hermione, before whispering something into Harry's ear.
The majestic Hogwarts Express arrives at King's Cross station at 11am sharp, as a palpable excitement takes over Platform 9 ¾. On their way back, Harry, Ron and Hermione amuse themselves with the sight of first-time students marvelling at dashing through the brick wall between platforms 9 and 10. On the train, James, Lily, Rose and Hugo regale each other with their vacation stories, with the most entertaining being Hugo's two-week internship with Elon Musk, during which the gawky teenager convinced the richest Muggle to name every one of his products X. "Have you heard that [Dolores] Umbridge got rejected again?" asks Rose to shift the conversation. "For the 46th time," laughs James, before adding: "I believe her resume was so flattering that the Hogwarts HR replied to her application for principal saying, 'One must not tell lies.'"
'She's a fine example of the magical concoction of flesh and blood'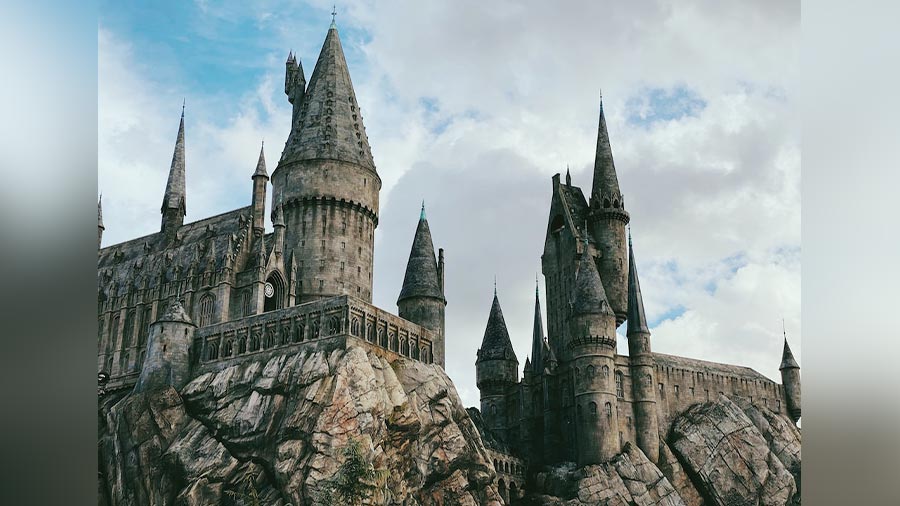 Hogwarts still looks a lot like what it used to when Harry was a student in the late '90s
Unsplash
Hogwarts, which still looks exactly how it did when Harry first walked through its doors, barring the parts that had to be rebuilt following the Final Battle, is replete with chatter. Some of it has to do with the school's new policy of admitting students who were once considered "mentally or morally unfit" for a wizarding education. With Minerva McGonagall bed-ridden with Parkinson's, Sybill Trelawney continues in her role as interim principal. Every morning, she stares at misshapen tea cups to apprise herself of all the things that will go wrong in the day, all of which turn out rather fine.
The sorting ceremony, which has already taken place virtually on InkedIn, has placed newcomers Lisandra, the daughter of Luna Lovegood, and Marcus, the son of Neville Longbottom, into Ravenclaw and Gryffindor, respectively, much to the relief of their parents, who are both tenured professors at Hogwarts. Their new colleague, Shuri Karim, assigned to teach Charms, charms countless boys in a matter of minutes, including Fred Weasely II, son of George, who tells a friend: "She's a fine example of the magical concoction of flesh and blood. You'll give me 20 pounds if I can secure 100 per cent attendance in Ms Karim's class."
After the Start-of-Term Feast, which provides vegan options for the first time, Hugo and Lily sneak out of the Hogwarts castle to meet Rubeus Hagrid, who, at 94, has lost all of his mobility but none of his appetite. It is up to Hugo and Lily to bring Hagrid's daily source of nutrition to him, which includes 12 Cornish pasties, 18 treacle tarts, four boxes of butterbeer ice cream and seven bottles of pumpkin juice! "I have a surprise for you," mumbles Hagrid while eating, as he points to three large, shimmering eggs. "They'll be used for this year's Triwizard Tournament, but you can have a crack at admiring them now!" he giggles, much to the delight of Hugo and Lily.
'I know who you are, James Sirius Potter'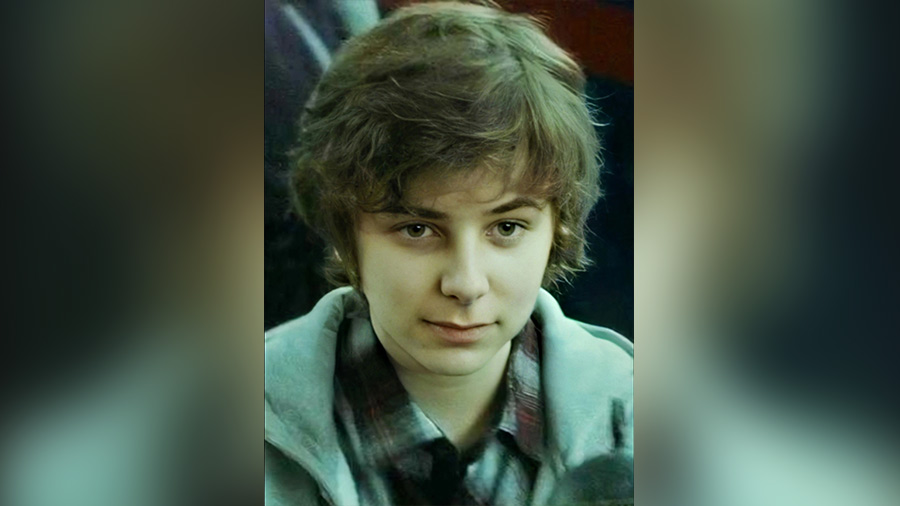 James Sirius Potter gazes at the portrait of his paternal grandparents in the Gryffindor common room at the start of term every year
Wikimedia Commons
Back in Hogwarts, James has finally managed to excuse himself from Moaning Myrtle, after 40 minutes of a bath where he kept praying for more suds in the bathtub. On heading down, he repeats his term commencement ritual, which involves gazing at the portrait of his paternal grandparents inside the Gryffindor common room. Soon enough, his reverie is broken by a bunch of fresh faces. They are giddy after hearing that the first-ever Vicenarian Ball (meant for students between 20 and 27) will be held the following week.
James wonders if he will manage to land a partner. Just then, his eyes meet the silver locks of a slender girl leaning against the fireplace, looking confused. Feeling a sudden surge of exhilaration, James walks over and stretches out his hand to introduce himself. "I know who you are, James Sirius Potter," comes the soft response. "And what about you?" asks James. After a few seconds of silence, the girl turns to him with a playful grin and says: "My name is Delphini."