It comes as no surprise that Bengalis are extremely sentimental about their heritage and culture, especially music. Rabindra Sangeet, Bangla adhunik gaan, Bengali film music, folk songs, and Bangla rock—no matter what the genre, there is a sense of immense pride in the way music traces Bengali cultural influences. Many brands have now curated clothing which allows you to wear your music on a T-shirt, making for a great conversation starter. Here are some T-shirts to liven up that worn pair of jeans.
Rabindranath Tagore's 'Purano shei diner kotha' by Bong Swag
This classic needs no introduction, for it's a song that all Bengalis learn of very early in their life. Inspired by Auld Lang Syne, a Scottish folk song, this Rabindra Sangeet reeks of nostalgia and makes us want to pass around cups of chai and reminisce of those good ol' days or purano shei diner kotha. 

(Get it here)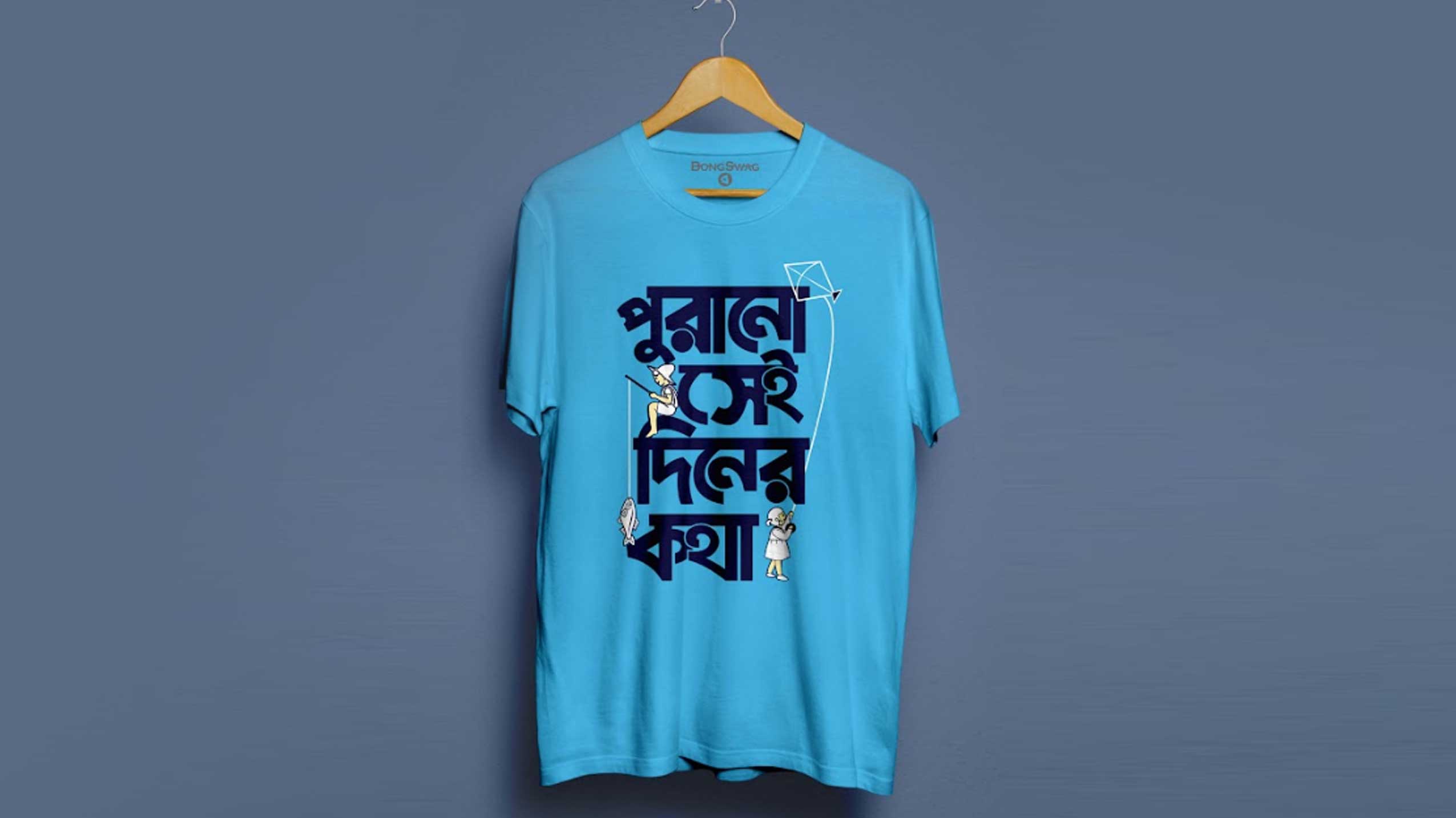 Bong Swag Website
Anupam Roy's 'Bondhu chol' by We R Bangali
The song Bondhu chol, from the film, Open Tee Bioscope, always feels like an ode to childhood. Like most Anupam Roy songs, the melody is simple with the lyrics being the star of the show. This is captured beautifully by this T-shirt which emphasises some of the words in red, making sure that anyone passing by will be able to read the typography easily. 

(Get it here)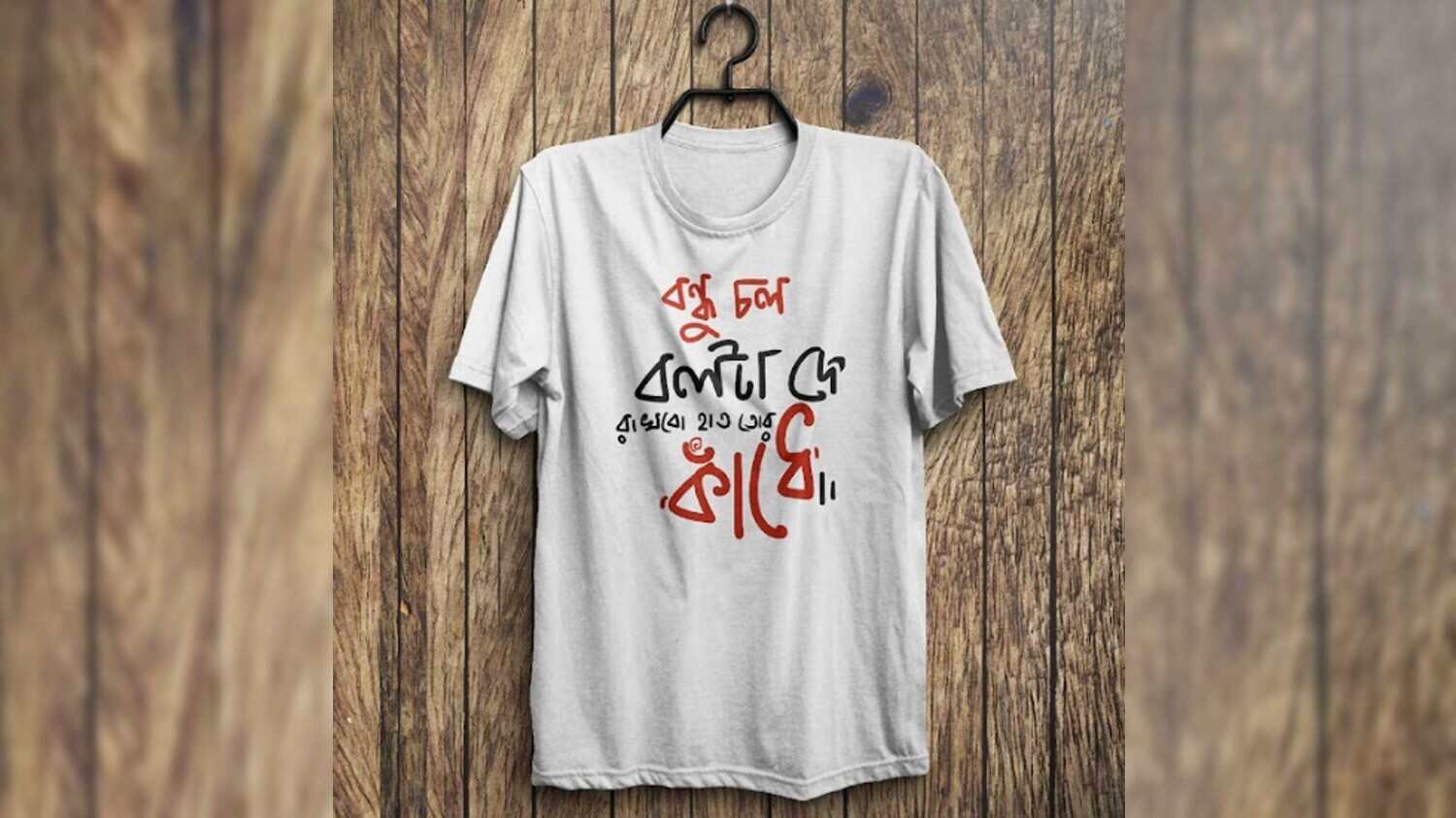 We R Bangali website
Moheener Ghoraguli's 'Abar bochor kuri pore' by The Bong Collections
The songs by iconic Bengali rock band, Moheener Ghoraguli, have been loved for decades, but what the album Abar bochor kuri pore is also remembered for is the seahorse. The image of this seahorse became synonymous with the band, making it an instantly recognisable symbol. 

(Get it here)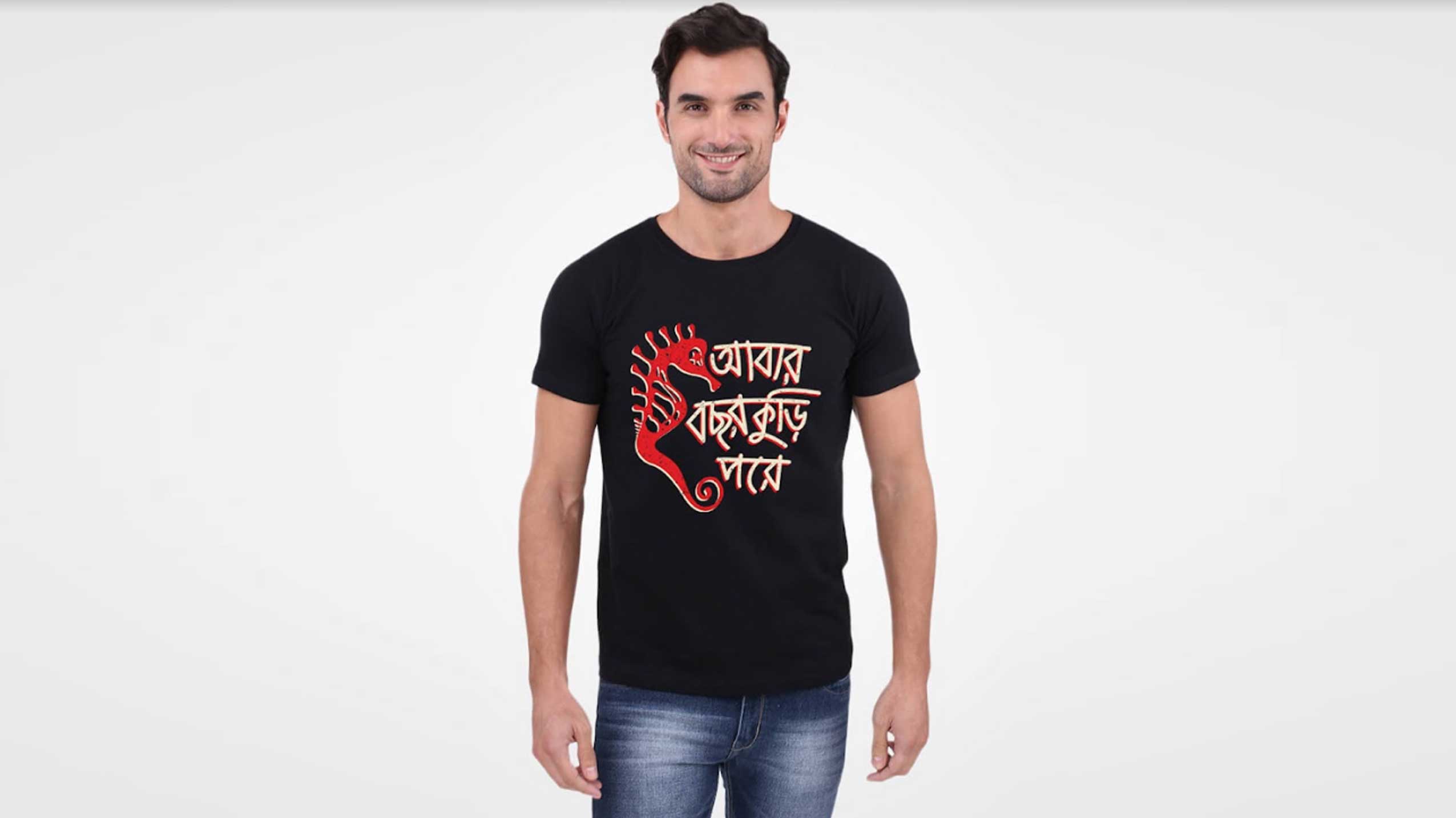 The Bong Collections Website
Lagnajita Chakraborty's 'Preme pora baron' by Coup
Released in 2019, this unusual love song has quickly become one that you find yourself humming through the day once you listen to it. Lagnajita Chakraborty's memorable voice is an instant crowd-pleaser, and the conceptualisation on the T-shirt makes it a quirky buy. 

(Get it here)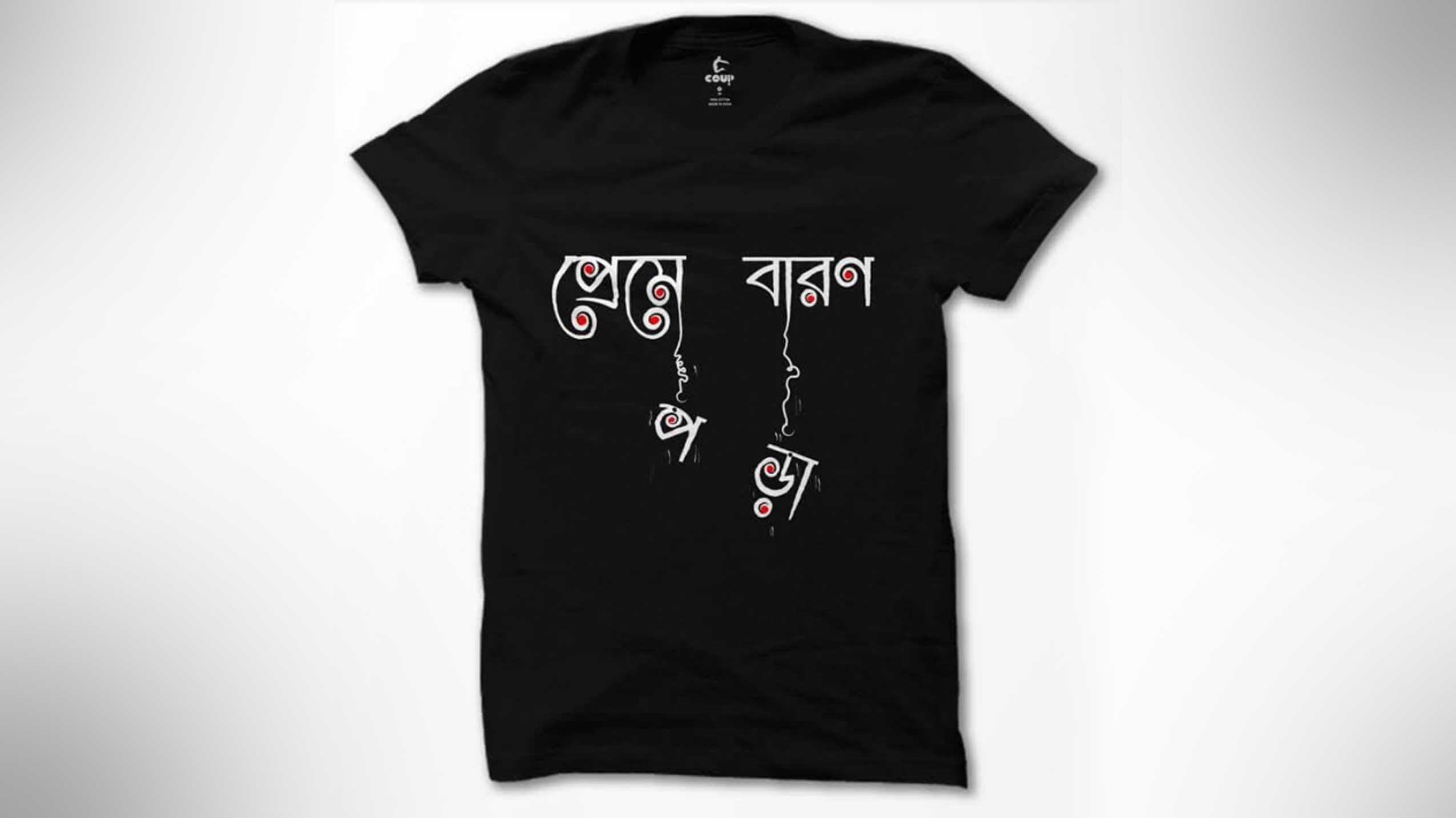 Coup Website
'Tomay hrid majhare rakhbo' by Teegully
This T-shirt evokes a great Baul song. Think of the strains of an ektara along with the tune of Tomay hrid majhare rakhbo, and you will be instantly transported to Bolpur. This age-old folk song is one that we have all heard at the haat on our weekend getaways to Santiniketan. 

(Get it here)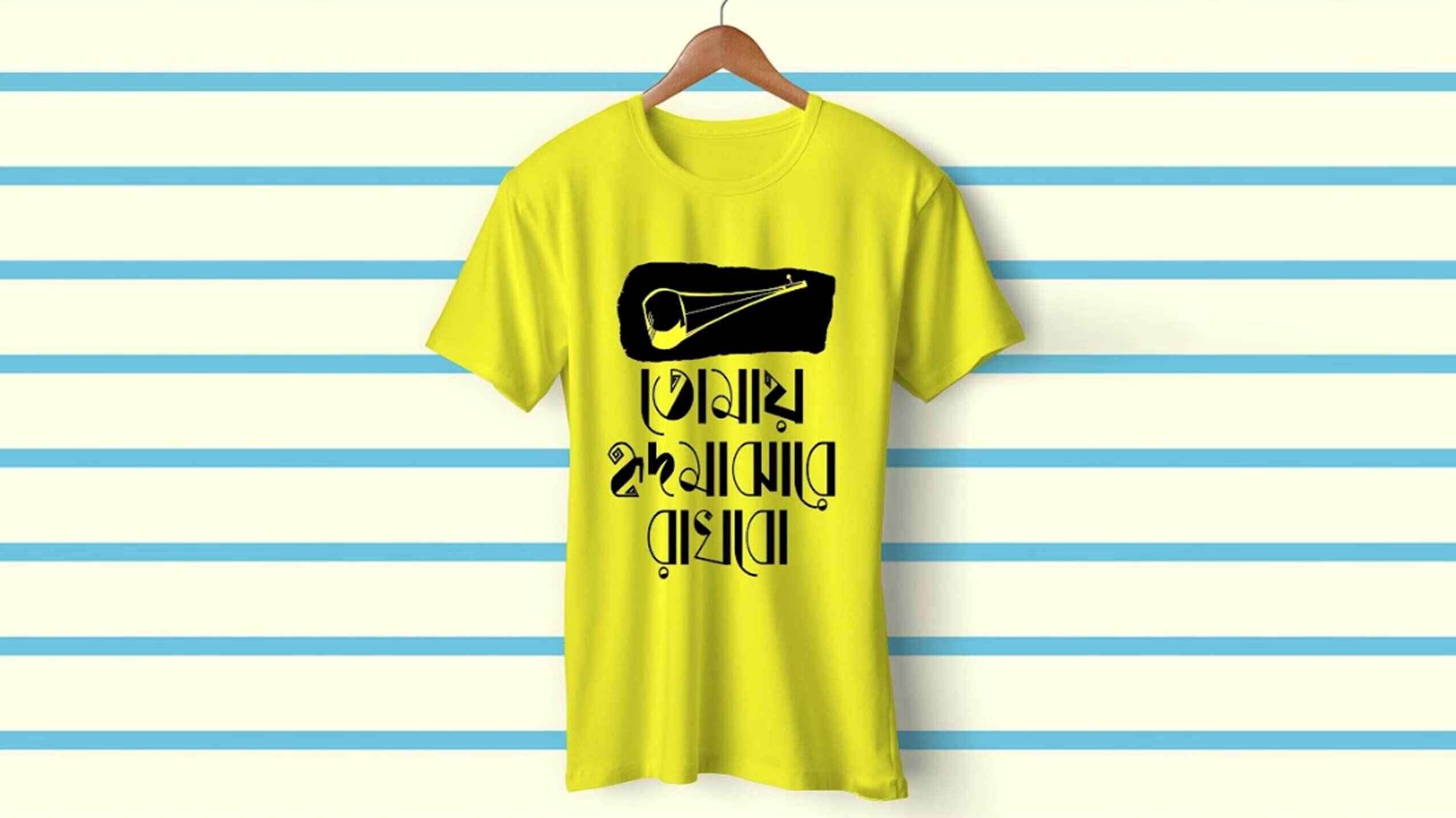 Teegully website
Shilajit Majumder's 'Ja pakhi urte dilam toke' by Rockbuzz
From the iconic album X=Prem by Shilajit Majumder, this song has been a favourite of many, for its catchy melody and witty lyrics. Here, the illustration of a bird escaping a cage captures the theme of the song, while the colour scheme makes it a special addition to your closet. 

(Get it here)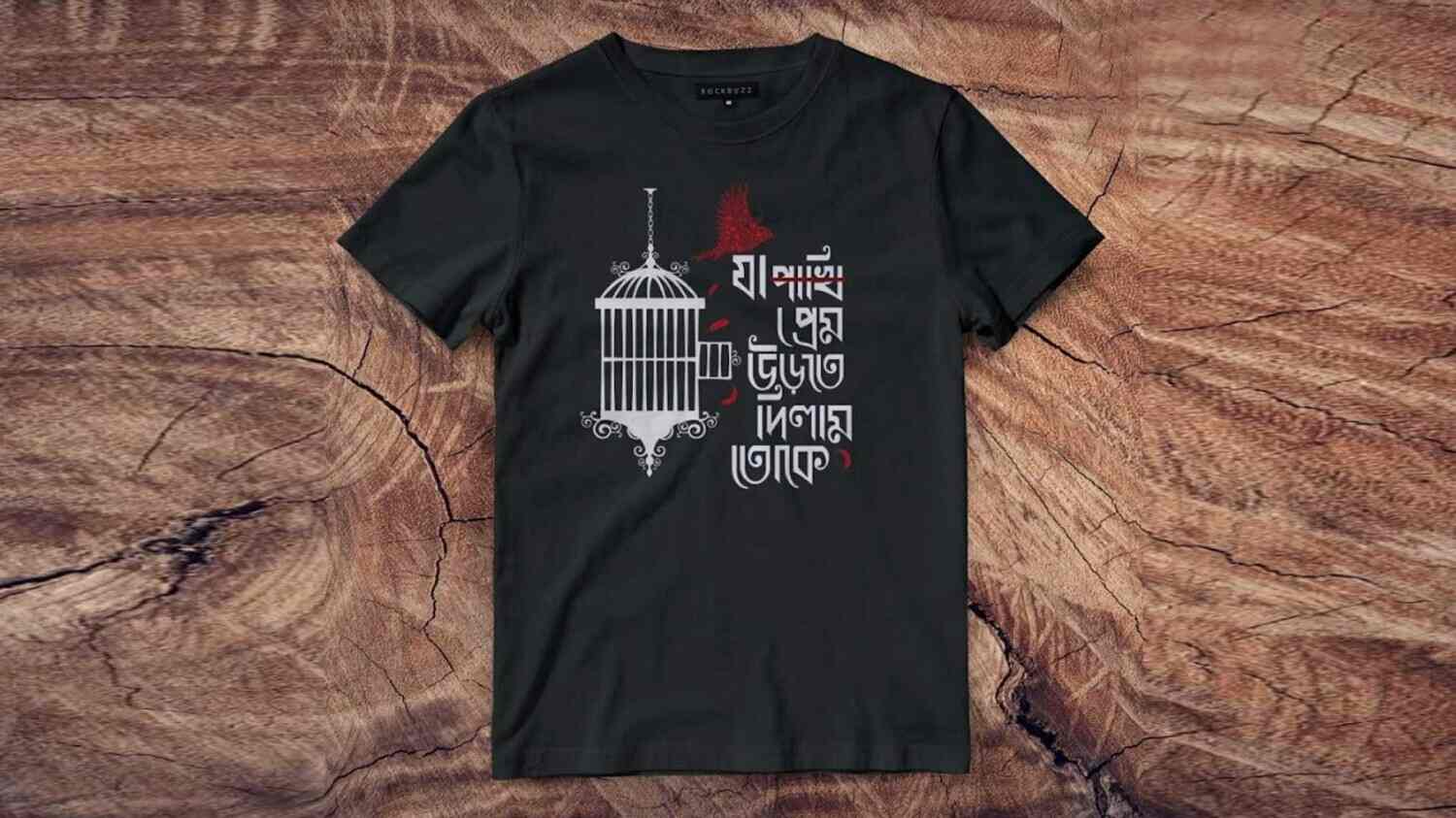 Rockbuzz website
Chandrabindu's 'Bhindeshi tara' by Teeguruji
Much like many of Chandrabindoo's songs, Bhindeshi tara too has simple acoustics along with lyrics that are conversational and free flowing. This T-shirt uses one of the most heartfelt lyrics of the song that will strike a chord with both the wearer and the reader.  

(Get it here)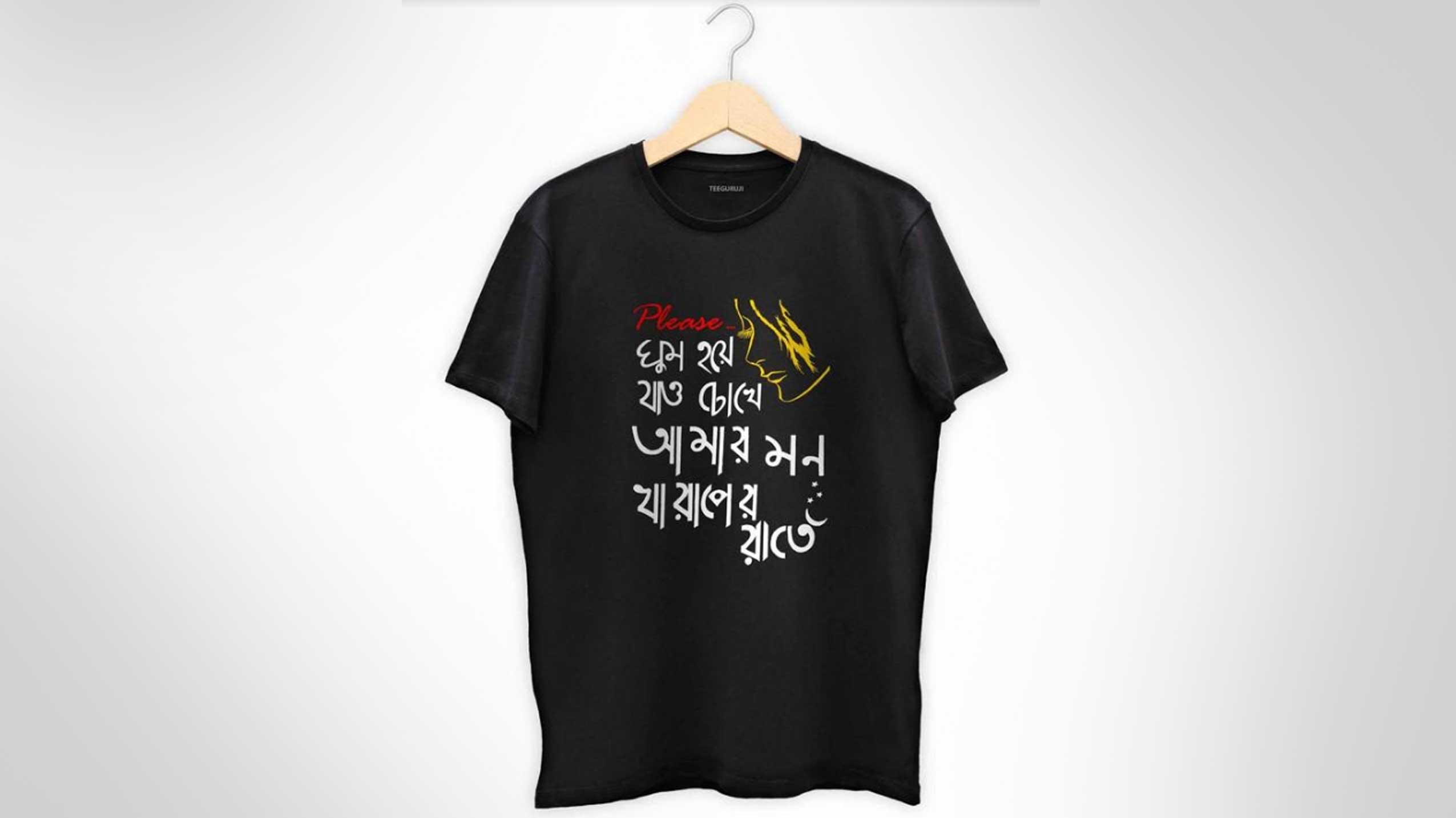 Teeguruji website
'Ei poth jodi na shesh hoye' by Hjbrl
A long bike ride in the countryside with Uttam-Suchitra singing Ei poth jodi na shesh hoye is forever etched in all our memories. Just as the scene of the song from the movie, Saptapadi is iconic, the wistful lyrics of the song is what creates a nostalgic ripple in our minds. 

(Get it here)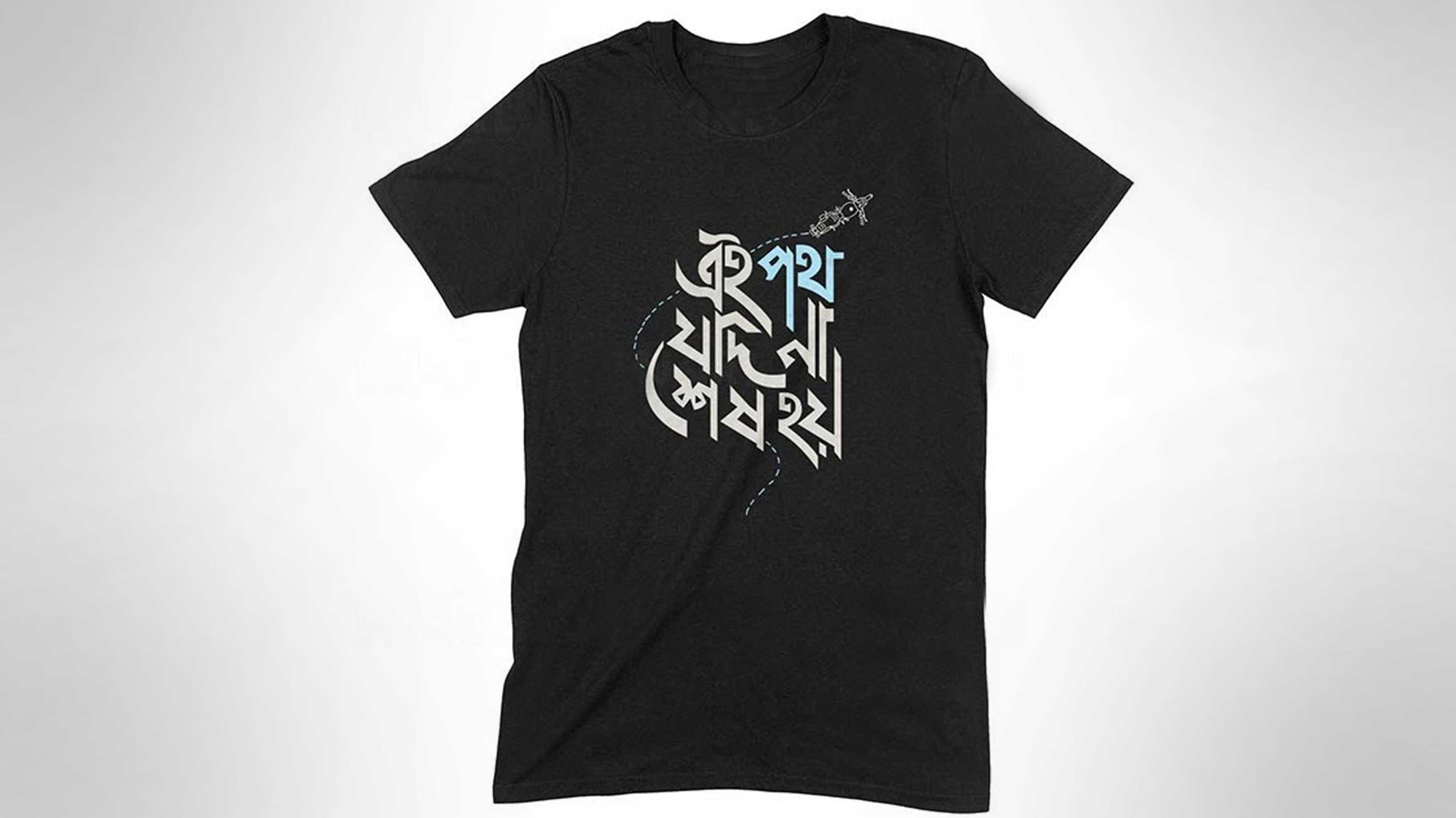 Hjbrl website
Anupam Roy's 'Amake amar moton thakte dao' by Bohurupi
This song is the first gem from Anupam Roy's discography which made him a much-loved musician. His unique lyrics might remind one of a poem in free verse. With simple typography and illustrations, this T-shirt lets the lyrics shine, casting a spotlight on this relatable song lyric. 

(Get it here)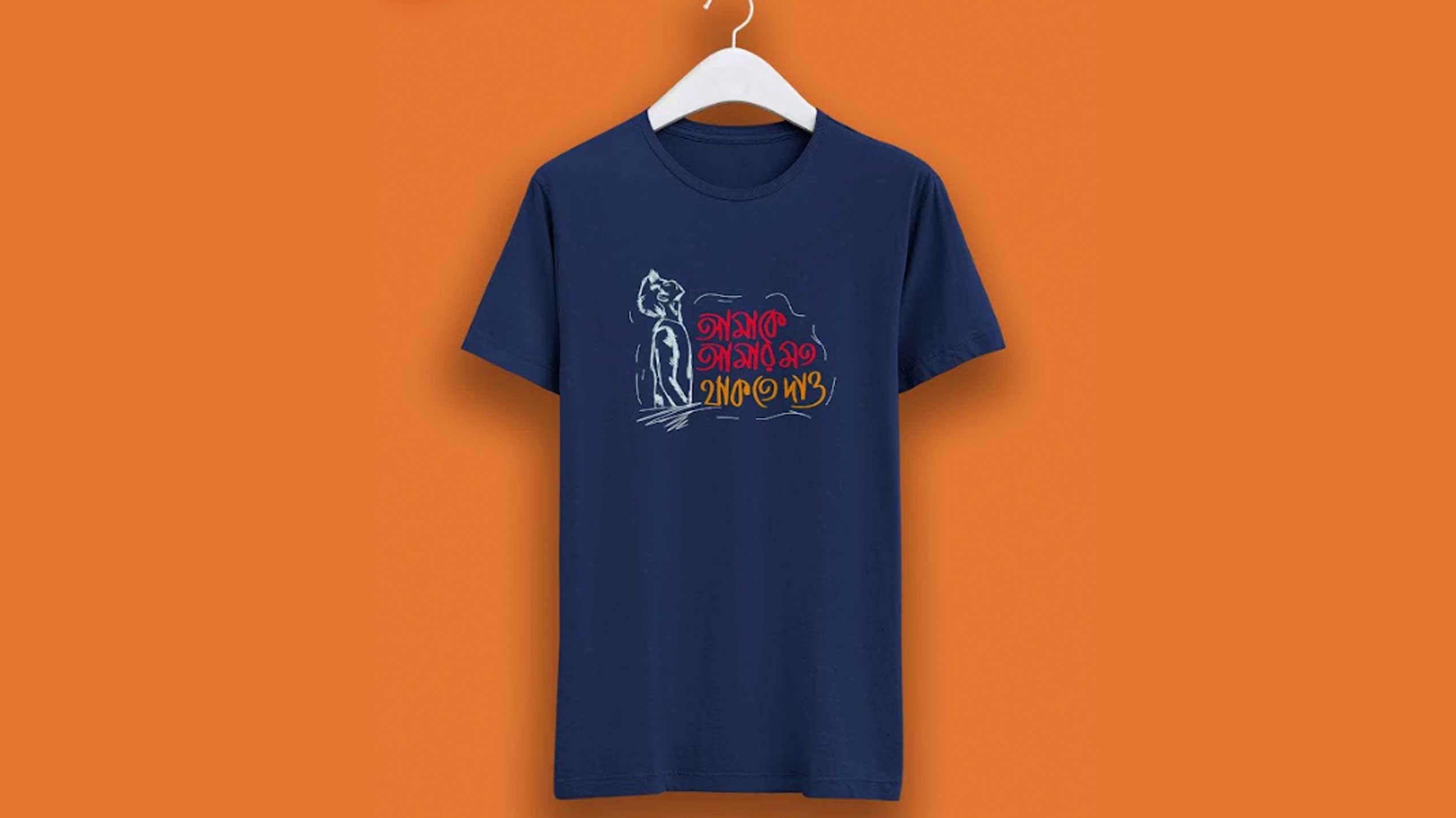 Bohurupi Website
Anjan Dutt's 'Bela Bose' by Bongo Rongo
This one needs no introduction because who does not know of the number, 2441139? Created by Anjan Dutt, this song remains an iconic singalong love. The illustration of an old-fashioned telephone on this T-shirt just makes it that much better. 

(Get it here)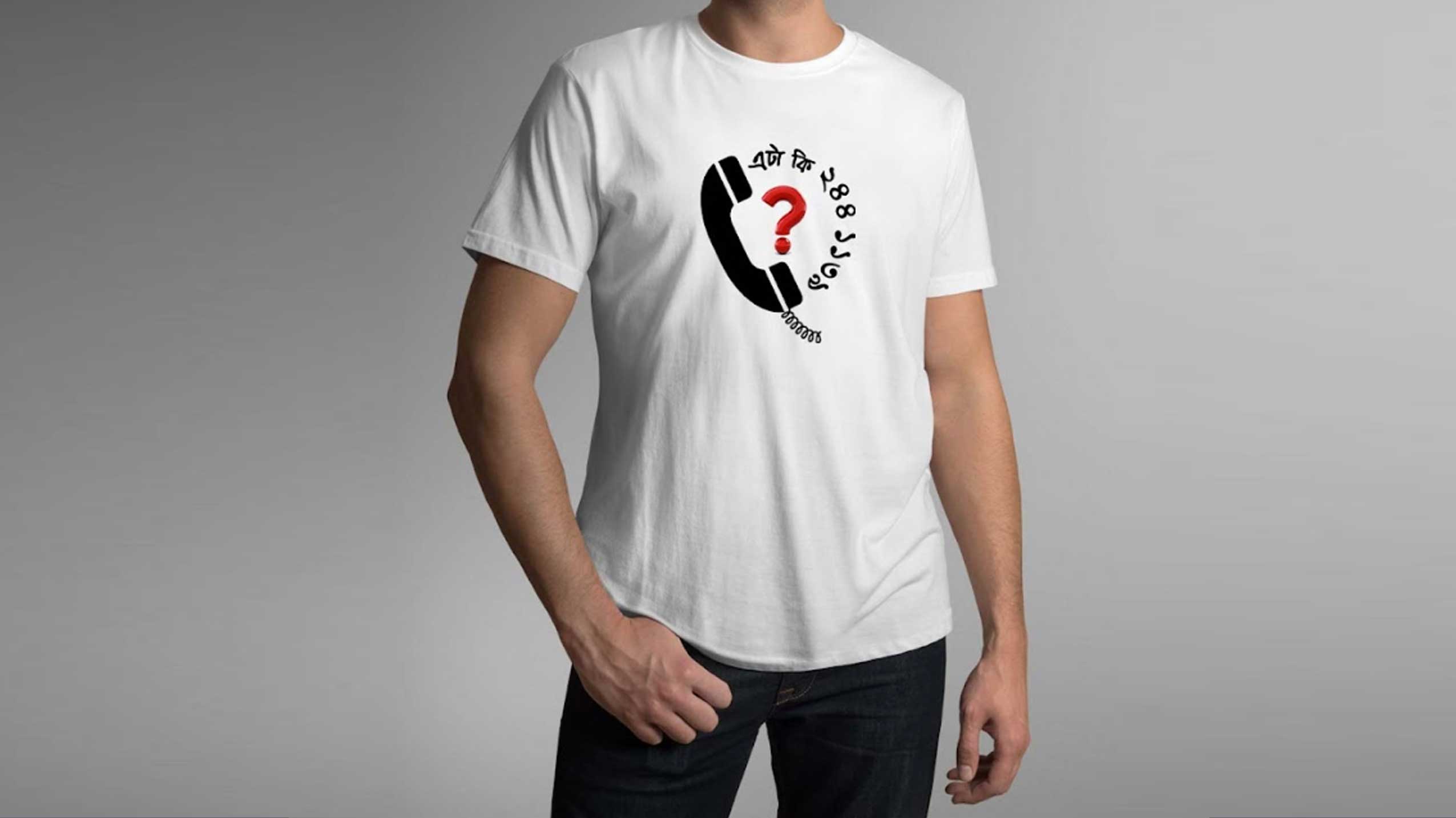 Bongorongo website