Rituparno Ghosh had an insight of human relationships that startled viewers. His films were stories, intimate personal accounts that crossed the boundaries of fiction with its universal themes. One such cinematic marvel was Unishe April, a tale that was ahead of time and cemented the course of 'arthouse cinema'.
So, on April 19, we dive into some of the many thought-provoking scenes that give us a new understanding with each viewing.
Boya, you are the home amidst all the chaos, today and forever
In the fragile hearts of children, there perhaps is an eternal search for a finger to hold on to, a palm caressing away all fears, and a safe embrace within which nothing can go wrong. Young Mithu's (Debashree Roy) Boya/Bela (played by Chitra Sen) was that shelter for her, a refuge from the adult dynamics unraveling around her.
The first heart-wrenching moment for the little child happens as she is left alone in a house with a dead father, acquaintances, and mentions of her absent mother. Mithu, with all her insecurities, knows her Boya is around and she is not alone. The spontaneous seeking for her Boya and the subsequent whispering of her personal needs in her Boya's embrace is a relationship no less than that of mother and child.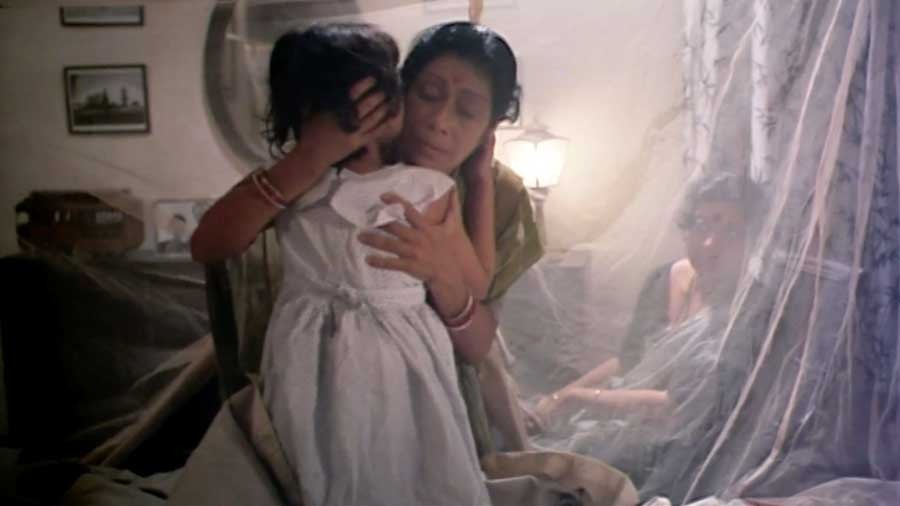 Unishe April was not just a date, it was a wound…
…that refused to cure itself even with time. For Mithu, all that changes are the years; the pain of her father's death remains as raw, as pining and as corrosive as ever. It reinforces and widens the distance between her mother and herself with unspoken words and sudden flare ups. Being at home on Unishe April, changing the calendar date with pent-up emotions and a looking longingly at her father's photograph torments Mithu. Her agony chokes you, but also reminds you that you are alive and able to feel the asphyxiation.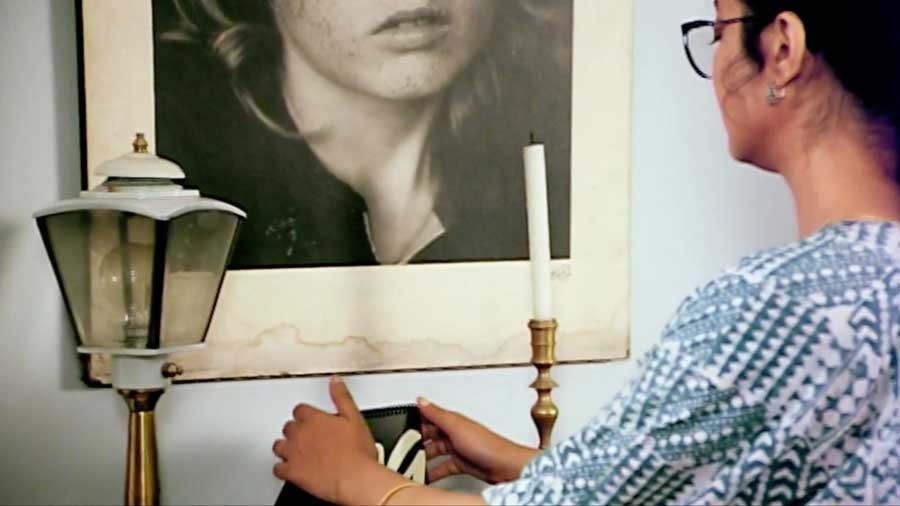 'Kokhon tomar asbe telephone'
Even with love blossoming in her life, Mithu holds her father close. The dichotomy of life and death, love and loss keeps tormenting her. She asks her beloved, Sudeep (played by Prosenjit Chatterjee), to call on Unishe April no matter what. But the uncertainty of the call adds to her sense of loss.
Mithu becomes a living example of Rabindranath Tagore's Jeebana maraner seemana charaye, as if she is the kandari of a boat between life and death. She tirelessly tries to keep her father alive in her memories, even as she tries to keep her love for Sudeep the closest.
Her mother is her shadow, and one cannot do away with a shadow
Is Unishe April a film about a daughter 'versus' her mother? A tug of war between an absentee mother and a daughter who pines for her father with every breath she takes? Not really. Sarojini, played her by Aparna Sen, is like Mithu's shadow. The abhimaan and distance between the two does not take away the bond. Although Mithu ensures she doesn't receive any reflected glory from her mother's success, hides her mother's celebrity status from her boyfriend and blames her mother's profession for a broken family, deep down, she is not ashamed. She is hurt.
Dispatches from a wounded heart
Is Mithu jealous of Sarojini? Is she jealous of Somnath's (Dipankar Dey) presence in Sarojini's life? Mithu perhaps is jealous of the idea that her mother is unhindered by the twist that life brought with her father's death. She perhaps is jealous of her mother's composure. But, Mithu is not jealous of Sarojini, the mother, for whom she would wait in her childhood as she does today, however hidden she tries to keep that need.
'Maran re tuhu mamo Shyam saman'
The date, April 19, is itself one of the main characters in the film. Manish Sen, played by Boddhiswatta Majumdar, leaves behind a vacuum in Mithu's life, as she is scarred watching her father take his last breath. But his presence in an unequal marriage and his everlasting presence even after his death is Sarojini's personal battle to fight, one she cannot share. Manish exists in every nook and corner of the house, in memories and references and in Boya's relationship with the mother and daughter. Manish is the leitmotif that even time could not erase.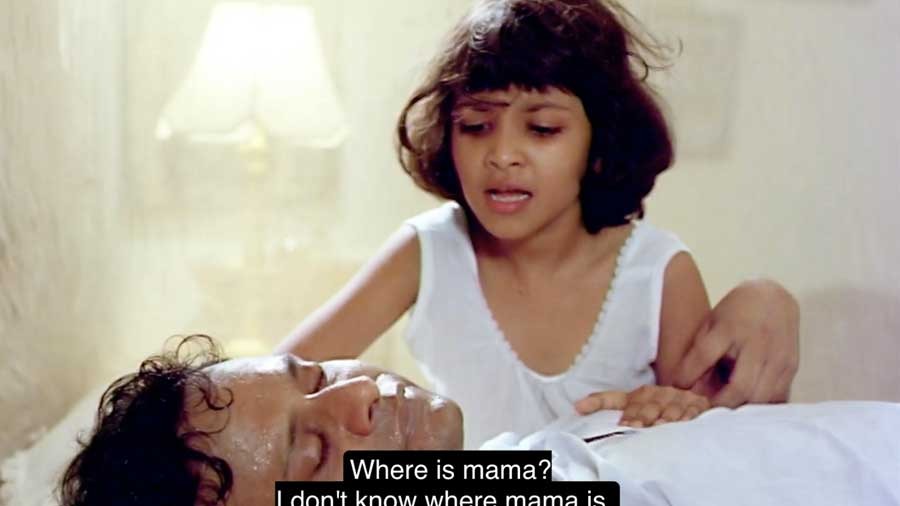 Maa
Hiding her mother's perfume bottle in a spice container, finding out about her mother's knee problem, cautioning her mother about her knee, trying to end her life, blaming her mother, crying in front of her — each scene is a story in itself. Mithu finds her Maa, with her faults and idiosyncracies, as she finds a missing part of herself.
So, on Unishe April, 2022, thank Rituparno Ghosh, for a date that has become palpable.
Screenshots taken from Hoichoi.