All it took was a gloomy day and the need to be adventurous to call up my brother to ask him if he wanted to go for a trek. Now, he is someone who has ridden his bike to Ladakh and in front of him I was, what gamers call, a noob. But I learned that the hard way. We jumped on India Hikes and Thrillophilia to look for a decent trek to just... cut away from the world, I guess. The first one on our list was Hampta Pass, which was a six-day journey but then we got more realistic and opted for a four-day trek to Indrahar Pass.
Into the car we got, for a 10-hour-long drive from Gurgaon to Dharamshala. Even at this point I felt good about my decision. Eye roll much! On the first day, we ventured around Dharamshala and McLeod Ganj. Had a warm thukpa, kept our eyes out for things we would potentially buy, mingled with people from there and more.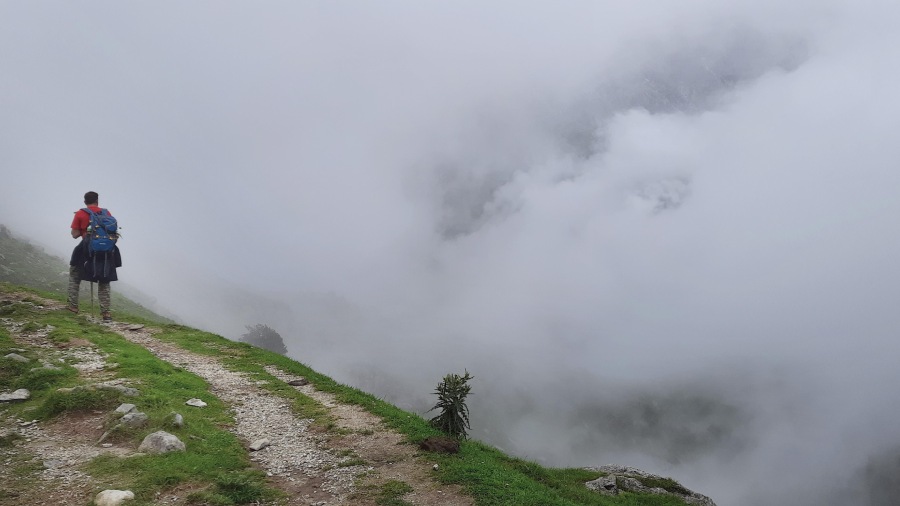 And it begins
Next day we had to wake up at 8am to reach our starting point at Bhagsu Nag Taxi Stand in McLeod Ganj. We met our guide Rohit there and we were advised to "expect the unexpected". And boy did I! It started off with a walk that was becoming steeper and steeper. We were still amongst the local people with shops and homes around. We made our way through dilapidated houses and that's when the trek begins. It doesn't take long to reach the forest and little dogs are there to accompany you. I was taking slow baby steps because... small legs and I had overpacked my bag but more importantly, forgot to do a mini workout to get my fitness level up. It did not take time before I started huffing and puffing. Luckily there were certain stops on the path where you could catch your breath, have a tea and then continue. Sticking to the mountain side of the path very shortly we could see the city below us. So far and spread out and nothing around us but mountains. We took a stop at a tea stall near Bhagsu River from where we bought a couple of walking sticks, which were a game changer. Then on, I was with my three legs, crossing Bhagsu and making it to the other side where the dense green vegetation became denser. This is a good time to mention that we literally went for the trek during a time when the monsoon rainfall was at its peak, pun intended. As the rains came down the water gushed down the road we were walking on. Although it did not seem to be scary it's best to avoid slipping because well, there is not much that can save you there. Lucky for us we had bought those plastic raincoats that would keep the rain away but make you feel really hot. And as the rainfall came in flashes, taking the raincoat off and on constantly was a little annoying. So there was no choice but to keep it on and the guide at this point did not hesitate to call me Jadoo from Koi... Mil Gaya. "Aila Jadoo, dhuup nahi mila?" Yes, big laughs everyone!
The trek on the first day that started at 9am came to an end at about 1.30pm or 2pm and we had covered a distance of about 9km. The idea of telling yourself that there's no backing down now really helped because the view from the base camp was breath-taking, ironically. We had climbed above the clouds, the cities of Dharamshala and McLeod Ganj looked like a big family of fireflies due to their lights, swallowed by mountains and sometimes clouds would fly by making it misty. The most beautiful view was when the sun was setting. It looked like the sun exploded in the sky but remained compact as well.
The camp we were in was set up in Mana Village, a little below the base of Triund, which was going to be next day's mission. So the rest of the day we rested, slept and ate our meals. No McDonalds and Starbucks here, of course! Rice and rajma for lunch and roti, aloo jeera, rice and dal for dinner. Very basic yet quite wholesome. After dinner it was time to wrap up for the night, sleep in the tents that were given to us. It felt nothing like your marshmallow mattress and since I am of a small built I could curl up in a corner. My brother on the other hand is 6'2" so I could only imagine what he was going through.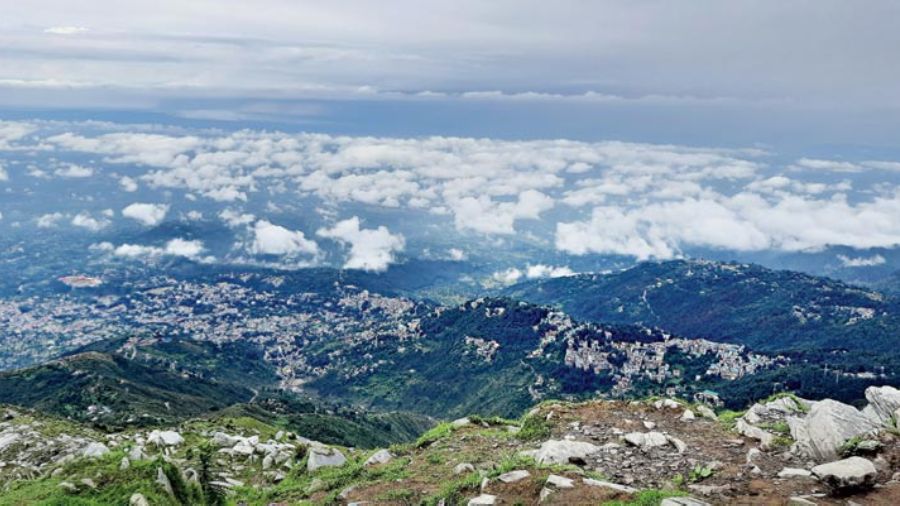 U- Turning
Next day's trek included the journey from Mana to Llaqa Got and this really pushed me to a point where I was reprimanding myself for not being fit... er. The trek started out easy but the steepness got to me eventually. Using the stick to make my way up, I tried to figure which rock was shaky and which path was easier? As we left Mana behind us we had made our way to the base of Triund. The view from there was already spectacular as we got closer to the other mountains. Zero vegetation on them, some of them snowcapped. You would think that it's quite close but you would be wrong.
The journey upward was now about covering the three "unds" of Triund. And this three-peaked mountain never seemed to come to an end. The trek had three steep climbs, each tougher than the other. But since we were on top of the mountain, the dense forest was behind us. Halfway up to Triund, of course, I had to suffer a fall. The trek was rocky and each step had to be careful. There was a big hole that had caught my attention and I remember saying, "Don't want to be in that!" So I took a long stride to only land up in a different hole where my left leg had fallen completely through it. "Snakes and spiders, snakes and spiders," is all I thought and pulled out immediately, vigorously checking my leg to see if anything had bit me or not. First heart attack of the day accomplished.
Putting the experience aside, we kept going higher and we finally reached Triund top. Minus the hurdles I did feel a bit proud of myself. This time we were above a layer of clouds and under them too. The top had a gorgeous grassy alpine meadow where you got a clear view of the Dhauladhar ranges and a panoramic view of Kangra valley. This was a place to take in and I did so with a bowl of Maggi... which was a bad idea.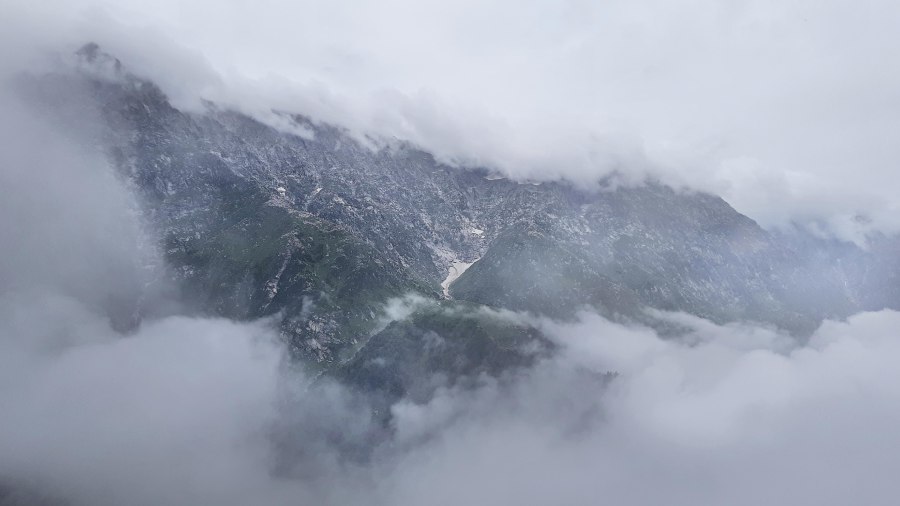 I'm not sure if the Maggi was hard on my stomach or that I overate but each step felt like a hectic move. I had to stop every five minutes for some breath. The guide was nice enough to carry my bag for me but it felt like a temporary situation and we had a long way to go. I asked my brother how he was feeling and both of us raised our white flags. "Boss, hobey na!"
The guide told us to either go back to camp or trek down from another route that would take us down to a bus stand directly. We chose the latter because how hard can going down be? Hmm, turns out it comes with its own hurdles.
While going down, it started off easy till I could feel the energy draining out of my body with every step. Going down takes more energy but your breath remains constant. This was an easy four- or five-hour trek down and even while going down this slope I almost fell off the mountain, which honestly would have been an easier way down. After taking breaks here and there and my brother motivating me to keep walking, I was the happiest to see taxis. "Please take us to McLeod Gunj." From there it was straight to a hotel and a deep sleep for the rest of the night.
I could point at numerous mistakes I had made before attempting to go on this trek. It was rated as moderate/difficult on Thrillophilia but I have no idea why I decided to overlook that. On the second day we had trekked for 17km, which was climbing up to the top of Triund and then climbing down. Hearing this motivated me to come back for this trek, better prepared after trying out some comparatively easier ones. So Indrahar Pass, I hope to see you in four... lightyears.
Pictures: Urvashi Bhattacharya