The beautifully restored Mono Calcutta and Skinny Mo's Jazz Club made space for sustainable and home-grown brands from Kolkata and outside, alongside the resident brands of Mono Calcutta and Love Me Twice by Mono, for Moodboard by Mono, a lifestyle pop-up exhibition.
From jewellery to clothes, baked goodies to non-alcoholic cocktails — it was an interesting mix of items.
''I wanted to bring brands which the people of Kolkata did not have access to. We have around 14+ brands from Kolkata and outside, popular and emerging. We tried and curated conscious and home-grown brands. We are looking to coming up with our next pop-up in September," said Mridula Pai, curator of the event.
My Kolkata caught up with these brands to know more about their principles and products. 
Midnight Baker by Ananya Arsh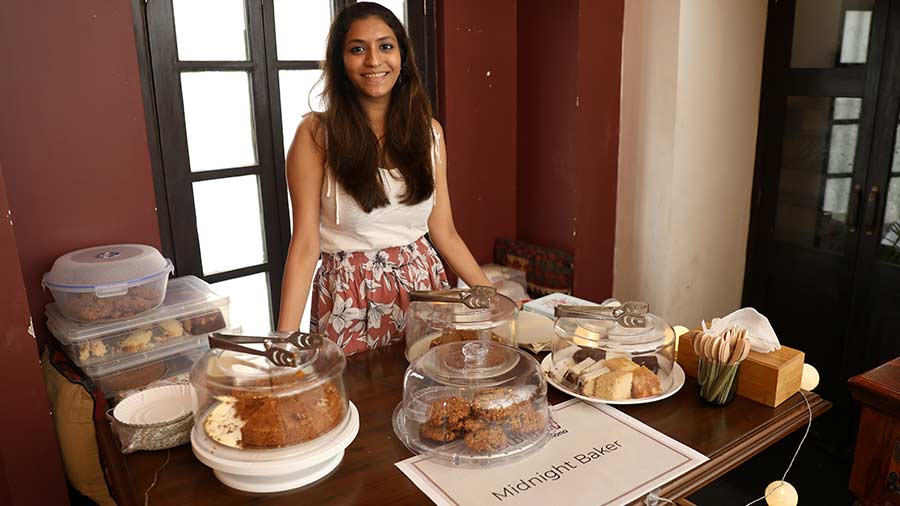 The cloud kitchen has been satiating the Kolkatans' sweet tooth (and savoury wishes) from Golpark since 2019. "I have a lot of classic cakes, classic desserts. We do breads and savouries as well," said Ananya Arsh. Bestsellers include Carrot-Walnut-Cinnamon Cake, Banana Cake, Chocolate Eclairs, and Mushroom Quiche. The bakery works only on pre-orders and sells whole cakes. "I do slices only for pop-ups," Arsh said.
Earthaments by Monalisha Manna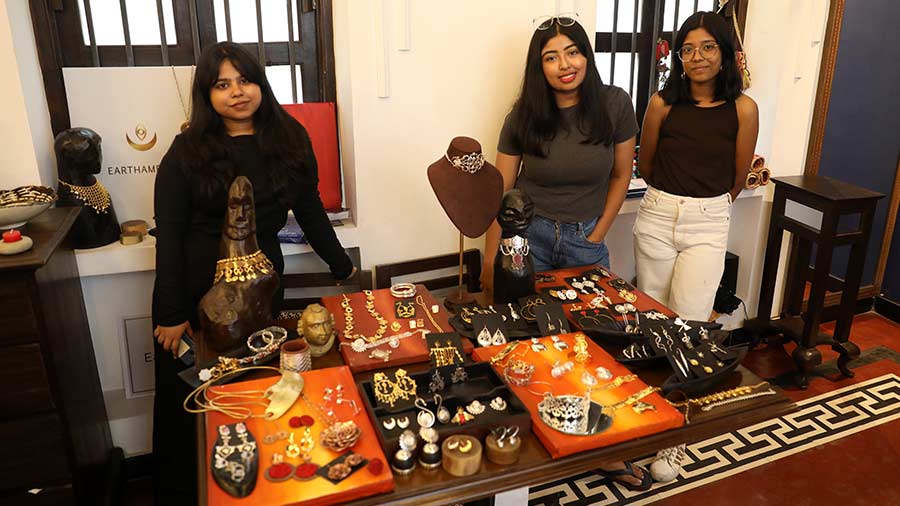 If you are looking for some exclusive silver jewellery to up your fashion quotient, Earthaments may be the right place to shop at.
"We started with tribal styles and evolved with more designs. Our latest collection is inspired from Jamdani motifs," said Monalisha Manna, who was the brand's sole designer when it was floated in 2015. "Now we are a team of 11. We are basically an online brand but in cities like Bangalore, Delhi, Bombay, Kochi, Chennai we share space with other boutique stores."
Jugni by Harsha Jain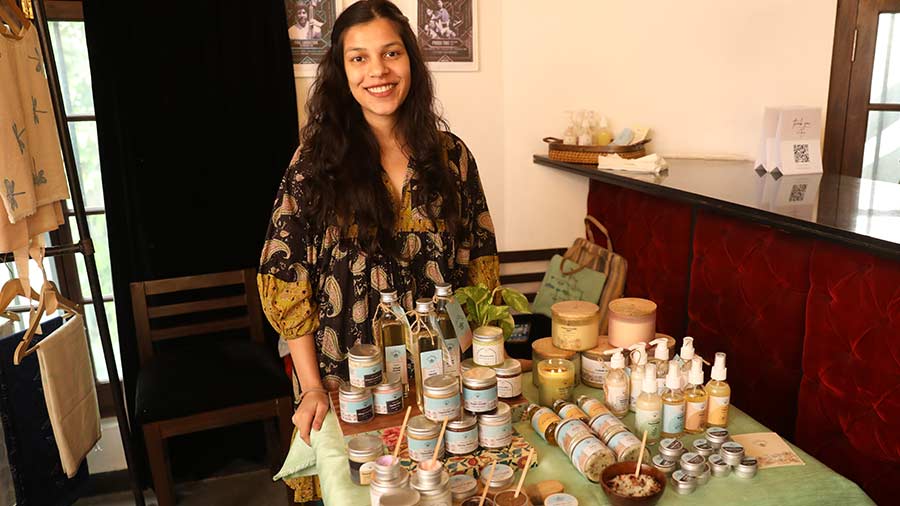 Jugni products promise you a healthy and glowing skin. A social enterprise with online presence and in-store placements across stores in Kolkata, Jugni began its journey in 2020.
"I took a diploma course online from a CBSE-certified academy based out of Bangalore in skincare and came up with my own recipes. They are all tested. We have 100% natural, sustainably and hand-crafted skincare and personal care products like whipped soaps, bath salt, hair oils, cold pressed oils, body lotion, body scrubs, lip balms, candles and many more things," Harsha Jain said.
Quirky Bae by Shrutanwita Chakraborty and Ujan Ganguly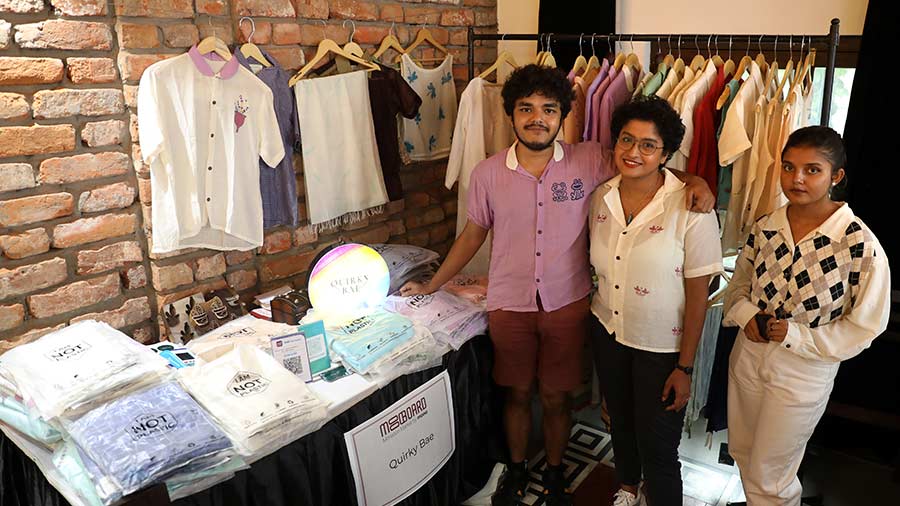 The brand was conceptualised last September but operations began in March 2022. "Our brand is based on eco-friendly and eco-conscious fashion. We are a slow fashion brand working on products made of materials like handloom organic cotton and handloom bamboo. We are also working on other fibers like rose petals and orange peels etc. We have sarees, stoles, shirts, crop tops and upcycled shirts," Shrutanwita Chakraborty said.
Wear Equal by Preeta Chaudhuri Ghosal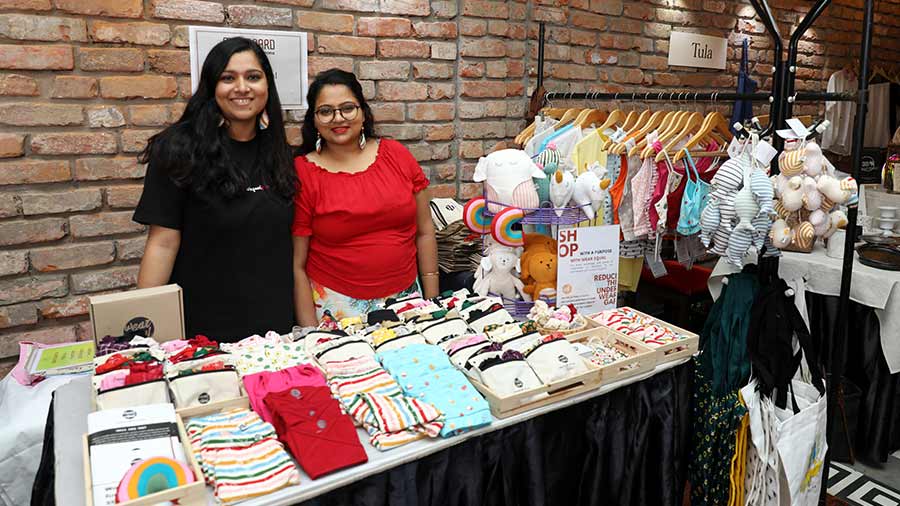 This women's lingerie brand was started in 2019. "We upcycle organic cotton fabrics sourced from export houses. We started with women's underwear and gradually expanded to bralettes, loungewear, shorts, t-shirts," Preeta Chaudhuri Ghosal. None of the scrap is thrown out. Instead, they are used to make plush toys and scrunchies. "We employ 35 women at our factory in Akra. Our latest collection is called the popsicle collection. It's basically to beat the monsoons blues. We have cute little rakhis and brooches as well."
The Burlap People by Samriddh Burman and Karuna Ezara Parikh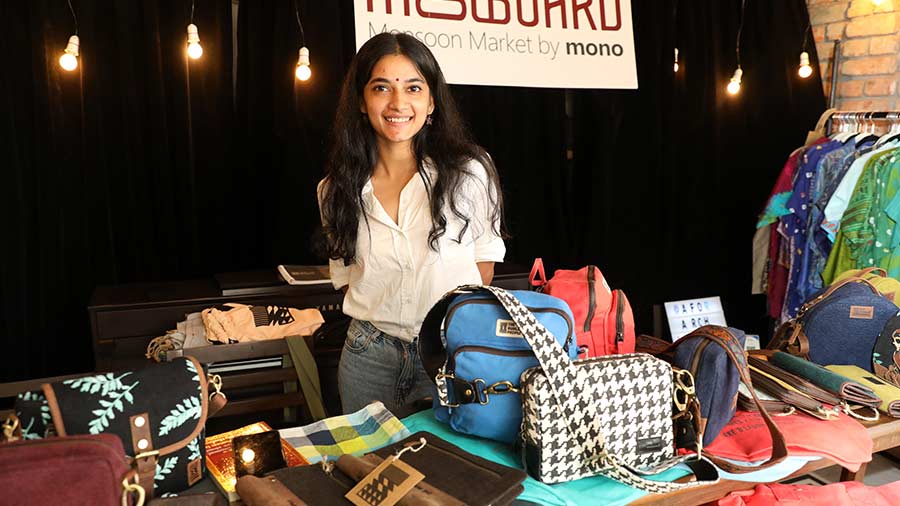 Are you one of those who can never find a perfect bag? It's either too small, or too large, too many compartments or none, and the colour! The Burlap People offers you 100% customisation on bags and, that too, with sustainable and biodegradable material.
"We do travel bags, day bags, backpacks, handbags, wallets, notebooks and aprons. We offer 100% customisation on our products. We also offer discounts when you return the bags to us when you are done using them, so that we can dispose of them in a way that's actually good for the environment," said Karuna Ezara Parikh.
The brand was launched in 2015 to offer a sustainable alternative for bags.
A for Arch by Aditya and Utansa Mansata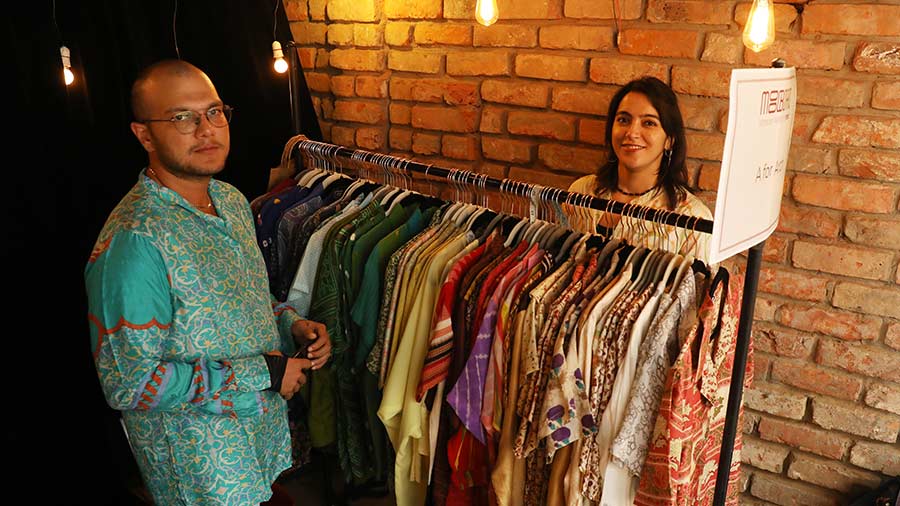 This brother-sister duo makes upcycled clothes that go beyond gender binaries. "We make gender fluid clothes from saris and other upcycled Indian fabrics. The reason why we started was fashion is like an art and it doesn't come with a gender. We wanted to be a middle ground for apparels that can be worn by everybody. Also, if you go to any store you will find multiple pieces of the same design. But most of the stuff at Arch are single statement pieces. We started around September last year and are mainly on Instagram and participate in pop-ups around Kolkata," said the duo.
Coco Palm swimwear by Ridhi Patel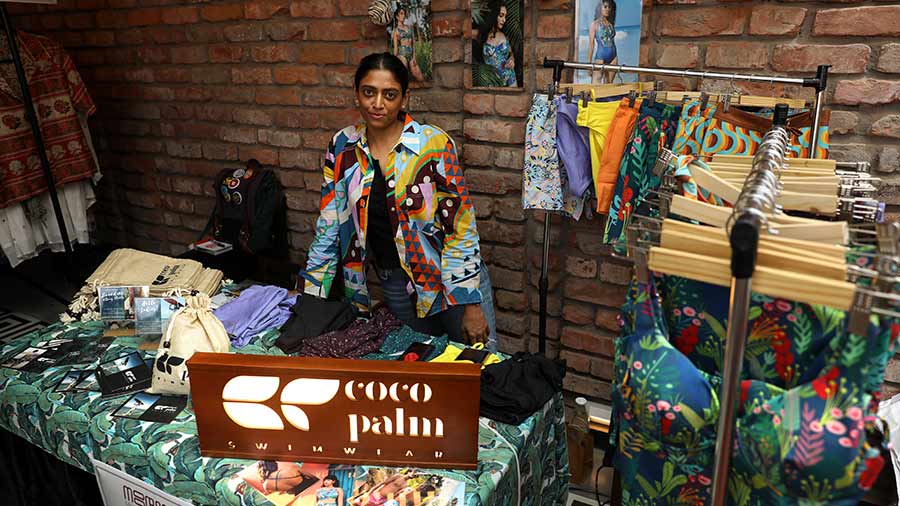 Launched just two weeks ago, this brand-new brand offers sustainable and eco conscious swimwear.
"We are focusing on using recycled fabrics made out of marine and landfill waste. I feel that there is not much quality swimwear and no one is focusing on sustainable fabric which is the future. We are based out of Calcutta and have a studio in Kerala," Ridhi Patel said.
With Ipsii by Ipsita Chakraborty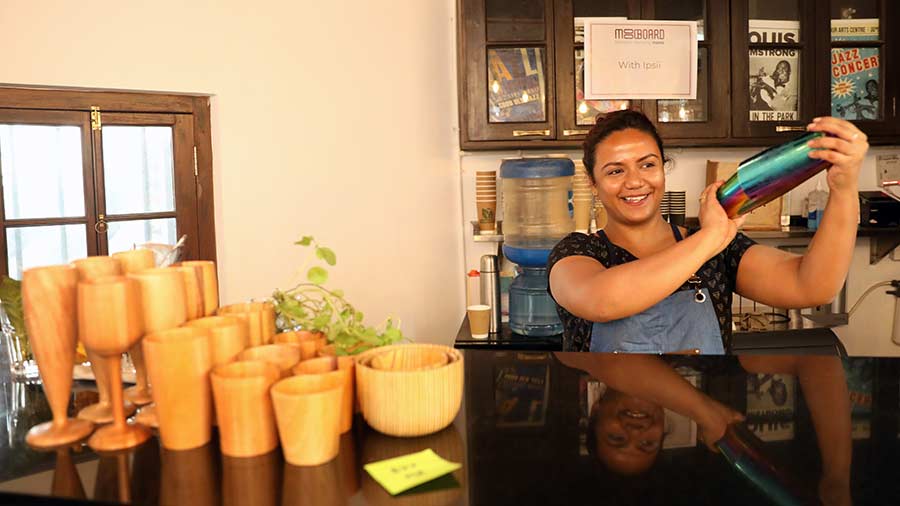 Thirsty? With Ipsii has something to quench your thirst.
"I do all sorts of drinks with natural sugar and sell items that complement the beverage industry like hand-crafted glasses or wild honey. The idea is to basically make drinks without sugar and with alternative sugar like dates, honey or jaggery and even explore beyond the sugar profile to spicy, sour, salted. Sometimes I do stevia-based drinks too because there are a lot of diabetic people," Ipsita Chakraborty said.
The Fat little Penguin by Jayatri Biswas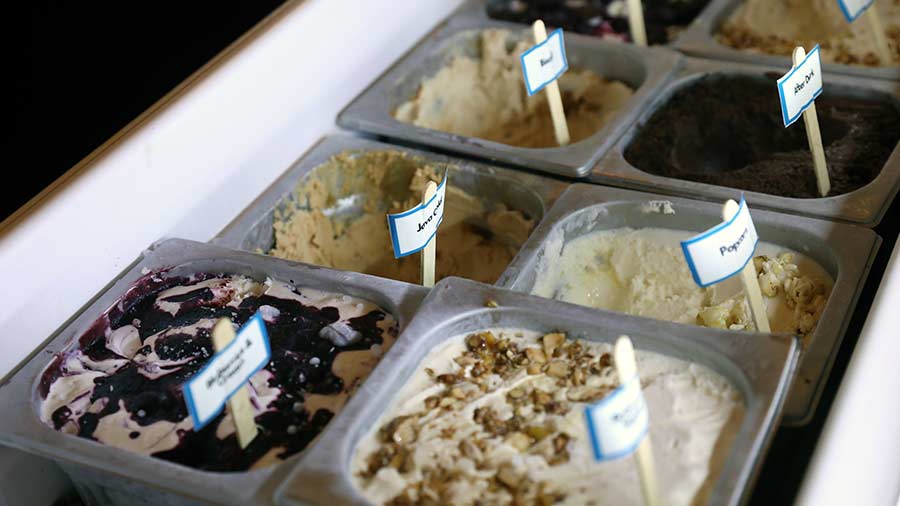 This ice-cream cloud kitchen was started in 2019. Working out of Palm Avenue, the team has expanded to six-seven members.
''I did a pop-up event before the pandemic and people got to know about us. So, when the pandemic hit, our production started picking from 100 litres freezer to two 600 litres freezers. At a time, we have around 12-15 flavours of regular ice cream. We do seasonal ice -creams as well like mango ice creams. Today we have Black Forest, Sugarfree, Blueberry, Chocolate, Popcorn and more," Jayatri Biswas said.
Tula by Shristie Budhia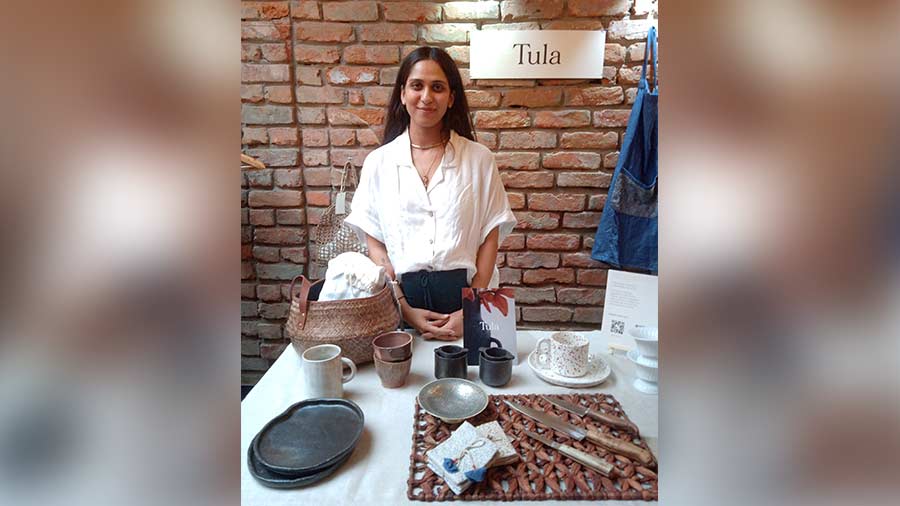 Started in September 2021, Tula is a homeware brand.
"We design products that are then developed by artisan clusters from around the country. We usually use craft techniques that are less popular. We have knives from Reha, which is a small community of blacksmiths in Kutch. We have water hyacinth weavers. Our range includes bags, knives, plates, trays," Shristie Budhia said.
Dorji Shantiniketan by Sumon Majumder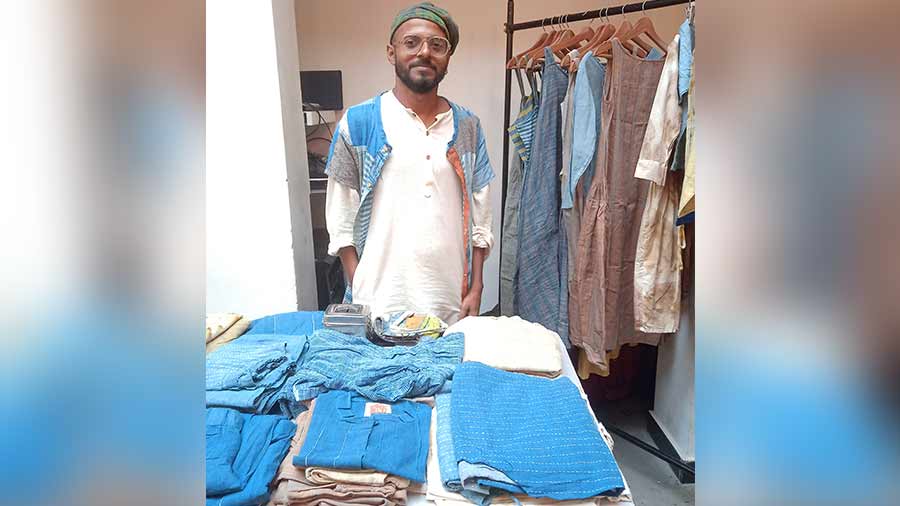 Get some eco-printed botanic wear from Dorji this Puja and be sure to be a pandal-stopper!
Started in 2018 and based out of Santiniketan, Dorji produces sustainable products.
"We make organic sustainable products that are eco-friendly. We do not use any chemicals, only natural colours. We make women's wear and gender-neutral apparel. We are also conscious about body positivity, so we try to make clothes for everybody. We are into casual wear, home wear," Sumon Majumder said.
Staplesum by Insiya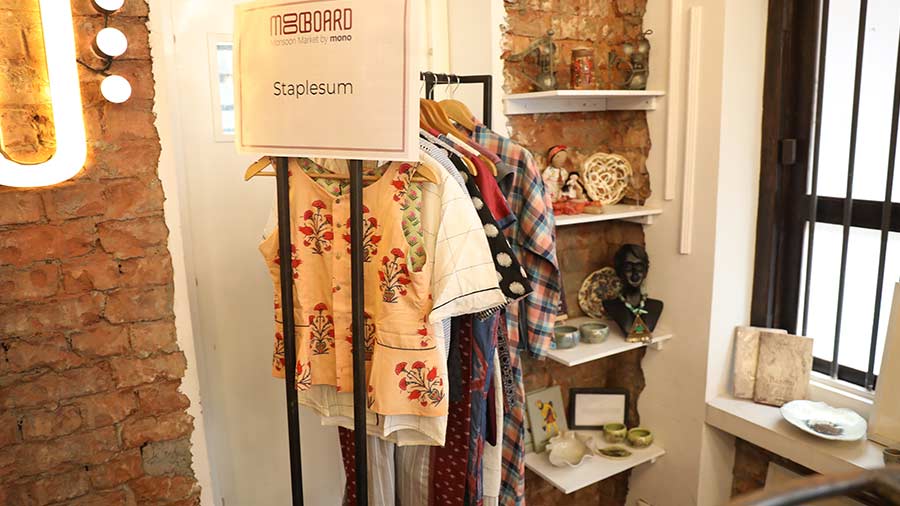 What if you could wear your favourite shirt or kurta both ways and create two entirely different looks? Well, Staplesum has just fulfilled your wish.
Started in 2016, this brand is based out of Surat. "We make reversible garments which can be worn two ways and on two sides. They are upcycled pieces, made from fabric waste. Every piece is unique. We have our flagship store in Surat. Our most well-received product are our two-way blouses," Insiya said.
KissaGoi by Ayushi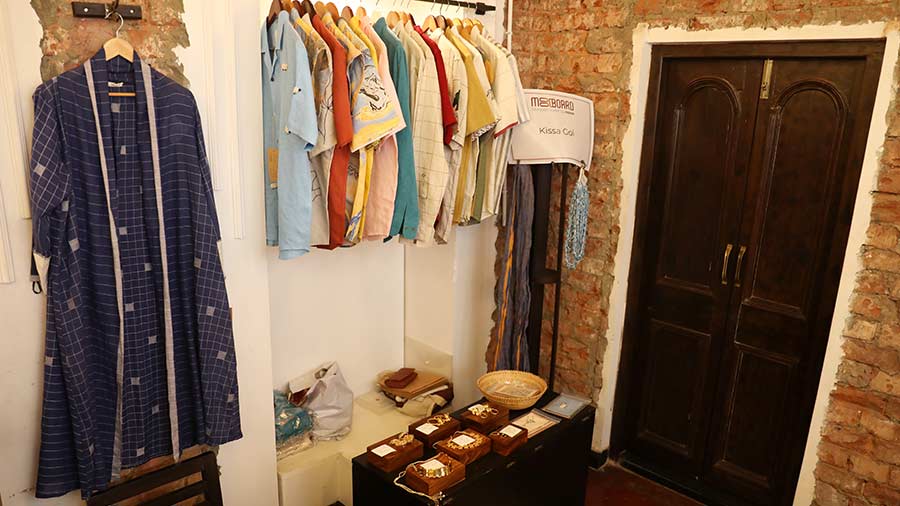 Yet another brand based out of Surat, the KissaGoi kissa began in October 2020.
"We make multi-use pieces like gender-fluid shirts that can be shared between a couple or detachable earrings that can be worn in three ways. Sheep shirts, Nandi aur Sesh earrings and our hand-embroidered postcards are among our most-loved products,'' said Ayushi who was exhibiting for the first time in Kolkata.
The Summer House by Shivangini Padhiyar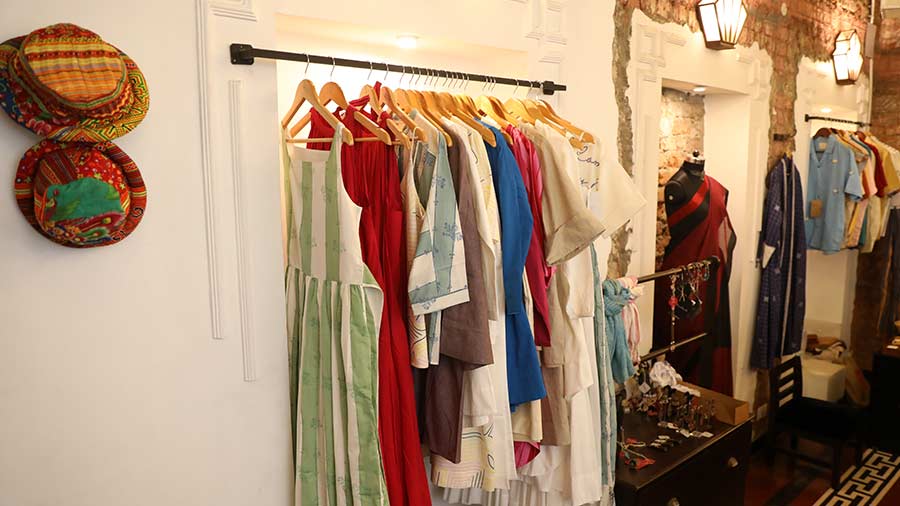 The popular fashion brand based in Bangalore with an office in Bombay was launched in 2015.
"We create approachable luxury clothing that is sustainable. We have swimwear, jackets, cords and all. There has been a lot of conversation with mono. We told them that we wouldn't be able to come down and even then, they were grateful and asked us to send the clothes for display and sale," Shivangini Padhiyar said.