Nothing spells self-love better than a thorough nail-care routine. A DIY mani-pedi can be the quickest pick-me-up for a droll WFH day. Be it gel lacquers, soak-off polish, poly gels, dip powder, nail stickers or even nail bling, there's something for everyone, irrespective of how low-maintenance you are.
This year, some unexpected nail trends have come to the foray, like pointed almond nails, ombre french manicures, negative space manicures, optical nail art and anime nails (blame Megan Thee Stallion for this one). But nail experts unanimously agree that nail health is the first and foremost step towards a good manicure.
Sarah Gibson Tuttle, founder of Drew Barrymore and Jessica Alba's favourite label Olive & June emphasises a proper technique, however simple your nail care routine may be. "One of the main reasons our nails become damaged is due to improper removal when taking off gel or acrylics," she notes. Gibson Tuttle recommends 15 minutes of acetone soaking for proper removal of colour during a polish change, because a quick removal can result in the stripping of enamel since professional manicurists will often buff or scrape away the residual colour.
But a good manicure is only an efficient DIY guide away. And we've got your back! Here's My Kolkata's ultimate nail care guide, from the best nail health behaviour to the trendiest accessories: 
The pamper and prep
Nail health isn't just about cleaning or buffing. With all the hand-washing and sanitisers that we are subjecting our hands to now, it's important to look into nourishing your nails to ensure they are not dry and brittle. Here are some things you can do to pamper your nails:
Now for the glam…
Now that you've made your way to healthy nails, it's time for the fun part — nail art! A salon-grade manicure is just a few clicks away if you know where to shop. DIY nail art tools, accessories and even nail bling are readily available online. If you love funky nails and love to switch up your manicure every now and then, here are a few products you should definitely try!
Nail serums from Harkoi
If you love fun colours and also prioritise hydration for your nails, Harkoi's nail serums are perfect for you. They are essentially nail polishes with a serum base, so they lock in hydration and offer great coverage. Ritu Bhagat's brand focuses on clean beauty and its products are free from endocrine disruptors, carcinogens and irritants.
Press-on nails from Kloss Beauty
Love Kylie Jenner's maximalist manicures? Well, you can have one just like that, if you shop from this Pune-based sustainable brand, that has an exquisite collection of fuss-free, press-on nails. They are a great alternative to expensive, time-consuming salon nail extensions. Each package has 24 gel-finished, UV-treated reusable nails designed to fit all kinds of nail beds.
Nail stickers from Disguise Cosmetics
Missing holiday-inspired nails? Fret not and go for these nail stickers to jazz up your manicure. Disguise Cosmetics has Christmas-themed instant nail stickers. The ultra-thin, water-free decals offer natural-looking nail art. Just peel and put on the sticker before adding your topcoat! Choose from candy canes, Christmas trees and holiday-themed motifs for the cutest manis!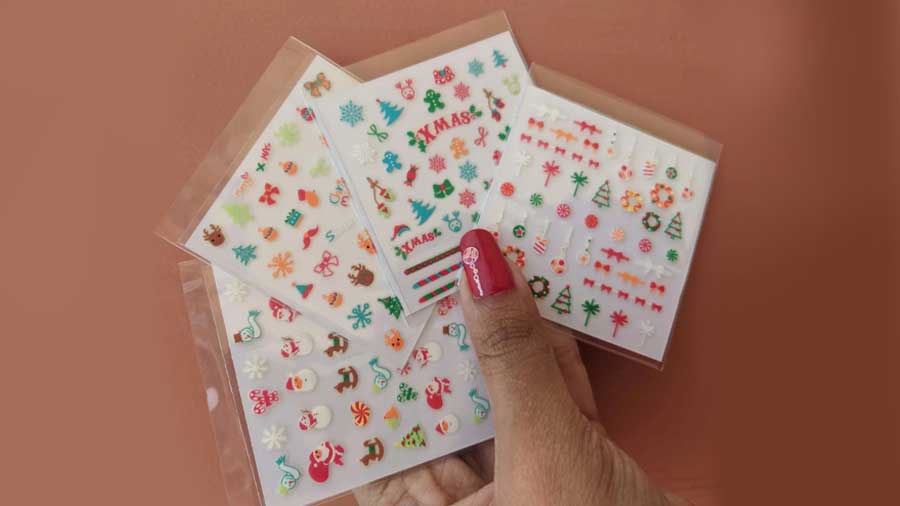 Shop here: https://www.disguisecosmetics.com/
Nail art tools from Beromt
If you want to explore experimental manicures at home, you need the right nail art tools. From brushes, dotting tools and nail shiners, to blister trays for false nails, Beromt has a great line of nail equipment.
Instant gel nail art wraps from YOUGLOW
If you're feeling lazy and want to skip the whole multi-application ordeal, just go for YOUGLOW's manicure stickers that give you salon-fresh nails for days. Pick any design and all you need to do is apply the stickers on clean nails. Clip and file off the excess sticker and apply a top coat for a long-lasting manicure. This brand has stickers for every mood — abstract, solids, French and glitter — that will make sure you get chic nails every time!