The new year brings new spirits and 2022 should be the year you step out of your comfort zone. The drinking culture of Kolkata, though long and storied, has never been more fun and cosmopolitan. Consumers are welcoming homegrown labels, exotic imports and alternative picks. Asian spirits are in particularly high demand, owing to their low-alcohol content and trendiness. While Chinese wines are hot-sellers this season, they're rather hard to find online or even in city-based pubs.
However, other popular Asian spirits are making their presence felt in Kolkata, be it the BTS-approved Korean Soju or even responsibly produced Indian gins. So, if you're ready to move beyond Sake, Sula, Amrut or Old Monk, here's what you need to explore in 2022...
Korean soju
According to a 2019 report by The Spirits Business, soju is the world's best-selling spirit and is available across 80 countries. BTS is certainly a fan — frontman Jimin just did shots of soju during a live session a few weeks ago. And it's the next big tipple of 2022. 
Soju is usually distilled from fermented rice, wheat, barley, sweet potatoes, or tapioca, and its mild, neutral flavour is what makes it so versatile. The drink goes best with grilled pork belly or other seasoned meats (particularly those cooked in gochujang sauce), since savouriness brings out the complex bittersweet notes in soju.
Kolkata's Fatty Bao serves Soju bombs on their menu, but pre-bottled variants aren't readily available in the city. For Kolkatans, the best way to source soju is through websites like KS Foods, where the beverage is sold in bottles. Moreover, some eateries in and around Sikkim do serve soju, like the popular Korean diner Mu Kimchi. Find more details here.
Japanese whisky
Japanese whisky has everyone hooked and Kolkata's leading gastropubs and bars are trying to expand their Japanese liquor portfolio, considering the popularity of some brands. The distillation process makes Japanese whisky all the more intriguing since it's modelled after the Scotch tradition. They're drier and peatier than most American bourbons or ryes.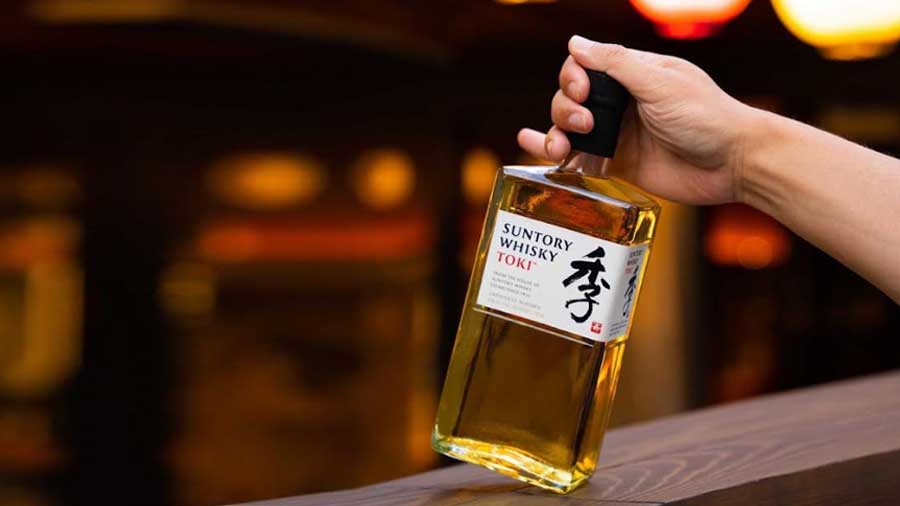 @suntorytoki/Instagram
A Japanese chemist named Masataka Taketsuru had journeyed to Scotland in 1918 to study the distillation process before returning to Japan as the master distiller for the Suntory company. A big reason for the whisky's popularity in Kolkata is its range. The Nikka Yoichi single malt, for instance, pairs excellently with tandoori chicken or any seasoned Indian skewers, while the Suntory Hibiki pairs best with sushi.
Kolkata's European fine diner, The Salt House, offers several Suntory flagship brands such as Hibiki, Yamazaki and Toki, while The Vertex at Fairfield by Marriott also serves Japanese whisky.
Singapore's Tiger Beer
Tiger Beer is expected to be 2022's most significant trend as it just got a hard launch in West Bengal a few weeks ago. Asia Pacific Breweries - Pearl Private Limited (APBPPL) recently launched Tiger Beer in the Kolkata market. The European-style lager was Singapore's first locally brewed beer. It's produced by Heineken Asia Pacific and is particularly popular in the UK. In India, Mumbai, Delhi, Pune have seen a steady demand for Tiger Beer.
The lager's balanced but full-bodied aroma is distinct and refreshing, and has the breadiness of malt. It's yet to feature on bar menus in the city, so the best way to source Tiger Beer would be online via American or Singapore-based shopping platforms, till the drink is rolled out here next year. The best way to track local stockists for Tiger Beer is via their official social media account.
Japanese plum wines
Several Kolkata hotspots offer plum wine-based cocktails. At Lord of the Drinks, for instance, you'll spot a Kanpai mojito, which is made with gin, Choya plum wine, yuzu lime juice, rose petals and soda. Choya is a leading Umeshu brand in Japan. Umeshu refers to a bittersweet Japanese liqueur made by macerating or steeping sugar and ume plums (Prunus mume) in alcohol Its base is made with another popular distilled beverage, Shochu.
Kolkata is warming up to Umeshu since it's so different from grape wines (while regular wines are made with fermentation, Umeshu is fruit-infused alcohol). Umeshu can be enjoyed neat or on the rocks and it makes for a great cocktail base. It is also readily available online on sites like Desert Cart.
Indian gin
India is one of the fastest-growing alcohol markets at the moment, as homegrown distillers are getting creative with craft blends and locally sourced botanicals. In the last year alone, the country saw the release of several homegrown craft labels such as Calcutta Gin, Terai, Samsara and Gin Gin. Emerging brands also tend to work with small batches, which is a big draw for consumers since it leads to a cleaner finish and ethical production. The fresh-nosed, juniper-forward varieties are the most popular in Kolkata.
Indian gin is the trendiest thing you could be drinking right now and is also one of the most responsibly produced options. Stranger & Sons, the flagship brand from Goa's Third Eye Distillery founded in 2018 by Rahul Mehra, Sakshi Saigal and Vidur Gupta is using botanicals like nutmeg, mace, liquorice, cassia bark and angelica from local Goan farms and spice vendor to create a robust flavour. They are regularly exporting their blend to Singapore, the UK, Thailand, Taiwan, New Zealand and the UAE.
"I don't think there's a single day that goes by when either one of us isn't tinkering with some new method or product. We are also constantly trying to do our bit to make our distillery more responsible and sustainable while exploring and experimenting with various ideas," says Saigal, one of the co-founders.