A learning workshop brought two documentary film-makers to Kolkata last week. Ramona Diaz and Bing Liu are fearless storytellers who document real lives and tell stories they care passionately about. Sometimes that also gets them an Oscar nomination or a Sundance award.
Diaz, hailing from the Philippines and now a resident of the US, asks probing questions to all powers that threaten the democracy of the country of her origin. Her first film was about the 'infamous former first lady of the Philippines, Imelda Marcos', guilty of the 'greatest robbery of a government' as documented in the Guinness Book of World Records. Her latest work, A Thousand Cuts had her tailing Nobel peace prize winner Maria Ressa, a fearless journalist from the Philippines who has been jailed multiple times for questioning the government. Her documentary Motherland won the special jury award at Sundance in 2017. Her other films include Don't Stop Believin': Everyman's Journey, featuring the band Journey and its new lead vocalist Arnel Pineda.
Bing Liu picked up the camera when he was 14 and continued till his early 20s when he suddenly found himself ready with Minding the Gap, the critically acclaimed film that was nominated for the best documentary at the 91st Academy Awards. With skateboarding in the background, Liu's film spoke of domestic violence and difficult homes and the implications in real life. The film has also won a Peabody and a NY Film Critics Circle award for best documentary, making it to Obama's famous year-end lists of favourites. He has now been requested to direct Ocean Vuong's stunning book On Earth We're Briefly Gorgeous into a feature film, as revealed by Vuong himself. Liu, however, was not at liberty to share more information with us.
The illustrious duo was in town briefly to interact with budding film-makers, on request from the US consulate and The Telegraph caught up with them for a quick conversation at the Ho Chi Minh Sarani address. Excerpts…
Do tell us about the journey of entering the world of documentary film-making.
Ramona Diaz: I think all my films are personal and my first topic was about Imelda Marcos, the infamous First Lady of the Philippines. Although I live in the USA, I was born in the Philippines, spending my childhood there. It was in America that I came of age and I end up living in the liminal space between these spaces. I think becoming a documentary film-maker was my way of staying attached to the Philippines. Every film I make is like a yearning for the motherland. I wasn't around during the People Power Revolution of 1986 and I regretted that so immensely that I ended up making a film about it. I like to relive the moments through archival footage in the process of making the film. So I think yes, for most documentary film-makers, every film is personal and that's why I am here.
Bing Liu: It's almost weird that you get a sense of who you are through your films only in hindsight. It is only when you look back at your films do you see the common themes emerging from them. I used to think that I made films about abusive homes and domestic violence but actually it was different. When I was directing Minding the Gap, I got the opportunity to direct three stories at a high school. It is only now that I see that both these films are about how one can become better versions of themselves, especially as it relates to who your parents are and what they taught you about becoming an adult. This is also true in my second feature, which is about young men trying to escape cycles of violence (All These Sons, 2021). I think I like creating films that provide a roadmap for people and largely for myself to become better versions of ourselves.
In an increasingly volatile political climate, how difficult is it to tell personal stories or stories of minorities that you want to tell?
Diaz: I think I am always telling stories of minorities since it's about the Philippines and also the Filipino-American experience. So I live in that space. This is not to say that I don't like telling her stories but this is what I am drawn to. But I know that the onus is on me to always prove that my story is universally resonant. I wish I didn't have to do that every time. I wish they would take the story for the story's sake. But I find myself having to do this in order to sell it or in order to get funded or for the stakeholders to come on board. I am always having to prove that what happened in the Philippines had a significant effect in the United States. Why? Why do I have to do that? Can't the fact that there is a drug war in the Philippines and people are dying, be enough? But no, it's not. I have to connect it to what's happening in the USA and then maybe they will fund it or find something personal in it. It is unfortunate…
Liu: The film market is going to shift and change and be driven by profits or whatever (rolls eyes) but I think as long as we find the things we want to tell that are important to us –– for Ramona it is about the democracy of the Philippines and for me... I think in another life I would have been a therapist! I like to give people a kind of self-awareness. I don't know if the industry is interested in that but I know that I am interested enough to pursue it till the end, making the film despite the number of years it might take.
Ramona, do tell us a little about A Thousand Cuts and your journey since then.
Diaz: A Thousand Cuts is a film at the intersection of press freedom and the weaponisation of social media. It centres around Maria Ressa, one of those fearless voices in the Philippines who speaks truth to power. She is the thorn on president Duterte's side, calling him out for his actions. Since 2016, she started talking about the weaponisation of social media and how it interacted with the drug war. This was 2016, way before anybody was talking about this information –– algorithms and numbers. So she was really the one who sounded the clarion call and now everyone is aware of it. This movie is around the time when she was getting arrested. This was happening to her repeatedly, ironically just as her stardom was rising in the West –– Times Person of the Year, Times 100 and the most recent Nobel Peace Prize. It was a very odd look as she was being persecuted by her country and abroad her star was shining. And we managed to catch her at the time, which is rare. You can't even anticipate it and you have to allow the story to take you and just keep on shooting. She wasn't the centre of the film when we conceptualised it but as it evolved and we paused and listened, we had to change our course and she became the centre of gravity of the film.
We premiered at Sundance in January 2020 and then everything shut down. We released during the pandemic and it was a steep learning curve. Everything was suddenly on Zoom and virtual release over physical cinemas. It was a double-edged sword. On the one hand, a lot more people saw it, now that they were stuck at home. Maria and I did over 100 panels in 2020, and I often found that I was repeating myself. I was so sick of myself! (Laughs)
But as a film-maker, I love having a live audience because essentially it's a lot of thinking on your own. Even if you are out there shooting, making a film is a very solitary experience. Interacting with the audience is what I miss terribly. I think nothing compares to the communal experience of watching a film live at the theatre.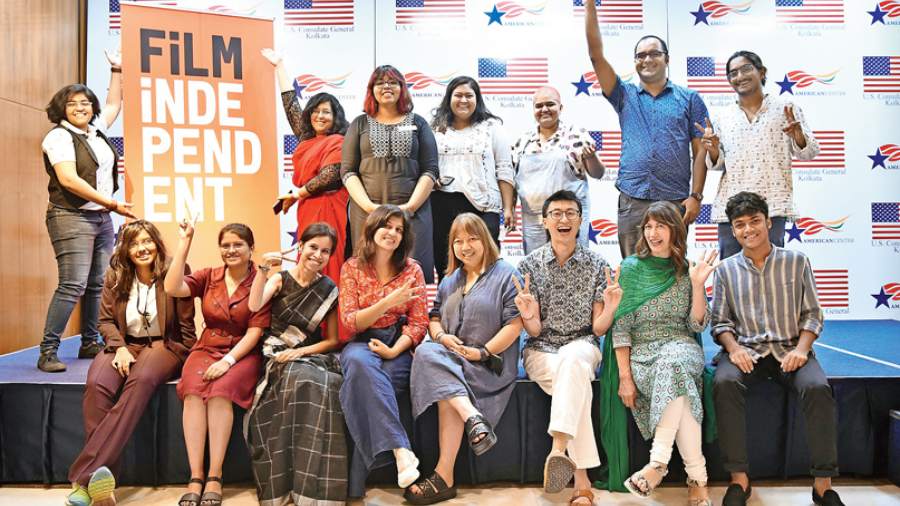 The film-makers pose with the participants of the documentary workshop at the US consulate
Bing, how has life changed post an Academy award?
Liu: It's been great (laughs)! I never imagined I would get this opportunity to make my own films. Before this, I was working as a camera assistant. I thought that was what I was going to do for the rest of my life and then this happened. It feels like a big opportunity but also a big responsibility. I understand that it takes a lot of money and that a lot of people are trying to make films. It's their responsibility to say something that's really important.
How is documentary film-making different from working with a fictional narrative? Do you believe it is possible to indulge in storytelling in today's time without being socially responsible?
Diaz: For the first one, I would say yes, it's very different as it is the same. Both are storytelling at the end of the day but in terms of the operative measures, they are quite different skills. In my non-fiction work, I record life as it unfolds and what to expect next. I just go with it and I always end up saying, if I knew how this ended, I would make fiction. And I like the idea of film-making without a safety net –– it's crazy, exciting and stressful. But when a story surprises me, I know it will surprise the audience. I like the chase of the story while we are shooting. A fiction film-maker would perhaps call my process 'completely nuts'! But I also yearn for the idea of controlling it –– I want the perfect light and to be able to explain to the DoP (director of photography) that this is the look I want. Right now, I still have the conversation of what I want with the DoP but we are shooting life as is it is. Who knows if I will be able to capture what I need.
Liu: One of my mentors is Steve James and he put it in a beautiful way. "Documentary is trying to catch lightning in a bottle. Fiction is trying to create lightning in a bottle". Both of those things are really hard in different ways. What I love about non-fiction is that anybody can do it. I was able to make mine because it was so accessible. I came up in a time when cameras became cheap and one had to just want to do it. There are three pots –– good, fast and cheap and you can only choose two pots. I didn't have any money so I did it slowly and made it well. With fiction, I feel there are lot more barriers to entry. I think that's why in documentaries, you see people taking more risks and people telling more truthful stories because you can just go out and do it.
Have you watched any films that you have absolutely loved in the recent past?
Diaz: I love what Robert Greene is doing in the documentary space. I loved The Lost Daughter and it made me think, 'Oh, I could have made that film!'
Liu: I am watching Couples Therapy. I think nowadays, documentary film-making has become so much about hand-holding the audience that I enjoy this show for letting people come to their own conclusions.
What are your thoughts on these OTT platforms providing access to so many documentary films that one otherwise wouldn't have?
Diaz: Again, I think it's a double-edged sword. It makes documentaries very popular. They give you a really substantial budget to make your films but in a way, they dictate the film as well. So they define documentaries for a vast majority of people. And what is that? Crime. Thriller. So now that's the expectation of what a documentary is. I guess thank you for the audience but it also defines documentaries in this narrow space, which is unfortunate.
Liu: People are sitting and looking at data to formularise documentaries. But documentaries can have an immeasurable impact. Capitalism, however, is not interested in that!