Kolkata boy Rahul Dasgupta's spring-summer showcase Shetu at the FDCI x Lakme Fashion Week in New Delhi, in March, featured a striped silk Chanderi sari with peeta-embroidered border, styled with a classic black Jodhpuri jacket, on a male model. The look was so striking that it was one of our points of conversation while chatting with Rahul about the collection, which was a play of patterns and textures. By the end of our chat, we had brainstormed a sari shoot with an all-male model line-up. Rahul styled minimal saris on five male models — Souveck Saha, Mohammed Iqbal, Rahul Ganguly, Umer Mushtaq and Udit Pande— and coined the campaign "Nine yards of courage".
Post-shoot, Rahul told us what the sari meant to him and why this was an important shoot.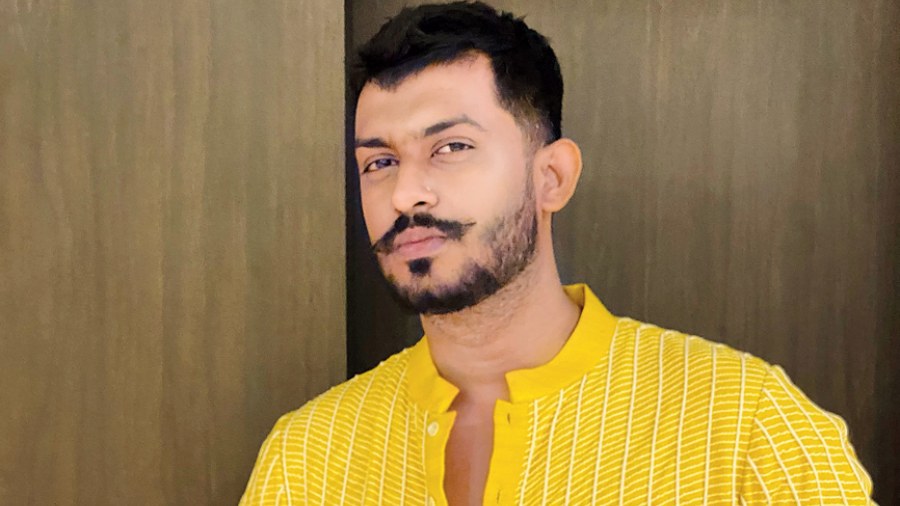 As a man, what does a sari mean to you?
My idea of sari has always been "prohibited clothing" since I was a kid. I have always been a feminine kid and when my ma wasn't around I used to drape it on me always fearing if I got caught. The fear of not dressing right or dressing according to my gender is what sari means to me.
As a creative person, what does it mean to you? How did you approach it the first time you thought of dabbling in it?
Today when we talk about sari, the first thing that comes to mind is the quintessential traditional Indian piece of clothing for women. But if we go back in Indian history of fashion when clothing originated, sari was nowhere there. People used to wear three pieces of clothing —"uttariya" (a strip of fabric to cover their upper torso), "antariya", which was more like a dhoti wrap, and "kayabandh", which is a broad fabric belt to secure the dhoti drape, and these pieces were worn irrespective of gender, much later "stanpatta" came to cover the breasts of women. So typically that was our Indian origin of clothing.
Sari came much later during Indus Valley Civilisation and typically got reserved for women... I always question why and how. So my journey of exploring ideas started from here. If "antariya", a dhoti-like draping style used to be worn by both the genders, why not sari?!  Also as a designer I find this concept of dress code to mark the gender extremely frivolous. The idea of clothing came to protect ourselves from the environment, now we dress to look good, that's it. Wear whatever you wish to wear and what makes you happy, be it a dhoti-style draping or a sari style.
What were your apprehensions about this shoot?
To be honest my only apprehension was if I could make this work as a designer. I did not want a gimmick but to effortlessly put the "sari"-draping style in men's clothing where the personality of each model comes through. These five people are extremely different from each other and everyone had a way of carrying the sari, which was fascinating. I have a very subtle, silent approach to my designing sensibility so even when I showcased a man's sari on the ramp, it wasn't a scream. This time five men wearing saris was a bit of a screaming idea for me but also I realised it needed to reach more people and this could be a way for sure.
What was your desired outcome from this shoot?
As a designer, I feel fortunate that I am able to tell stories through the work that I create. The idea behind this shoot was to liberate my childhood fear of getting caught red-handed for wearing my ma's sari. Also to educate people about gender neutrality and non-binary clothing. People need to know that it's absolutely okay to wear whatever they wish to wear and whatever makes them happy. From this campaign even if at least one man gets the courage to wear a sari drape, it's a success for the entire The Telegraph team and my label. So, yes, this was a very important shoot indeed.
What was the overall styling ethos?
For the overall styling, I wanted a laid-back, casual draping style and not clean pleating, like how a man casually would drape it around.
Will saris be a part of your creative process from hereon?
My creative process is quite robust. Today an idea comes and I fall in love with it and tomorrow my love goes to something else but whatever I do, I do it with full honesty. This man's sari is no different. Deconstructing the sari-draping style and creating something really interesting for a man to wear will be a nice derivation to take it forward from here for sure.
Pictures: Pabitra Das
Hair and make-up: Meghna Balmiki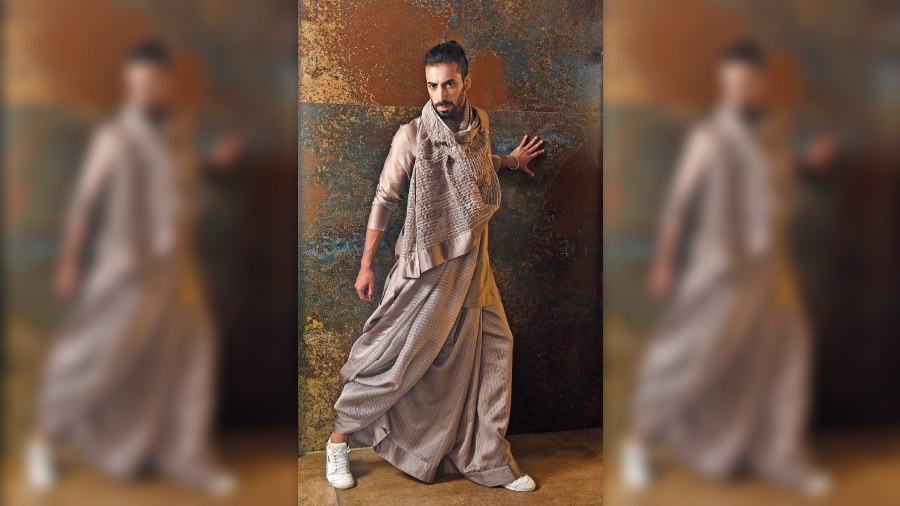 On Umer: A grey half-and-half sari teamed with a grey silk Chanderi kurta and a pair of sneakers. The sari has Rahul's signature shibori-dyed cord texture on the palla with a heavy satin border.
"This is my first time in a sari and it was so comfortable. I asked Rahul (Dasgupta) a lot of questions and when he explained, I found it really interesting. I will of course try wearing it in future too"
Umer Mushtaq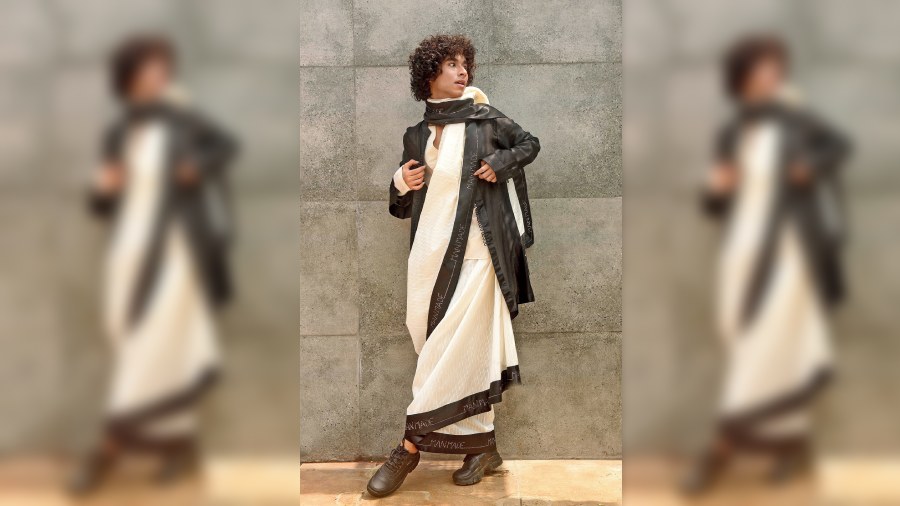 On Udit: A silk Chanderi sari teamed with a textured cream shirt and a black Chanderi overshirt and paired with a sneakers. The striped silk Chanderi sari comes with a contrast black embroidered border.
"I personally have no problem even if someone asks me to be naked because I know it is art, something which we are working towards and it has meaning. It doesn't matter if two people from that house or two people from my house understand it or not. Even while wearing a nail polish I hear a lot of things. This is my expression and as a model, this is my job. I am an artist. I have this feminine thing to myself and growing up, I always wanted to wear one, but little things got me into trouble. So, the sari was a big deal. Rekha ma'am gave Sushant Divgikr (an artist who is representing India at RuPaul's DragCon) one of her saris. It's my dream if Rekha ma'am gives me one too. I am really optimistic. I didn't feel any different in a sari. It's as normal as wearing jeans and a tee. It's how you drape and carry it. For sure, I would love to wear a sari. My favourite sari memory is my mom wearing it. She has saris which my nanaji gifted her. They are proper Benarasis and even if it's torn, she has kept it. I know one day, I am going to ask her for all of those.
Udit Pande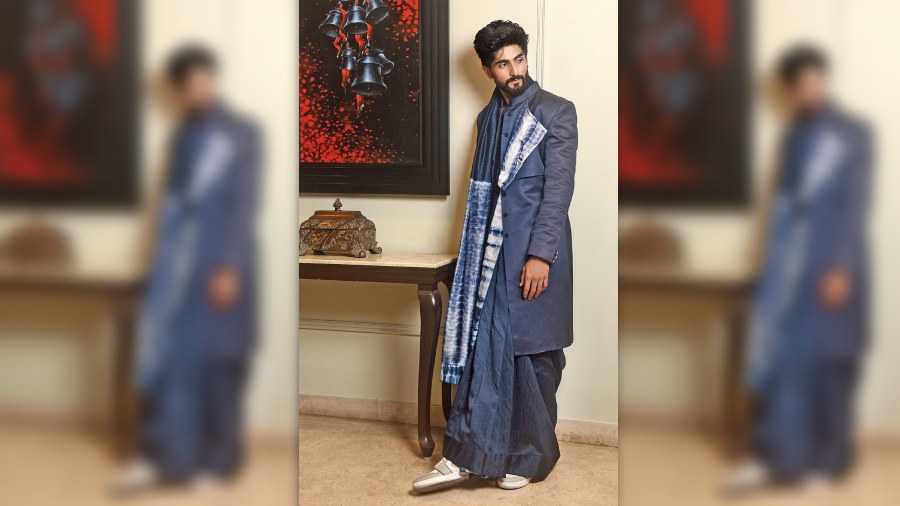 On Rahul: A striped silk Chanderi sari with a shibori-dyed palla and heavy satin border with shibori-dyed back, teamed with an asymmetric achkan and a pair of sneakers.
"I was quite sure that it's going to be a cool thing. Rahul styled it so well, not like a typical drape, which anyone can try. This was my first experience of wearing a sari and it was super. I was very comfortable. I have seen my mother and grandmom wear taant and silk saris"
Rahul Ganguly
On Iqbal: Black silk Chanderi sari teamed with a black bandhgala jacket and a pair of sneakers. The sari has a reflective tape border and a geometric tape detail on the palla.
"This was the first time I was wearing a sari and it was great fun. I never knew saris are so comfortable. I was very comfortable. Anybody can wear a sari now because we are living in a society where things are getting accepted and there is gender equality as well. Honestly I was a little sceptical, because I thought it would be like Akshay Kumar's look in Laxmii. Later when I saw the references, I thought this would be a fun shoot. My favourite sari memory has to be Tip tip barsa paani!"
Mohammed Iqbal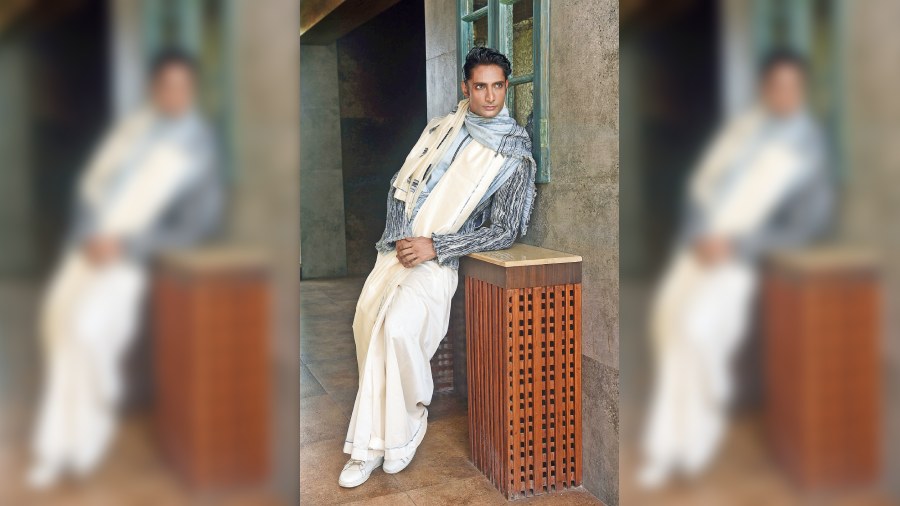 On Souveck: A silk Chanderi sari teamed with a corded Jodhpuri jacket with a drape and a pair of sneakers. The cream silk Chanderi sari has a shibori-dyed cord-detailed border and palla.
"The first thing that comes to mind when you think of a sari is that it is a woman's outfit. This is also a concept by society. Outfits and colours don't have any gender. It's all about how you carry the outfit and your personality. I really liked the concept. I might wear a sari after today, if the place and occasion permits. I would say it's much more comfortable than traditional men's clothing! I really liked the way Rahul styled it. I am a Bengali and my origin is from Bangladesh. My grandma in aat poure sari is a fond memory. You can style it with a jacket"
Souveck Saha