A chat that started with all things jewellery and eventually ended up as a valuable life lesson on gratitude and living life freely and to the fullest. Jewellery designer Farah Khan was in Calcutta last weekend for a showing at Quest and we caught up with her and Shivika Goenka, director of special projects, Quest, for a chat. Excerpts.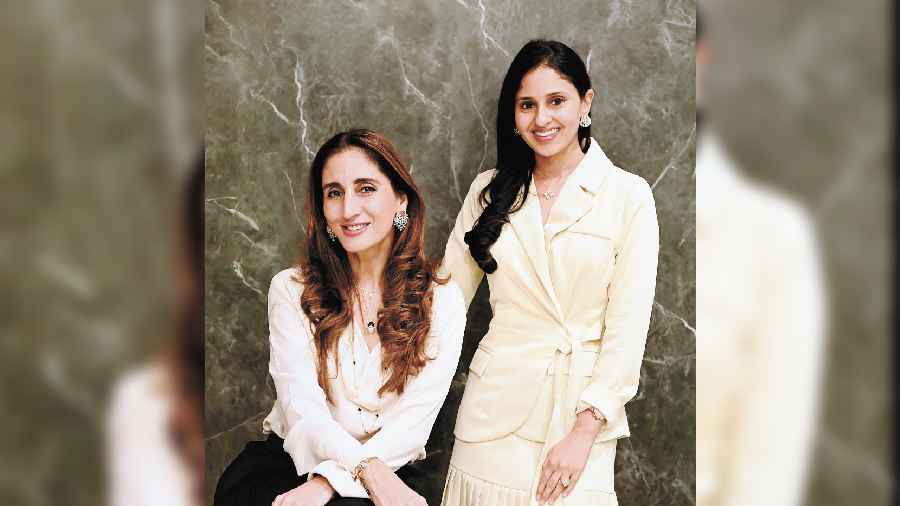 Shivika, what do you love about Farah Khan's jewellery aesthetic?
I have always loved her jewellery aesthetic and it's lovely to have her back after three years. She does fine jewellery beautifully and has also launched a contemporary line for the contemporary woman. It's versatile, good for travel and easy to wear.
You also showcased Mala and Kinnary...
Shivika: They are a motherdaughter duo and I love the way they have used the oceanic world. They draw their inspiration from nature. The craftsmanship looks delicate and intricate.
What kind of jewellery do you personally like?
Shivika: I am more traditional when it comes to jewellery. I love solitaires and emeralds. I generally tend to wear a lot of ivories and pastels and emeralds always look so elegant and classy and I love the contrast it lends. I like Van Cleef & Arpels.
How have you repositioned Quest in the wake of the pandemic?
Shivika: The pandemic was a big learning. The concept of home shopping came in and apps started to come into play. We all know how to deal with a situation like this if we were to face it in the future. The numbers are great. Luxury is back with a vengeance. A lot of people are interested in coming to the city.
Farah, you have been to Calcutta many times...
I have been to Calcutta many times, but I am coming back after three years after the pandemic and I realised that I must come back to Calcutta more often because today, I was driving by in the day and I was noticing the city and it's truly a beautiful city. There is a culture, character, and authenticity about Calcutta. When I come here, I feel there is a part of history here and it draws me to it as a designer. I love the people and the contrast between the old world and the new world, the food. It's a warm city.
Are you old-world or new-world?
Farah: I am a mixture. I take from the old world and I contemporise things. I draw from India's deep heritage and take the motifs from India and add a western colour palette. Then my jewellery becomes more universal. It's important to appeal to all kinds of people.
What did you carry this time?
Farah: I carried two of my brands — Farah Khan Fine Jewellery, our high-end, couture, unique pieces; and also got Farah Khan Atelier, my pret jewellery that I launched during Covid. People had lost hope and I wanted to re-emphasise that we are a miracle of life and we need to celebrate and live the moment because who knows about tomorrow? It is a pret line of meaningful jewellery pieces crafted meticulously. We have used ceramic for the first time, 18-carat gold, and diamonds and each and every piece is certified, hallmarked and comes in great packaging and, more importantly, it has a story. It talks about the brand's monogram which is called Aayat, which in Urdu means miracle. It embodies the four pillars of my brand, which are nature, architecture, love and ethics. Mankind cannot live without nature. Architecture forms the basis, love is the reason we do what we do and ethics is your conscience without which you wouldn't survive. This collection is retailing in America in 10 different stores, from Beverly Hills to Houston to Chicago. We also have a small presence in the Middle East and we are spreading our wings in the Indian market with Indian retailers and intend to take this collection to more places. I have always loved being at Shivika's Loft because the way she does her curation of designers is so aesthetic and beautiful.
In your nearly two-decade journey, you have seen a whole evolution. What have been the realisations?
Farah: To always evolve with time. Pay attention to your customer, look at the market. I have seen highs and lows in my life as far as work and even the way we tell our story and the way the brand has grown. I see people today want jewellery that is not just beautiful but also meaningful, something that appeals to their culture and value system. They are more interested in the process rather than just the product. It's not just about a piece of jewellery. It's going to carry memories of your milestones over generations and then become an heirloom which you will pass down. I am happy to say that I am in an industry which is completely recyclable. There is no wastage because we deal with products that are from the earth, whether it's gold or gemstones. What's changed in the last three years is that people are more aware of living in the moment. They want jewellery they can wear more often and enjoy themselves. 
Today when brides come to you, they want pieces they can stack, single pieces they can wear together to look like a queen or just a single piece they can wear alone and make a statement when they go out. So, a lot of adaptability and mix and match. It's more about styling and less about how it looks. I mix and match. We all have different facets and you shouldn't be matchy-matchy. I like dressing up because it makes me feel good and if I feel good, I can deal with all the stress in life! (Laughs) It's also about your internal appearance. Health is such a great factor in my life. Just like people brush their teeth when they wake up in the morning, I go to work out. For that's a routine of mine. Of course, the first thing that I do when I wake up is pray and thank god for what I have. I think it's also important to be mindful, soulful, and physically fit…. What you are on the inside will generate on the outside. We are always on our phones but sometimes you should put the phone down and live in the moment. I have surrendered myself to the universe…. Yesterday I lost an aunt of mine. The day before I spoke with her. You never know when you are going to meet somebody next. So, it's important to make them feel that you are there with them even if you are there for five minutes.
What have you learnt from the women in your life?
Farah: My greatest mentor has been my mother. If I could be half the woman of substance she is, I'd be grateful. She's taught me to be kind, generous, charitable and compassionate. She's told me to value relationships more over people. She was a top interior designer. She did all the Bollywood homes, the ITC Group of Hotels. During Covid, I had a tough choice to either give up my store or retain my staff. I gave up my store. I have learnt from the women in my family that if you truly want to be free, you have to be financially independent. Today I don't need to ask anyone permission to do anything. It's so empowering. One more thing my mother was successful with when we were growing up was she never created jealousy in us. You should be happy with what you've been given. I was reading a beautiful book which said each one of us has the divine in us because we were created by the same God. He has given us a gift that we need to pass on to someone else. That is our purpose in life. 
Your post about your divorce was a brave and beautiful one... 
Farah: Not brave... (paused)... you know why I am positive? I live my life openly. I think it is important to be honest with yourself and to live your life freely. If you are going to think about what people will think about you, you will have no life. I don't want to be a saint. I want to be the sinner because the sinner has more fun than the saint (laughs). My ex-husband (DJ Aqeel) and I are best of friends. In fact, when we had the divorce, he said 'now you better find somebody'. I was like: 'You better find somebody for me!' (Laughs)... I am looking and I am single, ready to mingle, but I am waiting for the right person. (Laughs)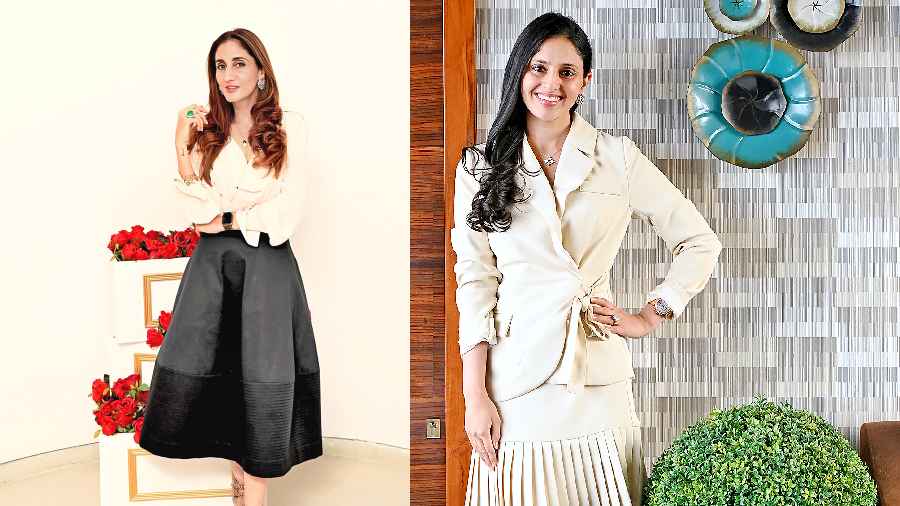 (L-R) Farah Khan, Shivika Goenka
Farah Khan dressed up her monochromes with an emerald ring from the Farah Khan Fine Jewellery line, the charms from her Atelier collection, rubellites, aquamarines and diamonds from Farah Khan Fine Jewellery on her ears, a pendant from an upcoming Atelier collection and another necklace, also from the Atelier collection.
Farah Khan dressed up her monochromes with an emerald ring from the Farah Khan Fine Jewellery line, the charms from her Atelier collection, rubellites, aquamarines and diamonds from Farah Khan Fine Jewellery on her ears, a pendant from an upcoming Atelier collection and another necklace, also from the Atelier collection.
COMING UP:
A Christian Louboutin pop-up on March 4 (11am-7pm), at The Loft.