So many movies come to mind when looking at Dyson Zone.
Judge Dredd, RoboCop…. The company's first step into wearable technology is with something that's radically different from any design we have seen. It's futuristic but trying to solve a problem that affects us now and badly.
The air-purifying headphones create sort of an air bubble so that you can breathe easy. This is technology at its best. Whimsical, bizarre, strange… all these words may come to mind but the problem is real.
Coming this year, Dyson has miniaturized its air purification technology to fit a headphone. The compressors are in the earcups. The air goes in through filters on the earcups and then with the visor it projects streams of clean air to the nose and mouth.
There have been several prototypes over the years, included the snorkel mouthpiece.  "Originally a snorkel-like clean air mouthpiece paired with a backpack to hold the motor and inner workings, the Dyson Zone air-purifying headphones evolved dramatically over its six years in development. More than 500 prototypes saw one motor initially placed at the nape become two compressors, one in each ear-cup," Dyson has said.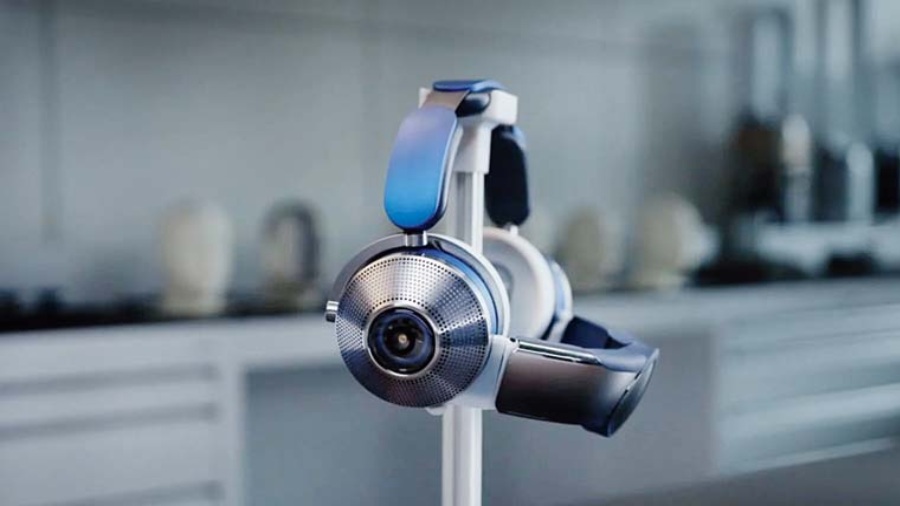 Dyson Zone will be available later this year
The great thing about the visor is that it doesn't touch your face at all. It snaps to the headphones and is in front of your nose and mouth. In case you want to listen to music without the visor on, sure, go ahead.
There are three different air speeds, including an auto mode. It has been tested in crosswinds, so even on a breezy day it should work fine. Even if you get a phone call, the headphone will do the needful. In case you are about town, and you stop at a café, just pull down the visor towards the chin, place your order while the music and air filtration pause to allow you to have a conversation.
"Air pollution is a global problem — it affects us everywhere we go. In our homes, at school, at work and as we travel, whether on foot, on a bike or by public or private transport. The Dyson Zone purifies the air you breathe on the move. And unlike face masks, it delivers a plume of fresh air without touching your face, using high-performance filters and two miniaturised air pumps. After six years in development, we're excited to deliver pure air and pure audio, anywhere," said chief engineer Jake Dyson.
The World Health Organisation (WHO) estimates that 9 in 10 people globally breathe air that exceeds WHO guideline pollutant limits. Where NO2 pollution in cities decreased during the Covid-19 pandemic, levels have quickly returned to normal, or exceeded pre-pandemic levels across various Indian cities.
Dyson says the Zone can filter out up to 99 percent of particle pollution.