When you get a house painted, you hope it lasts seven to 10 years. The paint company likes to see its product last that long, so that it makes a loyal customer out of you. Similarly, Apple doesn't expect anyone to upgrade from the M1-powered iPad Pro, which obviously is meant to last many years. But, say, for somebody using a third generation iPad Pro, the latest device is a massive upward push.
The new iPad Pro (2022, sixth generation) is a very interesting device, packed with the fastest processor you can lay your hands on — Apple M2. Who is it for? There are apps that you have been using for years and these serve a certain purpose. Then there are next-gen apps that can (or will) make use of the M2 or the extra power under the hood. With the new iPad Pro we are looking at a future generation of creative apps that will make a marked difference while editing videos, creating 3D models, photo editing at the highest level or playing very complicated, processor-hungry games. If you need these top-of-the-line apps, you will appreciate the new iPad Pro.
The model we have for review is the 12.9-inch Wi-Fi plus cellular version with 1TB storage. Sounds like overkill? It's not. My storage on my old iPad is almost full, because of the amount of content that I have been able to generate. Instead of giving a spec-by-spec run-through, here's what I have been able to do with the machine.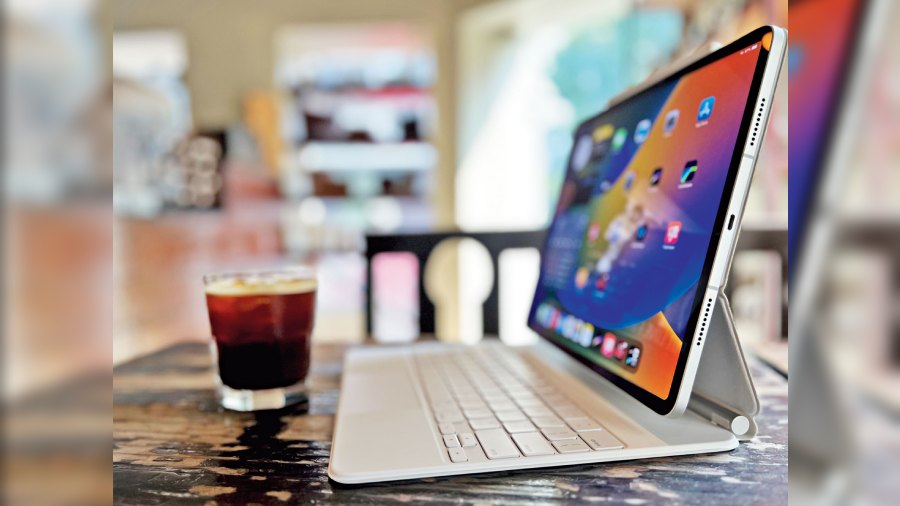 The 12.9-inch iPad Pro with Magic Keyboard (needs to be purchased separately)
Processor with future-proofing
Needless to say, the hero feature is the M2 processor around which everything hovers. At a glance, M2 comes with an 8-core CPU — up to 15 per cent faster than M1 — with advancements in both performance and efficiency cores, and a 10-core GPU, delivering up to 35 per cent faster graphics performance for the most demanding users. Combined with the CPU and GPU, the 16-core Neural Engine can process 15.8 trillion operations per second. These are big figures that probably mean nothing to most users. So, here comes what you can achieve.
With the M2, it feels like we're entering a new era of apps that an iPad can handle. In fact, the line separating desktop, laptop and tablet has blurred considerably over the years and now it's possible to have the iPad Pro as the device of choice for almost every task, especially when you pair it with the Magic Keyboard (needs to be bought separately).
Take the example of uMake, an app for 3D modeling and CAD. Rendering objects on the 12.9-inch screen doesn't take anytime. Students to product designers, many use this app to bring objects to life. For example, render a 3D model of a table at the blink of an eye and give it a shade/texture you want. Or use the alternative Shapr3D CAD modeling app.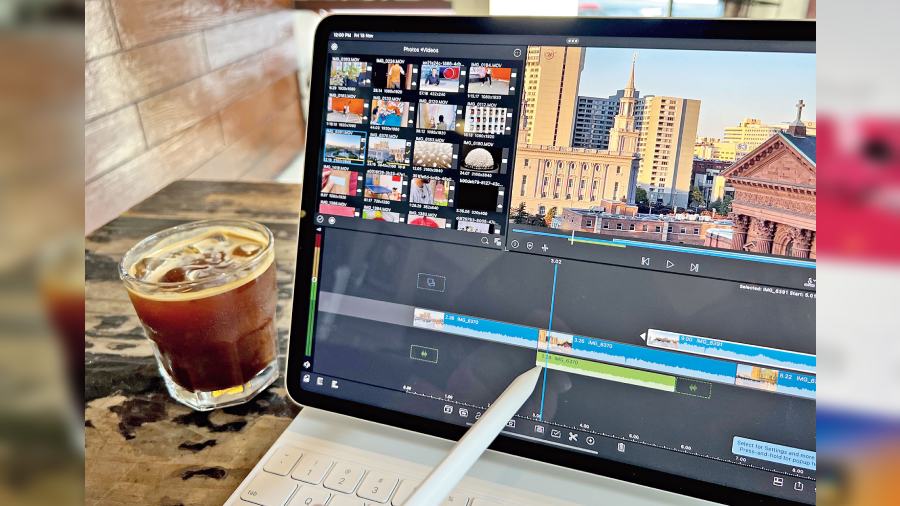 Apple Pencil is of great help when editing videos
Then there is the evergreen Procreate. It is probably one of the top apps that's going to make use of the new hover feature (we will get to this in a bit) of the Apple Pencil. I am also using Adobe Fresco for iPad which is another design-related app.
Recently, I logged into the game Gar.Club Stradale on Apple Arcade. It's a resource-hungry game that shows the level of graphics the iPad can handle. There are various ways you can control the car in the game and no matter the option you choose, there is not even a delay of a microsecond while the scenes are rendered flawlessly as you drive through different cities.
Finally, you may have heard that popular video editing software DaVinci Resolve is coming to iPad and it will take advantage of M2 chip. The company has announced that with optimised performance for Apple Silicon, DaVinci Resolve will deliver 4x faster Ultra HD ProRes render performance on the new iPad Pro. HDR is also supported for customers using a 12.9-inch iPad Pro with the M1 chip.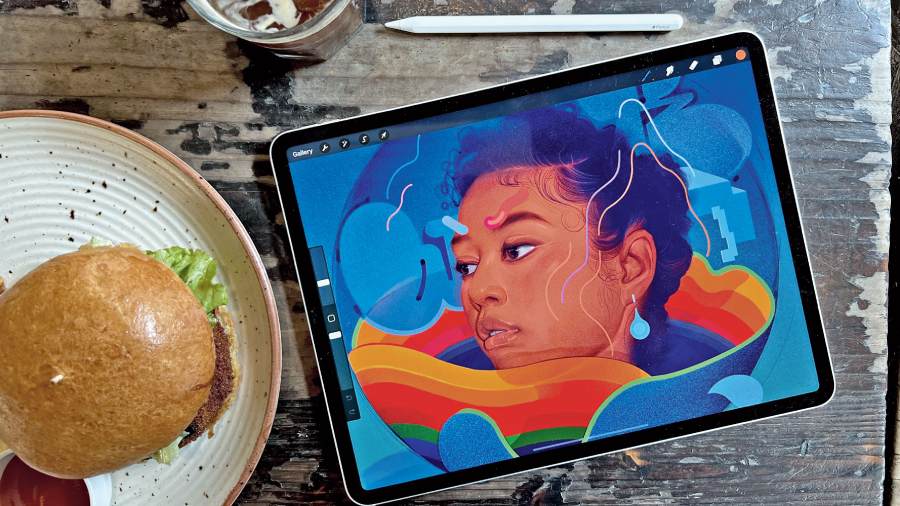 Let's hover
The M2 adds a new feature to the second-gen Apple Pencil. Called 'hover', all you have to do is hold the Pencil over the screen from about 12mm away and see different actions unfold. The feature is limited to M2 iPads and it mainly targets artistes. At the moment, 'hover' works across all system apps and third-party developers can take advantage of it. Once Procreate releases an update, 'hover' will let you see where the Pencil will make a mark on the screen before you draw. There's more to it. For example, if you are planning to mix two (or more) colours in a drawing, you can see the output without having to put the Pencil to the screen. If an amateur artist like me has placed a red patch on the screen and wants to know what happens if yellow is added, I simply need to choose the colour yellow and make the pencil 'hover' over red.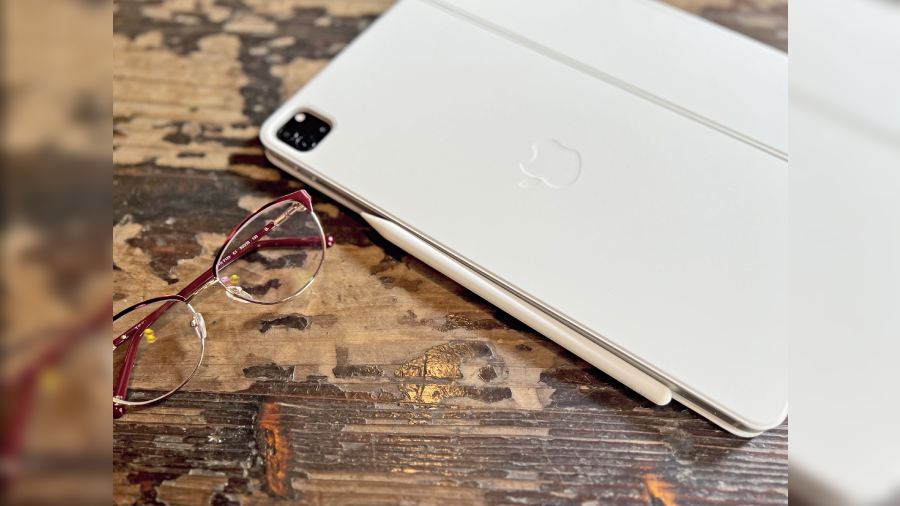 The Apple Pencil supports the new 'hover' feature on the iPad Pro (2022)
Another cool 'hover' implementation is in the excellent image-editing app Pixelmator photo. Hovering and moving the pencil across a strip of different filters at the bottom of the app automatically applies them as a preview. It's as fast as lightning.
In the future, I want to see the email app take advantage of it — just hover over a date in an email message to see how it fits into my calendar.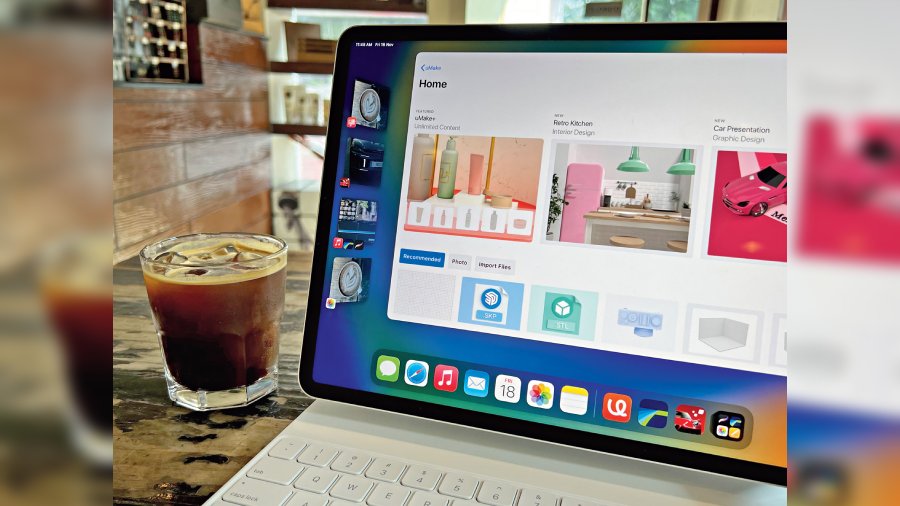 Stage Manager makes work management easy
Stage Manager
This is a new feature that is available for the iPad as well as Mac and it allows users to create overlapping windows in a single view, which earlier wasn't possible on the iPad. Windows can overlap and can be changed to different sizes so you can have everything available on one screen, with the ability to drag and drop windows in from the side. Apps can also be grouped together to make working faster. It lets you have up to four apps open in one group. When you hook up the iPad to an external display, you can have up to eight apps running at the same time.
It's not exclusive to the new iPad Pro but only a few machines can run the feature. Ever since Stage Manager arrived in the beta versions of iPad OS 16 earlier this year, there has been a lot of chatter among the iPad faithful. I have had a good experience so far, and after a couple of hours, I was using it a lot.  I've created app groupings that make my workflow more efficient than when I was using the iPad's standard two-app split-view multitasking mode. I think one needs to spend a day or so to get the hang of the feature.
Now a video star
Camera on the iPad has so far not been taken seriously. No longer. The back cameras are the same — there is 12MP wide and 10MP ultra-wide with a flash and Lidar scanner. However, the M2 processor unlocks a new video trick as the iPad Pro can now record video in Apple's ProRes codec at 4K resolution in 30 frames per second. This feature was first introduced in the iPhone 13 Pro. It's something of a niche feature but it shows off the M2's improvements over its predecessor.
Try using a hub
Given the power of the new iPad Pro, you can even get a desktop-style set-up going. For example, get the Anker 551 USB-C Hub that has a foldable stand design. It is a really powerful dock with one cable you can connect eight different ports spread out on the perimeter of the base. On the left side of the base there is a 3.5mm audio jack and two USB ports. On the back is a USB-C PD port that accepts up to 100W of power to charge your tablet and an HDMI 2.0 port that handles 4K/60Hz output. On the right side of the base are a microSD card slot and a full-size SD card slot, besides another USB-C port that's used to connect your iPad to the dock via the included cable.
The set-up gives you the freedom to easily type and interact with the iPad or use an Apple Pencil or the finger to quickly write, tap, or swipe across the screen.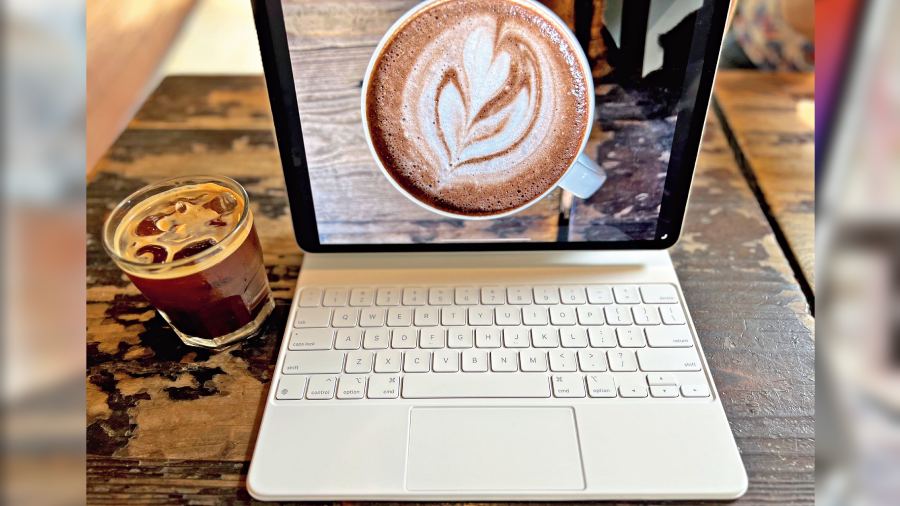 The only thing missing on the Magic Keyboard for the iPad Pro is a set of function keys
Sidecar and second display for Mac
Often, I am stuck in situations during which I need to add handwritten text on a Photoshop file. I start the document on my Mac and do a couple of things that are easier to do on a Mac. Save it, open it for Photoshop on my iPad, do a couple handwritten layers, save it, send it back to my Mac, add some shadows and things like that to those text layers. With Sidecar, you can use your iPad as a display that extends or mirrors your Mac desktop. I could just drag the entire Mac Photoshop file onto the iPad, use the Apple Pencil for the handwritten notes. I'm still using both devices but am not having to go back and forth too many times.
Should you buy it?
There are a few things I would love to see here, like MagSafe charging (like on the MacBook Air), camera on the long side (like on the 10-gen iPad), a function row on the Magic Keyboard (like on the Magic Keyboard for the 10-gen iPad) and more colours. But those are things that would be only good to have. The real benefit of the new iPad Pro is power. After a few weeks of using the iPad, I am no longer struggling to understand who the target consumer is. If you regularly push an M1 iPad Pro to its limits and feel that time equals money, the new machine is for you. Or, if you are upgrading from an older generation iPad Pro, the 2022 model will feel like supercharged. There is actually no alternative to the new iPad Pro when the app ecosystem and power it offers are taken into consideration. iPads have been great for several years now while for many content creators, it's a tool they swear by. The new iPad Pro can handle anything you throw at it, which makes it one of the most robust and versatile products in the market.