Its tally of recognitions so far stands at 87 wins and 139 nominations. Since this extraordinary saga of human endurance premiered at the Sundance Film Festival 2021, where it won the Grand Jury Prize in the World Cinema Documentary section, Flee, the Danish animated documentary film, has made Academy Awards history by becoming the first film ever to be simultaneously nominated in the three categories it was picked for. The film, which was the year's Danish entry for the Academy Award for Best International Feature Film, received a nomination in that category as well as in the Best Documentary Feature and in the Best Animated Feature categories. Flee documents the real-life account of Amin Nawabi, an alias given to an Afghan refugee who did not wish to be named, tracing his life as a child in Kabul from the time it comes under Mujahideen attack soon after the Soviet withdrawal in 1989. His happy life is upended by the civil war and by his father's disappearance, taken away by the Mujahideen. With his mother and siblings, he flees to Moscow on a tourist visa, which they overstay, living since then in hiding in a rented flat for fear of being caught as illegal immigrants.
There the family gets further splintered, as they try in batches to escape to Sweden, where his elder brother works, paying through the nose to human traffickers, making clandestine trips in inhuman conditions, getting cheated, caught, held in sordid refugee camps and even deported back to Moscow.
When he finally does manage to escape from Russia, he ends up in Denmark, instead of Sweden. The boy is alone as he surrenders to the authorities and has to live since then under the lie of being an orphaned child, which is his only claim to a refugee status under the country's immigration law. The film also shows his reunion years later with his sisters and elder brother in Sweden where he succeeds in coming out about his sexual preferences to his conservative family.
The film, using different styles of animation that is visually sparse but evocative, as also archival footage of historic events, records the story of Amin's life in his own voice told to his childhood friend Jonas Poher Rasmussen — who is also the director of the film — as he opens up about his traumatic past for the first time ahead of his marriage to his same-sex partner.
The Telegraph spoke with Rasmussen on a video call about the film and his journey with it. Excerpts.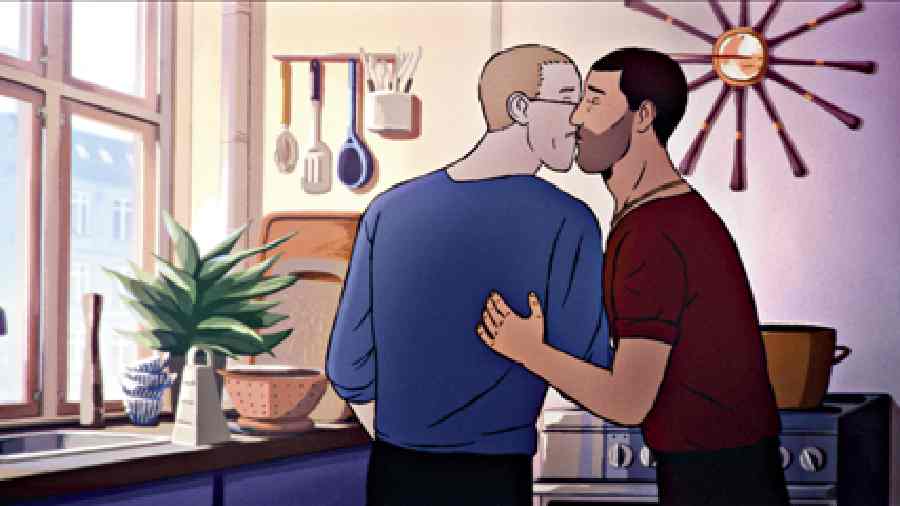 Amin Nawabi with his partner in a scene in Flee
When did the idea germinate to use a combination of art and media to tell Amin's story?
The film has been a long time coming — 25 years. I was 15 years old when my friend arrived in my little Danish hometown. He was 16. I was curious about how and why he had come all the way from Afghanistan to the Danish village. That's the genesis — curiosity about my friend's story. But back then, he didn't want to talk about it and I respected that. Over the years, we spent a lot of time with each other, going to the gym, having heartbreaks and fun together.... But his past remained a kind of black box in our friendship, something that we couldn't address at all.
I have a background in radio and 15 years ago, I asked him if I could do a radio documentary about his story. He again said 'no' but he also said that he knew that he would have to share his story at some point because he felt this disconnect in his life between his past and present. He said he would share it with me when he was ready and then we could do something together.
When did he finally agree?
Almost 10 years ago, I was attending a workshop called AniDox, where animators and documentary film-makers were invited to develop ideas for animated documentaries, and they asked me if I had an idea. I thought it was a good way to tell Amin's story. We met up.
He was intrigued by the fact that he could be anonymous behind the animations. This way he didn't have to be in the public eye while sharing the story and still keep control over what he wanted to share. What you hear in the original Danish version is his own voice telling his story for the first time and it's his life's trauma. The thought that all of a sudden people at work or in the supermarket would know all his secrets was what had stopped him from opening up earlier.
Did you have any interest or background in animation?
The interest was always there but I don't know the craft. I never thought that I'd use animation until at this workshop I saw that I could combine my craft (film-making) with it. Since Amin's story takes place mostly in the past, I thought animation was a good tool to recreate Afghanistan in the Eighties and Moscow in the Nineties. Animation could make Amin's childhood home in Kabul come alive again. It's a story about memory and trauma and I thought it would be a lot more surreal and expressive to go into these emotions in a visual style than we could have done with the camera.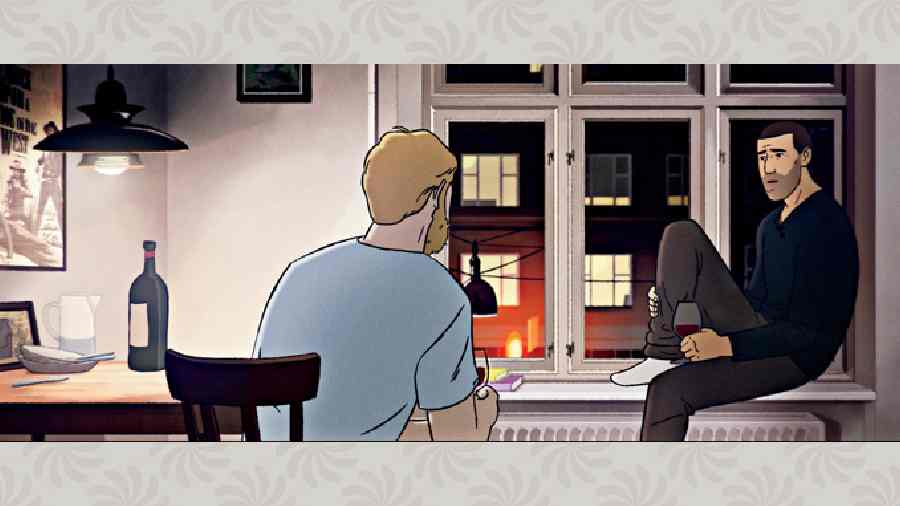 Amin Nawabi with the director
How did you go about it?
At the workshop where the idea came, they set me up with an animation studio called Sun Creature that was new at the time and they helped me find the right team — people who had the sensibility to maintain authenticity in the visual style that is needed to make one feel that underneath the animation is a real person with a real voice.
There seems to be an influence of graphic novels, especially the parts where a lot of movement is being shown without very clear lines being drawn, like the scene where Amin's mother is terrified of water before their voyage, which is illustrated with images of people drowning.
We wanted a different kind of visual style for the segments when he talks about his trauma. It really comes from his voice. When things are difficult to talk about, he slows down and loses words. He's not talking about what things look like or what happened. He is dealing with an emotion. We wanted to show that in a different style of animation. Yes, graphic novels were a part of the process but we found references all over, including in other animated short films.
So, broadly, you worked with two styles of animation — one for the emotions and the other for definite documentable scenes.
Actually, there's a third style for the present day, when Amin is with his boyfriend looking for a house to move into. It looks somewhat like in the past but we keep the trait of documentaries so there's a bit of movement in the camera; sometimes it's a bit out of focus and we do jump cuts. All that makes it feel like a documentary. When you go back in the past, it's more cinematic.
You have used a lot of archival footage. Were they actually from those places and those times?
Yeah, it is actually footage from the time he was in Kabul and Moscow. It was super important for me to have these footages throughout to remind people this is a true story and the reason why he had to flee was because of historical events that happened in the world we all live in.
He was at the opening of the first McDonald's in Moscow so that footage is from that day. Also when he's in this refugee camp in Estonia that's where that footage is from. Also when his sisters arrive in Sweden inside the container on the boat, because we had the exact date when they arrived, we could go to the archives and ask: "Do you have something of refugees arriving inside a container on a ferry on the day?"
We tried to be as precise and honest to real life as possible. I spent a lot of time on YouTube, finding all the material I could find, because in the beginning we didn't have any money. Then I had a researcher who helped in finding the specific material and making sure that we could clear it and use it in the film. It was a complicated process.
How long did it take to source all the footage?
I started almost immediately to search for archival footage. Still it took five years of researching and finding who had the rights.
The film was how many years in the making after you convinced Amin to share his story?
Almost eight years. I didn't really have to convince him. He wanted to share his story as well.
Two acclaimed actors have lent their voices and are also credited as executive producers in the English version. Which role were they roped in for first — EP or actor?
It was our sales agent who thought that we should do an English version of the film and if we had some big actors, we could reach a broader audience. It made sense to find actors who would do the voice and also EP it so they could also support the film getting out. The original Danish version has the two of us speaking in our own voices, me interviewing Amin.
I was reluctant to do the dubbed version at first. But knowing that it would reach a broader audience with  Riz (Ahmed, the British-Pakistani actor and rapper) and Nik (Nikolaj Coster-Waldau, of Game of Thrones fame) on board (to dub our voices), it was a no-brainer to go ahead.
One scene that is bound to catch the attention of the Indian audience is when Amin's sister and her friend exchange pictures of movie actors. They are all Indians — Anil Kapoor, Vivek Mushran...
In Kabul at the time they would all collect these picture cards of Bollywood actors. The girls would collect cards on the male actors while the boys would collect cards on all the female actors. But Amin being gay, also collected cards on male actors. He loved movies and he still does.
Was Waltz with Bashir (the milestone 2008 animated war documentary) ever an influence on you?
Yes. Watching Waltz with Bashir, I understood that you could make animated documentaries. It also deals with trauma and genocide. So I understood watching the film that the animation form can ease off difficult subjects. So I definitely owe a lot to Ari Folman, who directed Waltz with Bashir.
Your film has made history by being nominated across three categories at the Oscars. Did you see it coming?
No. When we started out making this film, it was just Amin and me in my living room in Copenhagen, doing his interviews. We thought if it could be on national Danish TV it would be wonderful. To see it grow and grow, travel across borders and get nominated for three Oscars and now being released in India (on Zee5, as part of Zee Special Projects), it's just amazing to see how this story has resonated all over the world with people.
Has Flee changed your life?
I am a 40-year-old film-maker living in Copenhagen, Denmark. Before Flee, it was a bit of a struggle to make a living out of my films, but now, because of the success of Flee, I am hoping the next film is going to be a lot easier to finance (laughs).