Cricket and football can take a break, at least for now. It's time for 'other' sports. Thanks to India's success at the Commonwealth Games (CWG), the youth have started showing an interest in unconventional sports.
Admissions to the October-December quarter for squash students at the Calcutta Racket Club opened on Thursday and by Friday, all the 96 seats were booked and 15 students were on the waiting list.
Coach Lalit Tripathy said while the demand for squash coaching has always been good, it has received a boost after Saurav Ghosal's double bronze medals in the CWG.
Similarly, weight lifting, wrestling and archery are also receiving a good response after India's success at the CWG and other competitions.
Experts feel that even if this is a positive development, the youngsters' zeal must not fizzle out and the challenge is to retain them.
Admissions galore
According to Chandan Roychowdhury, president of West Bengal State Weightlifting Association, "The demand for weightlifting has gone up manifold. The success of Achinta Sheuli has inspired several parents and children."
Asit Kumar Saha, general secretary of the West Bengal Wrestling Association, said: "After India's success at the CWG, the youth from all over the state have shown keen interest in wrestling. A large number of students from districts like Hooghly, Howrah and Midnapore are pouring in at wrestling training institutes."
Despite not being a part of the CWG for the last three editions, interest in archery has seen a considerable rise. "Thanks to mega sporting events like the CWG, Olympics and the Asian Games, the awareness about sports has increased. Many are inclined to join unconventional sports. See the number of young children joining table tennis and badminton coaching centres over the last decade," said Rupesh Kar, secretary, West Bengal Archery Association.
Students from all age groups
"Most of these new entrants can be divided into two age groups – the first group, accompanied by their parents, is aged between 8 and 15 years, while the second group aged between 25 and 35 years is employed and it is more like a hobby for them. They are here to learn something new. In comparison, the younger ones are serious learners," said Renuka Sahai, a judo instructor in Kolkata.
Recently, Sahil and Shruti Agarwal, nine-year-old twins, were admitted to Renuka's institute at Salt Lake. "Sahil is a huge fan of martial art films and I believe that a form of self-defence should be mandatory for girls. So, I was looking for a good institute and chose judo," said Shalini, their mother.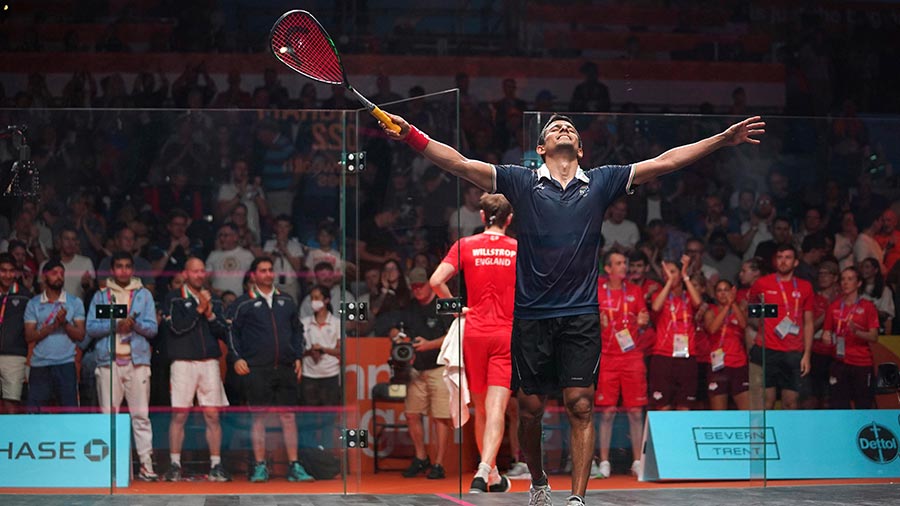 Saurav Ghosal
PTI
Avoid unrealistic expectations
Even as the youth are making a beeline to join unconventional sports, the authorities aren't confident how long they would continue. "Whenever someone excels in a particular discipline, people tend to join it. We saw a similar hype in 2019 after Pranati Nayak won bronze in Asian Championship in 2019. However, Achinta will remain the face of Bengal's weightlifting for a long time and we are chalking out plans to retain the new students," Roychowdhury said.
The authorities are worried about the students' unrealistic expectations. "Wrestling is one of the toughest sports. It takes years of hard work, dedication and practice. And after all this hard work, one gets just six minutes in the ring to prove himself. Students must not expect overnight miracles. No one can master a sport in a few months and make it big in the global arena. Students and their parents must have a realistic approach," said Saha.
Infrastructure required
Most instructors and association members have complained of poor infrastructure. In case of archery, there are five to six institutes in and around Kolkata and most of these also focus on other sports. "A few months ago, an archery institute was set up at the ground adjacent to Bagbazar Multipurpose School, but on the same ground, boys would play cricket and football. It was a highly risky affair and we had to shut down," said Kar, adding that many talented archers cannot continue due to lack of funds from the government.
Schools need to come forward
"Students from north Bengal, especially Cooch Behar, Jalpaiguri and Darjeeling, are doing well following their schools' initiative. Schools in Kolkata must also take a similar interest in promoting at least one sport," said Saha.
Roychowdhury said: "We shall soon discuss the modalities with Kolkata schools and try to take in children between the age of 10 and 15 years for weightlifting. This is the only possible way to develop sports."