I wonder how much people would pay to see Mukesh Ambani and Gautam Adani slug it out in the boxing ring. I guess the best way to place your bets would be not to bet on the businessmen but to take short positions in the company of the guy you think is going to lose. One can imagine Reliance shares dipping with every blow on Mukesh (not of the anti-smoking ad fame) till a Hindenburg intervenes to even the odds.
Unless you actually have a life, you're obviously slavishly on the internet and following the news of the proposed cage match between Mark Zuckerberg and Elon Musk. The plot reminds me of the movie Joe Somebody. The film stars Tim Allen (of Home Improvement fame) as an ordinary man forced into violence by a workplace bully. Mark Zuckerberg might claim the same about Musk though one wonders if we will see the typical Tim Allen grunt at the end of the match. Our lives ever since 2020 have exceeded the absurdities of reality TV and this match seems to be just a part of it. With everyone claiming we are in a simulation, this particular episode seems to have been directly crowdsourced from our imagination. The latest tweet from the Twitter head suggests the Colosseum as a venue.
The whole thing started when someone suggested to Elon that Mark's tweet size was bigger than his, to which Elon said "Maa ka doodh piya hai toh…" followed by an ad by Amul. In response, Mark said "send me location" with an assertiveness that was cheered by all the Uber drivers in Bengaluru. One wonders if somehow both the visionaries saw this future a long time ago, and that was the sole reason for the creation of Facebook and the acquisition of Twitter. Because what could possibly be a more billionaire thing to do? People like us wonder if we should buy from Snapdeal or Flipkart depending on what is cheaper. People like the Ambanis, the Musks and the Zuckerbergs of the world decide whether they should buy Snapdeal or Flipkart depending on what is cheaper.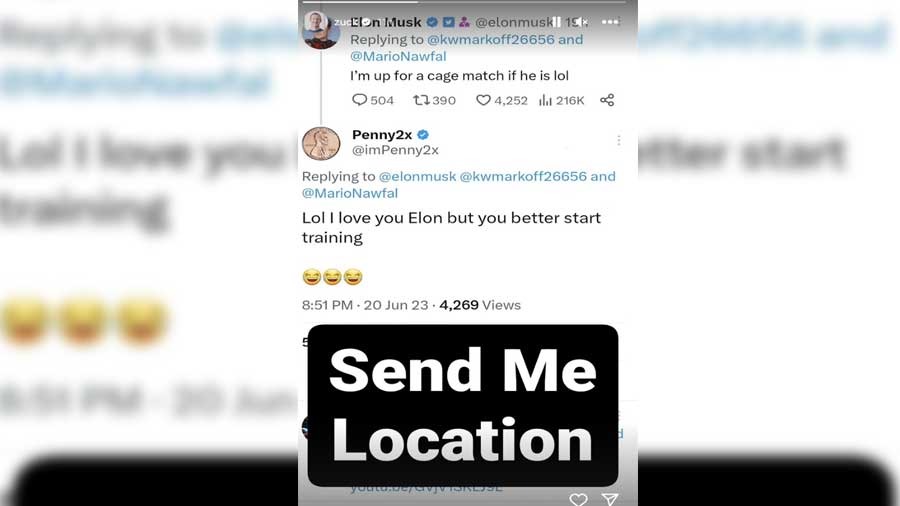 This also runs in parallel to the rivalry of social media platforms with Zuckerberg planning to launch a Twitter rival called Threads, for which he is planning to rope in Indie brand Strings as brand ambassador. Videos of Zuckerberg pinning MIT scientist Lex Fridman to the ground have surfaced with Zuckerberg resembling what can best be described as an artichoke. Lex also went on to gush about Musk's physical prowess in the hope of getting a blue tick.
Instead of these cages, I wish the billionaires were true to their origins and we see a battle of Self Driving Tesla cars and Space X rockets attacking the Meta Headquarters defended by a juiced up computer geek mode Zuckerberg whose real body is plugged into the metaverse. With Russia battling Ukraine and China eyeing Taiwan and the United States eyeing anybody who is eyeing anybody they are eyeing, one wonders if perhaps war is in the air.
I hope to see a physical battle between two stand-up comedians in an attempt to determine who is funnier. But I guess for that we will have to wait for the US and Indian elections in 2024. So unless you want to fight me in a cage match, I suggest you like, share and comment on this article.
The author, Vikram Poddar, is a Marwari investment banker turned corporate comedian. The views expressed in this article are his own and do not necessarily reflect the views of the website.