History (and a little bit of hearsay) has it that it all started during the Mughal era with the carpet weavers whose works sustained the flourishing carpet trade across the Grand Trunk Road, eventually having to seek refuge in the houses of farmers in Mirzapur when they were displaced by the breaching waters of the mighty Ganges. Thus began their initiation into the fine art of weaving carpets in the way of barter for their hosts, therefore setting off the region towards its centuries-old legacy of being carpet makers.
With the distance to the trade hub in Calcutta cut short, the business of making carpets flourished further under the aegis of the British and, eventually, a little after World War I, in 1920, three British gentlemen by the names of F.H. Oakley, F.H. Bowden and J.A.L. Taylor set up Obeetee, which has now become the oldest surviving carpet-making company in India. Since then, Obeetee has grown from strength to strength by preserving its legacy to lead into the future, a taste of which we got when we recently visited their main factory in Mirzapur.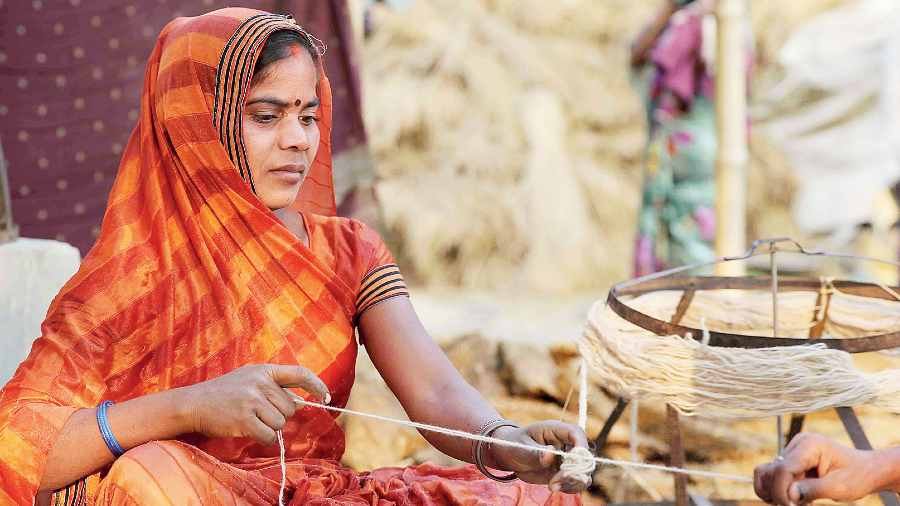 While the district might not be on the map of the urban well-heeled, Mirzapur has its own charm with its narrow, crowded alleys bustling with energy as does the Mirzapur Club ooze charm in the way it stands tucked away from it all — proud to safeguard the last vestiges of colonialism.
Incidentally, the over-200-year-old Obeetee bungalow, which is located only a few minutes away from the club, is where guests of the company get to spend their days with the gracious staff, who have worked for generations, serving endless glasses of wines, their famous fish cakes, peaches plucked from the trees in the adjoining orchard for breakfast — and even a peacock sauntering around for company in the garden.
However, the main attraction for me remained the Obeetee factory that works with around 8,000 local weavers, comprising seven villages between Mirzapur and Gopiganj in Bhadohi. Set up in the early 1900s, the factory that also houses the company's registered offices, has been built over the years to let innovation and tradition flourish alongside each other.
On my visit to the factory, I first sat down with Makarand Mehendale, chief operations officer, Obeetee, who introduced me to the behind-the-scenes of the trade for the company. Obeetee's looms are spread across almost 100,000sq miles across Uttar Pradesh and Rajasthan and more, to tap into the specific skill sets local to those regions in order to guarantee authenticity and expertise. Known for its high-end hand-knotted carpets, the company was heavily exporting to Europe even till the mid-'80s. However, the industry went through an ebb when the labour-and-craft-intensive processes of carpet-making came under the scanner of the International Labour Organisation, which led to changes in policies and, therefore, practices.
However, Obeetee's policy of complete disclosure and transparency over the years (through collaboration with governmental agencies and its own system of social compliance) held it in good stead and earned it important nods — such as the Social Accountability System Certificate (SA 8000) by an auditing firm of international repute, which Obeetee has been holding for over 10 years now.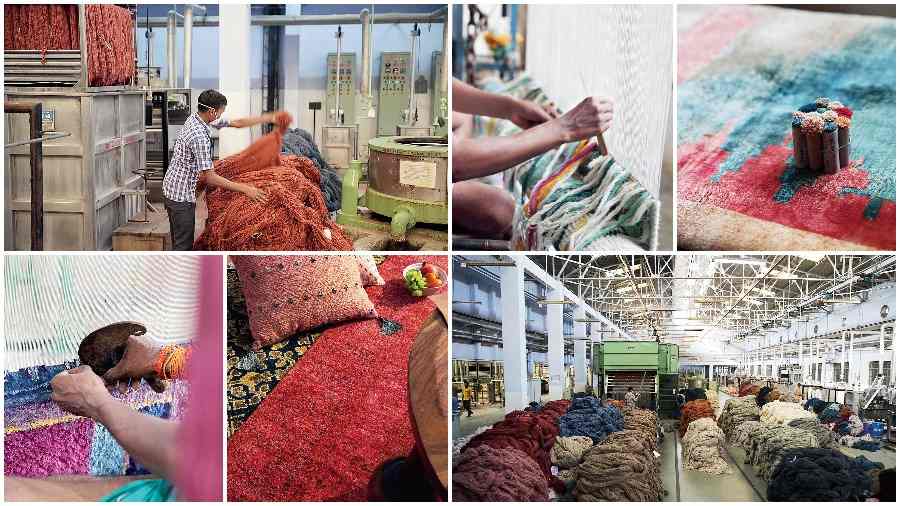 The increasing demand for carpets led to Obeetee also diversifying its product category with the painstaking process of hand-knotting now branching out into hand-tufting. Interestingly, Obeetee, till date, does not manufacture without orders and still promises exclusivity of design to its buyers.
"While the trade kept changing, we ensured that our boundary walls also remained high in order to guarantee exclusivity. Meanwhile, as the market expanded to the US from Europe, the age of the buyers also started getting younger," said Mehendale. While this factory specialises in hand-knotted carpets, the shrinking timelines and demand for lower-priced products have sometimes led to the old traditions of having 200 knots per sq inch now getting reduced to 30 knots per sq inch. Apart from hand-tufting, this region also produces carpets in the categories of handloom and flat weaves, which are significantly easier (and faster) to make.
A walk around the factory spread over 16,000sqm is no easy feat as are not the many steps needed to make a single piece of carpet, any simple. From the selection of yarns, their dyeing, the processing of data and design codes, to reaching the looms, finishing the products by washing them and drying them — the steps in making a single piece of Obeetee carpet are many.
Inspections are also galore due to the nature of the products and, till date, one per cent of the finished products still get rejected in the company's quest for perfection. While processes such as mechanised washing have been introduced to reduce the time taken from 45 minutes to around 10 minutes and to save 90 per cent of the initial usage of water, a water harvesting plant at the venue has been built, keeping in mind that about 900,000 litres of water is needed every day.
In fact, sustainability ranks high on the list of priorities of the company and by implementing things such as adopting seven ponds and generating 35 per cent of its electrical needs from their solar panels, Obeetee aims to reduce its carbon footprint.
While the carpet-weaving industry still remains male-dominated, Obeetee has also set up training units for local women where they enable them to become self-sufficient by not only teaching them the art of weaving carpets but also helping them in things such as managing their chores and paying them a stipend. When we visited one such unit, we even spotted an infant being collectively cared for as the young mother learnt her way around the loom. Till 2020, the company has trained 1,383 women out of which 808 women are now already in the workforce.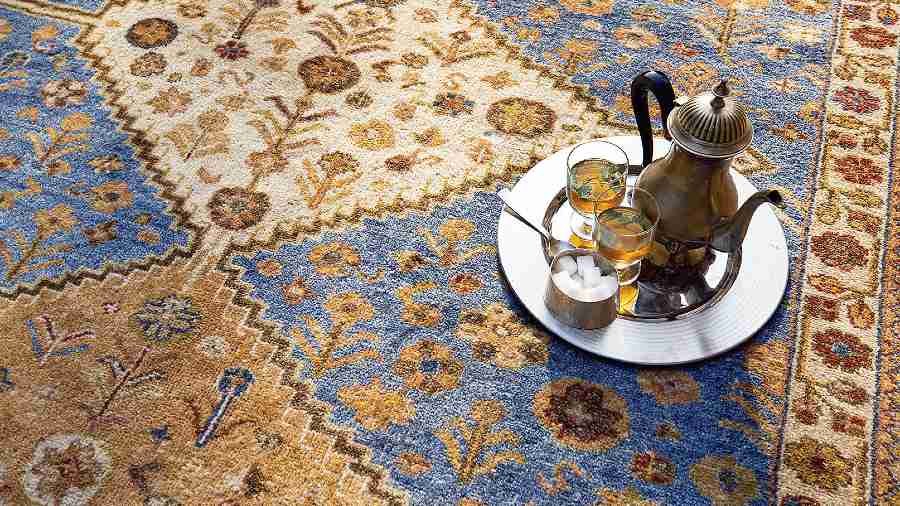 A carpet from Obeetee's latest collection
A subsequent visit to the design studio showed a motley bunch of design graduates working together as Obeetee continues releasing one impressive design campaign after another. While my introduction to the brand happened with its Proud To Be Indian campaign, where Obeetee collaborated with top designers like Abraham & Thakore, Tarun Tahiliani and Raghavendra Rathore, some of their latest campaigns such as the Minimalist edit have ensured that from my sexagenarian father to me, we all have something that we can personally pick out for our homes. And that's where Obeetee Retail comes in.
Buoyed by the increase in sales during the pandemic, Obeetee Retail is looking to tap into the urban Indian buyer as it forays into the domestic market with two new brick-and-mortar stores in Delhi and Mumbai and many more in the pipeline. "What we have realised is that apart from people who are willing to buy carpets that cost Rs 8 lakh, there are also people who are looking to buy carpets that cost, say, Rs 20,000. So we have come up with the concept of the carpet being the missing piece in your house and Obeetee carpets can Add Life to Your Home," said Angelique Dhama, chief executive officer, Obeetee Retail.
Online sales still remain one of their key areas of focus with exclusive curations and bigger assortments for their virtual customers. Dhama is also a strong believer of the tangible experience of buying an Obeetee carpet, which reflects in the company's plans of opening around seven stores in the next few years, with Hyderabad being the next stop.
While Obeetee's recent campaign saw the likes of Jim Sarbh, Dia Mirza, Tarun Tahiliani, Sanjay Puri, Amaan Ali Bangash and Ayaan Ali Bangash participate in a series of videos released on Instagram, their most recent Gypsy Oasis collection is inspired by the Khotan and Oushal patterns mixed with more modern elements on silk and wool in a bohemian mix of motifs and is priced between Rs 25,000 and Rs 3 lakh.
So how does Obeetee champion its 101-year-old legacy and the needs of its modern consumers today? Says Dhama: "We will never compromise on quality yet we are equipped to meet the needs of the modern-day consumer. Let's say, they need performance rugs for their flats where they will also have the dog on the carpet. Then we will definitely innovate and come up with designs that can be washed, on which you can have your dog and around which you can also have your lifestyle. But we will hold on to things such as sustainability, the spirit of community and looking after our weavers. Together, by expanding our customer base and through that, we are continuing our legacy."
Pictures courtesy: Obeetee