Everyone knows that summer is a time of warmth, sunshine and happiness. It's a season in which we can bask in the beauty of nature. And what better way to do so than by enjoying the classic summer flowers that bloom at this time of year? Every day (barring showers) the hazy sun rises over the beautiful flower arrangements on our garden table, and at weekends we build our flower crowns, ready for garden parties.
In summer, nature comes alive in a burst of vibrant colours and the sweet fragrance of blooming flowers fills the air. Like a beautiful bouquet, each flower is unique and adds its own touch of grace. How else would you rather celebrate the coming of this season than embrace the beauty of life and cherish the moment of warmth that summer brings?
1. Recycled pots: On an old pot (which I was about to discard, but then decided to give a subtle makeover :-) ) I placed an oasis frame and then adorned it with easily available yellow roses and daisy flowers. I further added some dry sticks along with green leaves to give it a lush and fuller look. Texture and movement in the design are created by the frame and the dry stick. This arrangement is perfect for a photo corner, which is also now trending among the younger generation.
2. The bamboo log arrangement: This bamboo log was part of a larger tree that eventually broke off and was about to be discarded. So, I thought of giving it life and making it vibrant with a simple application of readily available summer flowers. I have made a U-shaped oasis wrapped in wire, then covered it with green leaves. To this, I added some sunflowers and small daisies. Sunflowers bloom during the summer and with sunlight. During the rains, they miraculously face each other, which essentially means (in flower lingo) that they tend to support each other. How beautiful is that?!
3. The wire mesh: This is a twist on a psychedelic theme, where I have used wires of different vibrant colours to create a pattern. I have then gone around the wires adding baby chrysanthemums to give it a beautiful summer feel, which would make you feel like you are in a music festival filled with the breeze and the smell of summer.
4. The umbrella effect: To honour the love affair of summer with the monsoons, I have created two large umbrellas using sticks, which signify protection from sunlight and rain. To this, I have added an array of daisies and greens to further give it life and beauty. You may notice a hint of a Japanese zen garden effect if you look closely. It definitely has a calming effect on me! It's a must-try simple decoration for any part of the house. Personally, I put this in my cosy corner, where I love to snuggle up and read a book on a rainy day.
5. The pitcher reimagined: This is my spin on typical village homes, where you will find pitchers at every doorstep serving water to residents and guests, or whoever comes to seek shelter from the hot summer sun. I have used green wires to make a web-like structure, which also resembles the lid of the pitcher. In case you find making this complicated, you may add any pre-bought design of organic material to your liking. I have then added yellow and green spring flowers as well as daisies to further adorn the pot and give it a colourful and vibrant look.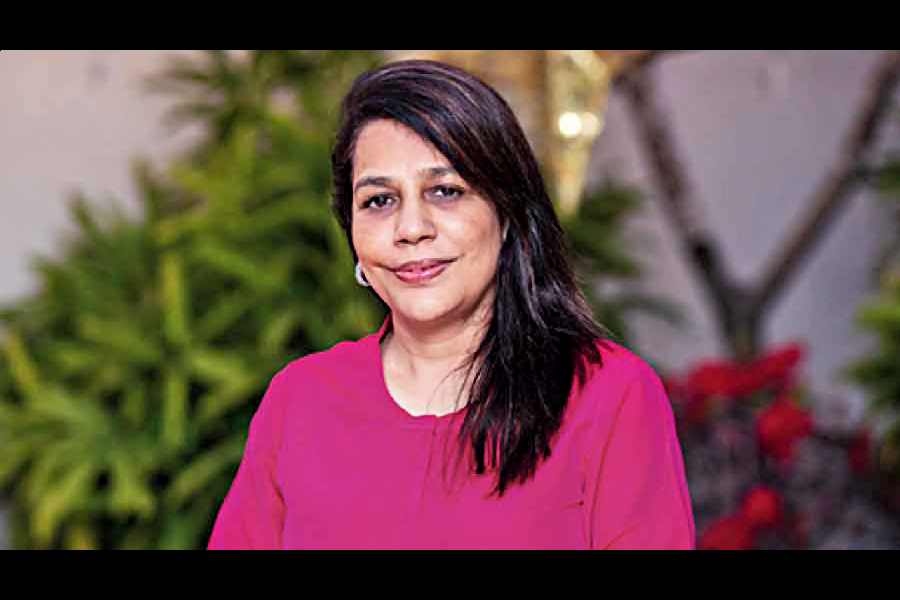 Sunita Kanoria, trained at Pushpa Bitan, is a judge for national-level flower-arrangement contests, and currently utilises her time and talent as a floral-decor demonstrator at various forums