Showcasing: Designed for the woman that values all aspects of herself and her femininity, APZ's mission is to make womenswear that celebrates the wearer and the fabrics. We are bringing our classic made-to-order signature styles in rainbow hues. Hundred per cent linen and silk are our key fabrics. We are also bringing our most popular 'Twister' collection that has unique pop colours and silhouettes. It has been an audience favourite this year.
Festive classics: My all-time favourite pick is our signature co-ord set in 100 per cent silk. It can be dressed up with Indian jewellery for card parties, glammed up for a cocktail event or night out, or even dressed down for a brunch with your friends. We have a few different versions of the set that can be chosen according to the event. Emerald green, cranberry and white are my personal favourites
— Apoorva Gupta, founder, APZ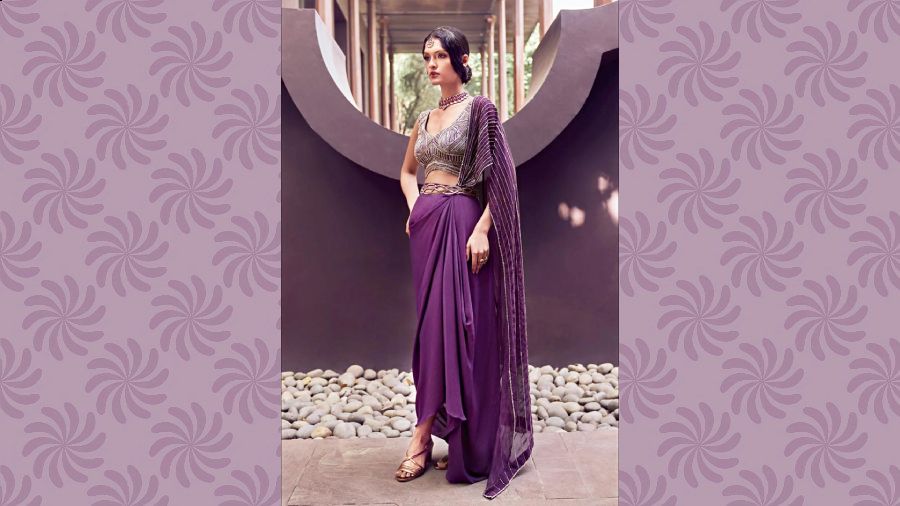 Showcasing: We are a mother-daughter duo aiming to strike a balance between tradition and modernism. We are kick-starting the festive season with our new collection 'Bageecha', which encapsulates the essence of Indian celebrations. With bold colours, delicate silhouettes, and botanics being the main source of our artistry and inspiration, our vision is for the new-age woman to be the muse and centre of the 'Bageecha' collection.
Festive classics: One can never go wrong with a sharara-kurta or a light lehnga for the festive season. Our favourite piece from this collection is our rendition of the sharara-kurta. It is redefined by its half-and-half look, paired with an embellished sharara in a burst of purple. Our other favourite piece is the abstract flower lehnga — light but packing a punch with its seamless details and embroidery in a beautiful raspberry pink. With these pieces, and the rest of our collection, we want to emphasise on lighter fabrics that float on women's bodies, creating a fluidity in its silhouettes, with simple cuts and elegant drapes
— Vasundhara Kotia, co-founder,  Charu and Vasundhara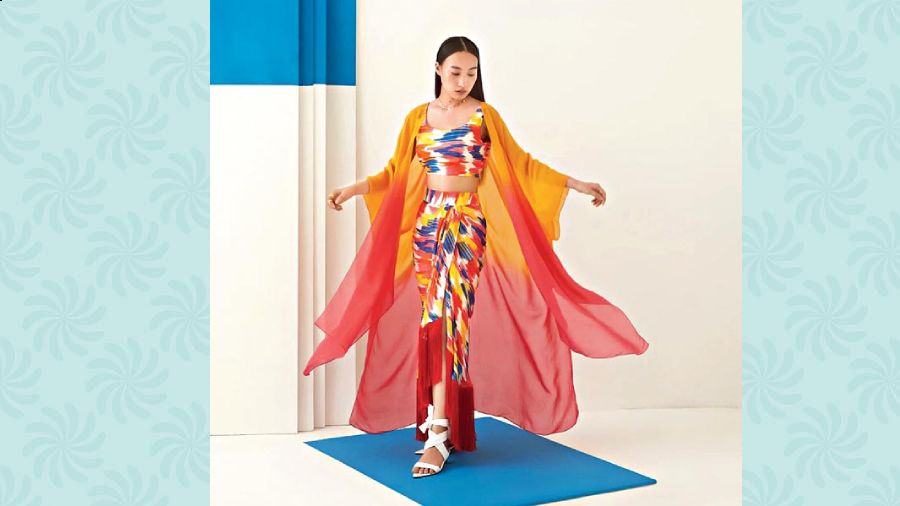 Showcasing: For this festive season, Studio Rigu addresses re-emergence and celebration. The collection has a feminine and polished edge, while staying true to our euphoric vibe. Our prints of the season are blown-out, etched floral motifs mixed with ikats. Ideas of sun-drenched tropical escapes and hibiscus flowers are reiterated throughout our collection. A variation of uplifting colours suggesting a festive colour palette surround the collection — soothing tones of rust, turquoise, and light blue meet rich colours like teal and sage, along with strong accents of neon and vivid spring yellow.
Festive classics: Our top festive classics are our free-size kurta co-ords in bright effervescent prints and draped skirt sets with fringes. Our signature ombres are always the go-to picks for festive looks
— Riya Gupta, founder, Studio Rigu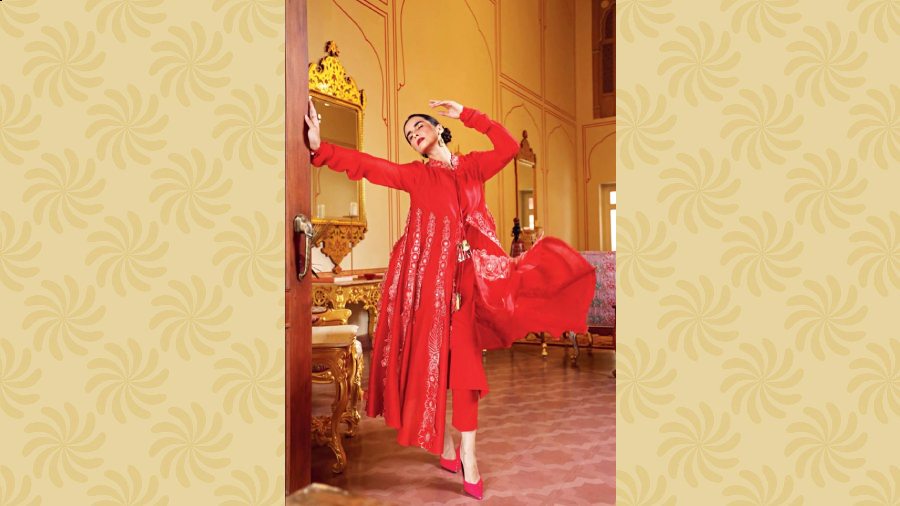 Showcasing: Our journey through the different cities of Greece has been the main inspiration behind our new collection, which we will be showcasing at The Design Mill. We walked through the narrow lanes of Athens, trekked the monasteries in Meteora, swam the volcanic shores of the Greek Islands, traversed the humble villages in Crete and witnessed the most magical sunsets at the Caldera to unravel the true colours of Greece. Elements from our Grecian escapades can be seen in our new collection, titled 'Athena'.
Festive classics: Some of our festive classics are our deconstructed and draped-collar angarkhas, biker anarkalis and a draped-collar jacket with an asymmetrical skirt
— Kanika Sachdev, founder, Jajaabor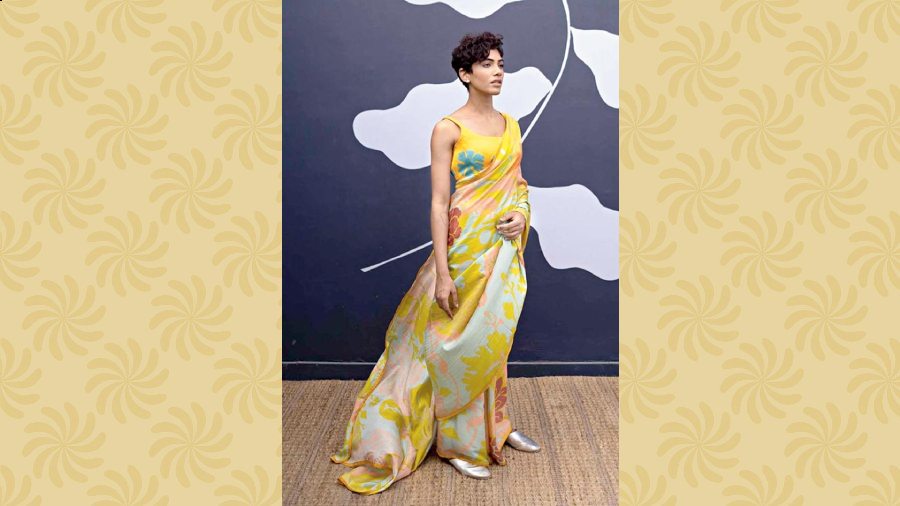 Showcasing: This festive season, hand-painted florals and vintage paisleys decorate jacket sets, button-down co-ords and classic kurta silhouettes. The current collection is all about colour. It's called 'Rang', reinforcing what the brand is all about — art and colour. We bring art to life in a wearable format, creating timeless statement pieces that stay in your closet forever.
Festive classics: Our festive classics definitely include a sari. A symbol of grace and culture, our saris are made in pure silk and are almost like a canvas for the artwork we print. Six yards of sheer elegance. A basic co-ord/jacket set is also a timeless classic, designed to be worn all year round. Made from light-weight silks/linens or cottons these pieces can be worn day to night
 — Priya Mittal, founder, Yam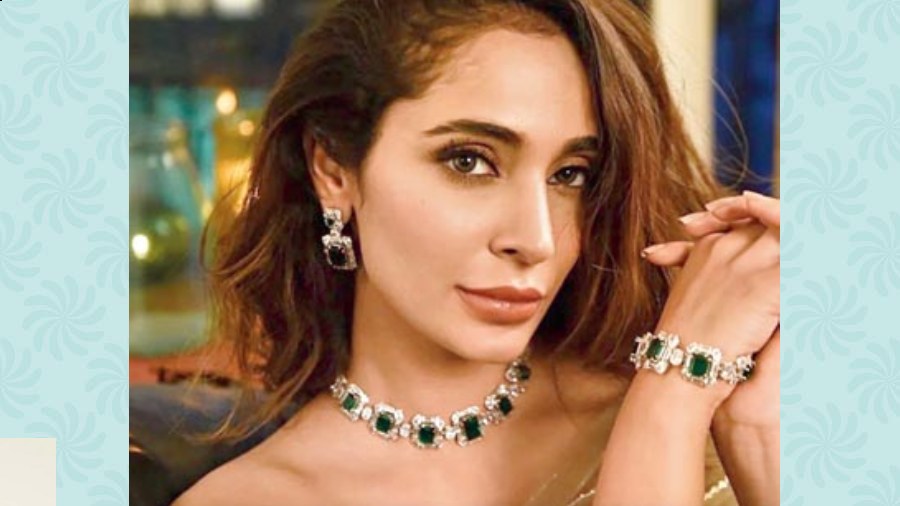 Showcasing: We are a 25-year-old traditional and modern Indian fashion jewellery brand with a strong clientele in Delhi and Mumbai. We are excited to bring a flavour of our collection to all Calcuttans looking for high end fashion jewellery at a price that doesn't hurt their pockets.
Festive classics: For this festive season, we have a new line of hand-enamelled and hand-embroidered bridal and non-bridal wedding jewellery to solve all your destination wedding needs
— Santosh Bhatija, founder, Aquamarine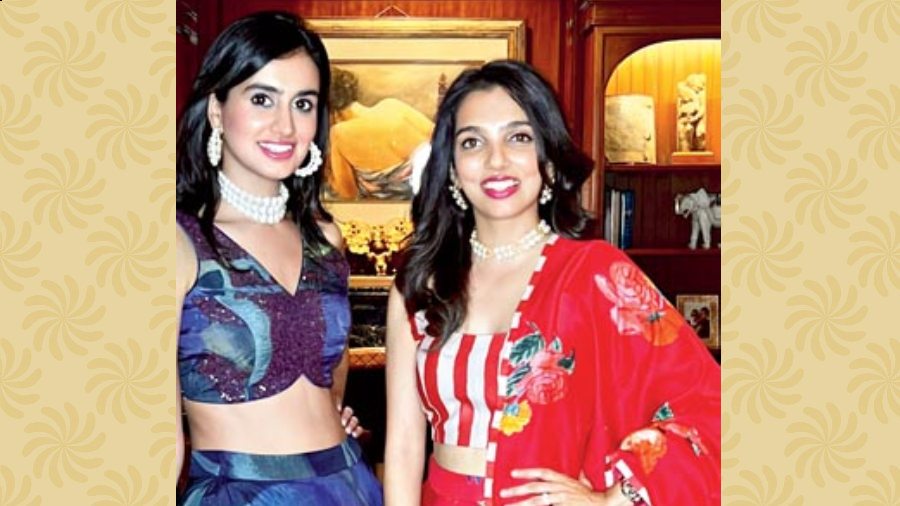 The Design Mill is a carefully curated pop-up shop featuring 50 hand-picked designers from across India, particularly Delhi and Mumbai, on September 9. Price, quality and versatility were what we kept in mind! One of the biggest USPs of the Design Mill has been its ability to cater to the affordable luxury segment. Through our curated exhibitions, Calcuttans have first-hand access to fashion that does not compromise on quality and yet remains easy on the pocket. One can look forward to a collection of easy-to-wear Indian, fusion and western clothing and accessories. Not restricted to festive clothing only, we have also consciously curated brands that can be enjoyed all year round — Vedika Kejriwal & Nandini Rishi, co-founders, The Design Mill
What: The Design Mill Festive Edit
Where: ITC Royal Bengal (Eastern Court Hall)
When: September 9; 11am-8pm