Bodice by Ruchika Sachdeva showed an eminently wearable line packed with dresses, skirts, pants and more, all with the distinct Bodice personality and so handsome. A fine balance of structure and easy-breeziness.
Curtain-like drapes made up the ramp decor, which Ruchika said was made from scraps from the studio. "This collection was actually upcycled (from materials) which usually go to waste and we wanted to make something out of nothing. The whole idea is the less you consume the better it is. The set was also inspired by Dhobi Ghat (in Mumbai), which is the largest open-air laundry in the world and these are things which are special about India, right? Things like these need to be celebrated," she said. The outdoor setting channelled Ruchika's interest to celebrate her fashion in open air.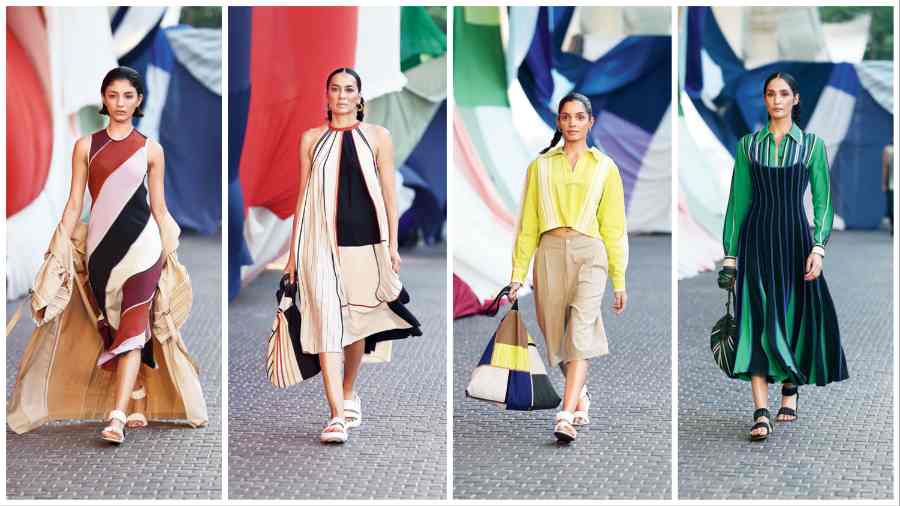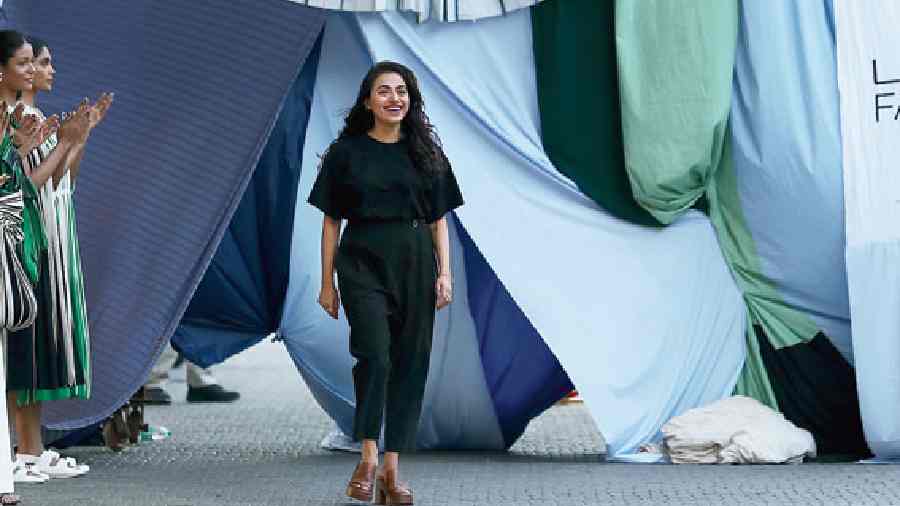 Ruchika's signature geometric shapes were at play as were her colour blocking. "When I was growing up in Delhi, it was so chaotic that my mind always wants to categorise things and put it in lines and boxes but at the same time, it being fluid and feminine and breathable. I can only look in straight lines, grids and geometry because it helps me make sense of all the chaos," said Ruchika.
A cross section of women walked for Ruchika, an ode to her muse, the everyday woman. "Basically, women like you and me, we are doing thousand things, working hard, having a personal life, it's never been easy. I want to make clothes for women who are just not wanting to look pretty and go to events. I want to make clothes for women who work hard, run around, manage the family and professional life, the women I want to empower is the real woman if that makes sense. You inspire me, my friends inspire me and today, I would say even I inspired myself because I have put in my best. It's a journey that takes years.... Cotton, comfortable, people who think, people who are conscious, people who ask how the clothes are made, and care about how much the labour is paid. The women who buy my clothes, wear it for office, or for an evening out. They live their lives in it and these clothes are meant to support them. Women from all walks of life, all sizes," smiled Ruchika, dressed in a black T-shirt and pants. "I didn't have the time to make anything for myself! I think fashion designers influence the culture, what you should be wearing. So, if we wear things which are really hard work then that's the message we are sending out there. I wear something really comfortable and make it look cool, which means I can turn up in a simple, cotton thing in front of my team, which is full of upcoming fashion students who you think will really judge. I know they respect me and I will make that the new normal. So, I'll wear pyjamas and turn up to work. The message is important," she said.
What about perceptions? "People who I love, I care about their perceptions. It's also age, women in mid-30s, you get there and select those bunch of people who I want to make happy. I care about their feelings, but yeah, I don't think I would compromise on something based on a perception," she signed off.
Pictures: Sandip Das