Instead of making you choose between gaming and productivity tasks, ASUS TUF Gaming F15 (2022) lets you pack it all in on the same machine. The company has the ROG and TUF line-ups with the former being used mainly by premium gamers while the latter are for gamers who want to maintain a budget. Of course, budget here doesn't mean the same thing as buying a budget smartphone. With the new machine, the difference between premium and budget gaming laptops reduces drastically. It's one tough machine that has got most of the things right. But remember, most.
Flawless display and keyboard
In way of build, there are no faults. It's a sturdy machine with a solid lid but at the same time it doesn't shout gaming all the time. There is nothing outrageous about the machine. The air vents are mostly on the back and some on the side. For a gaming laptop and all the horsepower it comes with, it's a light machine, weighing only 2.2kgs, meaning you can carry it around. Plus, you are spoilt for choice when it comes to ports. There is no SD card reader but that's compensated by Thunderbolt 4. Frankly, it's one of those rare laptops that work for gamers as well as content developers.
Let's talk about the screen, which has a top-quality panel. The 15.6-inch full-HD IPS display comes with 300Hz refresh rate and supports 100 per cent sRGB coverage, meaning you can go about editing videos and correcting photos without any problem. It's a colour-graded panel out of the box; it looks stunning with good viewing angles. Anybody into e-sports will love this panel.
ASUS has also gone out of the way to ensure good audio quality. There is Dolby Atmos and not just any half-hearted effort. It's a good stereo set-up with bottom firing speakers, which get loud enough for normal music consumption. Gamers will most certainly use headphones, so the speaker set up is mainly for multimedia consumption. Even at maximum volume, there is no loss of quality.
This is also the part we need to talk about the keyboard. It's a full-size RGB back-lit keyboard with good spacing between the keys. I had no issues typing. The same goes for the biggish trackpad, which works flawlessly with good palm rejection and there are no false touches. What I would have liked is more space between the numeric keypad and the main keyboard. There is acceptable key travel and for a gaming laptop, it's brilliant.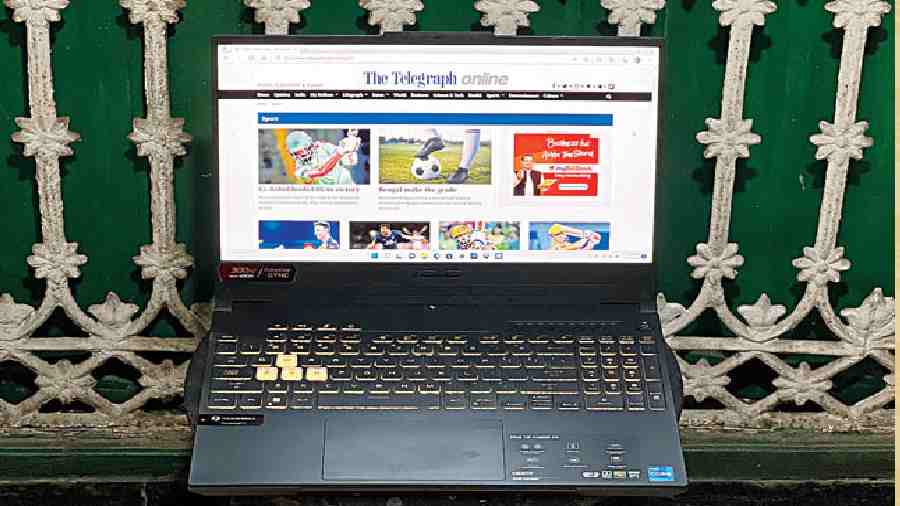 The machine comes with a big and bright display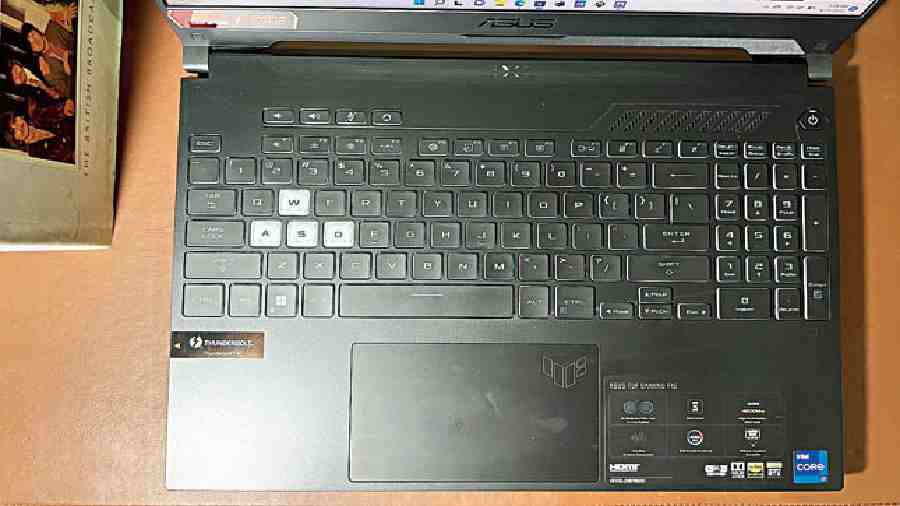 The keys are well spaced out and the trackpad is free of flex
Let's talk about performance
What you get here is Intel Core i7 12700H processor with NVIDIA GEFORCE RTX 3060 and 16GB (that's what the review unit had) of DDR5 RAM, which is fantastic. Also supported, up to 1TB of NVMe SSD storage. We had no issues gaming at way over 60fps on AAA titles. Heat management is equally good, with the machine doing a fantastic job on performance mode. The fans don't get loud while the gaming experience is sustained. Be it Asphalt 9: Legends, Overwatch or Resident Evil 8 Village, things run smoothly. On a game like Overwatch, hitting 145fps on average is not a problem. It's definitely a solid performer.
Battery life is also not an issue. The laptop packs a large 90Whr battery and comes with a 240W power adapter. Watching YouTube videos, browsing and doing everyday task, I was able to get around six hours out of the machine and while gaming, around three hours. The only issue is you need a 16Amp three-pin plug point around your workplace. It's a laptop that can be carried around but not everywhere in the house is a 16Amp.
Should you get it?
It's one of the most solid gaming laptops you can buy at the moment. Not too heavy, great display and excellent performance will easily make the gamer in you happy. Plus, it can also be used by content creators. The feature that ASUS TUF Gaming F15 (2022) prioritises — performance.
At a glance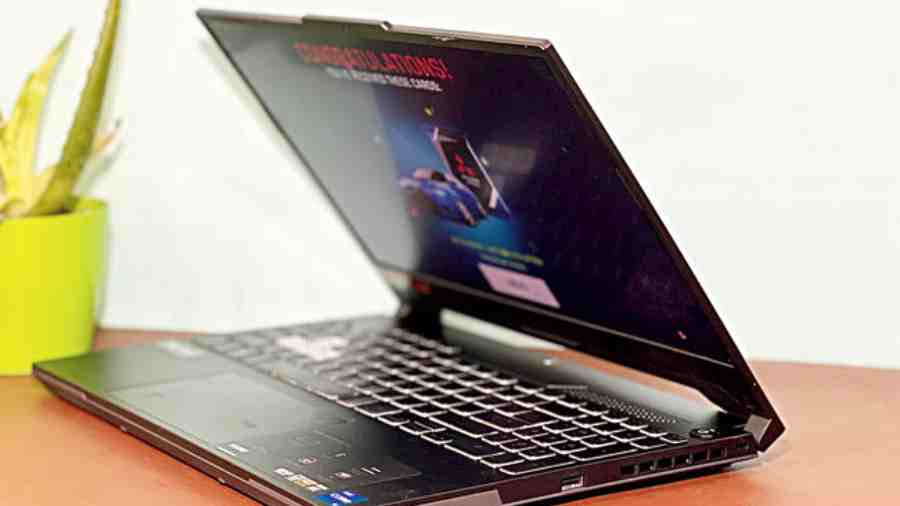 The gaming laptop has sturdy hinges
Device: ASUS TUF Gaming F15 (2022)
Price: Rs 135,990
High notes
• Excellent performance
• Good for gaming and productivity-related work
• Efficient heat management system
• Sufficient number of ports
Muffled notes
• 16 Amp plug on charger
Ports
3.5mm combo audio Jack, HDMI 2.0b, Thunderbolt 4 support DisplayPort, USB 3.2 Gen 2 Type-C support DisplayPort, two USB 3.2 Gen 1 Type-A, 1x RJ45