While driving down Russell Street, you cannot miss a quaint blue facade with "Anokhi" written on it in cursive. The iconic house of fabrics has turned many houses into homes over the last 50 years. Known for their curtain fabrics, they have starred in a lot of Aparna Sen films and many of our homes over the years. Started by Amita Basu when she was 42, Anokhi was taken over by daughter Pria Lall after Basu's untimely demise. And for 35 years, Lall has been running the show. The 67-year-old prides herself in heading the store in a "typical Bengali manner" by closing early and being strict about not opening on weekends. But still, Anokhi, with its crammed interiors and ubiquitous cotton and linen curtains, has always found its way into people's hearts. As Anokhi turns 50 on May 2, Lall recounts the unique journey for The Telegraph:
How did Anokhi start?
My mother (Amita Basu) began on her birthday, which was May 2, and it's been 50 years since then. Unfortunately, she died very young when she was in her early 50s. And so I've been running Anokhi for 35 years now. I was almost 18 when I started here first, earning Rs 100 a month. It was a lot of money in those days.
My mother was an interior decorator. And in those days, there were not many shops and she was not getting what she wanted. She had so many projects she was taking on and they were just not up to her level of colours or aesthetics. So she was actually far ahead of her times the way she thought and she ended up doing up The Park Hotel suite for Bobby, where Rishi Kapoor and Dimple Kapadia were going to stay. She did up the Sujata restaurant when the hotel was first opened, and it became like the talk of Kolkata and then slowly, she said I'm not getting what I want. So she decided to open a store and start doing furnishing fabrics.
She did up the Bengal Club and that was received very well. And so that way, she established herself as an interior decorator. In her 40s is when she started becoming an interior decorator and a businesswoman. She chose the name Anokhi because it means unique and it's her handwriting that we write on the shop front.
Often people come in and say where are your clothes. Why do you have the same name as the clothing store in Jaipur, but we have nothing to do with that store. We are a standalone store and we've been here 50 years.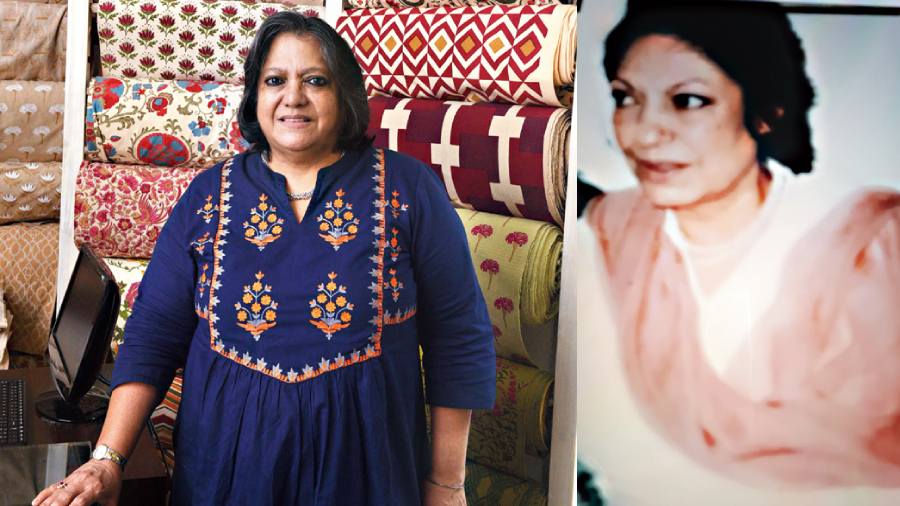 Pria Lall and her mother Amita Basu
How did Anokhi capture Kolkata's heart?
So I learnt on the job with my mom when I first started. None of us are qualified designers and haven't done any formal training in design or textile pattern or anything like that. It's just that whatever we like, we develop and we keep moving, you know. And because we do our own printing here in Kolkata, where we have a very nice factory on the way to the airport, we can change colours to suit the client's requirement. So in a sense, it's bespoke furnishings. So if you have a blue carpet and you like a particular print that's in red, in a week's time, we can change the print to blue and give it to you.
We try to appeal to all genres. So we have the flowers, which are the bestsellers at the end of the day. People look for geometrics, people look for different things but the flowers sell the most — and it's somehow timeless. Because we're coming up to our 50th year, I had started bringing out some of the flower patterns, not necessarily floral, that my mother had started working with. And you'd be surprised that people are still buying them and loving them, because it's something fresh and new for them, they hadn't seen before. But then some old customers come and recognise these original prints. There's a mixture of things. We try our best to only give cotton and linen. And unfortunately, some of the plain colours have a little bit of poly (polyester), but we make sure there's a big component of cotton so that we keep that USP going.
How did you take Anokhi forward?
So now I have an online presence with Baro Market, with whom we have been stocking for about five years now. And they also got rid of the confusion regarding the name as they call us Russell Street Anokhi. My Instagram is @russell_street_anokhi and it is handled by Srila (Chatterjee of Baro Market). So I'm very, very happy that she got me on board for this. And the way she uses our fabric is totally unique and completely different and out of the box.
Being much younger, she's always prodding me and poking me to do things. She pushed me to make these prints for curtain blinds because now people like blinds. We do panels for blinds too. We have the Birds of Paradise print too. And we have something to do with birds. Whenever we put a bird in a pattern, it sells non-stop.
How do you come up with the design?
I travel a lot, see a lot of things, look at a lot of magazines, websites and the things that are available. And I get inspired. From there on, I develop something that will suit us.
The birds were some of our first prints and they still do really well. The beige also does very well for those who want a more formal look. If people are adventurous, we can give them a mix of things too.
We got a whole lot of woven fabric and cotton slub from south India. We have a particular khaki colour that ends up looking like tussore.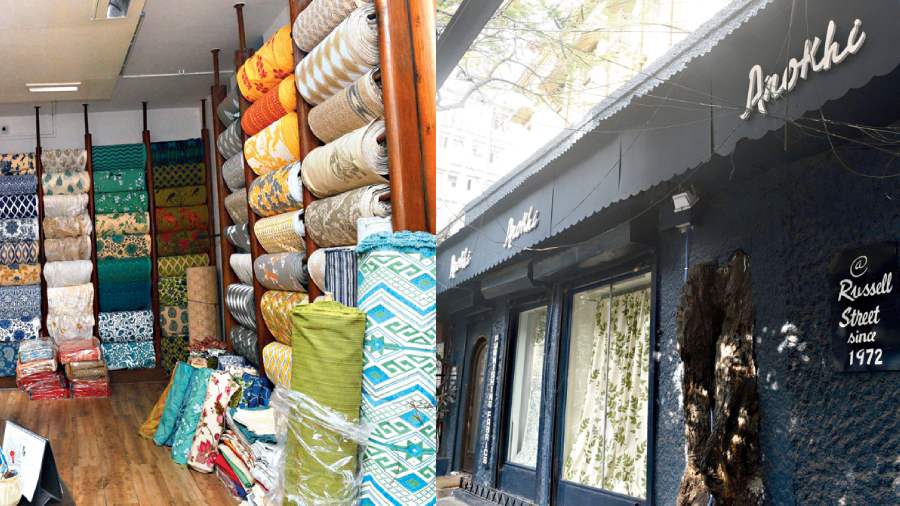 Glimpses of the store
In the last 50 years, what have been some of your highlights?
Aparna Sen always used our fabrics in her films and we always got a credit at the end. Rituparno Ghosh was a dear friend and always used to use our fabric. Their set designer would come and help us a lot too. Sananda magazine's first issue featured my mother's house.
It's been a long journey and we are probably the only Bengali business around this stretch. It's not huge or big but this is how we operate. We have our own rules. We get cursed for not opening on Sunday and the weekend starts at 1.30pm on Saturday. On weekdays, we open at 10.30am and close by 6.30pm and everyone is appalled! But that's us. People still find us and our old customers still keep coming back. It is a very Bengali way of running things. Not that we don't need the business but I am the head-everything here and everyone needs a break.
So what keeps you going?
Well, my interaction with Baro has been really amazing and they definitely keep me on my toes. Always trying to think of something new, out of the box, develop new things, find things that are a little out of the box. But always keeping in mind what our USP is. One of our signature patterns was this bamboo pattern here. And I brought it back now for this year.
We have a lot of repeat customers and I'm really proud to tell you that maybe the grandparents and parents bought curtains here and now, the children live abroad and have their own houses. But they come to Anokhi for their curtains because that is what they have grown up with. You know, I've done houses in Los Angeles, San Francisco and Boston. It makes me feel really nice that that is how they associate their childhood with.
Pictures: Rashbehari Das