If you are wondering how to spend a few hours this weekend away from the crowds, you should key in Studio Calyx on Google Maps and experience an exhibition set out in a garden in the bylanes of Dakshin Gobindopur.
On display, and sale, from March 4 to 6, 10am to 7pm, are the works of 11 ceramic artists from Kolkata that cover a wide range of themes from nature to human nature, social commentary to communal harmony, global to personal.
Calyx for community creations
Started by artist Tamal Bhattacharya and his wife Arpita, Studio Calyx was Bhattacharya's personal studio before it became a kind of community of artists who come to learn and work together. "While working on murals I reflected on how it was environment creation, and wondered why there can't be community creation. We have lost that kind of art, like Madhubani paintings, which were painted by a group of people. Studio Calyx was born out of the need to promote synergy between artists. We have artists of all ages from 18-80, and from all kinds of experience, from seniors to students working here," said Bhattacharya.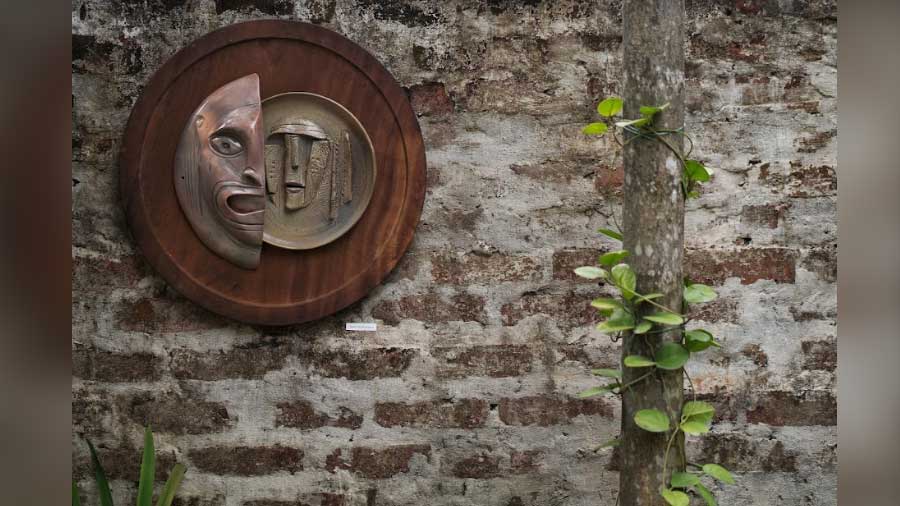 One of the works by Tamal Bhattacharya mounted on the boundary wall of the studio's garden
Soumyajit Dey
Bhattacharya wanted to do an exhibition outside the boundaries of a traditional gallery where the art is not displayed by a curator, but by the artists themselves in consultation with each other. None of the artists being exhibited at Studio Calyx's third annual exhibition have a section or a wall in the garden of the studio. While each sculpture carries the name of the artist, they are laid out in a manner that fits the scheme of the area or the theme of the art work.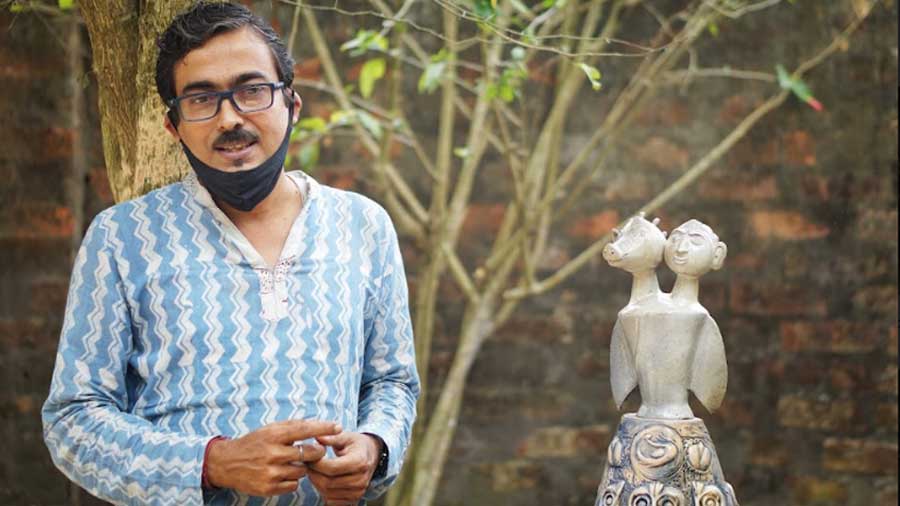 Tamal Bhattacharya with one of his works that depicts Vishnu's avatars
Soumyajit Dey
"We ask all the artists to come on the day we set up so that it can be done in consultation with each other," said Bhattacharya, whose sculptures, which primarily deal with duality, are also on display.
'It is almost like you can feel the works'
"Exhibiting at Calyx is a different kind of experience. It doesn't have the sterile air-conditioned environment of a traditional gallery. It is almost like you can feel the works," said Torsha Banerjee, a documentary filmmaker and teacher in Sydney, who loves the atmosphere at Calyx where they can spend the whole day talking to fellow artists, working at the furnace and drinking tea.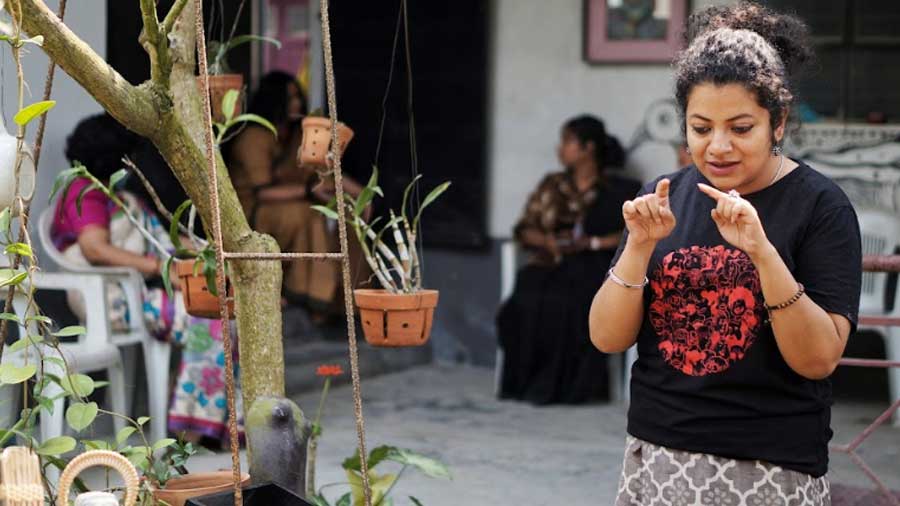 Torsha Banerjee explains the concept of her work titled 'Mon'
Soumyajit Dey
Banerjee's three works – 'Mon', about closed nature of people and the key that reveals them, 'Aranya', inspired by the Gond style of art that represents interdependency of nature and her creatures, and 'Tara', which explores the divine feminine energy, play into one of the predominant themes of the exhibition. That of nature and its interaction with the surroundings.
"Everything used in ceramic sculpture comes from nature, the earth or clay, the fire and we wanted to bring that out in our display," said Bhattacharya.
'My sculptural work draws inspiration from several sources'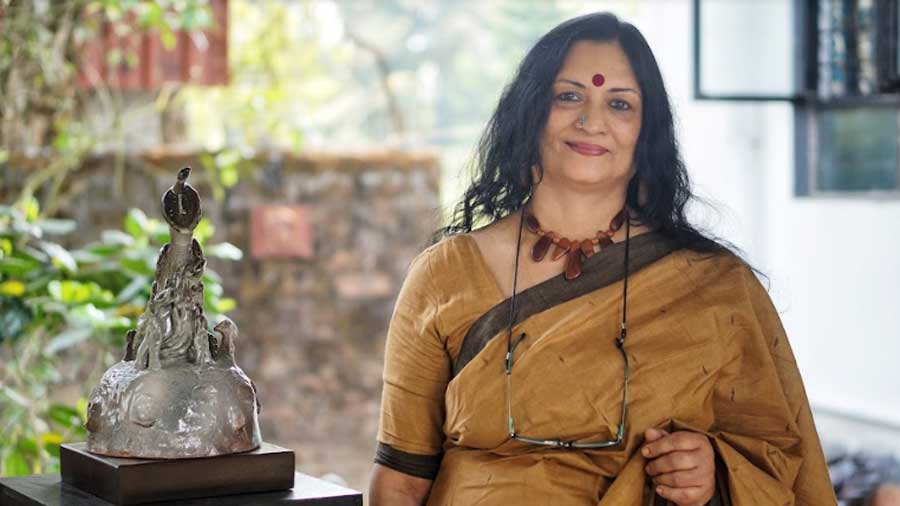 Susmita Basu's sculptures have the feel and look of artefacts discovered in archaeological excavations
Soumyajit Dey
For Susmita Basu the exhibition is the culmination of her work during the pandemic. "I just kept working throughout the pandemic in my studio at home and then came to Studio Calyx to work with the furnace," said Basu, who has several works on display. Basu's sculptures have the feel and look of artefacts discovered in archaeological excavations from the "family tree" to various depictions of the "mother" to the Vishnu-Maheshwara sculptures.
"My sculptural work draws inspiration from several sources, including the primal sensations of creativity as evidenced in the aesthetic traditions of indigenous peoples of Africa, Asia and Latin America. Archaeological digs of Mayan, Sumerian and Byzantine remains reveal the timeless celebration of birth, death and communal rites, that are at the core of my imagination," said Basu, whose love for playing with earth culminated into a passion for ceramic sculpture and pottery. "I am constantly engaged in the process. If I am not making something I am sketching out ideas," said Basu, whose works also have Fauvist influences.
'I love nature, I can find beauty everywhere'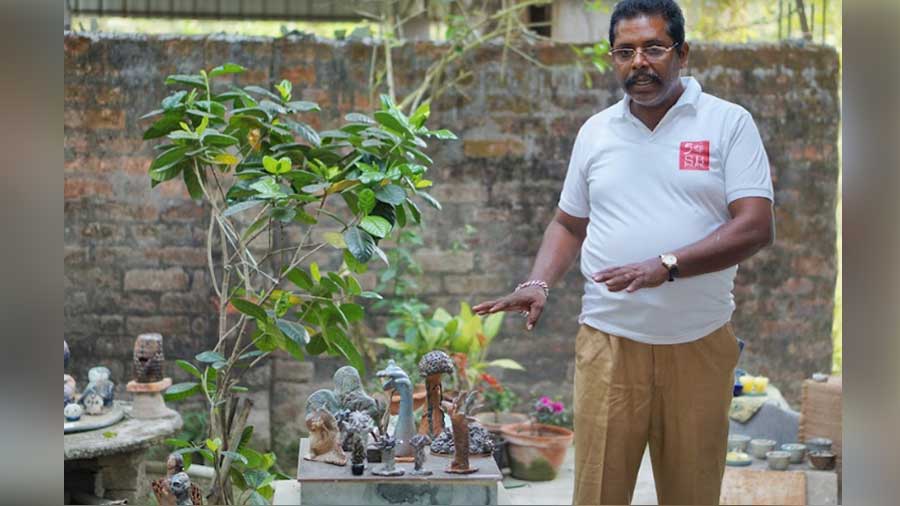 Dhananjay Chakraborty (Bapi) shows his sculptures that are mostly inspired by nature
Soumyajit Dey
One of the surprises of the exhibition were the works of Dhananjay Chakraborty, who is better known to all of us as Bapi da of the Green Taxi fame. "I had come here with (artist) Uday Deb and once I saw the process I wanted to learn. It has just been a year," said Bapi da, whose work is mostly about nature, which is his passion.
"As I love Nature, I can find beauty everywhere. To cultivate appreciation for all aspects of Nature is an essential step towards bringing our modern society into harmony with life on this earth. So I thought it would be a great pleasure to create something with clay. My ceramic works reflect my love for Mother Nature, design and the innate happiness of human beings," said Bapi da, about his work on display.
'Art as a medium of reunification among people'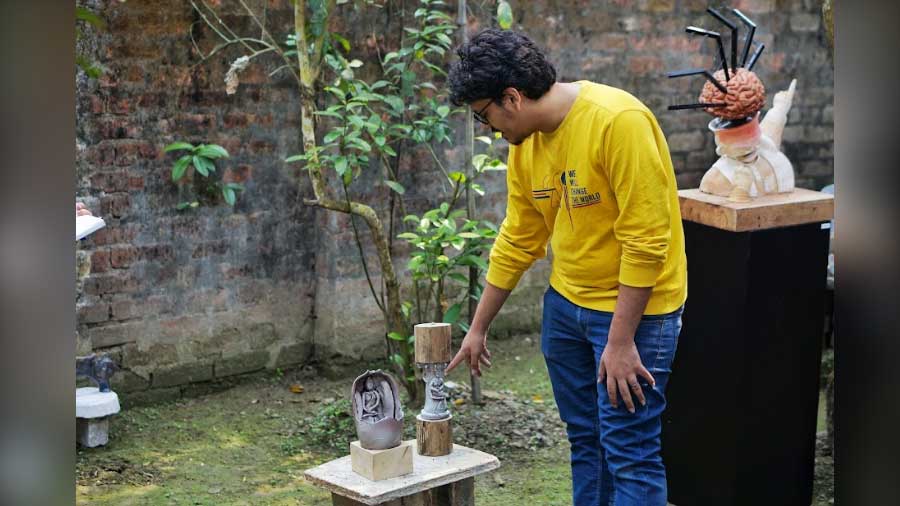 Aranya Banerjee explains how he has depicted communal harmony through his work
Soumyajit Dey
The youngest artist whose work is on display at the exhibition is Aranya Banerjee who has just got admission to Kala Bhavana at the Visva Bharati University. "I have been learning from Tamal da since Class VI when I met him at a mask-making workshop," said Banerjee whose works hold up communal harmony.
"In this atmosphere of chaos and the doldrum state in which we all are living and thriving, where there is communal turmoil every now and then, I thought of using art as a medium of reunification among people of various communities and fostering communal harmony," said Banerjee.
'Now I can hold my art'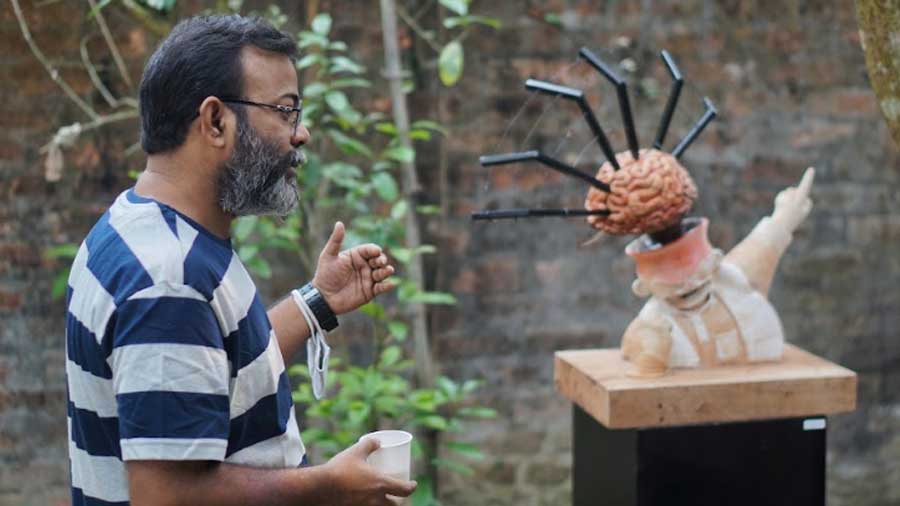 Uday Deb talks about how his cartoons came to life through ceramic sculptures
Soumyajit Dey
If political cartoons could take on a three-dimensional shape, that would be what you can expect from Uday Deb's sculptures. In fact, three of his works on display are ceramic sculptures of three of his cartoons. The one with the brain partitioned with barbed wires is particularly striking. "The divisions we see in society are actually a reflection of the divisions in our brains," said Deb, whose works speak about various strata of power in society.
"Being a cartoonist, I always wanted to infuse a kind of three dimensionality to my political cartoons. The medium of ceramic opened up new dimensions before me. Sometimes when you see a painting you wonder how it would feel to hold it. Now I can hold my art," said Deb, also speaking of how there is an element of the unknown in ceramic work because, "when you put your work in the fire you don't know what the fire will give back to you."
'Old houses have stories hiding in every nook'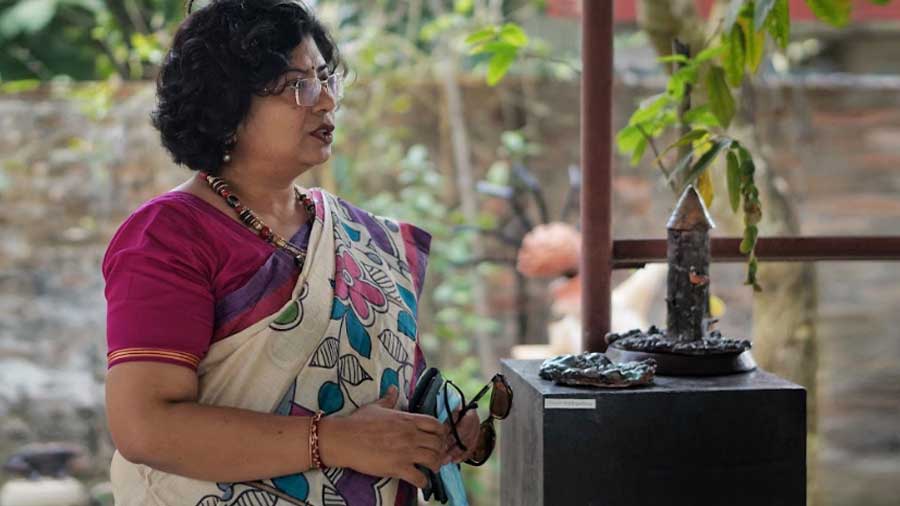 Chitrali Mukhopadhyay talks about why old houses, which is depicted in her works, fascinate her
Soumyajit Dey
It is the same element of surprise that drew Chitrali Mukhopadhyay to ceramics. "So much depends on the material you use, but even then, when you put it in the fire, you don't know how much what you had pictured will translate," said Mukhopadhyay, who has made sculptures of old houses. "Old houses have stories hiding in every nook and cranny, they add to their character. It is what fascinates me," said Mukhopadhyay.
The exhibition, which is on from 10am to 7pm, is also showing works of Rupali Roy, Saumi Nandy, Ujjayini Mitra and Nabendu Sengupta.