My father tried to kill my mother one Sunday in June, in the early afternoon," is the first sentence of Shame, uncompromising feminist Annie Ernaux's sixth book of bio-writing, that was translated from French into English. The quiet and contained style, with no histrionics or drama, pared down to a bare, minimalist statement of fact, is what contrasts powerfully with the terrifying act that was witnessed by a child of 12, who remembers it not as an episode of terror or grief or pain, but as an act of 'shame'. Anders Olsson, chairman of the Nobel literature committee, said on Thursday, Ernaux is "an extremely honest writer who is not afraid to confront the hard truths".
It has been 20 years since I read this dreadful narration, I remember thinking at the time how Ernaux , now 82, is a master of understatement. Like a well-framed painting by Ilya Repin of Ivan the Terrible killing his son, the image of Ernaux's father, scythe in hand, ready to slit Ernaux's mother's throat, the unstoppable flow of tears from the 12-year-old Ernaux, and the family seated at the kitchen table, has stayed with me as if I were part of that summer madness. Says Ernaux of that shattering event, "Shame became a new way of living for me. I don't think I was even aware of it, it had become part of my own body."
Ernaux states: "Before starting (to write about this incident), I reckoned I would be able to recall every single detail… I can only remember the general atmosphere… I've forgotten how the argument actually started…. Yet I am sure I was wearing my blue dress with the white spots, because during the two summers that followed, every time I put it on, I would think 'it's the dress I wore that day…. From then on that Sunday was like a veil that came between me and everything I did. I would play, I would read, I would behave normally but somehow I wasn't there…"
This constant dance between remembering and forgetting makes the narrative somewhat challenging for the writer and the reader. How might this act of retrieval of the past be configured? "It's a vivid description of a complex cognitive process that also underlines the loss of memory and its innate unreliability, which isn't seen as a lack but rather as a fluid framework through which certain episodic and viscerally charged details dominate the senses and the subsequent encoding process. Ernaux's works foreground and dramatise this process of episodic and experiential encoding that shapes memory, which is also subliminal and subconscious in quality," says author and academic Dr Avishek Parui, principal investigator for the Centre for Memory Studies, IIT Chennai, and founder Indian Network for Memory Studies (INMS).
So is the unorthodox writer Ernaux's confession about the inability to retrieve the past in vivid detail part of the normative in the way we revisit what happened? Parui concurs: "In doing so, she constantly reminds us that forgetting is a natural part and process of growing up experientially. And that the self is seldom stable or retainable but more often than not an interplay between what may have happened and what may take place in the times to come."
The complexities of living in a world of disparities during and post-World War II (Ernaux was a year old when the war broke out) of class, gender and race, led to an enhanced sensitivity to the world around her. The editor who read the manuscript of Ernaux's Years said categorically that she had never read anything quite like this work where Ernaux was able to locate herself in the milieu of the world unfolding before her. This ability to develop an ethnographer's gaze, to imbibe the ethos around her and see herself in this majestic arena, provided her with the rare ability to discover her personal history within the history of a post-war France. As a young woman, she had to live within  "rules and codes" that did not allow for alternatives. Ernaux points out: "There was an outright condemnation of divorcees, Communists, unmarried couples, single mothers, women who drank, who got an abortion, whose heads were shaved at the Liberation, who didn't keep their house tidy and so on."
The immediacy and relevance of Annie Ernaux's staggeringly honest cache of self-writing or biographical texts, particularly Mémoire de fille, is clear. Ernaux speaks loudly to young women grappling with life in our current climate of sexual freedom — sexual predatorship and sexual trauma that punctuate the cyber arena of sexuality that many teenage girls fall prey to. Seeking approbation and on a quest to "find themselves" and discover their sexuality or fulfil their desires and realise their fantasies, like Ernaux was in the 1950s and 1960s, this generation of teenagers and young women in their twenties might find Ernaux's deeply thoughtful and thought-provoking, visceral memoirs an excellent window to analyse their own quest, sometimes dangerous, to sexual self-discovery. Ernaux's Mémoire de fille excavates raw and unbridled sexual encounters  between the ages of 18 and 20. She launches these experiments during the "personally historic" summer of 1958 when she leaves her protected childhood family home in Yvetot to be a student in Lycee Jean d'Arc in Rouen, in 1958. It is a "free love" environment that she is unable and untrained to negotiate. Ernaux was an overprotected child who was born in 1940 in Normandy, from a middle-class household who ran a bakery, and though she had many crushes on girls, she hadn't been allowed to speak to a boy before coming to Rouen. At Rouen she develops a romantic obsession with a class director, H, with whom she spends a couple of nights but is discarded by him. This prompts her to seek approval and appreciation and she makes herself available to a raft of boys only to become, in the eyes of her girlfriends and classmates, an icon of loose morals. Irrational promiscuity leads to dejection, terribly low self-esteem as well as physiological disorders. An abortion, an affair with a married man, were all jottings that spelt heartbreak and life's lessons well learnt. In our current climate of sexual experimentation, Ernaux's sometimes revealing, sometimes self-confessional, sometimes detached, and always powerfully narrated life writing delivers a whammy.
Annie Ernaux is not the first to employ memory to create a complex and enduring piecing together, a collage, of a human journey. Charlotte Bronte in Jane Eyre, Jamaica Kincaid in Annie John, Judy Fong Bates in The Year of Finding Memory, Michael Ondaatje in Running in the Family and Cat's Table, Arundhati Roy in The God of Small Things, Joy Kogawa in Obasan and a slew of other writers have demonstrated the highly effective strategy of deconstructing the act of remembering to tell their stories by the piecing together of shards from a tenuous past. The unstable narrator in Kazuo Ishiguro's first novel, A Pale View of Hills, is akin to Ernaux's autobiographical accounts. The most intriguing part of Ernaux's brilliant capacity as a writer is to be the current self and yet be able to discern a self from a gradually hazy past, all at once. In James Joyce's Ulysses, "Different now and yet the same," declares a youthful Stephen Dedalus as he gazes at his reflection in a cracked mirror. For me, that sentence sums up Ernaux's universe. Although Dedalus is thinking of the man he is now, he is also seeing the boy that he was, embedded in the image of the man in the mirror. Ernaux's drawing on the hidden box of memories might be stylistically far removed from what Joyce crafted, but it projects the same doppelgänger of the child who always inhabits the adult. One can see how T.S. Eliot would chime right in with this idea of the double self.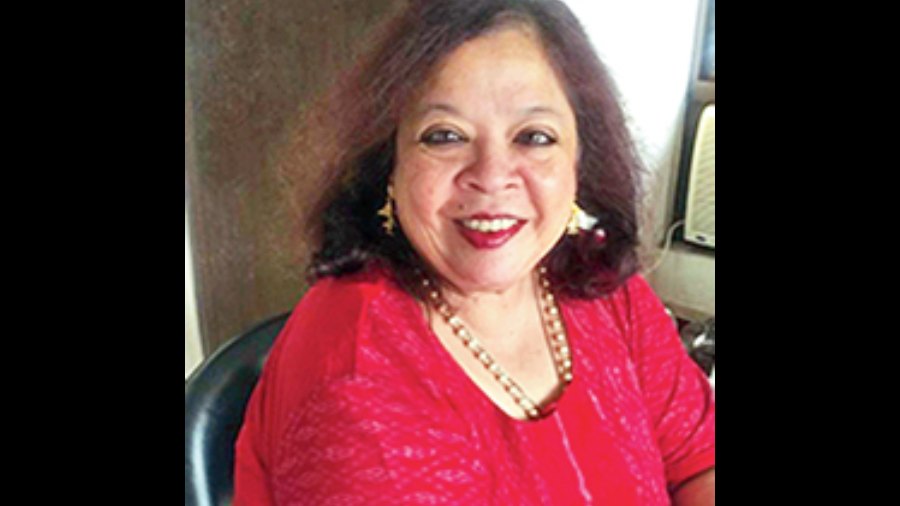 Julie Banerjee Mehta is an author of Dance of Life and co-author of the bestselling biography Strongman: The Extraordinary Life of Hun Sen. She has a PhD in English and South Asian Studies from the University of Toronto, where she taught World Literature and Postcolonial Literature for many years. She currently lives in Kolkata and teaches Masters English at Loreto College
Picture: Agencies