A couple of years ago Anik Datta had received a WhatsApp post from a friend. It was a series of scenes or rather anecdotal accounts of how the film Pather Panchali was conceived; "how Satyajit Ray stumbled upon the famous novel by Bibhutibhushan Bandyopadhyay while designing a book cover; and how abundance of talent and confidence in his own abilities finally made him overcome all odds and roadblocks that came along, including inordinate delays... the universe conspired to make a masterpiece possible, and it made Bengali, Indian and even world cinema come of age."Anik Datta's new film, Aparajito, (which releases today) is inspired by the making of Satyajit Ray's Pather Panchali, and actor Jeetu Kamal plays Aparajito Ray! The Telegraph chats with Anik Datta...
What is your headspace right now? Do you get the Friday jitters?
No. But there was a certain kind of nervous energy for my first film (Bhooter Bhobishyot). Initially I did think about whether I should get into it (Aparajito) or not. You don't know which you would get more, the bouquets or the brickbats. When Sandip Ray gave me the nod I knew there was no going back. Whoever has seen anything of the film has been very generous with the praise.
How was the response at the Mumbai premiere?
It was overwhelming. There was a standing ovation. Shyam Benegal came in. He was there for some time and said that he would love to watch the whole film. From whatever little he saw, he said that he really liked the film. "I would like to see the rest of the film. The look of the film is really nice," he said. He spoke about Jeetu.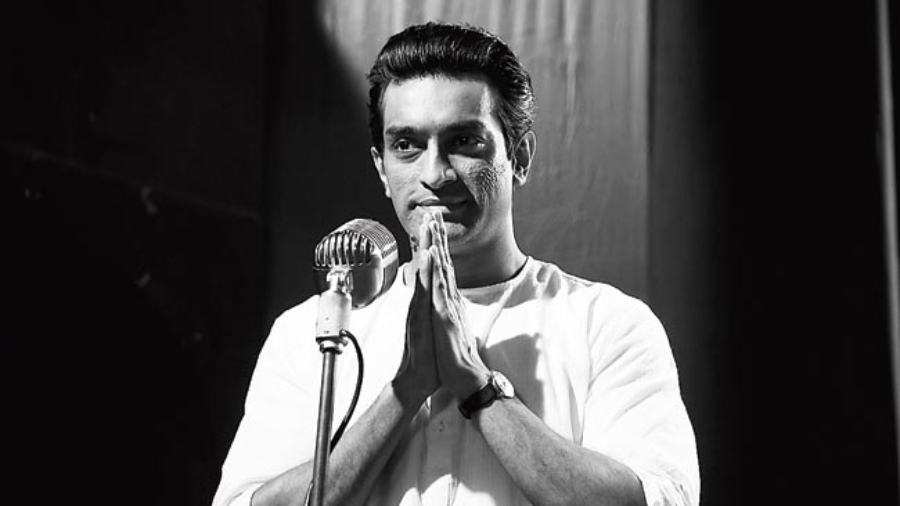 Jeethu Kamal
How did you find Jeetu Kamal?
For the main role, I was looking at the 'actors' and I never expected to find a very close lookalike or doppelganger. During this time I was on the streets in a rally and I spotted this guy. I asked around and got to know that he is an actor. I asked a friend and he told me about him. When I saw him from slightly close quarters I realised this guy has features which can be close to the great man. By then we had more or less finalised someone else. Then I forgot about it. Later some complications came up and we had to take a decision. We did his look test and when Jeetu came out of the make-up room everyone's jaws dropped. No one could believe what they saw, he looked like the man (Ray). Somnath Kundu did wonders with a little bit of prosthetics. Everything fell into place and we started shooting in no time. Jeetu was effortless in front of the camera. I had got a hint of this when we did the look test. I had given him some old photographs and he did his own research and he assimilated everything very quickly. He was sharp in picking up things.
What was your brief to Jeetu? How did you guide him through the whole process?
During the look test only, I saw that he knew his character. His movements, the way he looked at the camera, the way he was holding his cigarette... I realised it cannot be an accident.
Had he done some kind of homework before this?
He must have. He is really serious... and he surprised me. I did not have to actually tutor him. I am very happy with his acting. The others were equally good. I could concentrate on the shots.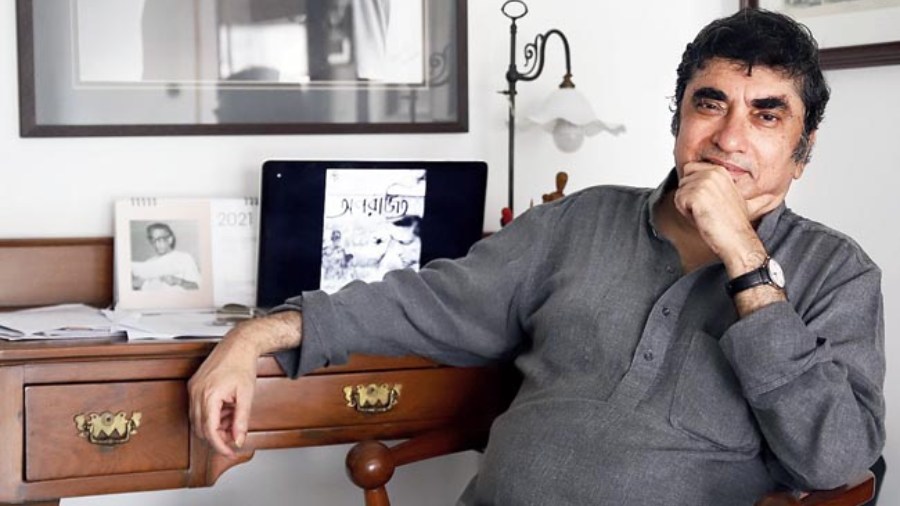 Anik Datta
How was it like recreating some of the iconic scenes?
We selected the ones which can be achieved. The weather was so hostile that we were on slippery ground. We looked at the scenes and tried to go as close as possible. We did scenes that had the drama and were visually and thematically interesting.
What was your source material?
There was a research team. At times we found out there were different versions of the same incident. Also, a lot of it was anecdotal. Anecdotes that have become like folklore. Plus you have Ray's own account. We picked and chose... and we were looking at things that were cinematic. Since Aparajito is 'inspired by' and not a biopic, we had a little bit of liberty. We had three-four consultants including (scholar and critic) Samik Bandopadhyay, who is a part of the cast.
It was a casting coup...
Yes, he made his acting debut at 81! He had done the longest interview of Satyajit Ray on India television. So, I made him do that interview.... in our film it is a radio interview. That is the structure that is holding the film. Through the radio interview, we trace back. At that time, Ray was older and Samikda younger. In the film it has changed! Incidentally, his sister-in-law played Sarbajaya. So he was privy to some interesting information.
You are known as the Ray acolyte. Does Aparajito feel like the perfect tribute film?
For my first film, everyone said that there was something very Ray about it. I did not consciously do it but I did not consciously avoid it also. Aparajito is not only a tribute to Ray. It is the story of someone who has confidence in his abilities, talent and can overcome all the hurdles and roadblocks and achieve what he had set out to do. It is inspirational for anyone from any profession.
In my film, Aparajito Ray, aka Apu, makes a film called Pather Podaboli. What I am trying to convey is that if you truly believe that you have the ability to achieve your dreams you can make those dreams come true, in reality. Of course, you have to dare to dream. You have to be single-minded and dedicated. It is an inspirational film. Pather Panchali, in fact, inspired several film-makers across the world, like Martin Scorsese, Shyam Benegal, and people working in other creative fields where you need to believe in your dreams.