Translated from Bengali by V. Ramaswamy, Memories of Arrival: A Voice from the Margins by Adhir Biswas is a compelling account of a Dalit refugee who comes to India after fleeing from East Pakistan in 1967. The narrative exposes the hardships and struggles of the people of a community that has been historically silenced.
In the following extract, the protagonist talks about his very first experience of coming to Kolkata, his soft spot for Bengali films and visiting Sealdah's Prachi Cinema.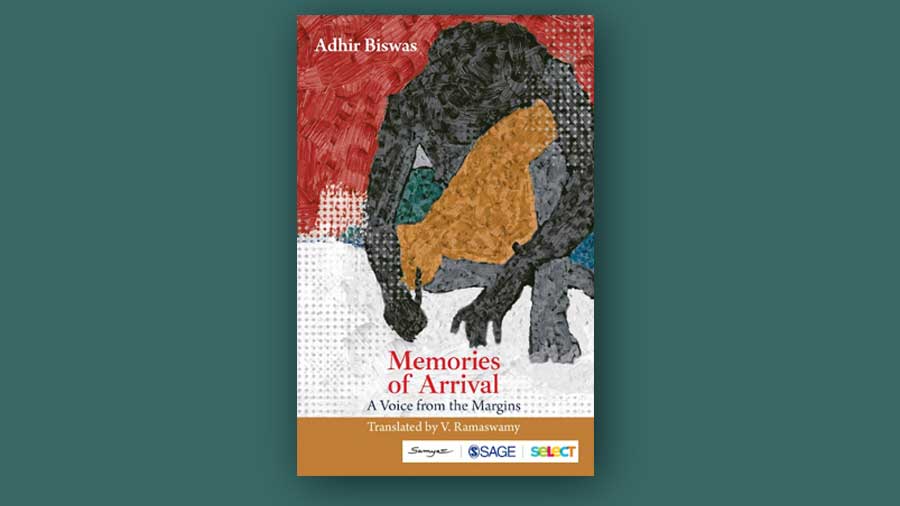 After leaving Magura of Madhumati fame, I arrived in Calcutta.I had just started becoming familiar with the city's streets and thoroughfares, when the old addiction returned. Addiction,
meaning cinema. It was Uttam–Suchitra's city that I was living in now. Bhanu Bandopadhyay, Jahar Roy, Kamal Mitra in the role of a devious father. Pahari Sanyal, the good man, and Chhobi Biswas in a half-good role. Molina Debi or Sarayu Debi in a mother's role. Mokshada in the part of the vamp. Achha, why is Bikash Roy always the villain?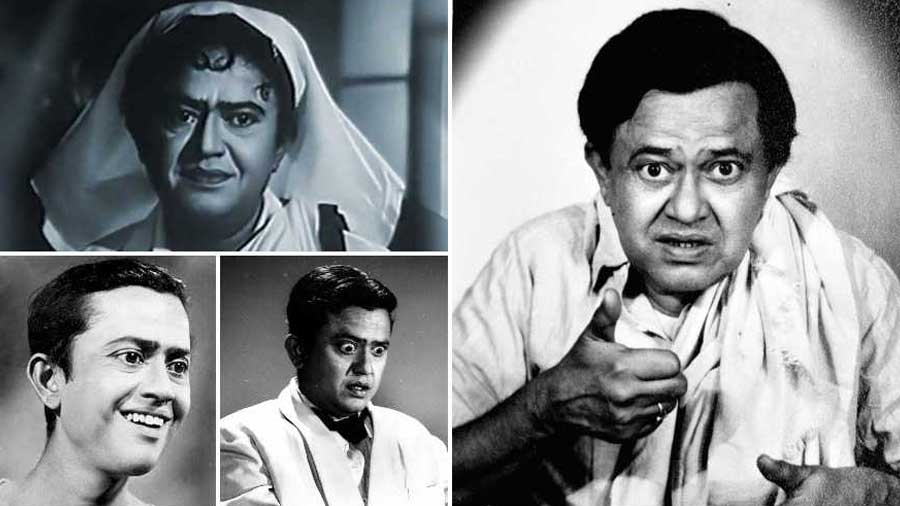 Bhanu Bandopadhyay
TT Archives
After coming to Calcutta, I only watched Bangla films. While in East Pakistan, I had watched Insaniyat. I liked films featuring battles and magic. I had seen the Urdu film, Ali Baba aur Chalis Chor (Ali Baba and the Forty Thieves).
Hindi was everywhere in this country. I didn't like Hindi cinema at all. Neither could I get along with anyone who watched it. Bengali cinema held me close to its heart. The songs from Bengali cinema too were so melodious! Hemanta, Shyamal, Manna. Arati, Pratima. Asha Bhonsle's pronunciation was odd! Although I didn't really like Asha-Manna duets, I often accepted it. But Soumitra acting with Suchitra was unacceptable. I hadn't seen any films with that pair until a certain age. I only wanted Uttam–Suchitra and Suchitra–Uttam. With Hemanta–Lata singing. The music director, Salil Choudhary. Most of all, I loved Geeta Dutt lending her voice to Suchitra's songs. But things couldn't be according to my wishes!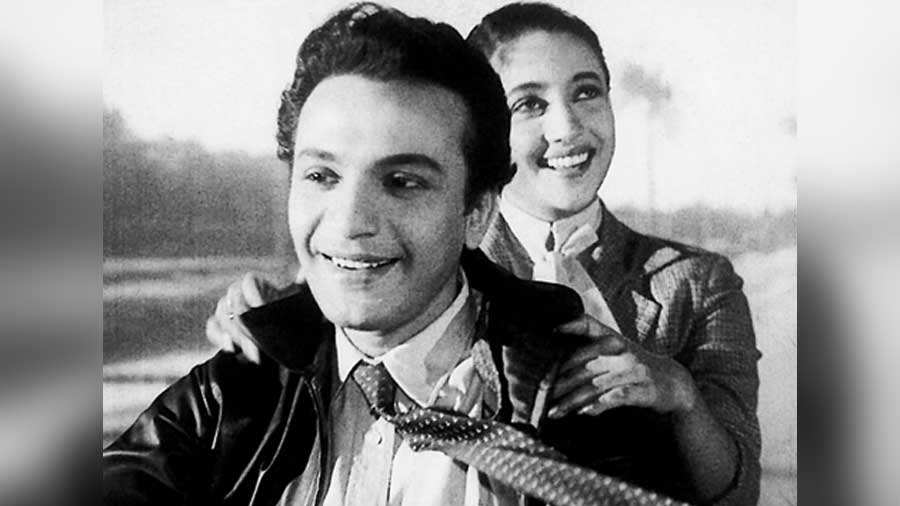 Uttam Kumar and Suchitra Sen
TT Archives
'Ek boishakhe dekha holo dujonay …! The two met one spring …!'
Subhendu Sir was taking a Bangla class in Class Nine. The song blared out of a loudspeaker outside. I remember I was completely unmindful. I couldn't turn my attention to the classroom until I had heard the entire song sung by Arati. Although I was in the corner room of the first floor, my attention was trained on the loudspeaker on the roof.
I was trying to woo Shibi. Her actual name was Shibani. Both of us lived in the same basti, on two sides of a lane. Later I learnt that the song 'Ek boishakhe dekha holo dujonay' was from Bilombit Loy. It starred Uttam–Supriya. I quite liked Supriya, but she had a deep voice. She wasn't as pretty as Suchitra. The song was buried in my memory all these years, I only remembered it now.
Is the love for the Bangla language greater in East Bengal? I don't know why, but I nursed a rage against Hindi! Bengalis spoke to Hindi -speakers in their language. That made me angry. Why don't they speak in Bangla? Even when other people discussed Hindi films, I didn't like it!
But when I was older, when I was studying in college, my rage against Hindi began to leave me. I heard that a good Hindi film has been released. The director was Shyam Benegal. I stood in the queue for the tickets. I think it was at the Lighthouse: Ankur. A poster with the scene of a man collecting the juice from a date palm. The actor Shabana Azmi, with an imperilled, deaf-mute husband, played by Sadhu Mehr. She tried to fathom his helplessness from his gestures.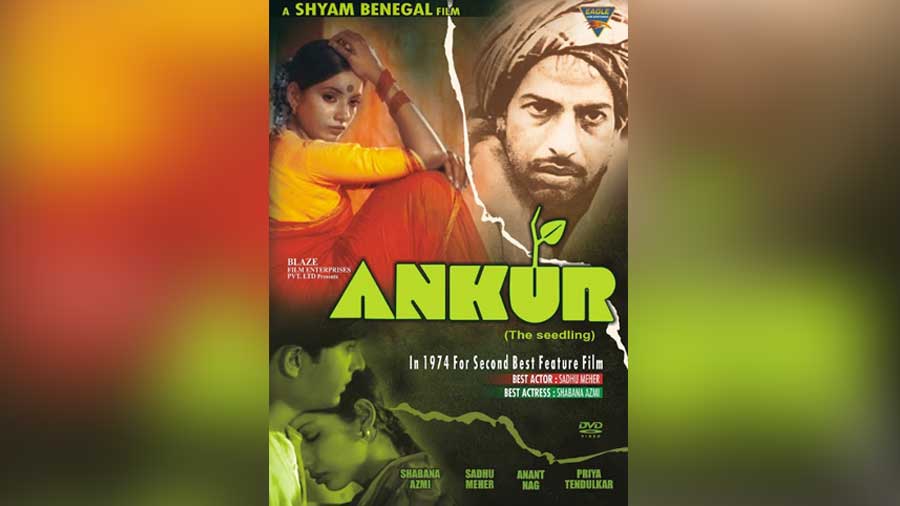 IMDB
After visiting many cinema halls in the decade or so from the late sixties through the seventies, it is Prachi cinema that I remember most of all. It was in this hall in Sealdah that I began going to the cinema in Calcutta, and that was with Mejda. The name of the film was Kal Tumi Aleya. It was in Prachi that I first saw the porichoy potro, or resumé, being sold during the interval. At ten paise, it sold quite well. That stopped at some point. The story, the names of the director, the actors, music director, playback singers and song composers — were all provided in the booklet. It was like the cards distributed during the weddings that I had seen in my childhood. Red-blue-green in colour A sweet tale of the bride and groom setting up family, written in the form of rhyming verses. I haven't seen that either in a long time.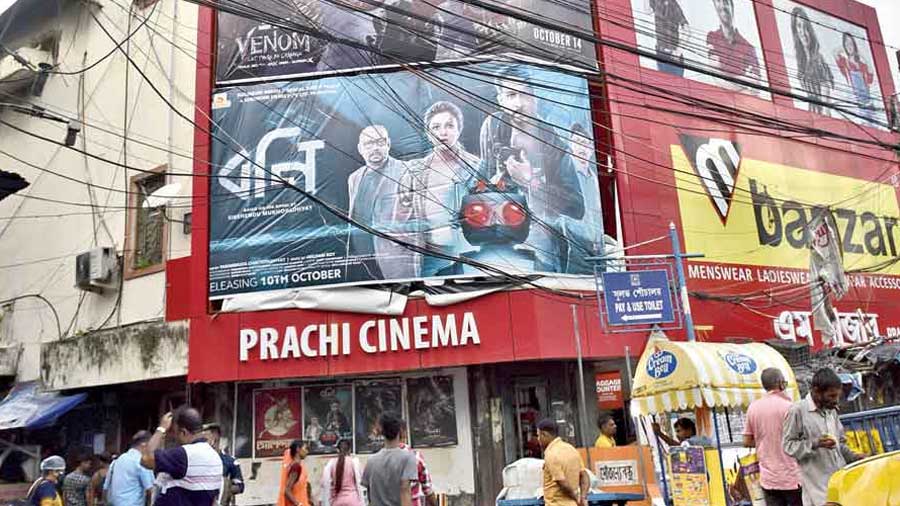 Prachi Cinema, Sealdah
TT Archives
Prachi screened only Bangla films. The writing on the tickets too was in Bangla. 'Prathama' (first), 'madhyama' (middle), 'alinda' (balcony). And so many more words, like 'bathroom', 'class', 'counter', 'exit' — all in Bangla letters. Where else does such a craze for the Bangla language really exist other than in East Bengal? Achha, were the cinema hall owner's forefathers from East Bengal?

Memories of Arrival: A Voice from the Margins by Adhir Biswas, translated by V. Ramaswamy has been jointly published by SAGE Publications India and Samya (under Samya Sage Select imprint).

Read more about the book here: https://us.sagepub.com/en-us/nam/memories-of-arrival/book281362