My experience of working in  A Holy Conspiracy, by Saibal Mitra, still feels surreal. It's the only film in the history of Indian cinema featuring the two giants, Soumitra  Chatterjee and Naseeruddin Shah.
The film is based on the famous play Inherit the Wind by Jerome Lawrence and Robert E. Lee. The intriguing part is how the story, its essence is contemporary and relevant even today, in 2022. Almost after 100 years of its being.
I play the character of Reshmi Merry Maal. She is the teacher of a small-town school. The story is about how a teacher of science denies to teach a book of religion before his usual science class... which is then blown out of proportion, getting him arrested. A trial follows that questions the importance and need of science versus religion. Reshmi is his fiancee. On the other hand, she is the daughter of the fundamentalist preacher of that town, played by Parthapratim Majumder. Reshmi is torn between her love interest and her father.
I consider myself blessed to have shared screen space with Soumitra  Chatterjee and Naseeruddin Shah (both play lawyers). On the first day of shoot as we were prepping for the scene in our respective make-up rooms, we were called on the set for a formal introduction. That's the first time I met both Naseerji and Soumitrababu.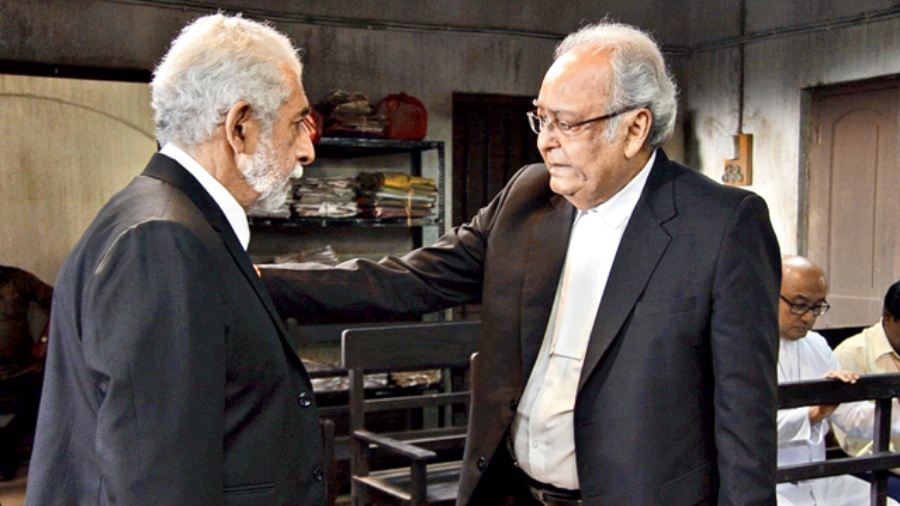 Naseeruddin Shah and Soumitra Chatterjee in A Holy Conspiracy, which releases this Friday
After the initial introduction we were sent back. Ten-15 minutes later we were back on the floor rehearsing, ready to shoot. While Saibalda was doing the scene blocking, and saying which actor would do what action, I heard Naseerji saying our real names when Saibalda was saying the character names! That was the first wow moment! I was stunned by the memory of this prolific actor who just came to know our names 10 minutes back.
Like an eager student of cinema he would sit on the high bench and hear from his favourite Apu anecdotes from his shoot days with Ray. The eagerness and the mutual respect that they showed towards each other is something to learn. Often after a shot Soumitrababu would ask, "Thik chhilo?" to which his reply would be, "Khub bhalo."
 Throughout the filming, he would never leave the floor until it's lunch break or pack-up for the day. He would scribble in his script and notice what the other actors were doing on the floor. I remember a particular courtroom scene where it was getting intimidating to emote when he was sitting and observing in a particular sequence where we don't interact with each other. It showed his degree of involvement in a film he believes in.
After the Kolkata shoot was over, we went to Bolpur in the scorching  heat of May. He was in a bus, while I was standing outside and we were talking.
After the initial shots and his close-ups were done, the director asked him to go to the vanity van and rest, while he would take my close-ups. Promptly he said, 'In my so many years of acting, I cannot emote when my co-actor is not there, how can I do it with her? I will give the cues." He sat there matching eye line, giving me cues for my close-ups. This would remain as one of the most memorable moments of this shoot!
There was a very intimate dinner organised after his filming was over. He mentioned me as one of the actors who managed to 'impress' him with their work while filming, and I got a hug from my 'god of acting'. Needless to say I couldn't eat anything that evening... I came back to my hotel room absolutely dazed and called my parents and bombarded them with every little detail of what had happened!
Behind a very intimidating and serious man, there was so much love and warmth which probably very few get to experience.
Soumitra Chatterjee was the giant, the man who moulded his acting style over time so, so gracefully.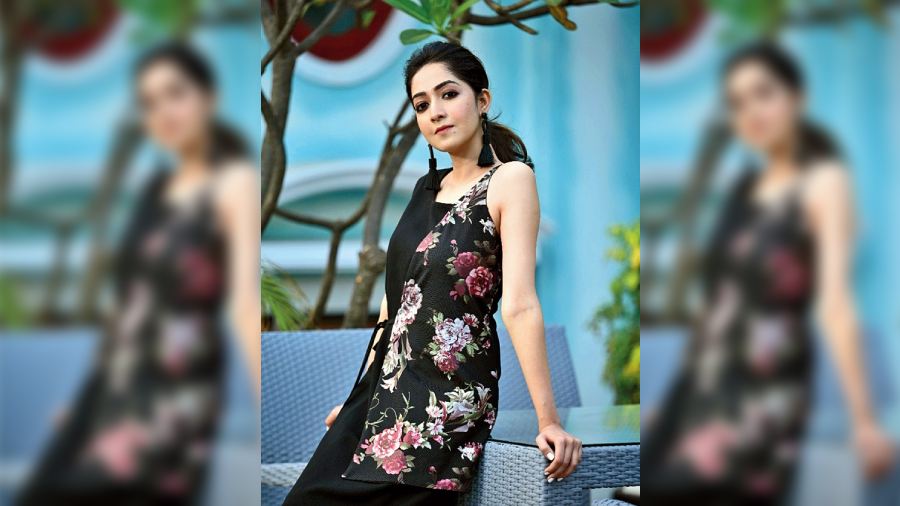 Like Naseerji, we all wanted to know about the behind-the-scene moments of his various works, mostly with Ray. We would gather around and listen. Often while we were at it the director would call us for taking a shot. Within seconds he would become advocate Basanta Kumar Chatterjee, leaving us astonished.
Soumitrababu was quite unwell while filming, and he had a nurse on set to give him the meds he needed. The character he played also goes through a troubled time healthwise. The way he blended his real condition with his reel persona was something that all of us, who were there on the floor would witness. That's the magic of a genius actor. The dedication and the excitement with which he shot for the film was unbelievable. Naseeruddin Shah, on the other hand, was extremely well prepared with his part. He made sure people acting with him do not get intimidated by him, so he rehearsed with each one he had a long scene with.
 I had one particularly long and critical scene with Soumitrababu in this film. While filming, the way he reached the desired graph of the very tough and elaborate sequence was something I experienced first hand.  It was an exhausting sequence, but a very rewarding experience indeed.
Though Soumitrababu and Naseerji admired each other a lot, they would not leave an inch of space for the other while they acted together. It would look like a duel at times... and sometimes it would look like a jugalbandi. It was thrilling beyond words.
 Lastly, and most importantly, being the seniormost on set, having worked with so many prolific directors for so many years, he would become a "director's actor" and listen to the director and ask for his approval after each shot. His childlike enthusiasm and his desire to learn always, after so many achievements, is probably my biggest takeaway from the film.