Outstation shoots are always fun and this one was a welcome break for all of us. We packed into three cars one November morning and 'escaped in paradise' — Amoli, a homestay in Santiniketan's Ratan Pally. A picturesque backdrop to photograph Rimi Nayak's resort line Escape in Paradise! Call times went for a toss and we shot lazily through the morning, soaking in every bit of the calm that's almost always missing in a hurried city shoot. Here's an album from when time stood still.
Quick four with Rimi:
The mood board: The collection Escape in Paradise has a tropical mood board, with vibrant and colourful floral motifs. Satin, organza and crepe have been used to create flowy silhouettes keeping resort fashion in mind. With the wedding season coming up, the collection has been designed following the trend of resort travel wear and also resort wedding wear with silhouettes like dresses, skirts, kaftans and saris.
Resort wear has gained immense popularity in recent times, especially during the pandemic. Are there any rules to resort wear?
Since the pandemic resort wear got immense popularity because due to the travel restrictions the only places people could travel to were mostly resort destinations by the sea. People generally associate resort wear with beach clothing but it is much more than that. As a clothing style, this year-round fashion can include a number of items that are casual yet very stylish, made in breathable fabrics that typically require less ironing and fuss. Daywear will be more of travel wear whereas evening wear will include cocktail dresses and formal clothing.
How best to style your resort looks?
Our collection mostly consists of separates and so most of the outfits can be mixed and matched and layered and styled in various ways. We always suggest keeping the accessories minimal, with only a piece of statement jewellery.
Your resort getaway suitcase: Lots of kaftans, long dresses and overlays with a couple of swimsuits. Sunscreen, sunglasses, flip-flops, bandanas and a huge beach bag are essentials for my resort travel.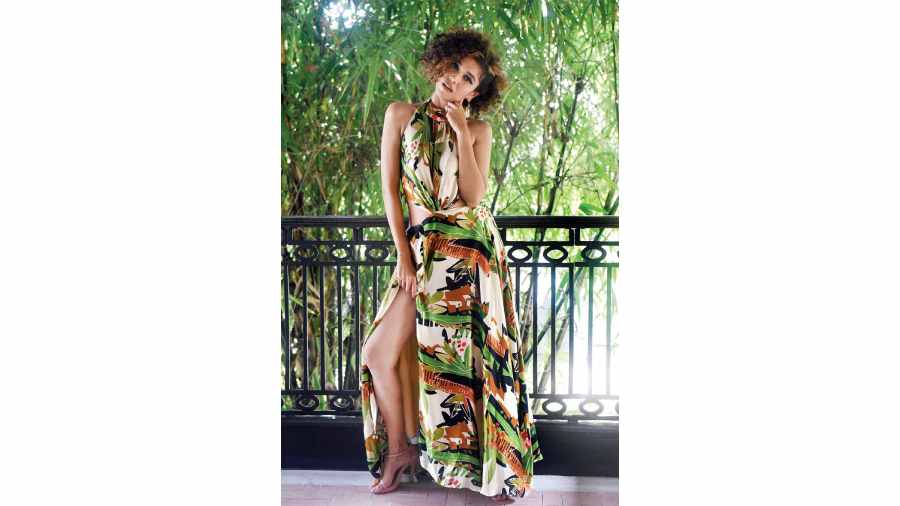 Did you know that Runa Laha has a 16-year-old son writing his CBSE Board exams?! #salute! This abstract graphical floral-printed draped gown with high slits in satin, is for all the hot mommas who want to celebrate their me time on their next resort vacay.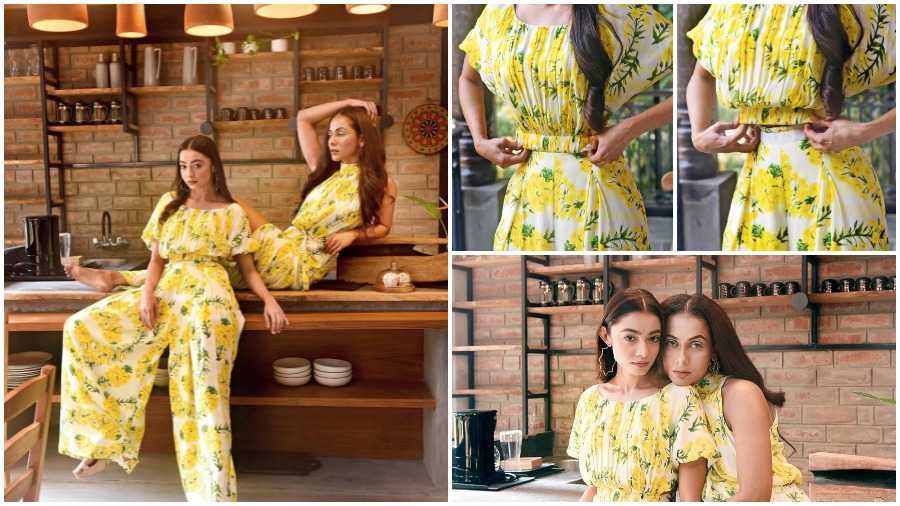 Diti and Ushoshi channel sunshine vibes in yellow. While Diti's yellow floral-printed jumpsuit is detachable (yes, you read it right!), Ushoshi's floral-printed draped gown is easy-breezy. Give your eyes a wash of green and feel the wind in your open hair for that stroll on the beach.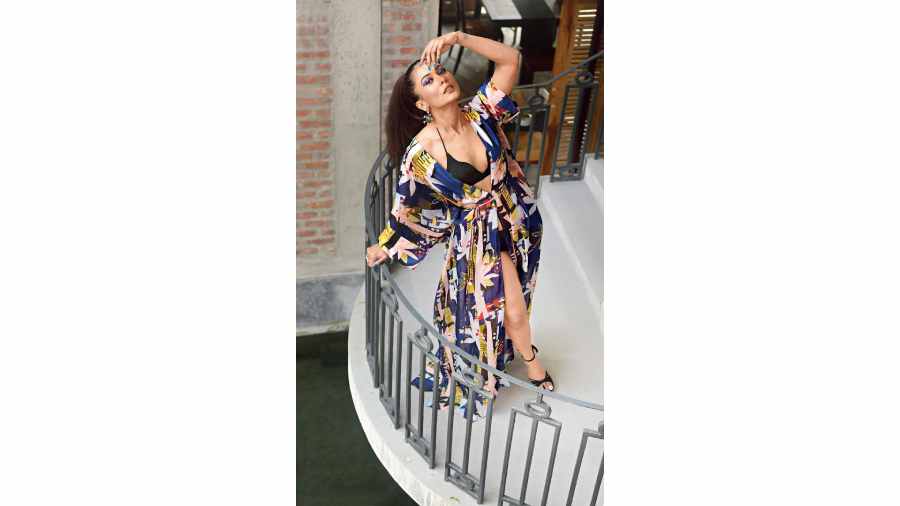 We can totally imagine Ushoshi chilling on the beach in this abstract graphical floral-printed organza overlay kaftan, before or after a dip. "Use this as an ideal cover-up for your swimsuits," says Rimi.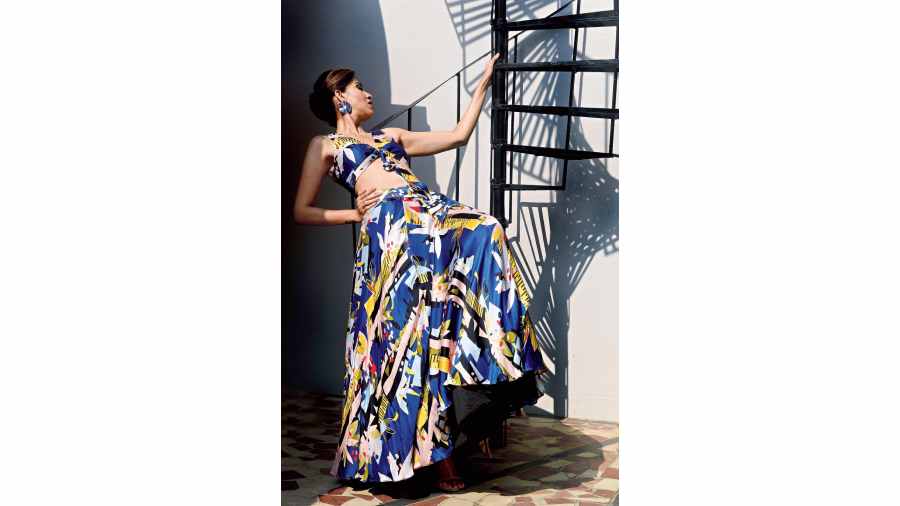 Runa slips into an abstract graphical floral-printed satin skirt with deep-neck blouse with knot detailing. Sunbathing the stylish way when you are not rocking a resort shaadi!
Pictures: Pabitra Das
Models: Diti Saha, Ushoshi Sengupta, Runa Laha
Stylist: Ankita Banerjee; Styling assistant: Ravi Chaudhary
Hair and make-up: Abhijit Paul; Hair and make-up assistant: Sananda Mondal Laha
Accessories: Pehr
Location: Amoli, Ratan Pally, near Mud House; Santiniketan